Coconut Tapioca Pudding 椰汁西米露
Warning
: Parameter 2 to wp_hide_post_Public::query_posts_join() expected to be a reference, value given in
/home/yirese5/public_html/wp-includes/class-wp-hook.php
on line
287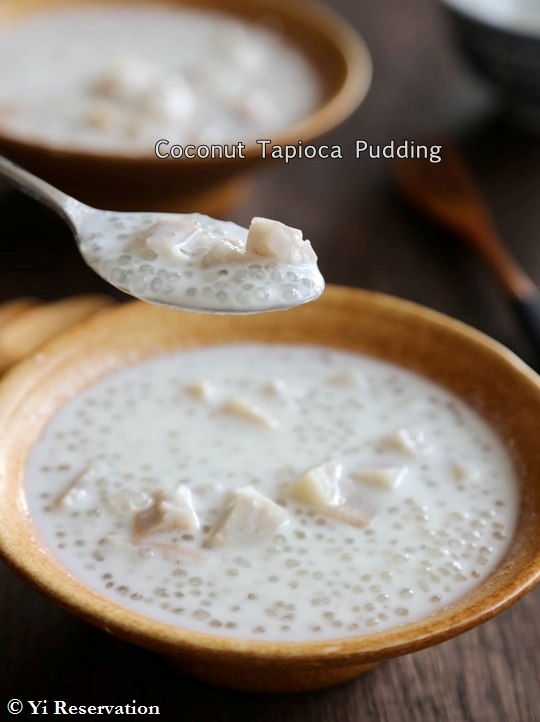 It's finally summer here in New York City.
Being my all-time favorite season, summer just makes me feel excited about things – even with less exciting things such as re-organizing my file cabinets, washing the windows in my apartment, cleaning out the entire refrigerator and discovering things I have zero recollection of, and the list goes on but you get the ideas.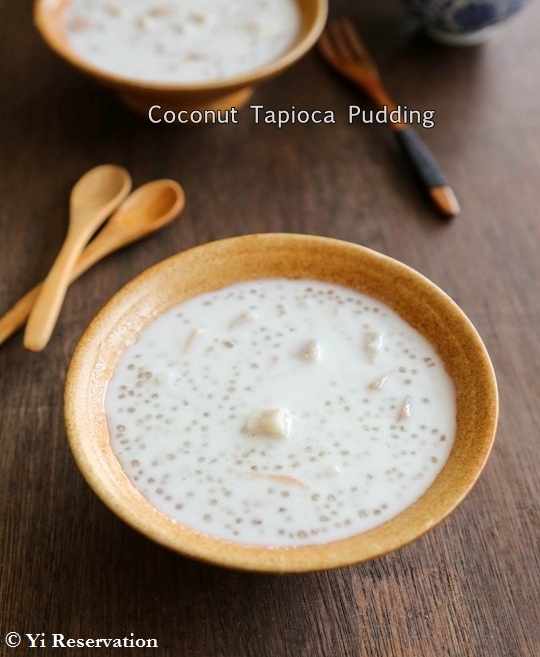 Oh, another thing that I am really excited about is that today I am going to share one of my favorite summer desserts – chilled tapioca pearl pudding.
Tapioca pearls are made from tapioca starch which is gluten free and the pearls come in different sizes and colors. Most of us are probably familiar with the large black tapioca pearls used in Asian bubble tea but the focus today are the tiny white tapioca pearls.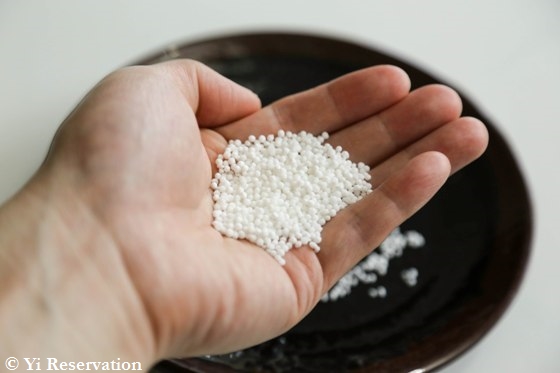 These small tapioca pearls are flavorless but with a little magic (i.e. a good recipe), they can be transformed into killer desserts such as this popular Asian style coconut tapioca pudding!!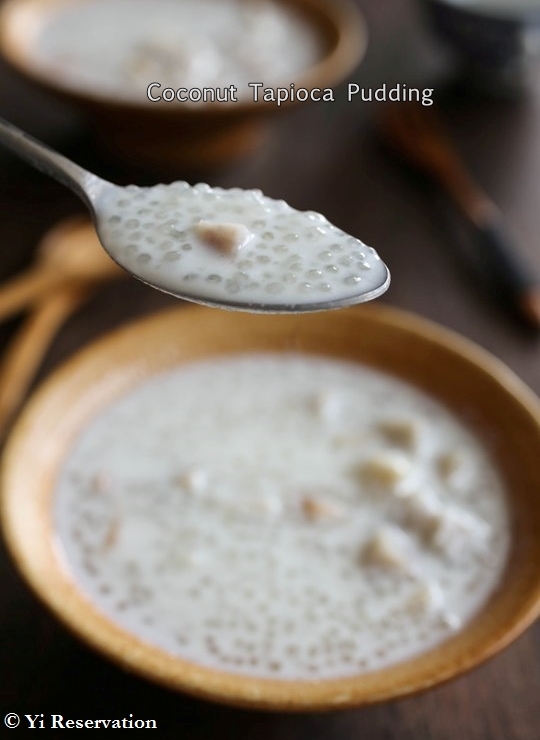 The original recipe came from my good friend Steve H. who got it from a family restaurant. Be warned, this creamy, rich, and coconutty goodness not only keeps you cool in the summer time but is also extremely addictive and I have in several occasions witnessed people going for the third servings at parties.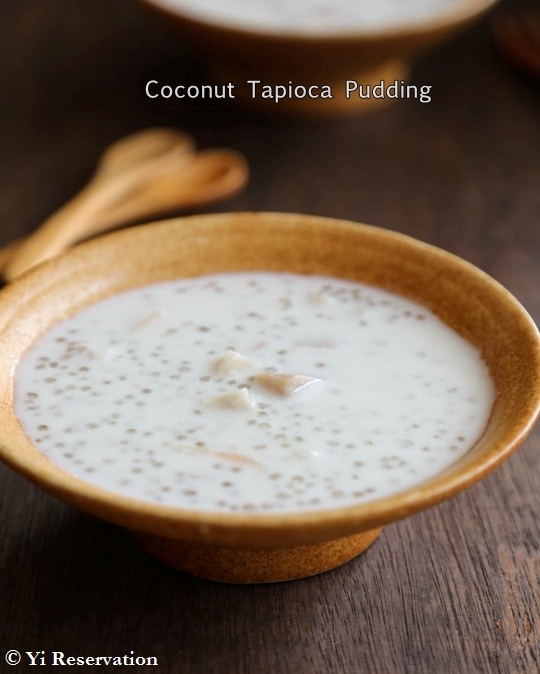 The version I am sharing today is slightly modified to cut down the sugar and fat content so you won't feel guilty about having 3 servings in a row. Also, the addition of taro is strongly recommended as it balances the sweetness and richness of the coconut milk. If you absolutely can't get taro, you can also substitute with fresh mango or cooked red beans.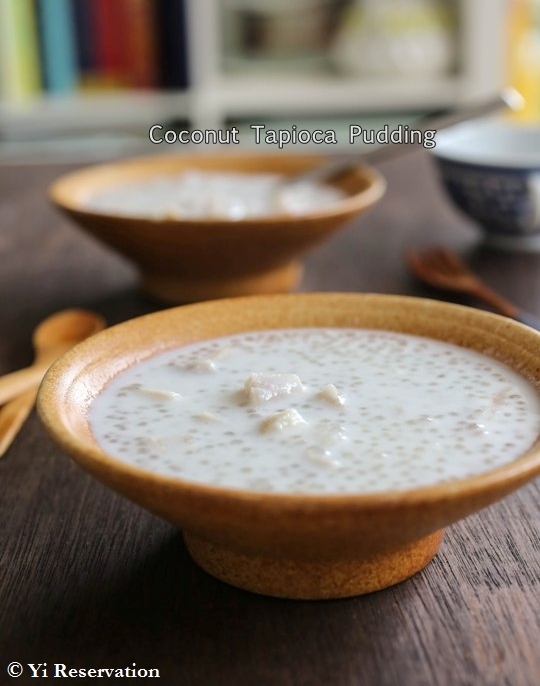 Lastly, if being gluten free is not healthy enough for you, you can also make this dessert vegan. Just simply replace the milk portion with water and more coconut milk.
Now go ahead and give this recipe a try and run the risk of getting a serious tapioca addiction 🙂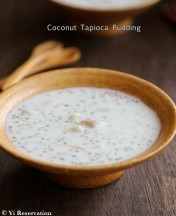 Coconut Tapioca Pudding 椰汁西米露
Yield: 6
Prep Time: 10
Cook Time: 15
Total Time: 25
Make these super delicious Coconut Tapioca Pudding dessert following this step-by-step recipe at yireservation.com.
Ingredients:
½ cup (60g) tapioca pearl
2.5 cup water
1 cup (160g) fresh large taro, cubed
Coconut Milk Mixture
1 cup milk
1.5 cup coconut milk
½ cup (100g) sugar, can be adjusted to your own taste
Directions:
For the coconut milk mixture, combine the milk, coconut milk, and sugar in a soup stock. Bring to simmer and turn off the heat. Let it cool off and set aside. I prefer my mixture less sweet but you can adjust the amount of the sugar to your own preference
Bring 2.5 cups of water to boil in a pot. Add the tapioca pearl to the boiling water and cook over low heat
Constantly stir the tapioca to prevent sticking as liquid dries up. Cook the tapioca pearls for about 10 minutes all together. You should notice that the pearls turn translucent with a tiny white dot in the center. Turn off the heat and finish up the cooking by covering the pot with a lid for another 10 minutes
In the meantime, cut the fresh taro to 0.5" cubes
In another cooking pot, combine the taro with 2 cubs of cold water and bring to boil. Continue to cook the taro over medium heat until the taro cubes become soft. The total cooking time is about 9 minutes or until the cubes are cooked through
Transfer the cooked taro to a mesh strainer and drain off the liquid
Add cooked tapioca and taro to the coconut milk mixture and stir to mix. Chill the mixture in the fridge for at least 1 hour before serving. The tapioca pudding is best served cold and you can store the extra in the fridge for up to 3 days