Authentic Sichuan Mapo Tofu | 麻婆豆腐
Warning
: Parameter 2 to wp_hide_post_Public::query_posts_join() expected to be a reference, value given in
/home/yirese5/public_html/wp-includes/class-wp-hook.php
on line
287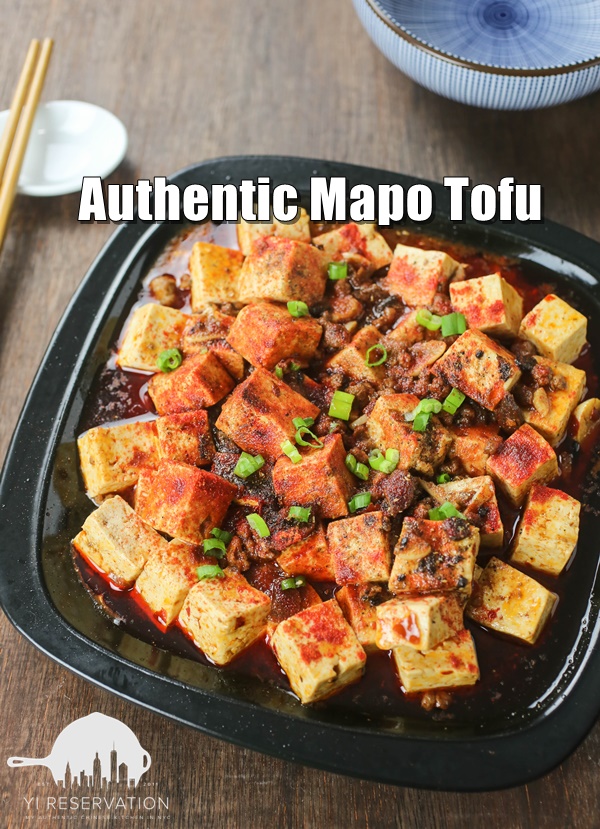 Let's admit it, who doesn't like a good story, especially when the story is associated to food. One of the reasons I became attracted to food was that I always enjoyed a good story behind a dish. If you don't know what I mean, check out this earlier post on story behind the Chinese dish called Lu Wei.
Growing up, I was fascinated by this kind of stories. One of my favorite food tales has to be the story behind the world famous Mapo Tofu – the famous Chinese dish that originated from my hometown Sichuan (Szechuan). The most widely accepted story says that Mrs. Chen owned a restaurant in Sichuan province. To deal with leftover tofu and meat that she couldn't sell, she started to cook the leftover tofu with the meat and other spicy condiments. She eventually came up with a delicious spicy tofu dish that her restaurant attracted many patrons to taste this tofu dish. Over time, Mrs Chen became known for this spicy tofu dish. Because Mrs. Chen had pockmarked face, people called her Mapo or lady with pockmarked face. Her tofu dish became known as Mapo Tofu.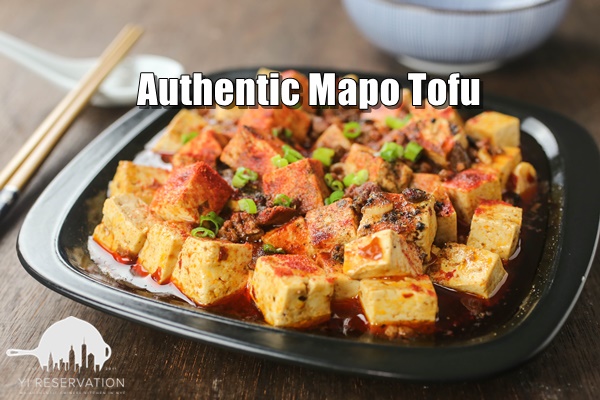 Not only I learned this story when I was young, I also learned how to cook Mapo at young age. Although very tempted, I will not call my recipe the most authentic Mapo Tofu because every family or restaurant in Sichuan cooks this dish differently and I am fully aware that there are many variations around the world ranging from the ketchup infused Cantonese style to Japanese style Mabo Dufu.
Before you cook this dish, you should know that this recipe is a lot spicier than the non-Sichuan versions. Tune it down if you don't handle spicy food well. Also, in Sichuan, ground beef is normally the preferred choice of protein but I use pork in this recipe. You can certainly substitute with your choice of meat and cook it meatless. Lastly, this dish is absolutely a rice killer so make sure you cook enough steamed rice 🙂
**update 11/2016** I also made a YouTube Video for this classic dish. Please check it out:

step-by-step recipe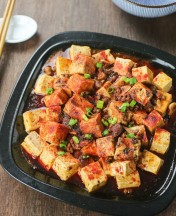 Authentic Sichuan Mapo Tofu | 麻婆豆腐
Yield: 2 Servings
Prep Time: 20
Cook Time: 10
Total Time: 30
Ingredients:
14 oz Tofu (use medium firm or soft)
4 oz ground beef or pork
2 clove garlic minced
1 slice of ginger, 1 inch long
1 tsp dried fermented black beans
1 tbsp spicy Sichuan chili bean paste
1 tsp chili powder
1 tbsp Chinese cooking wine
1 cup water or stock
1 tsp sesame oil
1/2 tsp ground Sichuan peppercorn
1 stalk scallion, chopped
1 tsp cornstarch
Directions:
Cut the tofu to 1x1 cubes. Soak the tofu in boiled salt water for 5 minutes in order to reduce the pungent soy taste. Remove the tofu using a mesh drainer and set aside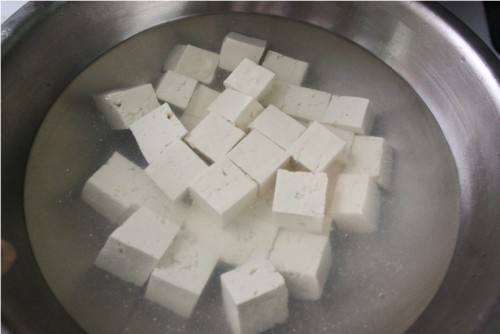 Heat 1 tbsp of oil in a wok, add minced pork to the wok and stir fry the meat until the meat is turning brown and fat is rendered. Push the meat to the side of the wok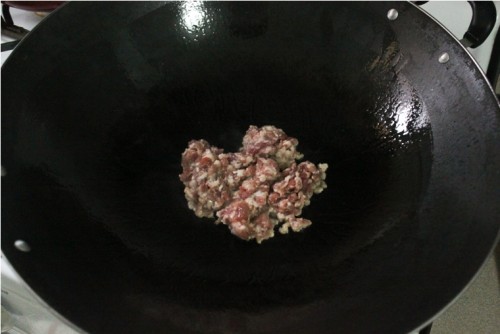 Add garlic, ginger, spicy bean paste, and fermented black beans and stir fry until fragrant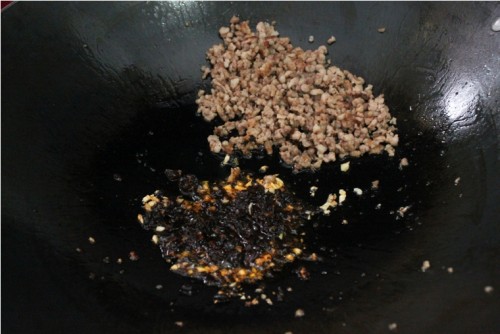 Mix the cooked meat with the condiments. Add chili powder and stir fry for another minute or so. Add the water or stock to the wok. Bring to boil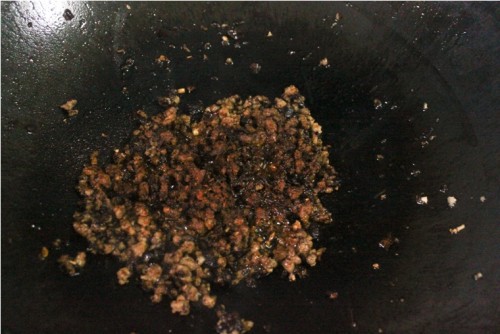 Add the tofu cubes to the sauce. Add cooking wine and bring the wok to boil. Let the tofu simmer for about 5 minutes in low heat. Add additional salt if necessary. Thicken the sauce with some dissolved cornstarch then add the sesame oil before turn off the heat. Dish the tofu.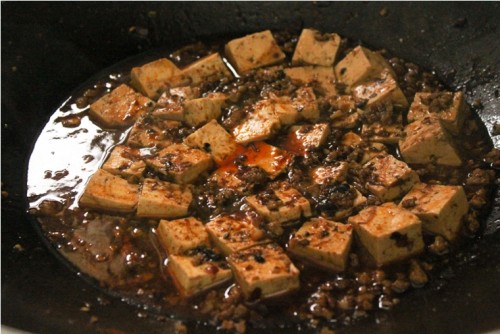 Lastly, evenly sprinkle the ground Sichuan peppercorn on top of dished tofu. Heat up 2 tbsp of cooking oil. Splash the hot oil on top of tofu. Garnish the dish with some chopped scallion.
Once again, do forget to serve with white rice 🙂