Chinese Herbal Chicken Soup (Recipe + Product Review) 藥膳雞湯
Warning
: Parameter 2 to wp_hide_post_Public::query_posts_join() expected to be a reference, value given in
/home/yirese5/public_html/wp-includes/class-wp-hook.php
on line
287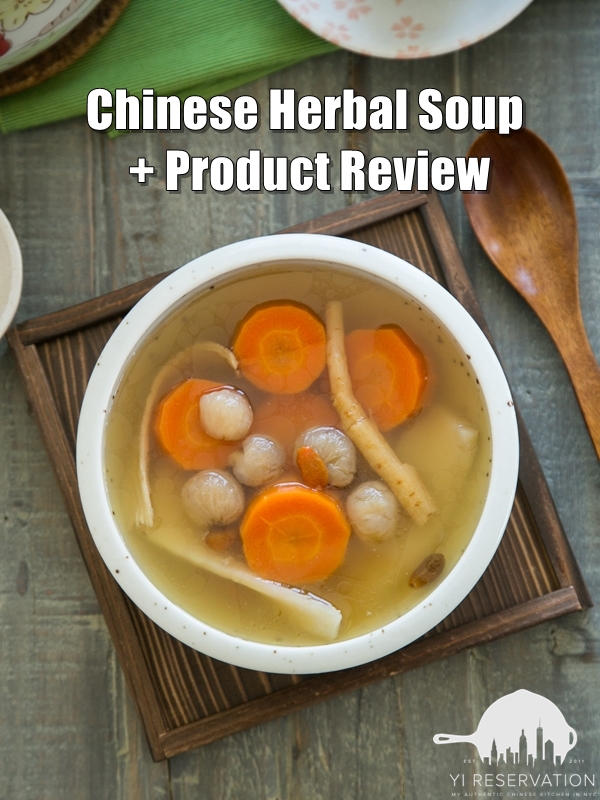 This delicious and healthy Chinese herbal chicken soup not only warms your heart but also heals your body and soul.
On a recent Friday afternoon, it became clear to me that my constant fatigue and mild headache that had been bothering me for weeks wasn't going away soon.
Already watching my schedule and diet amid a trifecta of a bad cold, overseas trip jet-lag, and bad spring allergies, I knew I had to do something more.
My Chinese instinct immediately told me that I needed o a good Chinese herbal soup to boost my immune system and reset my inner balance.
So next day, I made myself a pot a delicious and tonicchicken soup Chinese Herbal Chicken Soup with a wonderful Healthy and Immunity herbal soup mix from Root+Spring (see detailed review below).
Not to sound like a infomercial guy but that soup was more delicious than a lot of herbal soups I had and it really helped me tremendously. I started to regain strength by that Sunday night and was close to 100% by the time I finished the soup (which lasted me for 5 days)!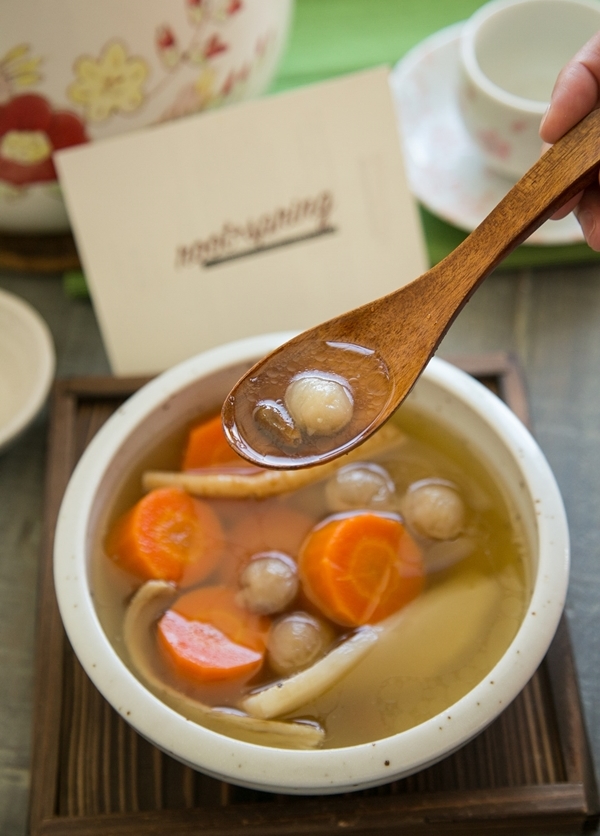 What's Chinese Herbal Soup
If this is your first time hearing about Chinese herbal soup 藥膳湯 (aka medicinal soup, tonic soup, healing soup), you're in for a ride because this isn't your ordinary hot and sour soup or egg drop soup.
Herbal soup is a kind of ancient soup recipes used to prevent and treat symptoms that ranging from boosting immunity system to preventing a cold to even treating sexual dysfunction (seriously)!
Dont' want to bore you with too much detail (but the fundamental idea behind Chinese herbal soup is that one's illness is an expression of imbalance between yin (cooling elements)  and yang (heating elements). If you have fever, that means you have too much of yang and it needs to be counterbalance with food that has cooling elements.
By combining a carefully chosen mix of herbs with either cooling or heating elements and traditional Chinese soup making method, the Chinese believe that the soup can restore your inner balance and lead to a healthier mind and body.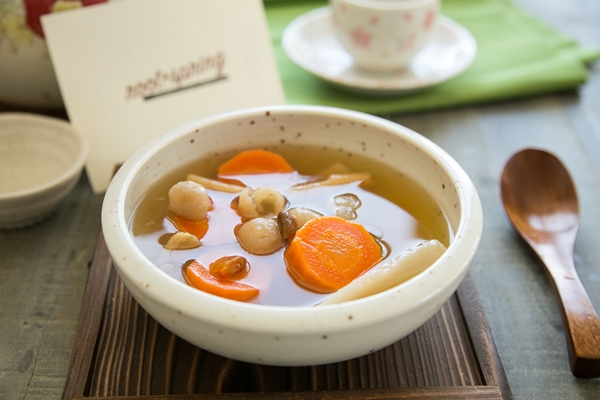 I used to make herbal soup from scratch regularly but sourcing and storing the herbs became a real challenge for me  until I came across Root+Spring – a L.A. based health company that makes these small batch high quality herbal soup kits and other Chinese health products.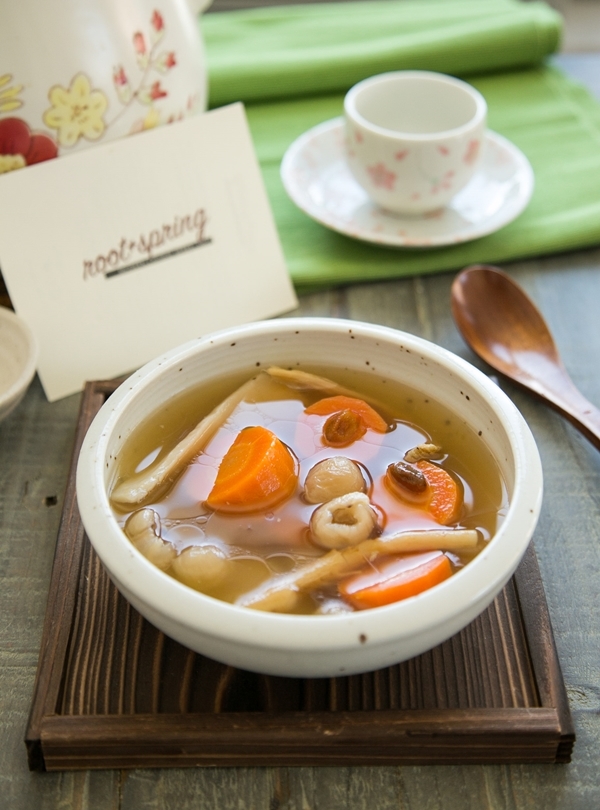 Root+Spring Herbal Kits
Cindy Mai, the passionate founder of Root+Spring, started Root+Spring with a mission to promote a better understand of Chinese herbal soup and help customers feel better naturally.
What makes their product different from some other herbal mixes I've tried is that all the herbal mixes have undergone vigorous ingredient selection and are packaged and shipped out from Los Angelas, CA.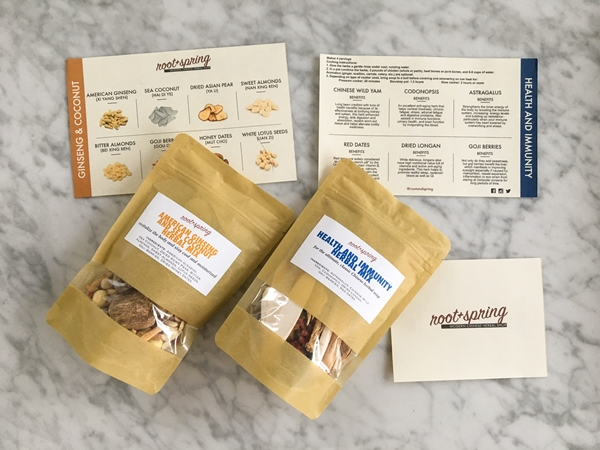 Root+Spring offers a number of herbal kits by the healing effects. The one I am sharing and reviewing today is the herbal mix for Good Healthy & Immunity soup which, as the name suggests, can help improve immune system and boost energy level and reduce stress level.
Each herbal soup kit is individually bagged and sealed and come nicely packaged in a box. Each kit also comes with a detailed step-by-step recipe and visual information on the healing properties of each herb.
Upon opening the package, I get six different high quality herbs. I am not a herbalist but the goji berries and longan both stand out to me as they are nothing like the dry and discolored lower quality stuff.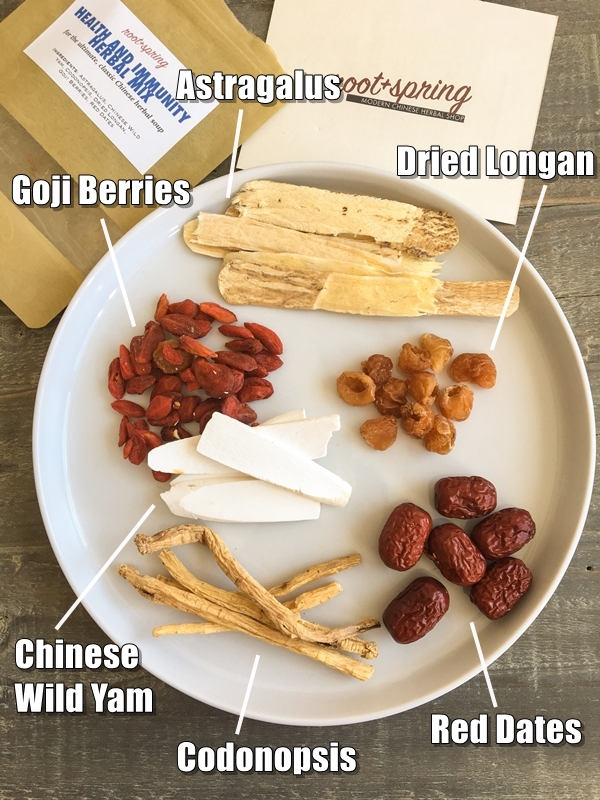 In case you don't recognize some of these herbs, here is a description for each herb taken directly from the information card included in the kit:
Chinese Wild Yam (Huai Shan) –  enhances energy, aids digestion and absorption, repairs worn-out tissue and helps alleviate bodily weakness.
Astraglus (Huang Qi) – strengthens the inner energy of the body by boosting the immune system, increasing energy levels and building up resistance
Codonopsis (Dang Shen) – combats tiredness, chronic fatigue, stress, adrenal fatigue and digestive problems
Goji Berries (Gou Qi) – benefit the liver, which manifests in improving eyesight
Dired Longan (Long Yan Rou) – helps promote restful sleep, replenish blood as well as Qi (aka the foundation of human body)
Red Dates (Hong Zao) – calm the central nervous system, protect the liver, inhibit cell mutation and improve strength of muscles
This is how the herb information card and recipe card look like: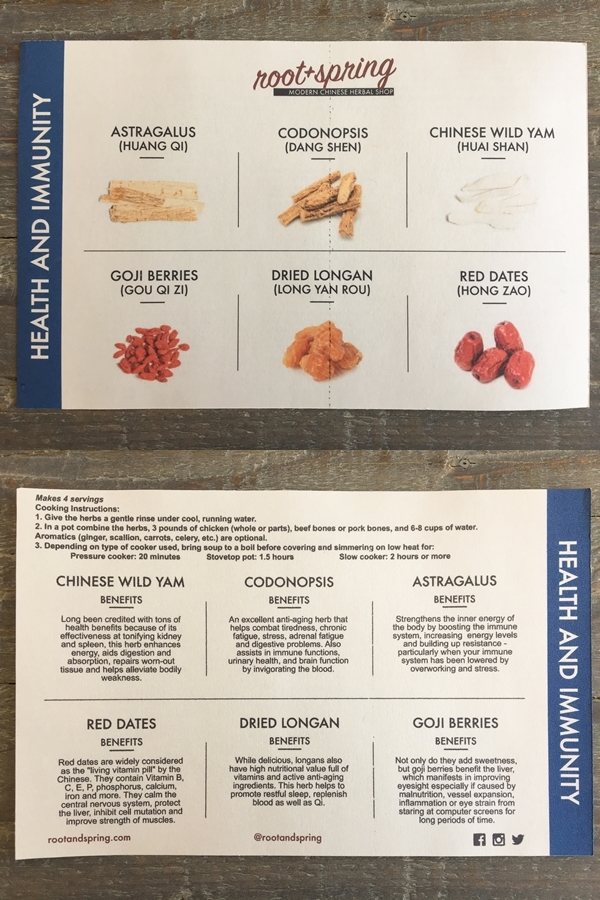 When you are ready to make the soup, just follow the step-by-step recipe included in the kit. As you'll see the actually recipe from a few paragraphs down, the cooking part is truly hassle free.
All you really need is a few minutes, some protein (pork bones or a chicken or a combination of both), some vegetables (optional) and of course this herb mix.
Once the soup is done, it was tasty and very mild in herbal flavor. And more importantly, it really worked for me when I was starting feeling low in energy and slightly dizzy that weekend.
One other thing I'd like to mention is that all the soup ingredients including the herbs are edible and some of the herbs taste quite good (looking at you Chinese wild yam!) so please don't be afraid to give them a try.
On the other hand of the spectrum, some people from the Canton region would ONLY drink the liquid part of the soup believing that the essence of each ingredient is fully extracted to the soup so all the dry ingredients are just dead weight.
How do you like to drink your Chinese herb soups?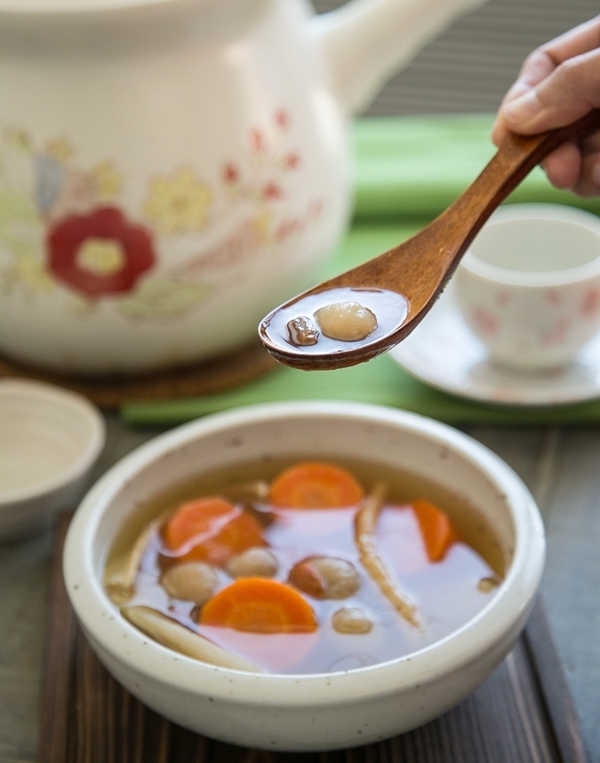 Conclusion
I am very impressed with the herbal mixes from Root+Spring. The beautifully pre-packaged herb mixes basically take the guessing game out of the equation so anyone can easily make these traditional healing herbal soups.
On top of the convenience factor, I definitely appreciate the quality of the herbs. It's safe to say that if I were to source the same herbs in Chinatown, I'd probably end up getting lower quality stuff just because I am a retail customer.
Not to mention that the recipe is so easy to follow and the soup is both delicious and healing when my body was feeling vulnerable.
For those reasons, I can wholeheartedly recommend the herbal soup kits from Root+Spring to those of you who are  new to Chinese herbal soup or have already been enjoying this healthy soup but wanting to reduce the hassle.
For more information on Root+Spring or how to order their soup kits, please visit https://rootandspring.com/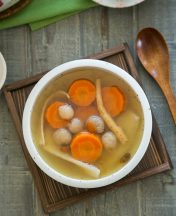 Chinese Chicken Herbal Soup for Health and Immunity
Yield: bwols of soup
Prep Time: 15 mins
Cook Time: 120 mins
Total Time: 135 mins
Ingredients:
1 small chicken (about 3 lb). Can also use pork bones or a combination of both. Root + Spring Immunity Herbal Soup Mix 1.5 lb carrots 2 slices of ginger Salt to taste
Directions:
Rinse the herbs under cold water. You might see some discoloration but that's perfectly normal. Drain the water and set aside.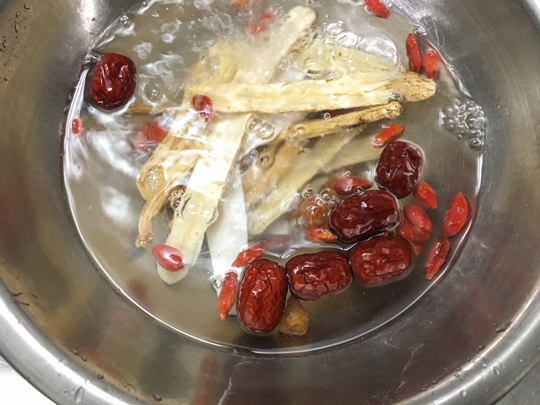 Peel and cut carrots into 1" thick chunks.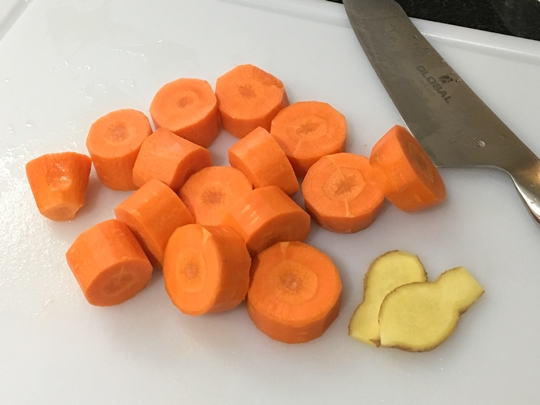 Par-boil the chicken in a pot of water for 5 minutes. This step is not in the recipe card but I prefer to include this process to release residual blood and other impurities from the chicken. Remove the chicken and thoroughly rinse under running water. Set aside.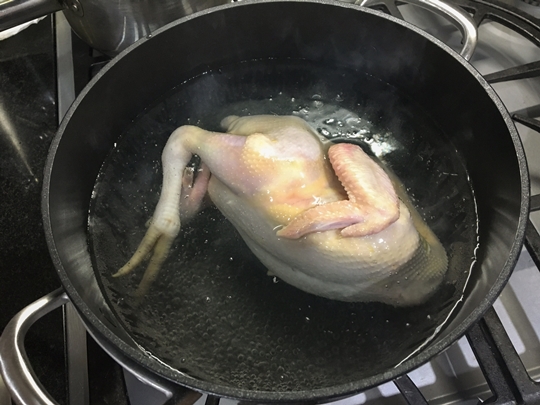 In a large pot or a Chinese porcelain soup pot (pictured), combine the chicken, herbs, ginger slices, and 8 cups of water.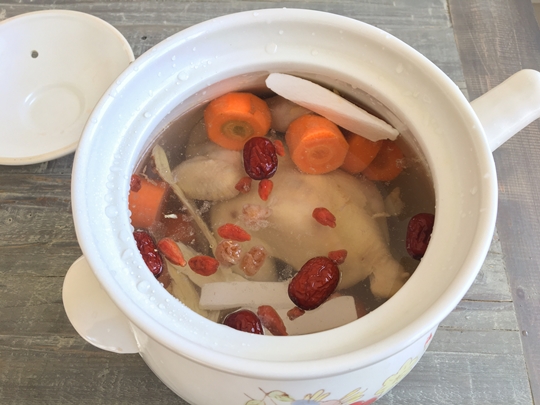 Once the soup is boiling, cover the pot and let the soup simmer in low heat at lease 1.5 hours or up to 4 hours. Once the soup is done, season it with salt to your taste and serve while it's hot.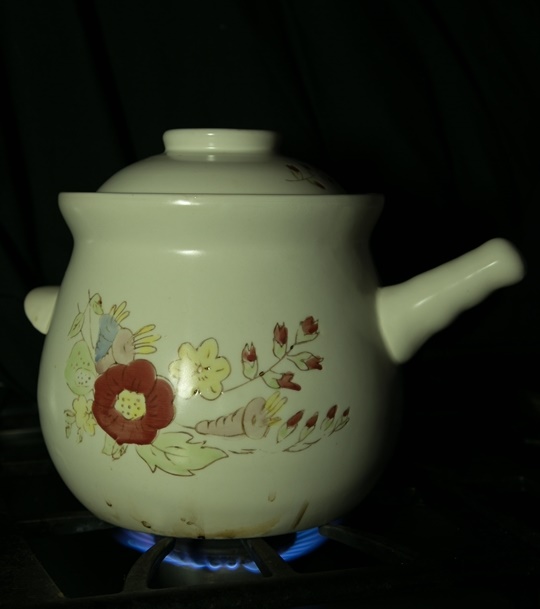 I'd like to thank Cindy and Root+Spring for providing me the herbal kits in order to bring you this review and recipe.
Disclosure: All words are my true opinion and I have not received any compensation other than the products shown.