Easy Hot and Sour Soup 酸辣湯
Warning
: Parameter 2 to wp_hide_post_Public::query_posts_join() expected to be a reference, value given in
/home/yirese5/public_html/wp-includes/class-wp-hook.php
on line
287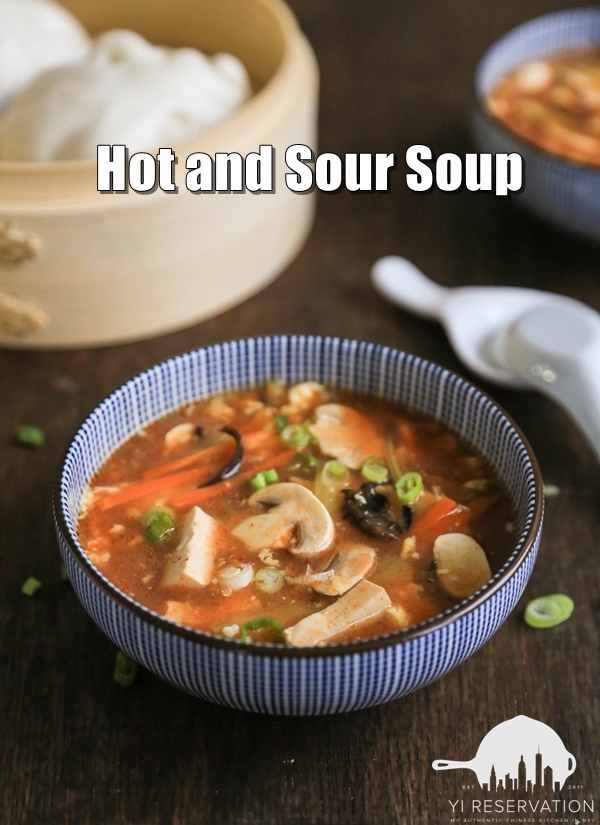 2016 is almost coming to the end. It's getting colder and colder here in New York City and my hibernation mode is slowly kicking in.
All this really translates to: between now and the end of the year, I'd be more inclined to cook something easy and comforting like this heart-warming hot and sour soup.
Of course, I am not talking about the kind of hot and sour soup you can from a cheap Chinese takeout or buffet restaurant. This one is a lot better and completely free of MSG.
Although not an authentic Chinese dish, this hot and sour soup has become one of the American Chinese dishes that I actually like.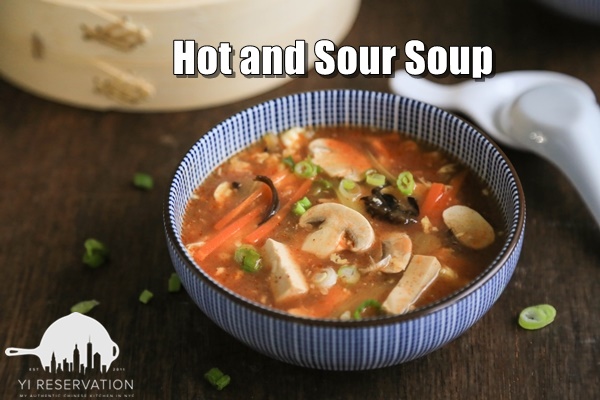 Maybe it's that distinctive vinegary-spicy-peppery taste or that slightly gooey and thick consistency, something about this soup just keeps getting me.
Moreover, I actually enjoy the subtle complexity from all the ingredients thrown in there. This is also why I always prefer hot and sour soup over the good old egg drop soup, if given the options.
What makes this hot and sour soup special?
I'd say it's the ingredients I use.
The original recipe, which I got from a Chinese restaurant I worked at from way back, called for preserved vegetables and canned mushrooms and bamboo shoots which aren't really something I usually stock up.
So, to make this accessible to just about anyone with a pantry, I trimmed down down all the canned stuff and only kept all the essential ingredients you need to make a tasty hot and sour soup. Plus, using fresh ingredients is always better and healthier in my book.
Note, this recipe doesn't include any meat, that's just a personal preference. You can easily add sliced pork or chicken to give it an upgrade!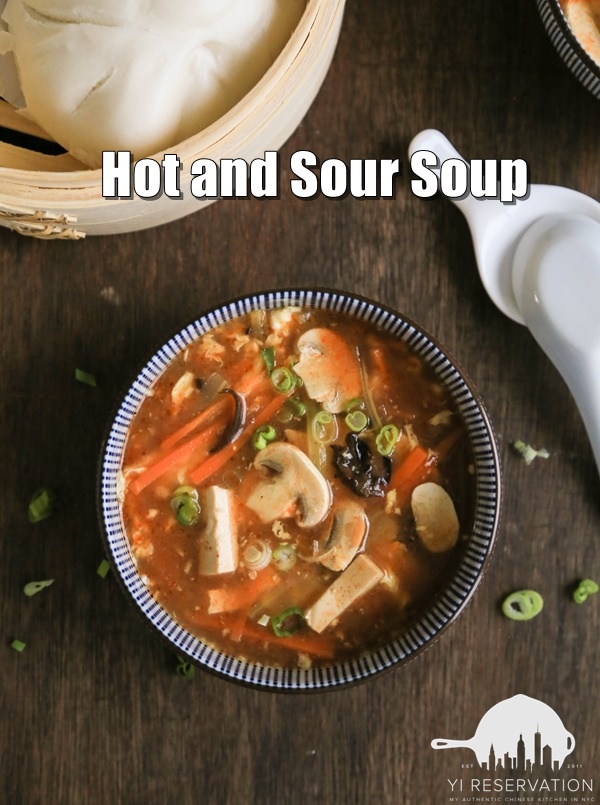 Woodear what?
I listed woodear mushroom as an optional ingredient because I know it's not a common ingredient.
Wood ear is a type of mushroom/fungus that grows on tree trunks. Woodear may sound very exotic but it is actually packed with wonderful nutrients. It's low carb and low fat but rich in iron and collagen (good for your skin).
It has medical properties such as anticoagulant, hypoglycemic, antitumor, and cholesterol-lowering properties.
It's crunchy in texture and almost flavorless but a hint of earthiness so it's usually consumed with something saucy and flavorful.
In the U.S. it's always sold in dried form and you'll have to re-hydrate and rinse well before using it. If you have a Chinese grocery store nearby, look for this in the dried goods section.
To re-hydrate woodear, just soak the woodear in warm water for 10 minutes or until it stops expanding. Then rinse under running water to clean.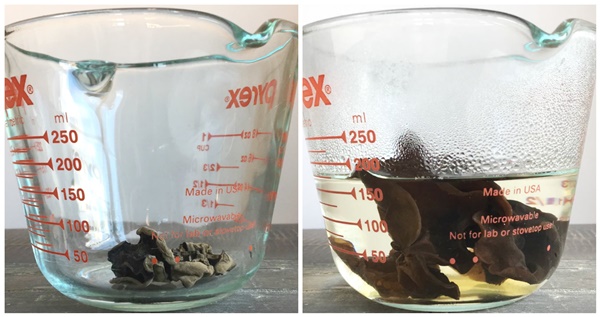 Lily Buds
Dried eatable lily buds are another ingredient used a lot in this soup. Several readers pointed out the absence of lily buds in this recipe so I'd like to include a bit more info on lily buds.
Lily buds are also known as lily flowers or golden noodles. I grew up eating fresh lily buds in China but here in the US, only the dried ones are available in the same aisle as woodears.
The lily buds add a nice and refreshing floral taste to whatever you cook so it's used in a number of traditional dishes in China. However the dried ones have a undesirable sulfur taste as sulfur is used as a preservative so when you rehydrate it make sure you rinse it real well.
I personally don't like the dried ones due to the hint of sulfur taste so I didn't include them in this recipe but if you have some lily buds on hand, just add a handful of them when you add mushrooms.
YouTube Video
I have shot a video for this recipe and it should be posted on YouTube in the next few days.
If you haven't done so, please make sure you follow my YouTube channel so you won't miss the latest videos.
Step-by-step Recipe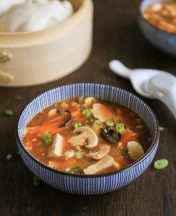 Easy Hot and Sour Soup
Yield: 2 Bowls
Prep Time: 10 mins
Cook Time: 10 mins
Total Time: 20 mins
This easy and delicious hot and sour soup is way better than the one you get from the Chinese takeout. Plus, it's a lot more healthier when you use fresh ingredients and drop the MSG.
Ingredients:
Ingredients:
1 stalk celery
1/3 carrot
3-4 button mushroom
¼ block of tofu
3 woodear mushroom, rehyrated (optional)
Scallion for garnish
2 cup chicken stock (low sodium if used canned)
corn starch slurry (2 tbsp corn starch + 3 tbsp water)
1 egg, beaten
Seasoning:
¼ cup rice vinegar + 1tbsp
2 tbsp soy sauce
1 tbsp Shaoxing cooking wine
1 tbsp chili oil
1 tsp cayenne pepper powder
½ tsp white pepper powder
½ tsp sesame oil
Directions:
Thinly slice the celery, carrot into 2-inch long strips. Cut the tofu into the size of your pinky.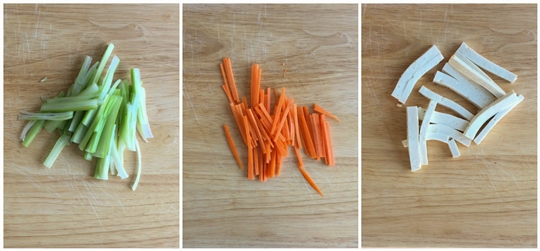 Thinly slice the rehydrated woodear mushrooms. Cut the scallions and slice the button mushrooms to thin slices.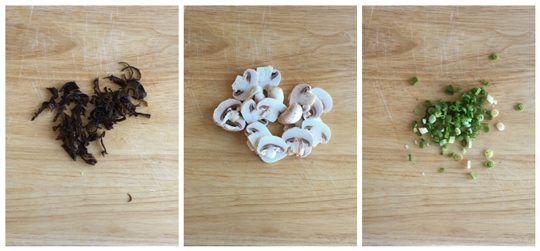 Bring a pot of water to boil. Blanch all the vegetables except mushroom for 1 minute. Remove and drain off the excess water. Set aside. This extra step is to remove some of undesirable taste from the tofu and celery.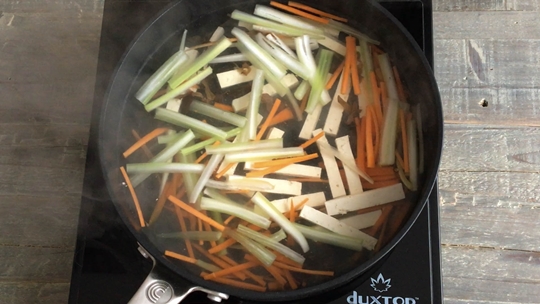 Add two cups of chicken stock to a pot over medium heat. Add vinegar, soy sauce, cooking wine, white pepper powder. Stir to mix.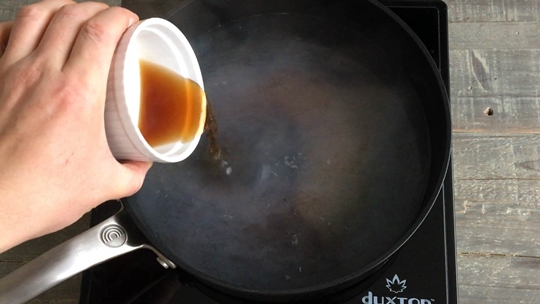 Then add the chili oil, cayenne pepper powder, and sesame oil to the soup. Mix well and taste with a soup. Depending on how salty your chicken stock is, you'll need to add salt to taste.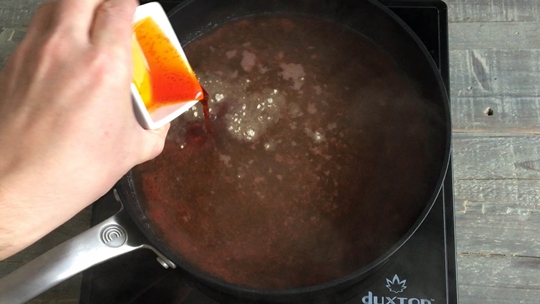 Add the blanched vegetables to the soup. Bring to a full boil and let the soup cook for 2 minutes.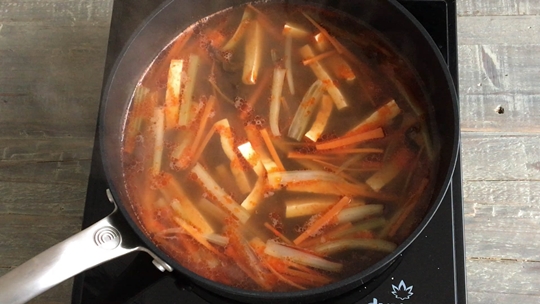 Add sliced mushroom. Then slowly pour the corn starch slurry to the soup while stirring with a spatula. The soup should turn thicker and start to bubble. Let the soup cook for 1 minute.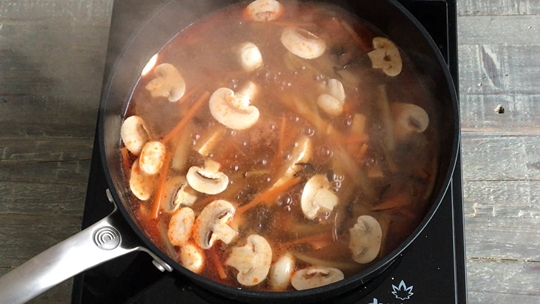 Turn off the heat and drop in the egg. Do not stir the soup (so it won't turn into an egg drop soup) but gently shake the pot to spread out the egg. Garnish with chopped scallions and serve while hot.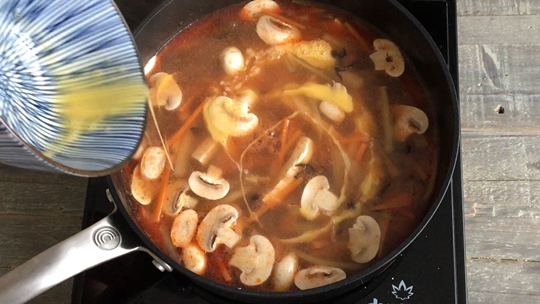 Lastly, just wanted to share that my favorite way of serving this hot and sour soup in a cold winter day is to pair with a hot and fluffy steamed meat bun. It's so heavenly!
How about you?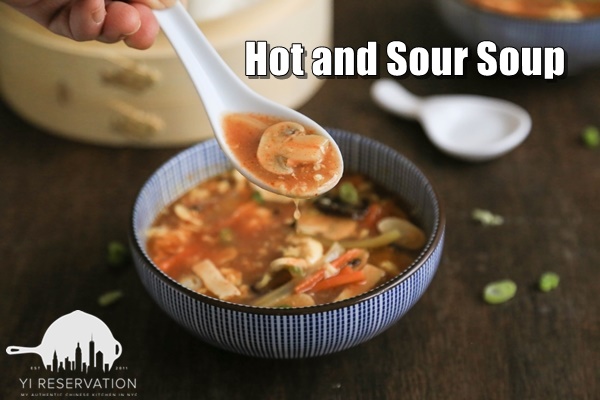 Warning
: Use of undefined constant rand - assumed 'rand' (this will throw an Error in a future version of PHP) in
/home/yirese5/public_html/wp-content/themes/yireservation/single.php
on line
72
Warning
: Parameter 2 to wp_hide_post_Public::query_posts_join() expected to be a reference, value given in
/home/yirese5/public_html/wp-includes/class-wp-hook.php
on line
287