Chongqing Chicken with Chilies 辣子雞
Warning
: Parameter 2 to wp_hide_post_Public::query_posts_join() expected to be a reference, value given in
/home/yirese5/public_html/wp-includes/class-wp-hook.php
on line
287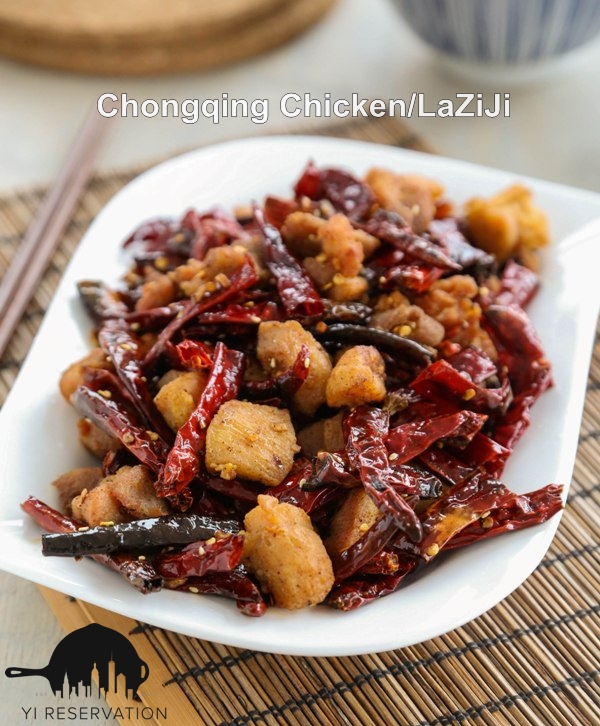 Hello and Happy New Year!
Nothing gets me more excited than kicking off the new year with a pepper head party dish like Chongqing Chicken (yes that's a dish named after my hometown!).
For those of you love Sichuan cuisine, Chongqing Chicken rarely needs any introduction. For those of you who haven't heard of this dish, Chongqing Chicken, aka Chinese with Chilies or 辣子雞 LaZiJi in Chinese, is a spicy dish best known for the insane amount of chili pepper used (more on that later), the incredibly aroma, and the dramatic chili pepper to chicken ratio observed by the patrons.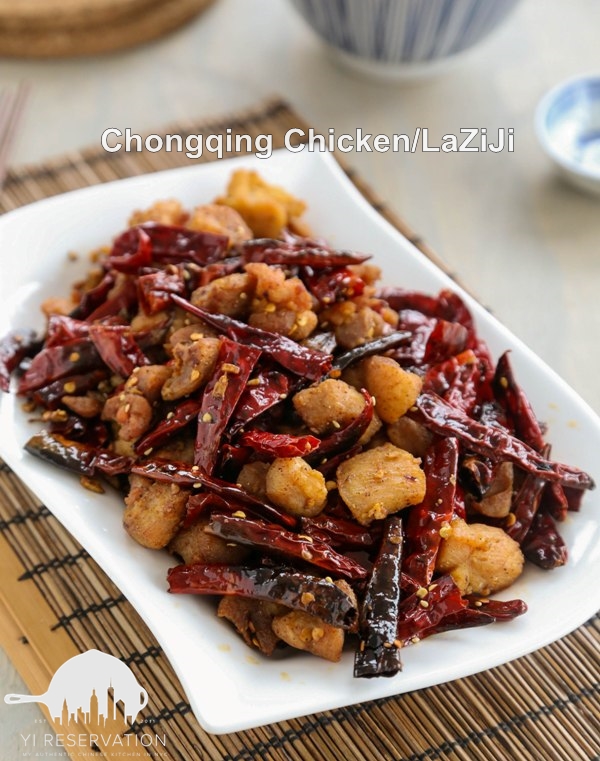 I still remember my first time eating this dish in Mont GeLe Mountain where the dish had just been recently invented. As dinners get seated, a kitchen staff would bring out a live chicken for approval (alternatively, a customer can pick out a chicken from their cage at the back). The chicken is then weighted (the weight is used to calculate the price) and sent back to the kitchen for processing. 30 minutes later, a giant tray of chicken bits buried in a mountainous pile of chili peppers is ushered to the table by two waiters and the spicy feast begins.
Fortunately, for us home cooks, we can skip all the live poultry and all that dramatic entrance and still serve up a delicious plate of chicken that's equally impressive.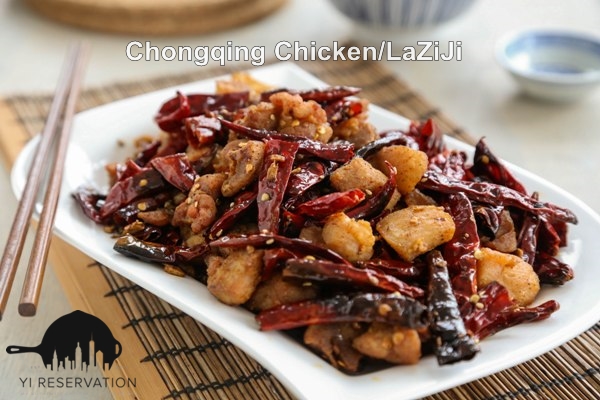 The recipe for Chongqing chicken is actually pretty straightforward. However since there is a large amount of chili pepper on stake, it's important that you know the spicy level of your peppers. The last thing you want to do is to use super spicy peppers and the dish becomes inedible.


In my demonstration, I use 1.5cup of medium spicy dry chili per 1lb of boneless chicken. This works out pretty well for my palate – the dish is spicy to the point that I can still taste the full flavor of chicken and other spices.
Another important ingredient is five-spice-powder. For this dish I like to make my own spice powder comprised of anise star, sand ginger, fennel, white pepper. If you don't have whole spices readily available, some store bought five-spice-powder should do the trick as well.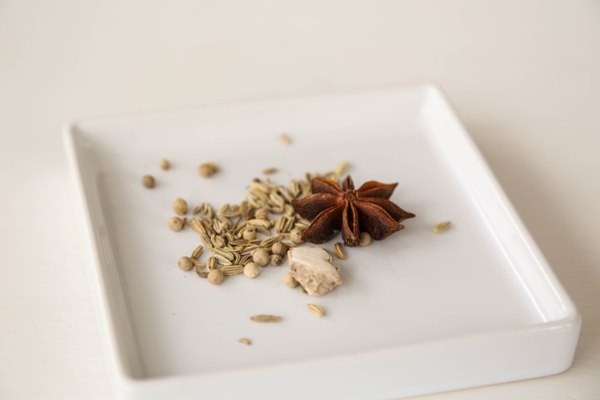 As for the chicken, the traditional recipe always calls for a whole bone-in chicken (live if possible). For demonstration purpose, I opt for boneless chicken tights because a lot of readers aren't used to handle a whole bone-in chicken and it's quite messy if one tries to chop a whole chicken without proper tool (aka a bone cleaver). However, if you are already used to eating chicken off the bones, you are more than welcome to use a whole chicken to score the bonus point 🙂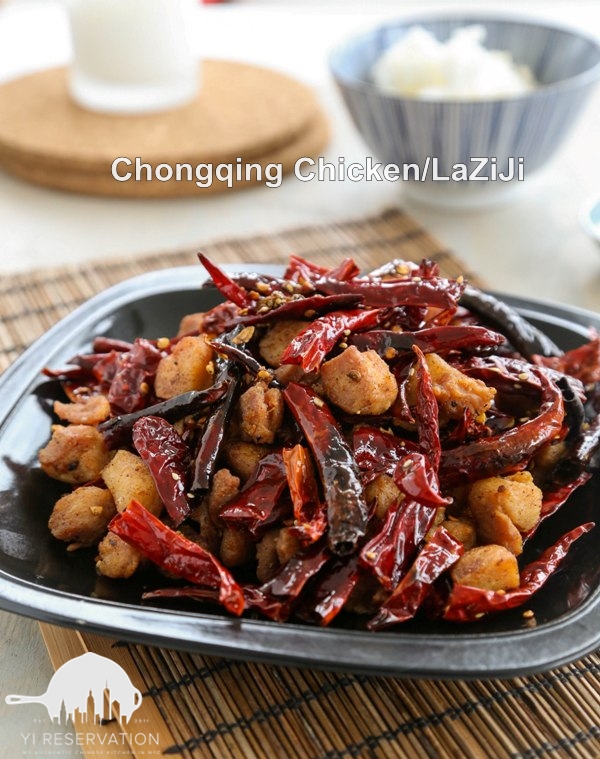 P.S. it's customary for the customers to take home the leftover chili peppers so they can be re-purposed. After you are done with the chicken, try to use the leftover chili peppers for other spicy dishes such as this fish in spicy chili oil.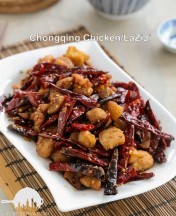 Chongqing Chicken with Chilies 辣子雞
Yield: 4 servings
Prep Time: 30 minutes
Cook Time: 25 mintues
Total Time: 55 mintues
Make this flavorful Chongqing Chicken with Chilies recipe following this step-by-step recipe at
yireservation.com
Ingredients:
2lb Chicken*
2-3 cups Dried chili pepper
1tbsp Sichuan peppercorn
2 clove garlic, minced
2inch ginger, minced
1 tbsp shaoxing wine
½ tsp five spice powder
Salt to taste
1 scallion white, minced
Marinate
1tsp salt
1tbsp shaoxing wine
2 slice ginger
1 scallion, cut
½ tsp five spice powder
Directions:
Cut the chicken into 1"x1" cubes. Marinate with all the marinade ingredients for 30 minutes. In the meantime, cut the dried chilies with a pair of scissors into 1"-1.5" segments.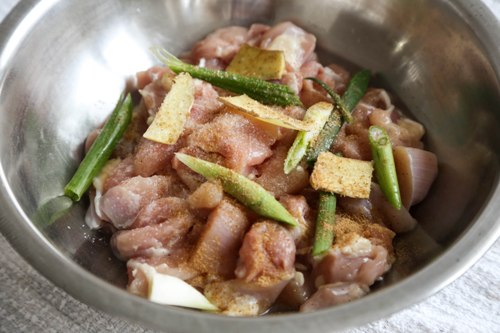 Heat up 3 cups of oil in a wok or skillet. Discard the ginger slices and scallions in the chicken marinade. Add in the chicken cubes.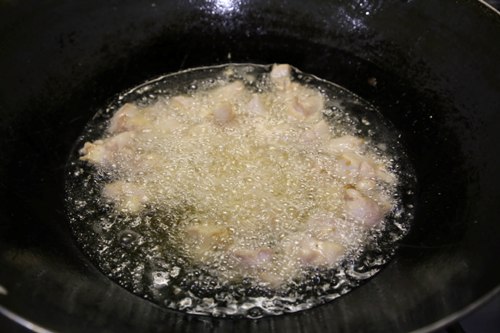 Deep fry the chicken cubes over medium heat until golden brown. About 4-5 minutes. Stir occasionally to prevent sticking.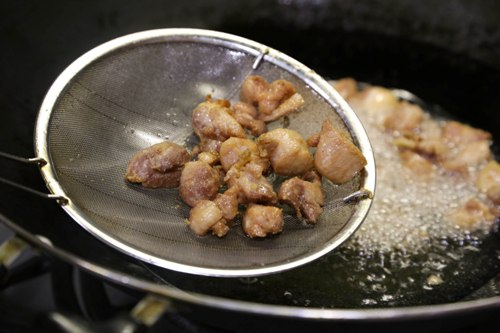 Transfer the fried chicken to a paper-towel-lined plate.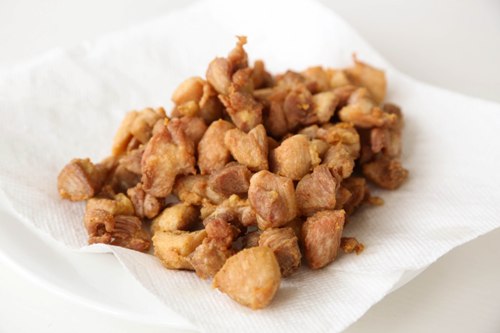 Heat up 2 tbsps of oil in a wok over low heat. Add dried chilies, Sichuan peppercorn, minced ginger, minced garlic, and minced scallion.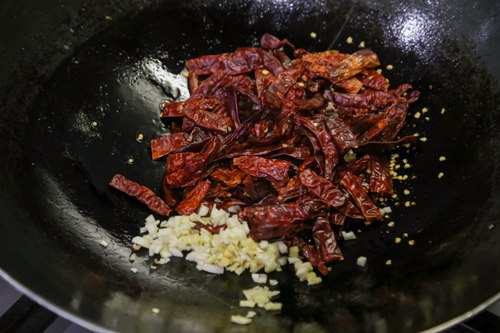 Stir fry everything until aromatic and when dried chilies start to turn dark.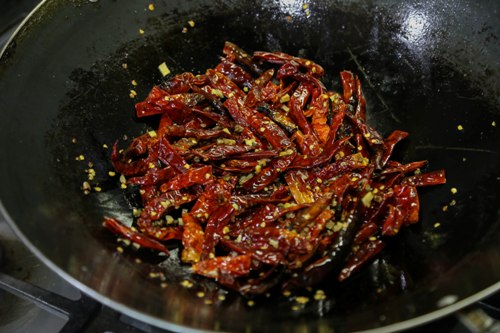 Add fried chicken to the wok and stir fry over medium heat for 2 minutes. Add ½ tsp five spice powder and salt to taste. Serve hot with a bowl of steamed rice.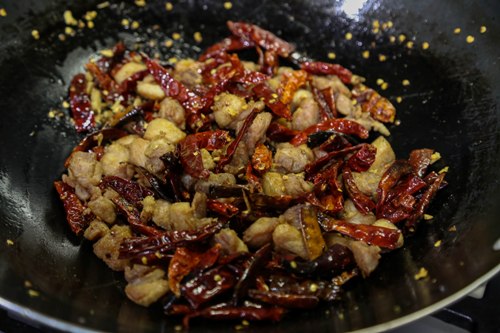 *traditionally, a whole chicken is used for this dish. I used boneless tight in my demonstration but you can easily adapt this recipe with a whole chicken.