Basic Chinese Pork Stock 湯底
Warning
: Parameter 2 to wp_hide_post_Public::query_posts_join() expected to be a reference, value given in
/home/yirese5/public_html/wp-includes/class-wp-hook.php
on line
287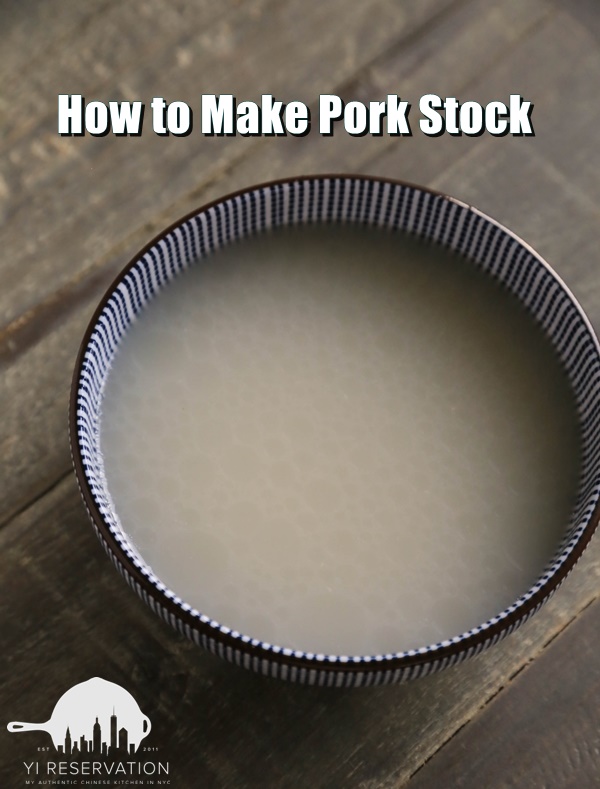 Stock such as this basic pork stock is an ingredient you come across often if you regularly cook Chinese food (or any other serious dishes).
A good stock provides a solid foundation to whatever dish you intend to make and enhances the overall flavor profile. And from my personal experience, it's also one of the ingredients that sets apart the restaurant quality food from homemade dishes.
so let's get down to the basics today and make a very basic Chinese style pork bone stock.
Stock vs Broth
Don't want to sound too technical but let's be clear about the difference between stock and broth which are used interchangeably sometimes.
A stock is a liquid flavored with bones and sometimes other basic ingredients as you see fit. It's used as a foundation and doesn't have to have a specific flavor. Basically it's at the bottom of the food chain.
Broth is one step above in the food chain. Not only you use bones but also meat and/or vegetables in your broth. It usually has its own flavor profile and can be used directly to make a soup.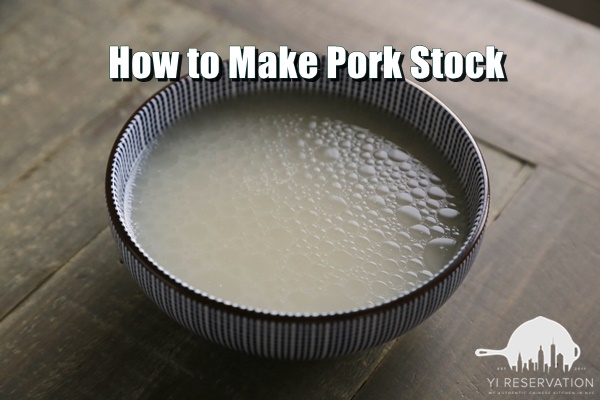 The most common basic stock in Chinese cooking or 湯底 is made from pork leg bones, chicken carcass, beef leg bones, or any combination of these.
For demonstration purpose, I'll show you how to make a pork bone clear stock using these pork leg bones which are easy to find in Chinese grocery stores. You can follow the exact same technique to make chicken stock, beef stock, or chicken/pork stock which is popular in Chinese restaurant industry.
If you are not able to find the leg bones, can substitute with other types of pork bones such as neck bones or backbones.
Lastly, I'd like to mention that this stock is extremely versatile. Basically, you can replace water with this stock in making sauces or more complicated soup dishes. Also, this stock can be used directly in my Hot Pot recipe.
Step-by-step Instruction: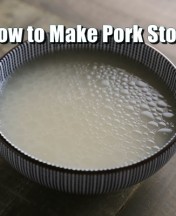 Pork Bone Soup
Yield: 4-5 Quarts
Prep Time: 30 min
Cook Time: 60+ min
Total Time: 90+ min
Ingredients:
3lb pork leg bones, broken into halves
1/2 cup Shaoxing cooking wine
2 slice ginger
1 scallion
Directions:
Start with fresh pork leg bones.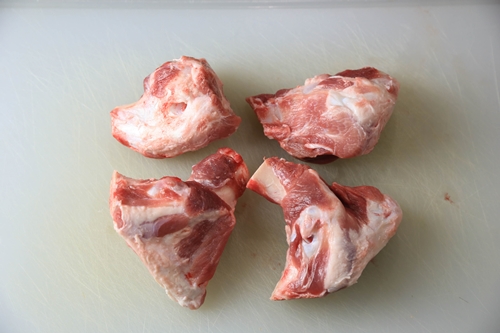 Submerge the pork bones in a pot of cold water. Let them soak for at lease 30 minutes to let blood come out.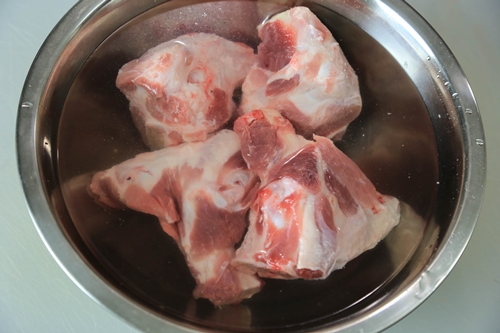 Bring a large pot of water to a boil. Add the pork bones and let them cook for 15 minutes or so to let the remaining blood come out.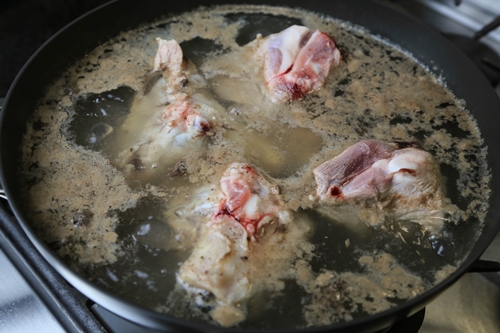 Remove the bones and let them cool.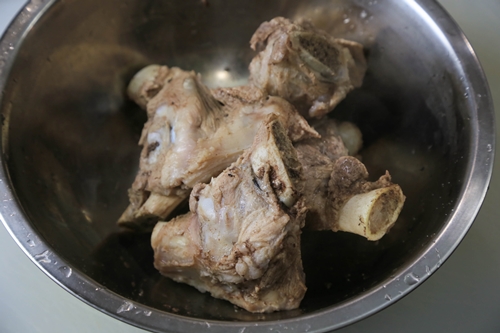 Thoroughly scrub the bones with a food brush under cold water. This step is very important as residual blood can turn the stock brown and introduce bitter taste.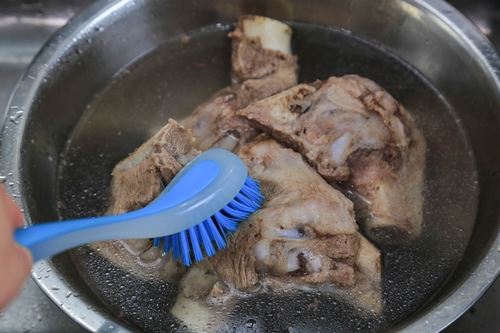 Make sure there is not residual blood on the bones left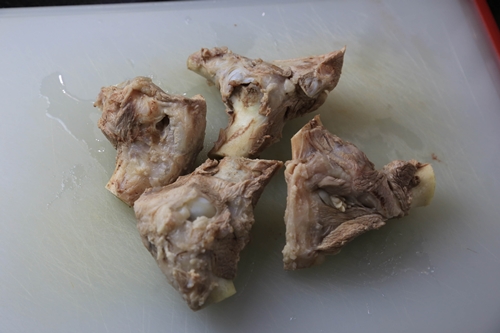 In a large stock pot, combine the cleaned pork bones with 6 quarts of cold water. Cook over high heat.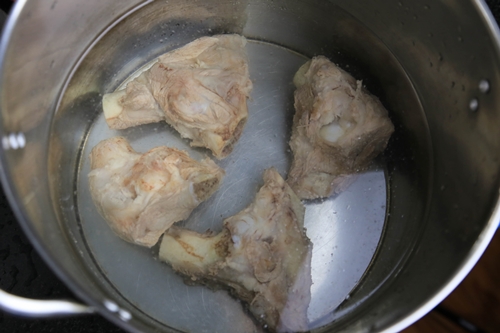 Once boiling, turn the heat to simmer. Skim off any scums floating on surface. Add ginger, scallion, cooking wine. Cover the lid and let the stock simmer for at least one hour. Stir the stock every 20 minutes or so. If the liquid is running low, add more cold water.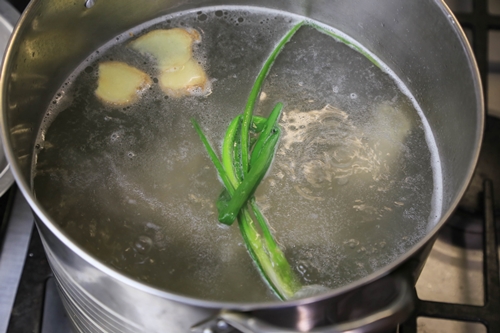 To get most of the flavor out of the pork bones, I recommend cooking for at least two hours. You should end up with 4-5 quarts of stock.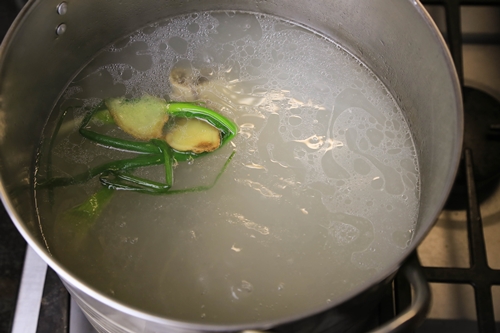 Once the stock is done, store in jars in a fridge for up to 3 days. For longer storage, storage in the freezer for up to 1 month.