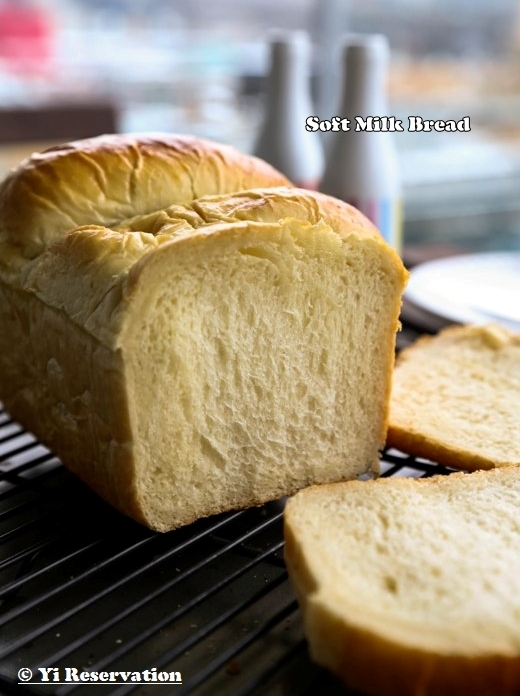 If you grew up in Asian communities, you probably need no introduction to the popular Asian style milk bread.
Commonly known as Hokkaido milk bread or Japanese milk bread, or milk toast, this super soft and fluffy bread has always been my preferred bread. Since this bread does not necessarily require ingredients from Hokkaido, Japan, I like to just call it soft milk bread for the sake of simplicity.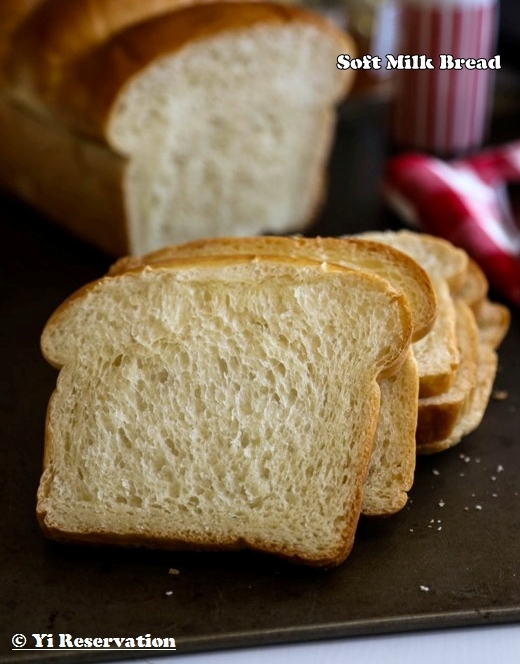 What makes this bread so special is the flavorful and texture.
The strong milky and slightly sweet flavor of this bread makes the traditional white bread taste so bland. And there is that signature soft texture. That incredibly fluffy and soft-pillowy texture makes this bread so addicting!
Don't believe me? Take a look at this Instagram video I posted on pulling the bread apart:

The secret? All lies with the use of TangZhong – a special technique used in Asian bread baking.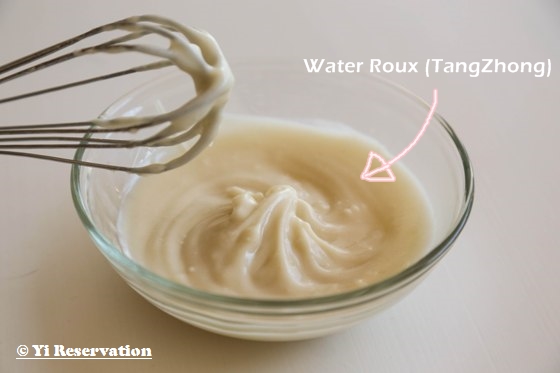 TangZhong or 湯種 translates to water roux in Chinese. It is basically a creamy paste or roux made from cooking the water and flour mixture. Because the roux contains large amount of liquid, when it's added to the bread it makes the bread traps extra moisture, hence the long lasting soft and fluffy bread.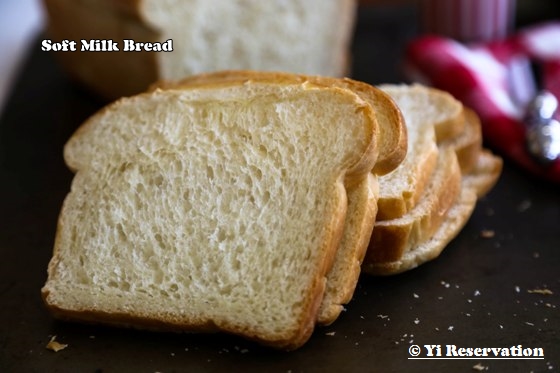 The milk bread is so versatile that can served it as a toast for breakfast, make a sandwich for lunch, and serve as table bread for dinner. When I am bored, I also like to eat it as a snack with some soft butter or good jam. I am not crazy but the bread is just that yummy!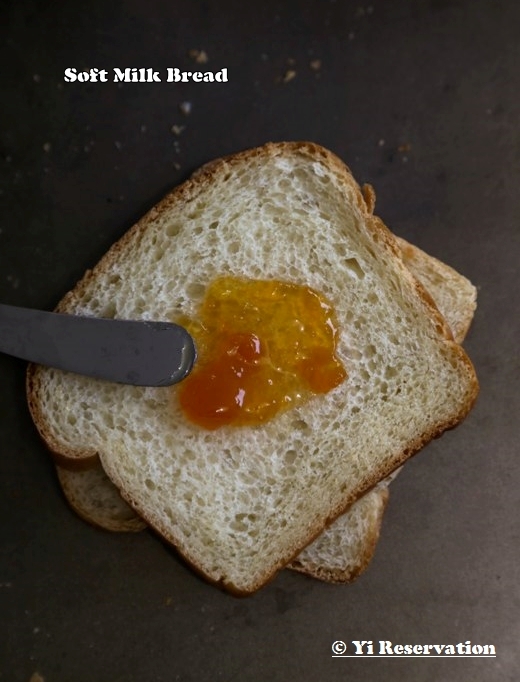 I have been experimenting my milk bread recipe on and off for a little over a year now.  After testing over a dozen of recipes available online, I finally came up with this recipe to make the milkiest, softest, and fluffiest bread you'll ever had. Ever since then, I have not bought a single loaf of bread from stores…which is a good thing I suppose considering all that crazy chemicals used in making some commercial bread.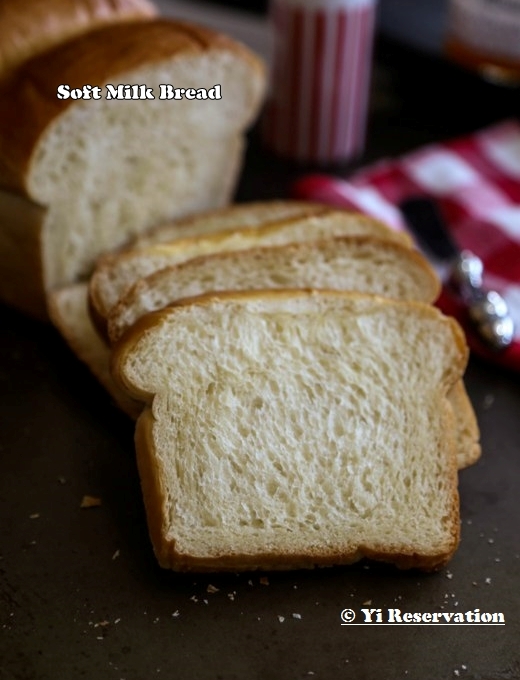 The process of making this bread is slightly more complex than normal white bread baking due to multiple stages of proofing. Also, the dough is on the wet and sticky side so if you plan to knead the dough by hand, make sure you bring plenty of patience and strength.
Sounds like a lot lot of work? Yes!
Is it really worth it? Absolutely!
Aisan Soft Milk Bread
Make this super soft milk bread following this step-by-step recipe at yireservation.com.
Ingredients
Water Roux (TangZhong)

25g flour
100ml milk

Bread Dough

330g bread flour
115g chilled water roux (TangZhong) from below recipe
1 large egg, about 60g + more for egg wash
5g active yeast + 30ml warm milk or water
70ml heavy cream
50g sugar
4g salt
30g butter, softened in room temperature
Instructions
To Make the Water Roux

In a small sauce pan, combine the milk and the flour. Whisk using a egg beater until lump-free
Place the pan over low heat while whisking to keep the lumps from forming. In 3 minutes, the mixture starts to thicken. Keep stirring for 2 more minutes until the mixture becomes a smooth pasty roux. You should be able to get soft peaks out of the roux. Cool down the roux completely before you use. I suggest you to make the roux the day before and chill it in the fridge overnight

To Make the Bread Dough for 1lb Loaf Pan (8.5" x 4.5" x 2.75")

Proof the active yeast with 30ml of warm milk. Skip this step if you use instant yeast or fresh yeast
In a stand mixer or bread machine, combine all the bread dough ingredients except for the butter. Place the wet ingredients on the bottom and the dry ingredients on top. Start kneading the dough in medium speed or according to the bread machine instruction. As the dough starts to form, feel the dough with your finger to make sure it's soft and slightly sticky
About 20 minutes into kneading and when the dough is completely formed, add the softened butter. Continue to knead to another 10 minutes or so
When the dough is done, cover with a lid and let it ferment until the dough doubles the size.
It normally takes between 45 minutes to 1.5 hours for the dough to fully rise depending on the room temperature. To speed up the process, you can preheat your oven to 100 F. Turn off. And place your dough in the oven
When the dough is risen, place it on a workstation. Deflate by pressing down and pushing out the air. Knead the dough for about 5 minutes and divide it into four portions
Knead the dough into four balls. Cover with plastic wrap and let them rest for 10 minutes
Take a ball, roll into a rectangular sheet using a rolling pin
Take one end of the sheet and fold into the middle. Take the other end and fold it to the middle but slightly over laps the first fold. Start from one unfolded end and roll the folded dough from one end to the other end to form roll
Cover all four rolls with plastic wrap and let them rest for 10 minutes
Slightly press down the roll with your palm and roll out the dough to a rectangle. Flip over the dough and roll the rectangle into a cylinder. Pinch to seal the end
Place all 4 cylinders into a parchment-paper-lined or well-oiled loaf pan. Cover with plastic wrap and proof for 1 to 1.5 hours depending on the temperature
Preheat the oven to 350 F or 177 C. If you like slightly denser texture, stop proofing once the dough doubles the size and reaches the height of the loaf pan. For super soft bread, continue proofing the dough until it's 1 inch above the pan
Brush the loaf with egg was and bake at 350 F or 177c for 15 minutes. Take the loaf out and cover with a sheet of foil to prevent it from further browning. Place the loaf back to the oven
Continue to bake for another 20 mintues. Remove the leaf from the pan and let cool on a cooking rack. Cut into slices once it's completely cool down and serve fresh
http://yireservation.com/recipes/soft-asian-milk-bread/
Copyright © Yi Reservation 2010 - 2013