Chinese Vegetable Dumplings 素餃
Warning
: Parameter 2 to wp_hide_post_Public::query_posts_join() expected to be a reference, value given in
/home/yirese5/public_html/wp-includes/class-wp-hook.php
on line
287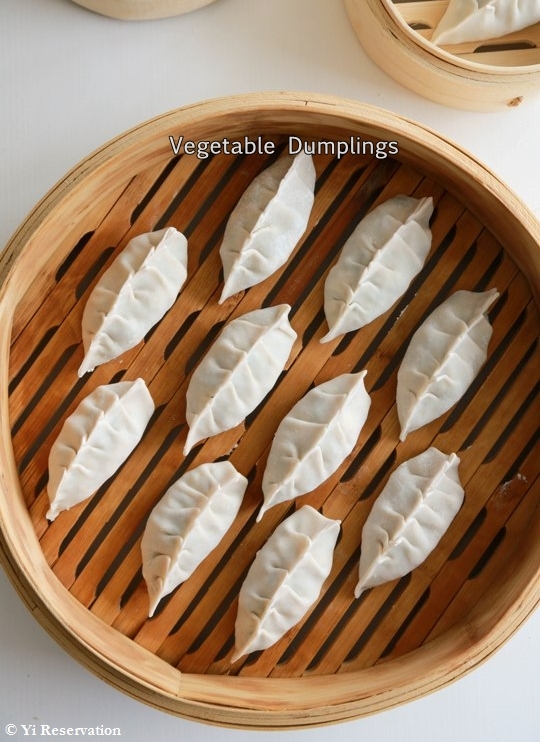 Happy Summer everyone! Woohoo!
In celebrating the start of my favorite season, I propose that let's make some DUMPLINGS together.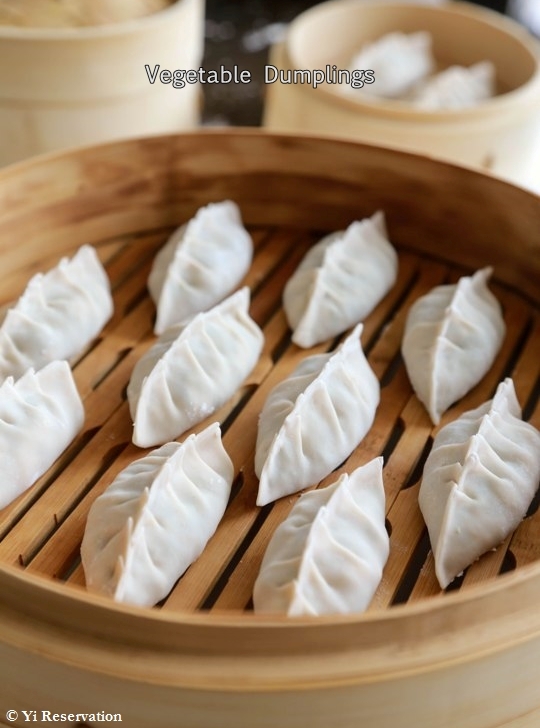 I know a lot of you probably already have a favorite dumpling recipe of your own (and I hope that is this dumpling recipe here) but I promise you the recipe I am sharing today will be a little different
Because it's vegetarian. That's right, I am talking about a meatless dumpling recipe that will probably help you get in shape just in time for the beach! Heck, if you want, this recipe can also be easily turned into a vegan recipe (see notes below).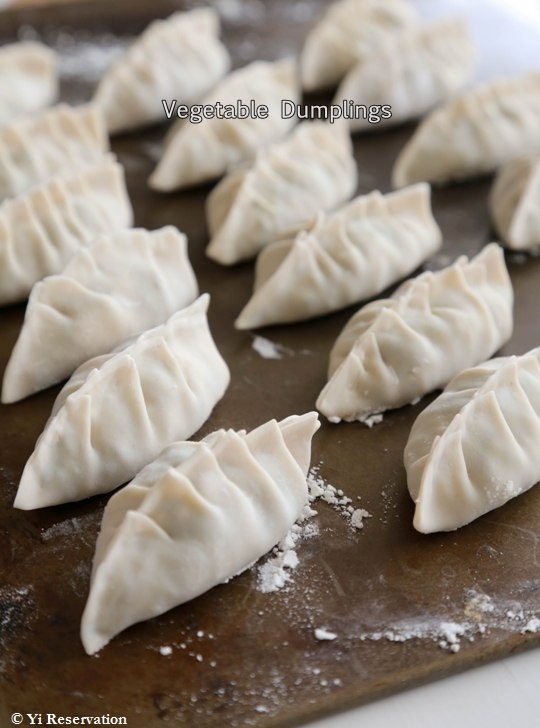 Before you quickly dismiss the recipe because it's vegetarian, let me just tell you that these dumplings are absolutely delicious! So tasty that even a diehard pork dumpling guy like me could chow down a dozen of these without missing a bit of meat!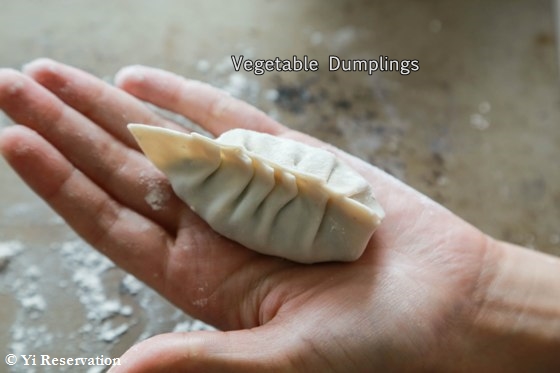 But you won't believe me until you actually try them, right?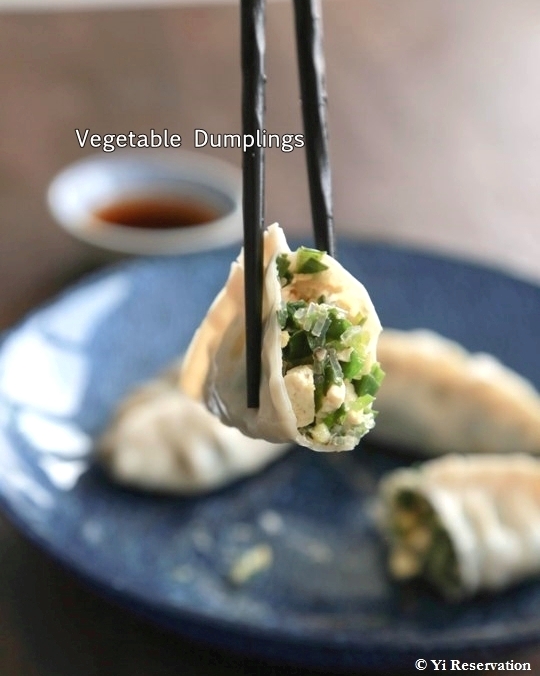 The ingredients used in this recipe are my favorite combination but you can certainly add/substitute in other ingredients such as corn kernels, chopped carrots, other type of mushroom, and etc.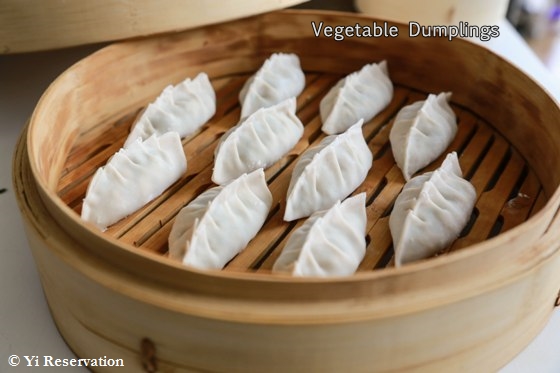 As I mentioned earlier, you can readily make these dumplings vegan friendly. Just substitute the eggs with additional tofu and mushroom or other additional ingredients you care.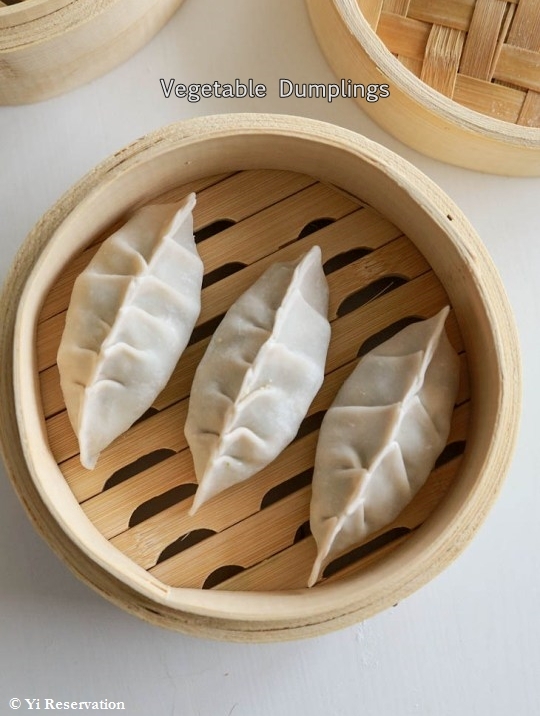 As a friendly forewarning, the folding of these dumplings will be a little trickier than that of normal meat filling as the vegetable filling is less smooth and paste-like. If you are new to making dumplings, I'd suggest you preparing additional dumpling wrappers as you might want to reduce the amount of filling used for each dumpling to make it easier to fold.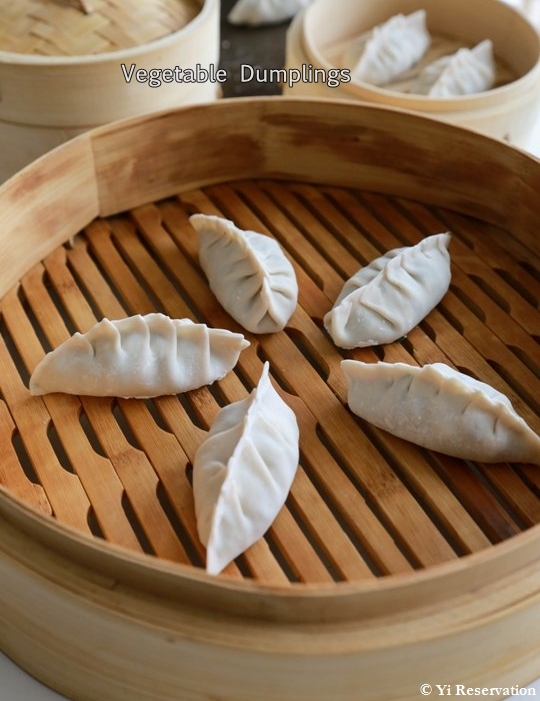 Lastly I need to give credits to Mrs. YiReservation who happily lent her hands and demonstrated how to make these pretty dumplings called willow leaf dumplings. It's more advanced than the other folding method shared in the pork chive dumpling recipe but you'll do just fine if following the detailed step-by-step instruction found in recipe area.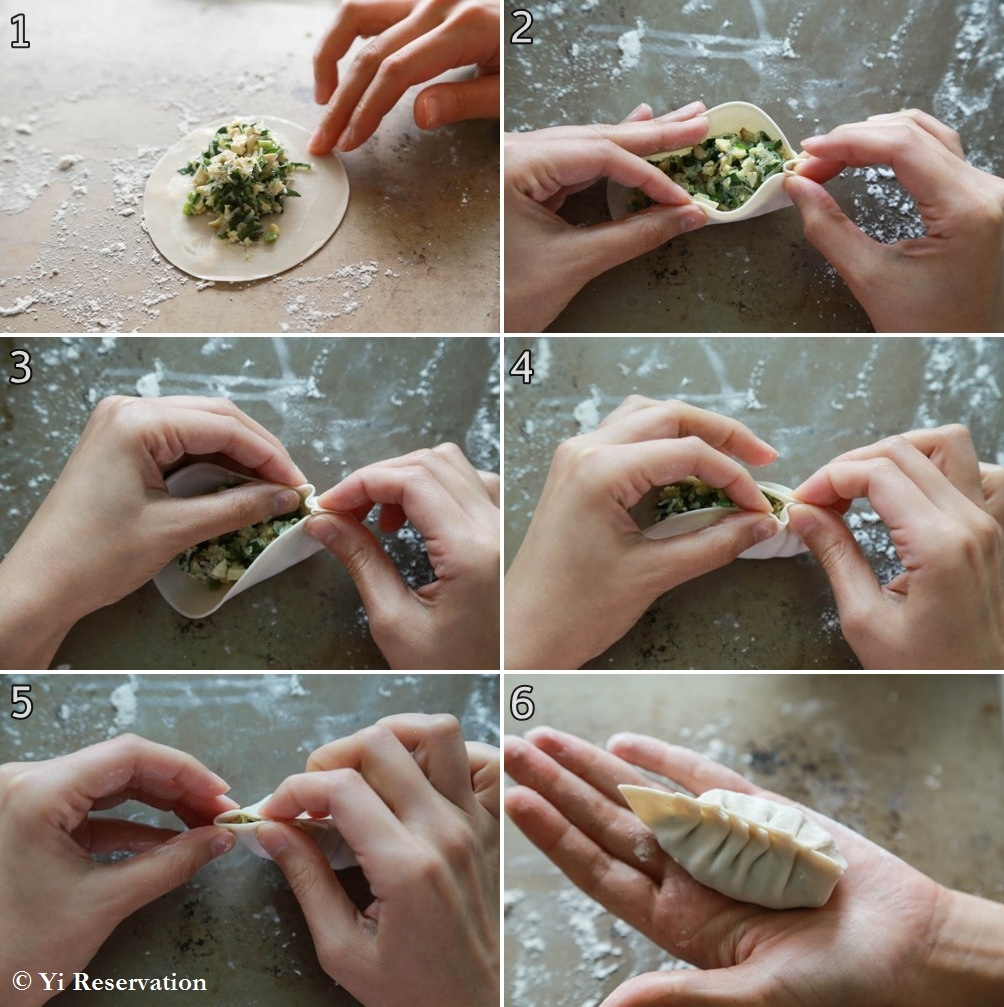 Without further ado, I proudly present my favorite vegetable dumpling recipe. If you are interested in seeing other kinds of dumplings, please also check out this dumpling restaurant review.
Chinese Vegetable Dumplings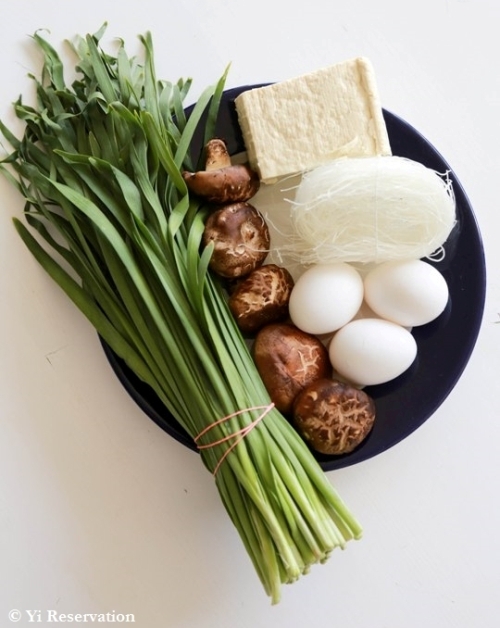 Make these super delicious Chinese Vegetable Dumplings following this step-by-step recipe at yireservation.com.
Ingredients
1 lb Chinese chives
1/2 block or 8oz of firm tofu
5 fresh or re-constituted shiitake mushroom
2 bunch green bean vermicelli
2 one-inch ginger slice
3 large eggs
3 tbsp cooking oil
1 tsp sesame oil
1.5 tbsp table salt
1 tsp soy sauce
3 tbsp corn starch
1 tsp white pepper powder
1/2 tsp five-spice powder
1 pkg / 1lb dumpling wrappers or about 40 homemade dumpling wrappers
Instructions
Thoroughly rinse the Chinese chives. Dry the chives in a colander and finely chop them
Transfer the chopped chives to a mixing bowl. Mix in 1 tbsp of salt and cover and set aside for a couple of hours to let the chives welt
Rinse the ginger, shiitake mushroom and tofu. Try to squeeze out as much water as possible from the mushroom. Finely chop the ginger, mushroom and tofu. Set them aside
Scramble two eggs. Use your spatula to chop the scrambled eggs to tiny pieces. Set aside
Soften the green bean vermicelli in warm water for about 5 minutes. Remove the excess water and finely chop the vermicelli. Set aside
After several hours, the chives should look welt. Squeeze out as much liquid as possible as the excess liquid will make the stuffing watery and hard to use
Combine the chives with shiitake mushroom, tofu, scrambled eggs, and vermicelli. Add the rest of the salt, white pepper, five-spice powder corn starch, one egg, oil, sesame oil, and soy sauce to the stuffing mix
Thoroughly mix all the ingredients together. Add additional salt if needed. Add additional corn starch if the stuffing appears to be watery. Cover and chill the mixed stuffing in the fridge for 30 minutes before making dumplings
If you have read my previous pork chive dumpling recipe, you can follow the same simple steps to make these vegetable dumplings. In many Chinese restaurants, vegetable dumplings are folded different so they can be distinguished from other types of stuffing. Below is a step-by-step instruction on how to fold willow leaf dumplings
Place one tbsp of filling in the center of the wrapper
Wet the edge of the wrapper with water
Gently fold edges up to form a taco shell. Re-orient the wrapper lengthwise. Fold the right end of the wrapper into an "M" shape and pinch to close
Start on one side of the edge and fold a pleat angling toward the right side end. Pinch to seal the pleat
Move to the opposite side of the wrapper and slight to the left of the first pleat, fold a second pleat pointing toward the right side. Pinch to seal
Moving leftward by making alternate pleats described above. Once you are half an inch away from the left end, pinch to seal the entire remaining portion without more pleats.
Make sure the dumpling is completely sealed, then gently push down to form a flat bottom. Repeat the above steps to finish the rest of the filling and the wrappers
http://yireservation.com/recipes/chinese-vegetable-dumplings/
Copyright © Yi Reservation 2010 - 2013
These dumplings taste great no matter how you cook them. You can boil, steam, or make
potstickers
with these dumplings.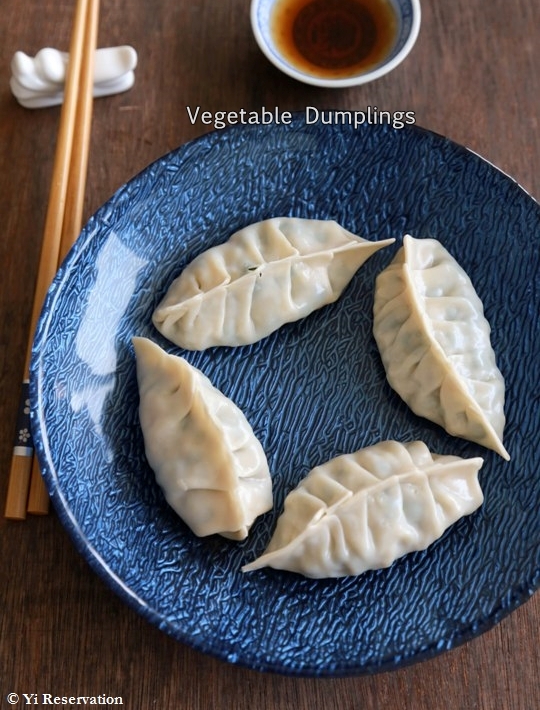 Warning
: Use of undefined constant rand - assumed 'rand' (this will throw an Error in a future version of PHP) in
/home/yirese5/public_html/wp-content/themes/yireservation/single.php
on line
72
Warning
: Parameter 2 to wp_hide_post_Public::query_posts_join() expected to be a reference, value given in
/home/yirese5/public_html/wp-includes/class-wp-hook.php
on line
287