{Recipe + Mooncake Tasting} Mooncake with Salted Egg Yolk and Lotus Seed Paste 單黃蓮蓉月餅
Warning
: Parameter 2 to wp_hide_post_Public::query_posts_join() expected to be a reference, value given in
/home/yirese5/public_html/wp-includes/class-wp-hook.php
on line
287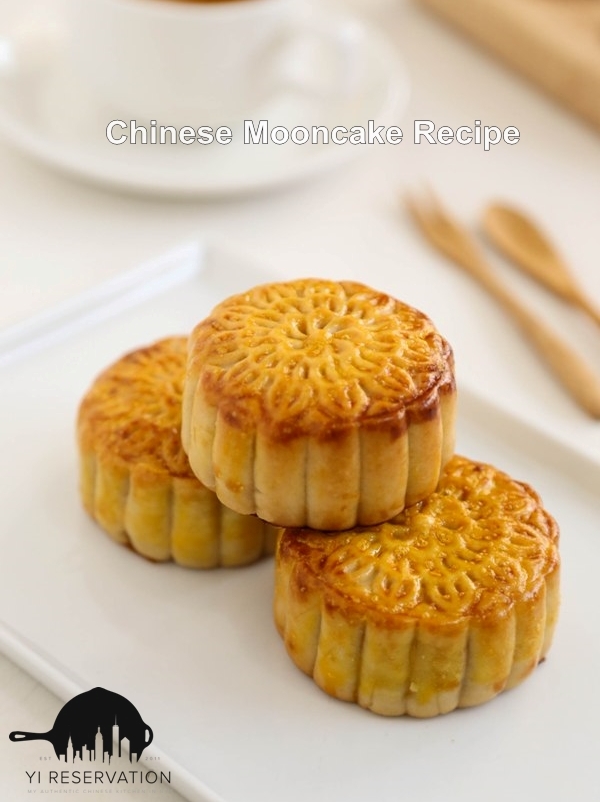 Update: also check out the easier no-bake Snowskin Mooncake
Akin to the Thanksgiving Day in the US/Canada, Mid-Autumn Festival, aka Chinese Moon Festival, is an important Chinese holiday where family and friends get together to enjoy the full moon night and more excitingly, to eat mooncakes, a semi-soft crusted pastry stuffed with all sort of sweet and savory filling.
Mid-Autumn Festival occurs annually on the 8th full moon based on the lunar calendar. For this year it falls on Sept 27 2015. Typically around this time, I would start shopping for my favorite mooncakes and exchanging with the family and friends.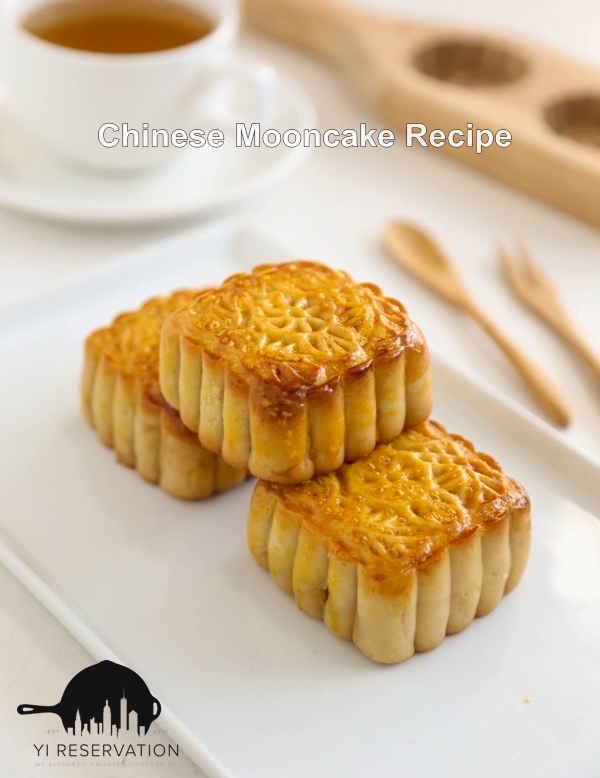 However, I am breaking the routine this year because after I read about the mooncake recipe from S.C. Moey's Chinese Feasts & Festivals, A Cookbook, I was inspired to make my own this year.
To make these mooncakes, I followed Moey's classic Cantonese mooncake with salted egg yolk and lotus seed paste recipe with some minor modifications. As you can see, the results were quite stunning!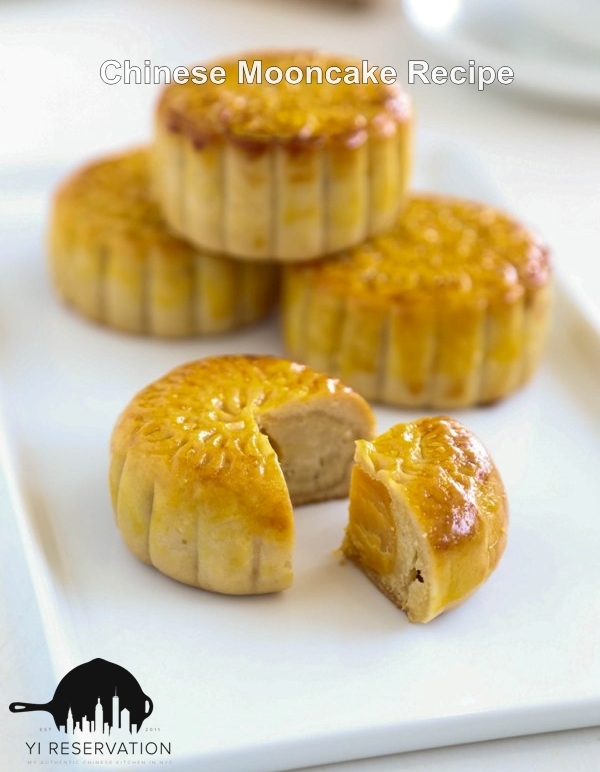 Compared to the store-bought mooncakes, the homemade version comes out softer and less oily in general. The homemade lotus seed paste looks opaque rather than the semi-translucent seen in the commercial mooncakes. More importantly, the lotus seed paste tastes significantly less sweet due to the ability to control the amount of sugar and you can actually taste the aroma from pure homemade lotus paste!
Another thing I like about this recipe is that everything is made from scratch, including the lotus seed paste and golden syrup, which is an essential ingredient in making the dough. This is really helpful to people like me who don't have direct access to these ingredients. The downside of having everything made scratch is that it takes time and patience. You'd have to prepare some of the ingredients days in advance. I guess it's a trade.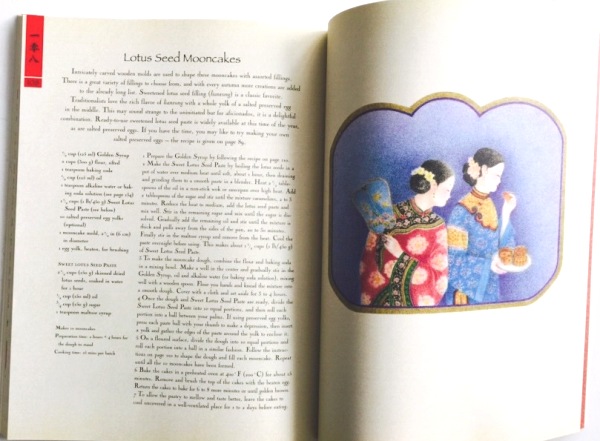 Overall, I am very happy with the recipe and would recommend this recipe from Moey to anyone who's interested in making mooncakes at home. Of course I would definitely make these mooncakes every year from now on!
If you are interested in learning more about Chinese Feasts & Festivals: A Cookbook by S.C. Moey, please check out my book review and book giveaway. To learn more about Tuttle Pushing who is sponsoring the book giveaway, please out their Bestsellers and New Releases.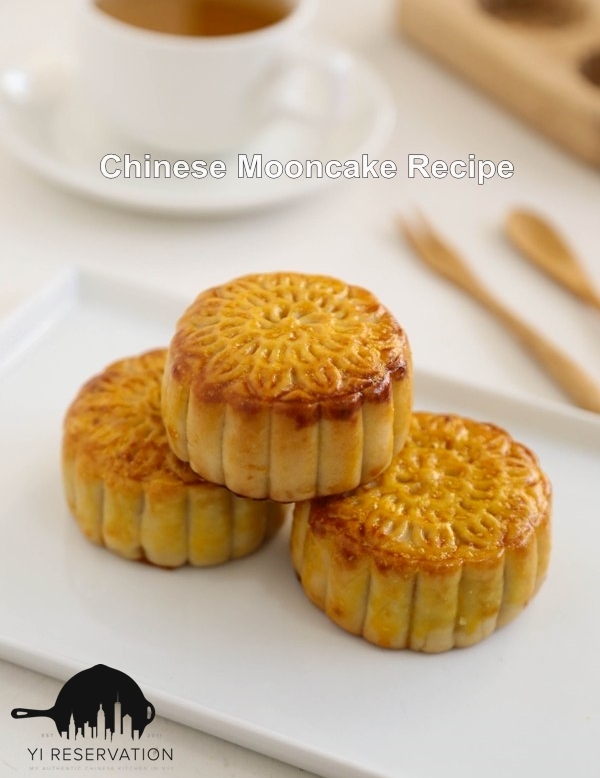 **********
Mooncake Tasting Event (CLOSED)
Mid-Autumn Festival is all about family gathering and sharing a good time. In celebrating the spirit of sharing, Yi Reservation, for the first time ever, will be giving out a number of homemade mooncakes (with salted egg yolk and lotus seed paste) for readers to taste! Yi will personally deliver the mooncakes to the winners at per-defined locations. Given the nature of the event, this tasting event is only open to readers who are able to pick up the mooncake in person in New York City. If that's you, please read on!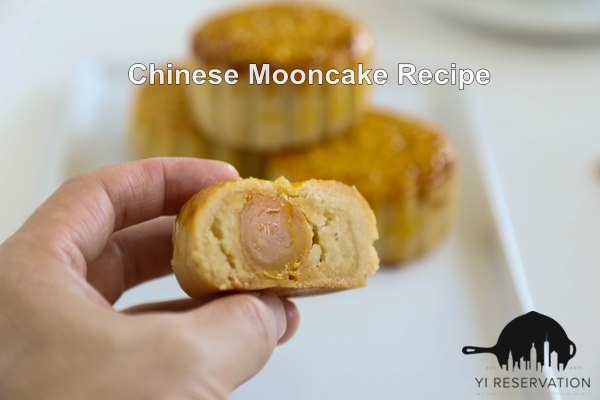 Mooncake Tasting Event Rules:
The event will close on Tuesday, 9/15/15 at 11:59pm. A total of 10 winners will be randomly chosen
Prize is limited to readers who can physically pick up from either Downtown or Midtown Manhattan, NY
Each winner is limited to one mooncake
Winners will be announced and contacted at the conclusion of this contest
Winner must confirm the pick up time and location within 24 hours after my initial contact
To enter into this Mooncake Tasting Contest, please answer the following question and then confirm your entry in the Giveaway Tools using your email address (see the form below):
What's your favorite Mooncake flavor?
Congratulations to the following winners. You will be contacted shortly with prize claiming details. Thanks everyone for participating!
This is my first time hosting an event such has this so I am really excited to meet some of my dear readers in person and I do apologize for it's only open to NYC readers. However if it goes well, I will be open to your suggestions on the next tasting event!
Disclosure: this tasting event is sponsored by Yours Truly.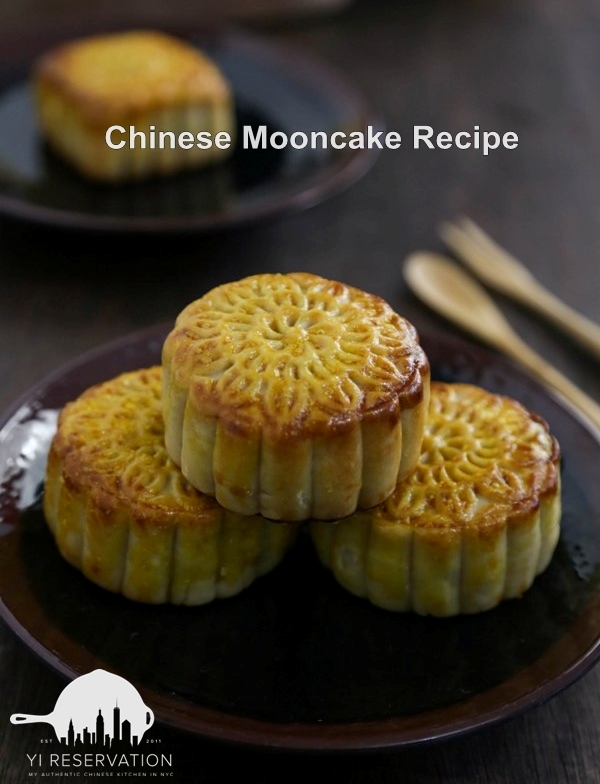 Now, if you weren't one of the ten lucky winners, you could still make these mooncakes in your own kitchen. Enjoy the recipe 🙂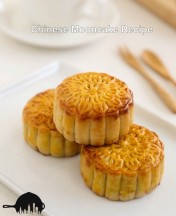 Mooncake with Salted Egg Yolk and Lotus Seed Paste 單黃蓮蓉月餅
Yield: 12
Prep Time: 1 day
Cook Time: 20 mins
Total Time: 1 day 20mins
Make these classic Mooncakes with Salted Egg Yolk and Lotus Seed Paste following this step-by-step recipe at yireservation.com.
Ingredients:
Mooncake Dough
2 cup (300g) all purpose flour, sifted
½ cup (125ml) golden syrup (see instructions below)
2 cup (600g) sweet lotus seed paste (see instructions below)
1 tsp baking soda
1/3 cup (100ml) vegetable oil
*1 tsp alkaline or lye water
12 salted egg yolk
Egg wash
For Golden Syrup
1 cup sugar
1 cup water
2 tbsp lemon juice
3 stripe lemon rind
Sweet Lotus Seed Paste
1/2 lb skinned dried lotus seeds
1/2 cup (150ml) vegetable oil
¾ cup (150g) sugar
Directions:
Before you assemble the mooncakes, make sure you understand the capacity of your mooncake mold. For this recipe, I used an "100g" mold. After some trail and error, I found that the following ratio worked the best for my mold: dough: lotus seed paste: egg yolk = 40g:50g:15g.
To make the mooncake dough, combine the golden syrup (see instructions below), vegetable oil, and alkaline/lye water in a mixing bowl. Whisk well until all the ingredients are integrated.
Add the flour and baking soda to the mixture. Mix with a spatula.
Knead the mixture with your hands until it turns into a smooth dough. About 5 minutes.
Wrap the dough in a plastic wrap and set aside for 3-4 hours before you proceed.
If your salted egg yolks are not cooked, you need to mix your egg yolks with 1 tbsp of cooking wine and bake at 350F or steam for 15 minutes until egg yolks turn golden.
To assemble the mooncakes, divide 480g of cake dough and 600g of lotus seed paste (see instructions below) into 12 portions. Roll each portion of dough and paste into a ball between your palms.
For the next few steps, it makes easier if you have plastic food processing gloves. Press each paste ball with your thumb and insert a egg yolk and completely cover the yolk.
Roll it into a ball
On a pastry station, cover a cake dough ball with a sheet of plastic wrap. Flatten the ball and roll the dough into a thin wrapper. If you can, try to make the edge of the wrapper thinner than the center.
Place a lotus seed paste ball in the center of the wrapper and fold the edge of the wrapper to completely enclose the paste ball. Gently roll the cake dough into a ball between your palms.
Pre-heat your oven to 380F (194C). Lightly flour the inside of your mooncake mold using a brush.
Place the cake dough in the mold and press it down with your finger so that dough is stuck to the mold.
Turn the mold over and place the mold against a parchment paper lined baking sheet. Press down the handle hard to shape the mooncake. To remove the mold, lift up the mold slightly and press down the handle again to release the mooncake.
Repeat the above steps until you have all the mooncakes shaped.
Spray the shaped the mooncaks with water and bake for about 10 minutes at 380F (194C).
Take out mooncakes and gently brush the surface with some egg wash. Return to the oven for another 6-8 minutes or until golden brown.
Let the mooncakes cool to room temperature. Place the cakes in a container and let them site for 2 days to develop a soft texture.
Golden Syrup Instructions
Bring all the ingredients to a boil over medium heat in a saucepan, stirring until the sugar is completely dissolved.
Reduce the heat to low and simmer for 45-60 minutes without stirring, until the mixture caramelizes and turns golden brown with a maple syrup like consistency.
Cool the syrup. Pour the syrup into a jar or glass and store in a cool area with cover on. The golden syrup can be kept for months so you can make this way in advance.
Lotus Seed Paste Instructions
Soak dried lotus seeds in cold water for at least 2 hours. (Optional) split each lotus seed and remove the black sprout if you see one. This step will remove any bitterness produced by the little sprouts.
In a pot, combine the lotus seeds with 3 cups of water. Boil until the seeds are soft. About 45 minutes. Let cool to room temperature.
Transfer the boiled lotus seeds to a blender and puree the seeds with as little water as possible. You should get a very smooth paste in the blender
Keep on stirring until the paste is thick and non-stick with a texture resembles of clay dough. Cool the paste overnight before use. This makes about 2 cups or 600g of paste
Heat up half of cooking oil in a non-stick pan. Add half of the sugar and stir until the mixture caramelizes. About 2 – 3 mins.
Reduce the heat to medium and add the lotus seed paste and mix well. Mix in the rest of the sugar gradually and mix until the sugar is dissolved. Add the rest of the vegetable oil gradually while stirring. Make sure the oil is fully incorporated into the paste.
*If you don't have access to alkaline or lye water, you can substitute with the following: bake 1tbsp of baking soda at 350F for 30 minutes. Dissolve the baked baking soda with 2.5tbsp of water. Use the solution in place of alkaline or lye water.
Warning
: Use of undefined constant rand - assumed 'rand' (this will throw an Error in a future version of PHP) in
/home/yirese5/public_html/wp-content/themes/yireservation/single.php
on line
72
Warning
: Parameter 2 to wp_hide_post_Public::query_posts_join() expected to be a reference, value given in
/home/yirese5/public_html/wp-includes/class-wp-hook.php
on line
287