Avocado and Tofu Salad with Truffle Infused Soy Sesame Dressing
Warning
: Parameter 2 to wp_hide_post_Public::query_posts_join() expected to be a reference, value given in
/home/yirese5/public_html/wp-includes/class-wp-hook.php
on line
287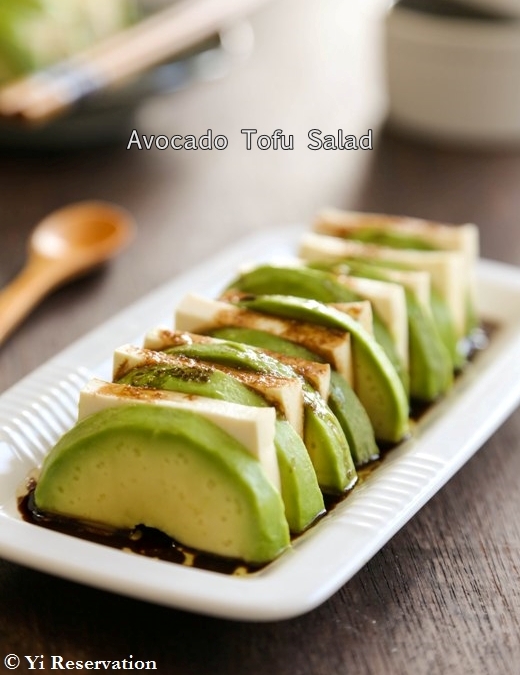 If you have been following my social media, you've probably already noticed an influx of feeds in vegetarian/vegan dishes on my Instagram, Twitter, or Facebook Page. While I am not a vegetarian (certainly not vegan), I have been experimenting vegan diet and also trying to prove that vegarian/vegan food and yumminess are not mutually exclusive!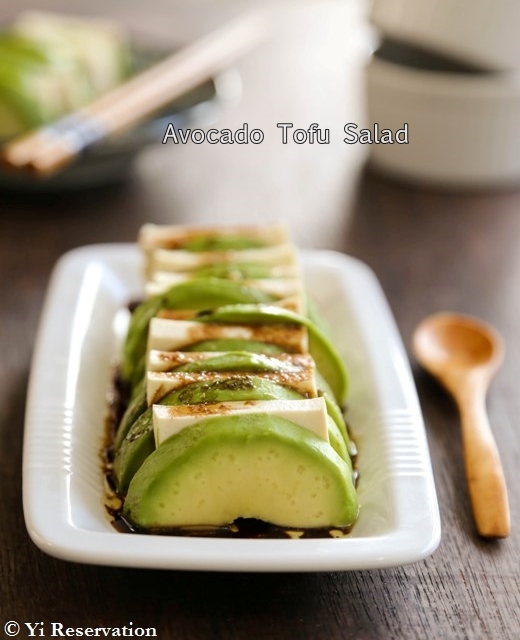 With that said, let me introduce you to today's recipe – Avocado Tofu Salad!
OK, I admit that I have an obsession with tofu and am always looking for new ways to cook tofu in all different styles. I am perfectly aware that the combination of avocado and tofu is indeed a bit odd, or obscure, if you will.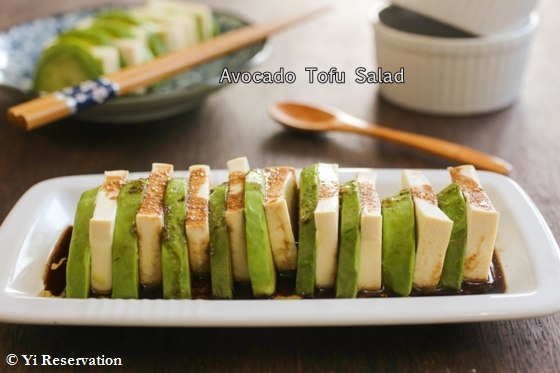 But for some magical reason, the combination just works. To complement the ingredients, I go for a savory dressing with a twist of Western and Eastern elements. The truffle-infused sesame soy dressing adds a ton of flavor to the melt-in your mouth avocado-tofu pair. If you are looking for a vegan option that doesn't lack flavor and substance, please consider this dish! I like to serve this as an appetizer or hors-d'oeuvre.
If cold tofu just doesn't do it for you, head over to this classic mapo tofu recipe or this country style tofu dish.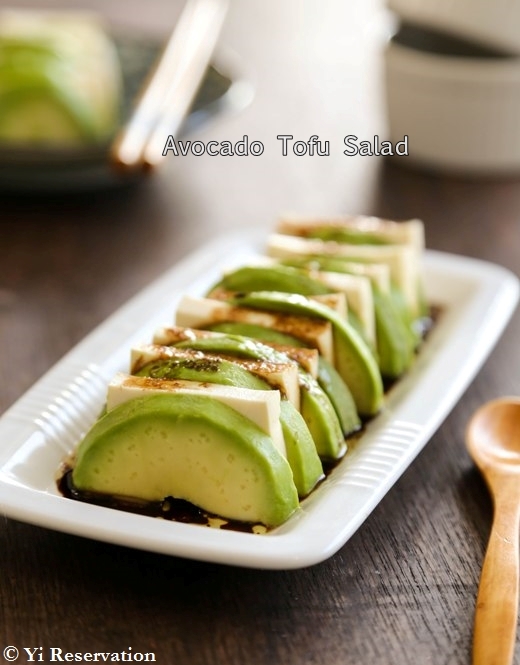 One last thing, as I mentioned in my previous post, YiReservation.com will be rolling out a brand new site design this month. While I don't have the exact launch date yet, I am excited to say that I'll be doing a GIVEAWAY during the launch event. Please subscribe to my Instagram, Twitter, or Facebook to get the latest update on that.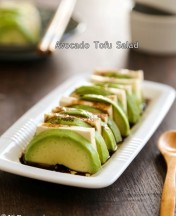 Avocado and Tofu Salad with Truffle Infused Soy Sesame Dressing
Yield: 4 servings
Prep Time: 10 minutes
Total Time: 15 minutes
Make this easy and delicious Avocado and Tofu Salad with Truffle Infused Soy Sesame Dressing dish following this step-by-step recipe at yireservation.com.
Ingredients:
8oz soft tofu (firmness between silken and firm)
2 Avocado
Truffle Infused Soy Sesame Dressing
1 clove of garlic, sliced
1.5 tbsp soy sauce
1 tbsp balsamic vinaigrette
1 tbsp truffle infused olive oil
1 tsp sugar
1 tsp sesame oil
Ground black pepper
Toasted sesame seeds (optional)
Directions:
Carefully slice tofu into 2x1x1/4 slices
This step is to remove the undesirable soy taste from tofu. Feel free to skip it if you can tolerate the soy taste. Combine 1 tbsp of salt with 3 cups of boiling water. Transfer the sliced tofu to the salt water and let it soak for 5 minutes. Remove the water and dry the tofu with a paper towel
Split each avocado in half. Remove the skin and core. Cut the avocado to ¼" slices
Assemble the salad by alternating the avocado and tofu
Whisk together all the dressing ingredients. Let it sit for 10 minutes and discard the garlic slices. Pour the dressing over the salad and serve in room temperature or chilled.
Warning
: Use of undefined constant rand - assumed 'rand' (this will throw an Error in a future version of PHP) in
/home/yirese5/public_html/wp-content/themes/yireservation/single.php
on line
72
Warning
: Parameter 2 to wp_hide_post_Public::query_posts_join() expected to be a reference, value given in
/home/yirese5/public_html/wp-includes/class-wp-hook.php
on line
287