Chinese Steamed Meat Buns (Baozi) 包子
Warning
: Parameter 2 to wp_hide_post_Public::query_posts_join() expected to be a reference, value given in
/home/yirese5/public_html/wp-includes/class-wp-hook.php
on line
287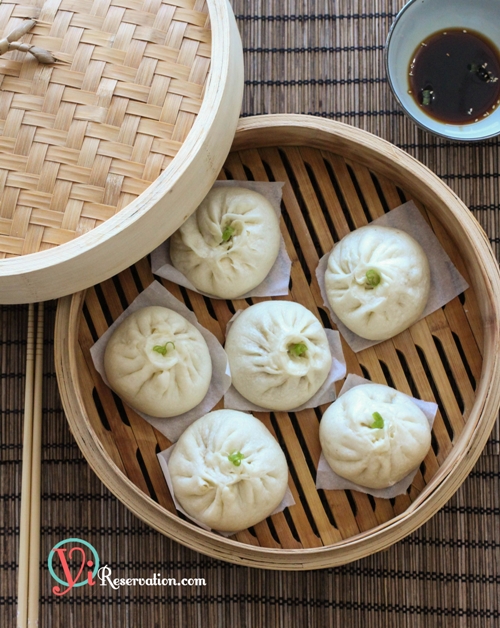 This is Part II of the Steamed Bun Series. Here are the other posts in this series:
Part I: Mantou (Chinese Steamed Bun) 饅頭
Part III: Steamed BBQ Pork Bun 叉燒包
Part IV: Steamed Piggy Buns
Before today, I never thought I'd post a recipe for steamed meat buns.
Sure it's a traditional Chinese dish but even in China not everyone makes it at home. Until a few weeks ago, I was convinced that nobody would ever have the patience to make these buns.
It all started when one of my friends texted me after seeing my Chinese steamed buns on my Instagram and telling me I should offer lessons on making these buns. Apparently she had just spent over $60 to learn how to make steamed meat buns from a local culinary school.
I was shocked by the fact that there were so many people interested in making the buns. The idea of teaching my steamed bun recipe and I even started seeing dollar signs…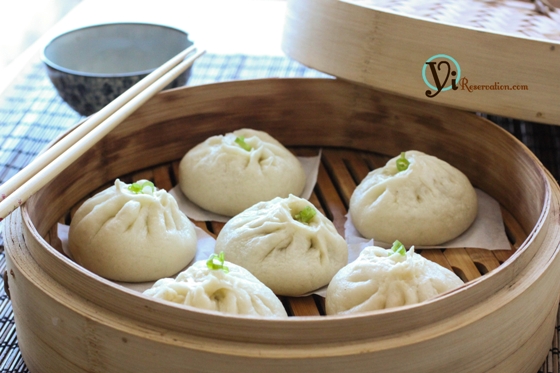 But in this season of giving, I decided to share the recipe on Yi Reservation. Good food is meant to be shared and a classic dish such as this deserved to be enjoyed and shared with the rest of the world. So here you have it, the step-by-step steamed bun recipe, at absolutely no charge 🙂
This recipe is my Thanksgiving gift (for those of you who celebrate) to all my readers who have been supporting me over the years! And feel free to share the love with your friends and family who might also be interested in these meat buns!
So what are these steamed meat buns? For those who haven't had, the Chinese meat buns, aka Baozi 包子, are steamed soft buns with all kinds of stuffing inside. In China, these buns are most commonly eaten as breakfast with congee or warm soy milk. This is sort of like answer to the bagel and coffee combination here in the States.
There are various ways of making these buns and there are countless variations in making preparing fillings from pork to seafood to vegan. Since I grew up eating the pork stuffed buns, the pork filling has always been my personal favorite and I can literally eat them anytime on any day.
So, that is a long-winded way of saying that you need to try these buns, and you need to try them today!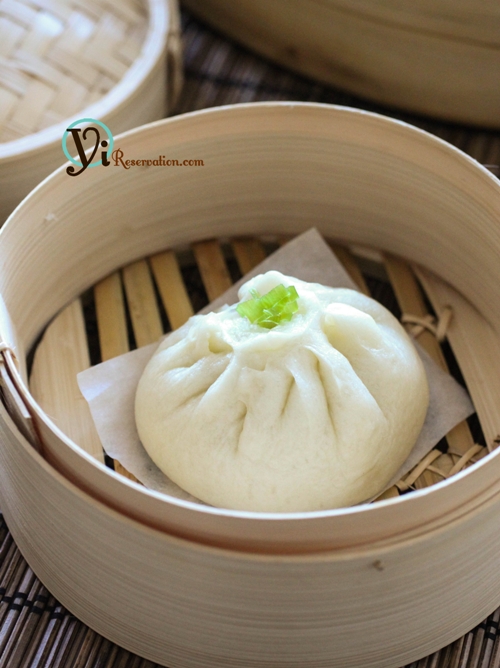 If you live in the States, you should be able to find them in the frozen food sections at many Asian grocery stores.
Even better, you can now make them yourself at home following this MAN-PROOF step by step recipe. You'll realize that it's not that hard to make these delicious meat buns!!
And for those of you like visual learning, I have shared a video tutorial on how to make these steamed Chinese Meat Buns on Youtube. Please check it out!
P.S. Yi is switching to a new email subscription provider. If you have already subscribed to Yi Reservation, you will receive an opt-in email from me asking you to confirm the subscription. If you wish to continue to receive the email updates (and I hope you all do), please confirm the opt-in email =)
–
Step by Step Illustration
Follow my basic steamed bun (Mantou) recipe to make the basic dough. You'll need about 2 – 3 hours to prepare the dough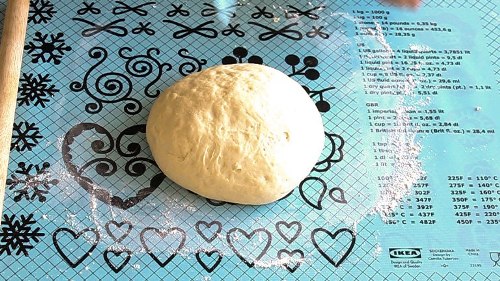 While waiting for the dough to rise, start making the stuffing by chopping the scallions and ginger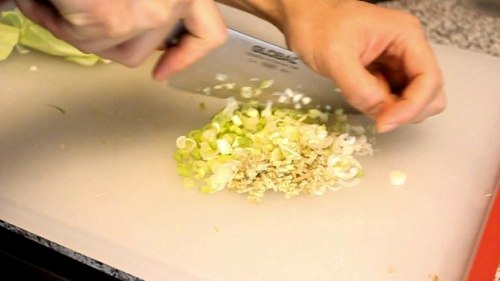 Chop the cabbage to the size of ½ of your pinky nail. Move the chopped cabbage to a mixing bowl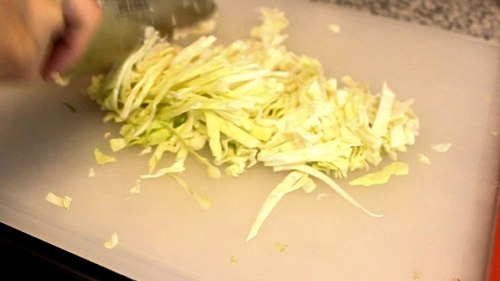 Mix 1 tbsp of salt into the cabbage. Let sit for about 20 minutes or until cabbage has released some moisture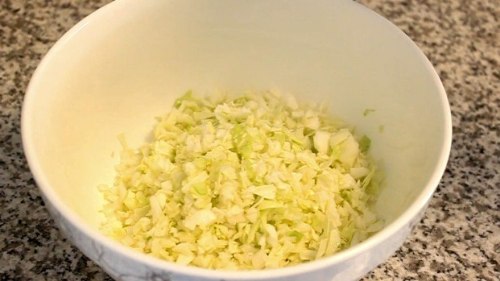 Remove the cabbage liquid. Combine with the ground pork (or your meat of choice) in the same bowl. Add the chopped scallions and ginger to the pork and cabbage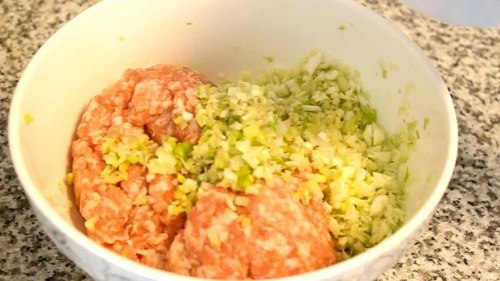 Mix in all the stuffing marinade ingredients to the pork except the cooking oil. Whisk the stuffing using a spoon until all the ingredients are well incorporated. Add additional salt to taste if needed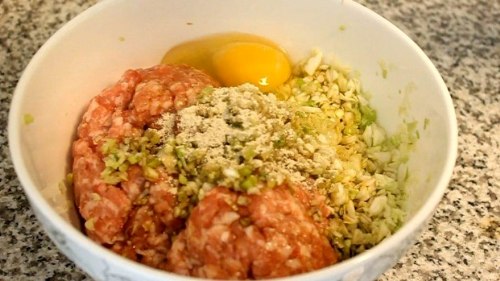 Drip the cooking oil in the meat mixture and whisk to mix. Seal the stuffing with plastic wrapper and chill in the fridge for at least 30 minutes. This can be done in advance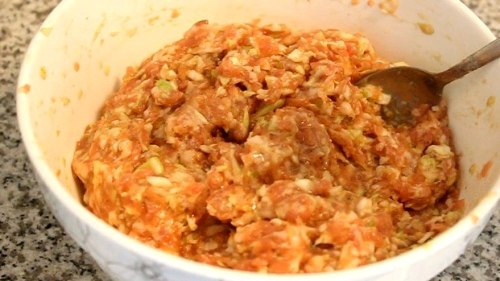 Once the dough is ready, transfer the dough to a flour-dusted workstation. Divide into 4 portions. Roll each portion into a log that's about 1.5 inch in diameter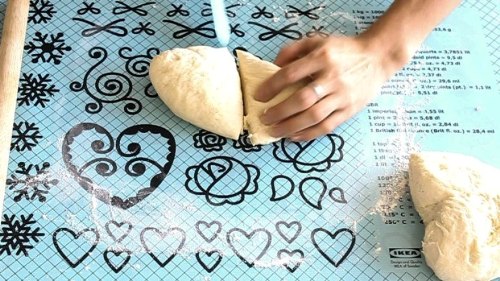 Cut the log into 6 parts and shape each port into a ball. Make sure you coat the dough balls with a layer of flour. Press down the ball with your palm. Using a rolling pin, roll the dough into a round thin wrapper with 4 inch diameter. When rolling, make sure the center of the wrapper is thicker than the edge of the wrapper. Repeat this step to make a batch of 6 wrappers at a time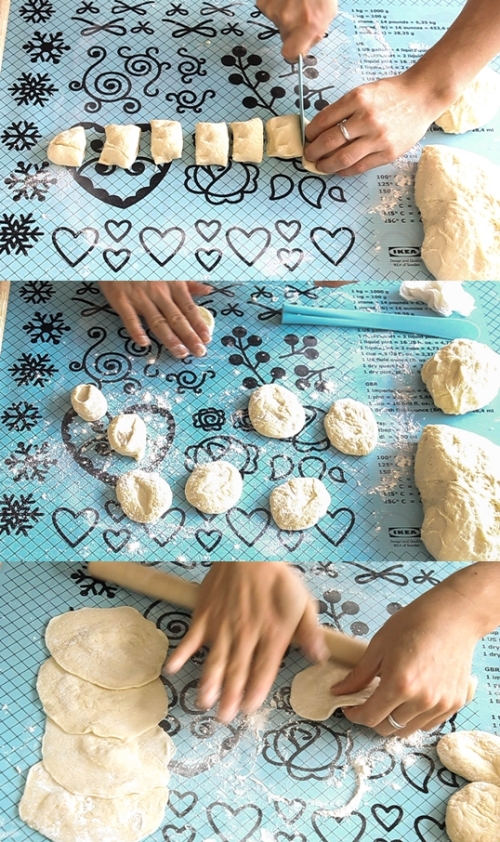 To fold the bun. Place 1 to 2 tbsp of the filling in the center of the wrapper. Try to stack up the filling so it's at least 1 inch from the edge of the wrapper. Wrap the bun by folding the edge counterclockwise until the bun is completely sealed. Repeat these two steps to assemble the rest of the buns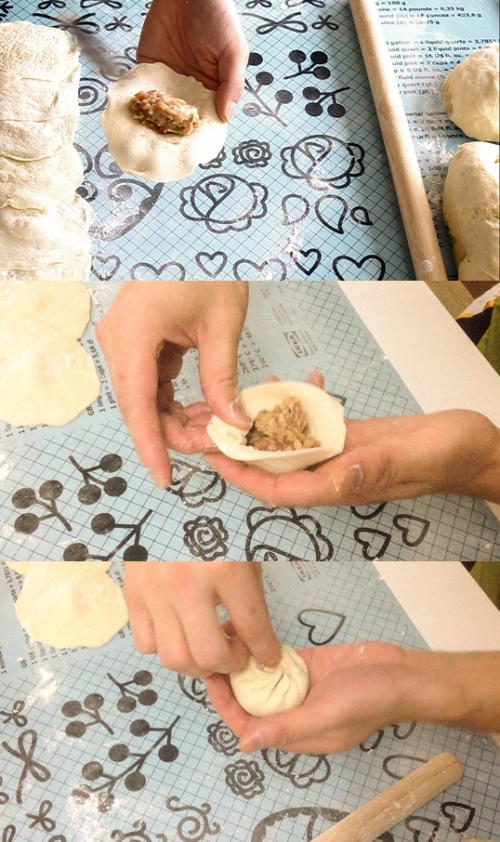 Place the buns on a bamboo steamer with parchment in between to prevent sticking. Don't steam your buns right away but instead let them sit for another 30 – 45 minutes. This is an important step in making the buns soft and fluffy. The buns will increase in size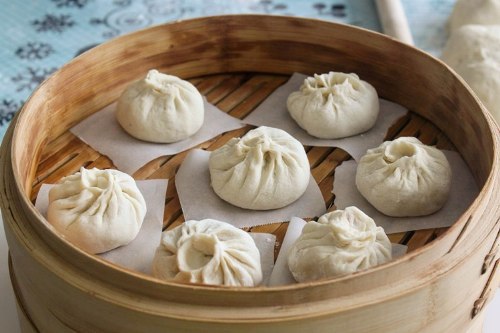 Steam the buns for 15 minutes over high heat. Turn off the heat but do not open the steamer cover. Let them sit in the steamer for another 5 minutes before you take them out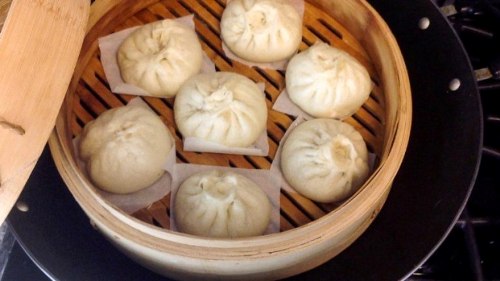 Let them cool a little and serve hot as breakfast, snack, or appetizers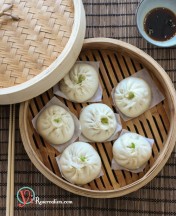 Chinese Steamed Meat Buns (Baozi) 包子
Yield: 21-24 buns
Prep Time: 180
Cook Time: 30
Total Time: 210
Make these homemade Chinese Steamed Meat Buns following this MAN-PROOF step-by-step recipe at
www.yireservation.com
.
Ingredients:
For the dough
500g all-purpose flour, more as needed
1.5tsp instant yeast
50ml lukewarm water
230ml milk or water +/- 10ml, at room temperature
1tsp baking powder
50g sugar
3g salt
2tbsp cooking oil
1/10tsp baking soda (optional)
For stuffing
1.5lb ground pork (can use chicken, beef, or lamb)
¼ cabbage
5 scallions
2inch fresh ginger root
Stuffing Marinade
2tbsp soy sauce
2tbsp cooking oil
1tbsp sugar
1.5tbsp Chinese rice wine
1tsp five-spice powder
1 egg
1tsp sesame oil
2tsp ground white pepper
Additional salt to taste
Directions:
Follow my basic steamed bun (Mantou) recipe to make the basic dough. You'll need about 2 – 3 hours to prepare the dough
While waiting for the dough to rise, start making the stuffing by chopping the scallions and ginger
Chop the cabbage to the size of ½ of your pinky nail. Move the chopped cabbage to a mixing bowl
Mix 1 tbsp of salt into the cabbage. Let sit for about 20 minutes or until cabbage has released some moisture
Remove the cabbage liquid. Combine with the ground pork (or your meat of choice) in the same bowl. Add the chopped scallions and ginger to the pork and cabbage
Mix in all the stuffing marinade ingredients to the pork except the cooking oil. Whisk the stuffing using a spoon until all the ingredients are well incorporated. Add additional salt to taste if needed
Drip the cooking oil in the meat mixture and whisk to mix. Seal the stuffing with plastic wrapper and chill in the fridge for at least 30 minutes. This can be done in advance
Once the dough is ready, transfer the dough to a flour-dusted workstation. Divide into 4 portions. Roll each portion into a log that's about 1.5 inch in diameter
Cut the log into 6 parts and shape each port into a ball. Make sure you coat the dough balls with a layer of flour. Press down the ball with your palm. Using a rolling pin, roll the dough into a round thin wrapper with 4 inch diameter. When rolling, make sure the center of the wrapper is thicker than the edge of the wrapper. Repeat this step to make a batch of 6 wrappers at a time
To fold the bun. Place 1 to 2 tbsp of the filling in the center of the wrapper. Try to stack up the filling so it's at least 1 inch from the edge of the wrapper. Wrap the bun by folding the edge counterclockwise until the bun is completely sealed. Repeat these two steps to assemble the rest of the buns
Place the buns on a bamboo steamer with parchment in between to prevent sticking. Don't steam your buns right away but instead let them sit for another 30 – 45 minutes. This is an important step in making the buns soft and fluffy. The buns will increase in size
Steam the buns for 15 minutes over high heat. Turn off the heat but do not open the steamer cover. Let them sit in the steamer for another 5 minutes before you take them out. Let them cool a little and serve hot as breakfast, snack, or appetizers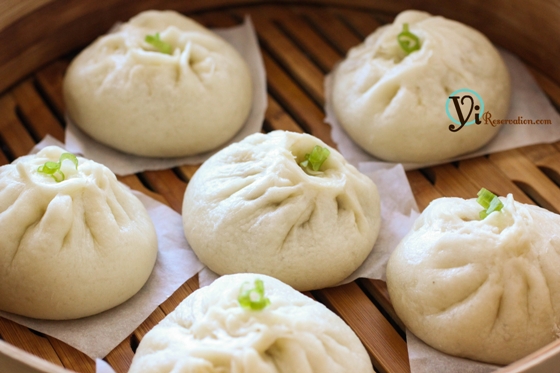 Warning
: Use of undefined constant rand - assumed 'rand' (this will throw an Error in a future version of PHP) in
/home/yirese5/public_html/wp-content/themes/yireservation/single.php
on line
72
Warning
: Parameter 2 to wp_hide_post_Public::query_posts_join() expected to be a reference, value given in
/home/yirese5/public_html/wp-includes/class-wp-hook.php
on line
287