Double Cooked Pork Belly 回鍋肉
Warning
: Parameter 2 to wp_hide_post_Public::query_posts_join() expected to be a reference, value given in
/home/yirese5/public_html/wp-includes/class-wp-hook.php
on line
287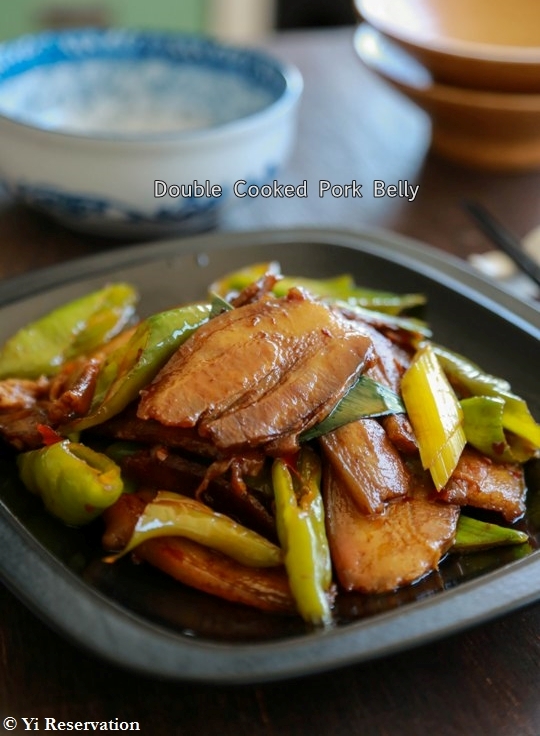 Let's talk about pork belly today.
If you are crazy about pork belly like me, welcome to the belly club! But seriously, health reason aside, I think pork belly is such a versatile and flavorful cut of meat that's often under-appreciated.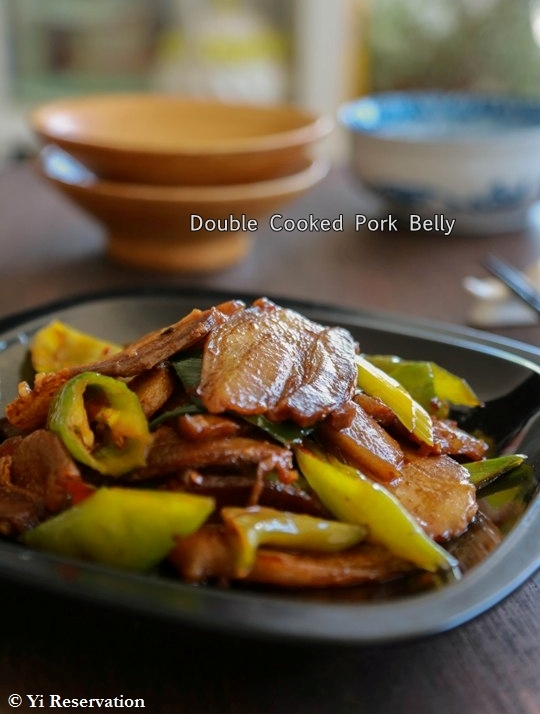 A lot of people I know think that cooking pork belly is a daunting task and one has to commit a lot of time and effort to prepare a decent pork belly dish. I don't completely disagree with that statement as I have gone through the trouble to make my own Cantonese crispy pork (recipe in my ebook) but the recipe I am going to share today requires less time and is super delicious!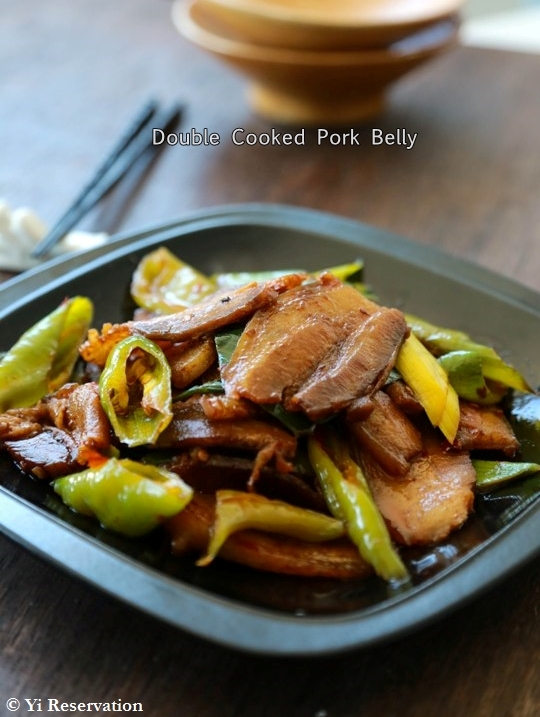 Double Cooked Pork Belly aka Twice Cooked Pork or 回鍋肉 is one of the most popular classic Sichuan (Szechuan) dishes of all time. In Sichuan, this savory and mildly spicy pork dish is almost synonymous to Sichuan Cuisine and is virtually enjoyed by everyone from kids to elderlies and somehow every family in Sichuan knows how to cook it, albeit with their own variations.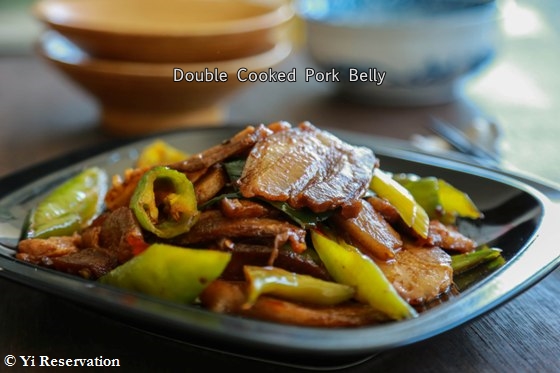 Interestingly, in Sichuan every family seems to have one designated chef who has the best handling of this dish. In my family that honor has always belonged to my grandfather for as long as I can remember. I have watched him make this dish countless and my countless attempts always ended up falling a little short. I still haven't figured out what I am doing wrong but I suspect it has something to do with my grandfather's 20 year old wok which can be a key differentiator…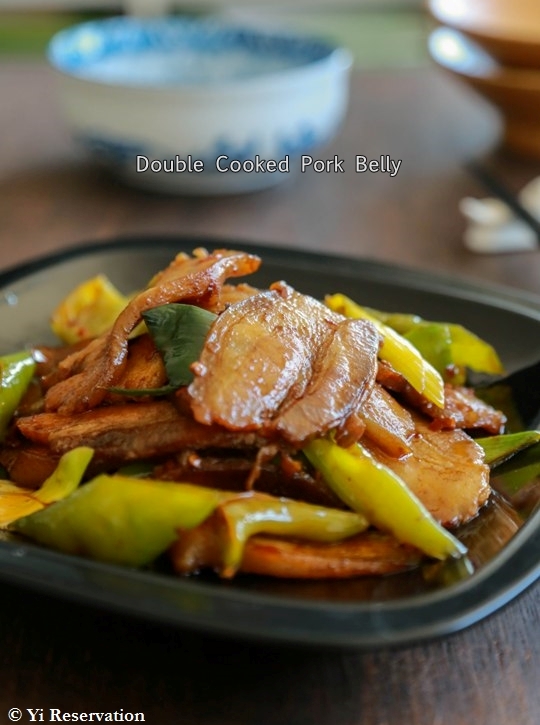 Unlike the takeout version here in the States where lean pork or bbq pork is used, the authentic Sichuan style double cooked pork uses fresh skin-on pork belly. Usually, I'd suggest one or two alternative ingredients but such a sentimental dish I'd strongly suggest against doing anything cuts other than pork belly as no other cuts of pork can produce the same flavor and texture. Additionally, leeks and fresh cayenne peppers are popular vegetable ingredients cooked with pork belly. Other common vegetable ingredients added are sliced onions, sliced tofu cake, cabbage, and garlic shoots. I like to stick to 2 or 3 vegetable ingredients but feel free to mix and match.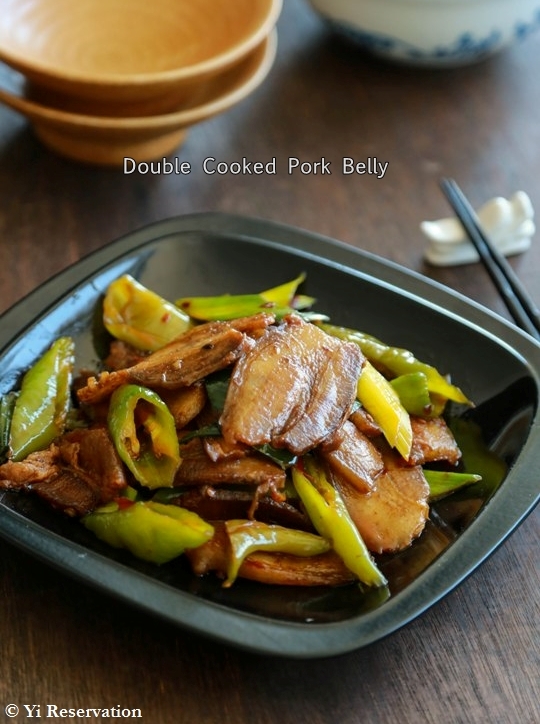 One last note, the recipe I am sharing today is based on my grandfather's original combined with some of my own modifications. Compared to my grandfather's original recipe, this recipe adds hoisin sauce to bring some sweetness and my recipe skips Sichuan-style picked chili peppers ( a household ingredient I'd use if I have it handy).
If you have a favorite pork belly dish, please share the name in the comments area.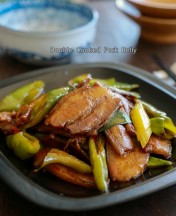 Double Cooked Pork Belly 回鍋肉
Yield: 4 Servings
Prep Time: 15
Cook Time: 60
Total Time: 75
Make this classic Double Cooked Pork Belly following this step-by-step recipe at yireservation.com.
Ingredients:
1.5lb fresh pork belly
1 stalk leek, cleaned and cut
3 fresh cayenne chili, cleaned and cut
Condiments
2 cloves of garlic
1 large slice of ginger
1 tbsp Sichuan spicy chili paste
1 tsp hoisin sauce (optional)
1 tsp Shaoxing cooking wine
Soy sauce to taste
Directions:
As the name of the dish suggests, the pork is cooked two times. For the first time, bring a pot of water to boil and add a slice of ginger and pork belly. Poach the pork belly until you can penetrate the skin side with a chopstick. About 45 minutes. Remove the pork from the pot and let it cool down. Chill the pork in a refrigerator until the meat is hard
Slice the chilled pork belly to thin slices, about 1/8 inch thin
For the second time of cooking the pork, heat up 1 tbsp of oil in a wok or large frying pan. Add the sliced pork and stir-fry over medium heat. Warning, when fat is being rendered, there will be occasional oil splashes. Put on the lid or wear safety goggles 🙂
When pork turns brown and some fat is rendered, remove the pork from the heat and leave the rendered fat in the wok
Add Sichuan spicy bean paste, hoisin sauce (optional) and garlic clove to the same wok and cook in the rendered fat
Lower the heat and stir the bean paste mixture turns red. About 1 minute
Put the pork slices back and stir fry over high heat for 1 minute until the pork is evenly coated with the sauce
Add cayenne paper and continue to stir fry for about 2 minutes. Add soy sauce to taste
Lastly, add leeks and stir-fry for 30 seconds. Remove from the heat and serve it rice
Warning
: Use of undefined constant rand - assumed 'rand' (this will throw an Error in a future version of PHP) in
/home/yirese5/public_html/wp-content/themes/yireservation/single.php
on line
72
Warning
: Parameter 2 to wp_hide_post_Public::query_posts_join() expected to be a reference, value given in
/home/yirese5/public_html/wp-includes/class-wp-hook.php
on line
287