{10-Min Recipe + Video} Sesame Turkey Salad Cucumber Sliders
Warning
: Parameter 2 to wp_hide_post_Public::query_posts_join() expected to be a reference, value given in
/home/yirese5/public_html/wp-includes/class-wp-hook.php
on line
287
This 10-minute Sesame Turkey Salad Cucumber Sliders are a perfect way to use your leftover turkey from Thanksgiving diner.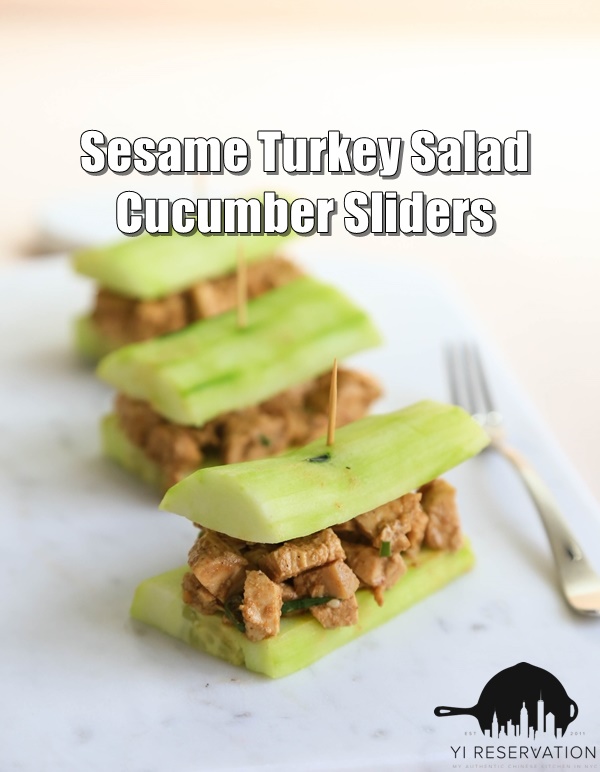 It's the time of the year again.
With Thanksgiving Day in the U.S. only days away, I have dug out my stretchy pants to get ready for the big Thanksgiving Feast.
But let's be honest, when was the last time you or your family actually finished a whole turkey on Thanksgiving Day?
If you are like me who always want to do something creative with the leftover turkey meat post-Thanksgiving, then you'll love today's recipe.
These delicious sesame turkey saldad cucumber sliders are a great way of make a good use of the leftover meat when you don't feel like cooking up a storm after spending days in the kitchen preparing for the Thanksgiving dinner.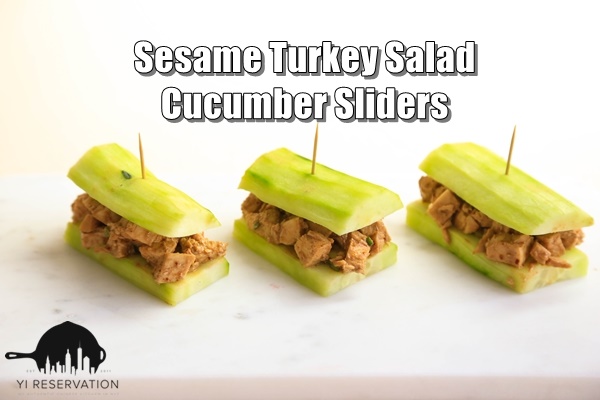 And they are suppppper healthy because the slider buns are substituted with sliced cucumbers. Pretty cool (pun intended) right?
Not only these cucumber sliders make a perfectly healthy meal or party snack after the Thanksgiving feast, they are also incredibly easy to make. In fact, this 10-minute dish is so easy to put together you don't even need to fire up your stove.
The key to this dish is definitely that Chinese style sesame dressing. To get the best taste, you have to source the Chinese style sesame paste which can be found in the condiment section of any Chinese grocery stores. If not, see the substitution note in recipe.  Also, I like to add a little chili oil. It just adds a little kick to the dressing without making it too spicy.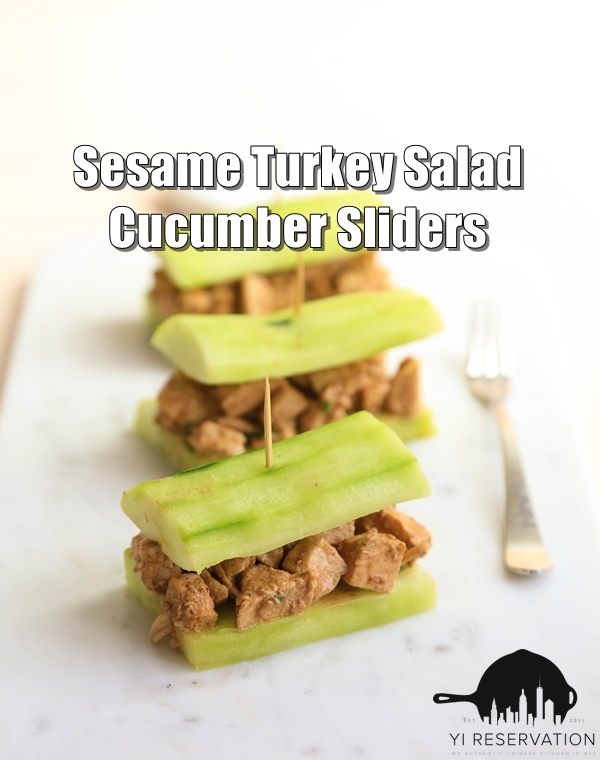 Do you have a favorite leftover turkey recipe? Share with me in the comment below!
YouTube Video
In addition to the full recipe below. I've also made a YouTube recipe to show you how easy it is to make these sliders! If you'd like to get updates on my latest video, please consider subscribing to my YouTube Channel

step-by-step recipe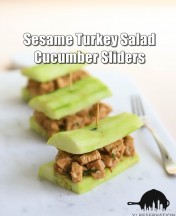 10-Min Sesame Turkey Salad Cucumber Sliders
Yield: 12 sliders
Prep Time: 10 mins
Total Time: 10 mins
Ingredients:
1 lb cooked turkey meat
2 medium - large cucumber
Sesame Dress
2 tbsp soy sauce
1.5 tbsp Chinese sesame paste, diluted with 1.5tbsp cold water
1-2 tsp chili oil (optional)
1 tbsp Chinese black vinegar
1tsp minced garlic
scallion, chopped
Directions:
Peel the cucumber skin. Remove the ends of cucumber and split each cucumber into 3 segments.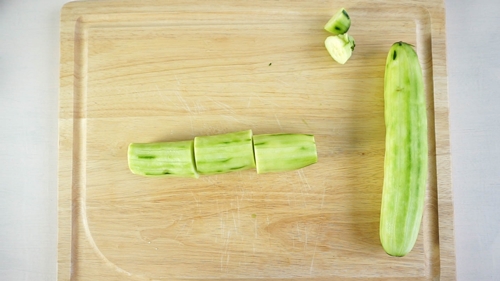 Cut the each segment of cucumber lengthwise into 4 slices.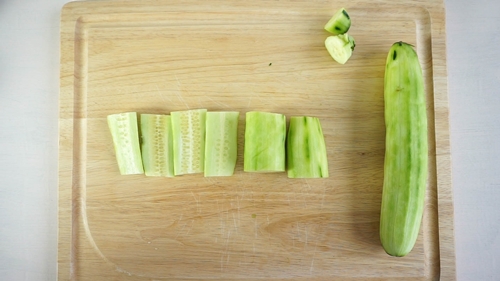 Chop the turkey into small cubes.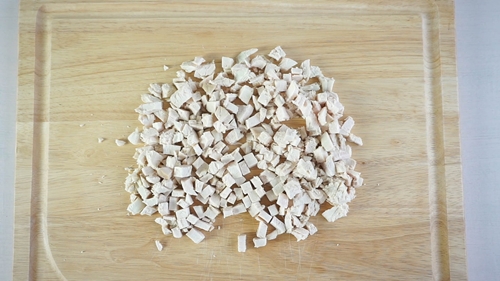 To make the spicy sesame dressing, combine all the dressing ingredients except scallions and hot oil in a mixing bowl and whisk until smooth. The dressing should be slightly thick but runny. If you can't source Chinese sesame paste, use 2 tbsp of tahini instead of the diluted sesame paste.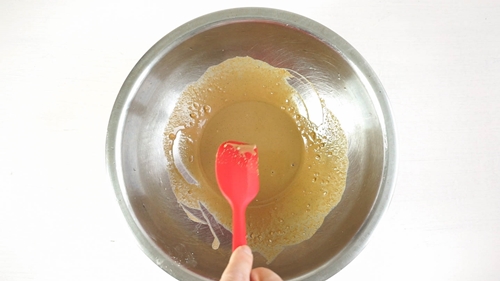 Combine the chopped turkey with the sesame dressing. Mix to get chicken coated evenly. Add scallion and chili oil (optional) if you like it spicy. Mix to incorporate.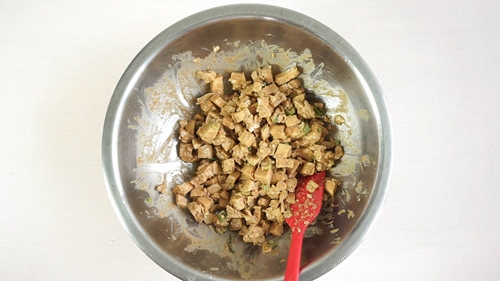 Separate cucumber slices into pairs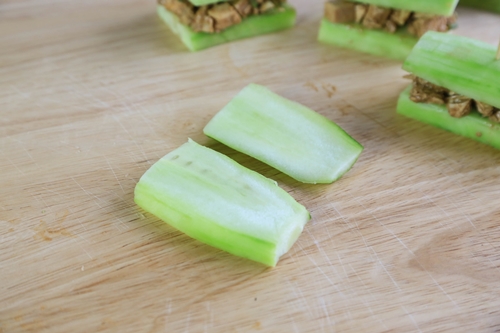 For each pair of cucumber slices, gently pack 2 tsp of turkey salad on one slice of cucumber.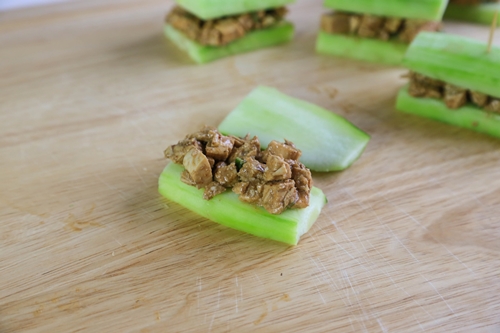 Cover the slider with the second slice of cucumber then the slider in place with a toothpick. Serve as a snack or appetizer.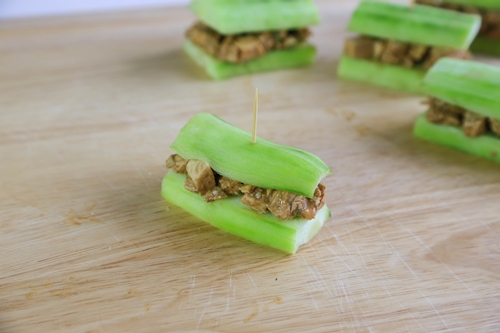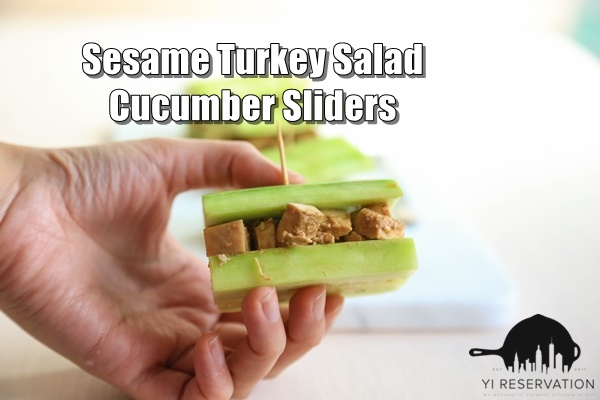 P.S. the winners to my recent
holiday giveaway
have been announced. Thanks to those of you who participated. I am working on another giveaway and the details will be shared very shortly, so stay tuned!
Don't want to miss my upcoming giveaways and new recipes? Subscribe to my weekly newsletter or connect with me on
facebook
,
twitter
,
Pinterest
,
instagram
Warning
: Use of undefined constant rand - assumed 'rand' (this will throw an Error in a future version of PHP) in
/home/yirese5/public_html/wp-content/themes/yireservation/single.php
on line
72
Warning
: Parameter 2 to wp_hide_post_Public::query_posts_join() expected to be a reference, value given in
/home/yirese5/public_html/wp-includes/class-wp-hook.php
on line
287