Spicy Beef Noodle Soup Recipe (四川紅燒牛肉麵)
Warning
: Parameter 2 to wp_hide_post_Public::query_posts_join() expected to be a reference, value given in
/home/yirese5/public_html/wp-includes/class-wp-hook.php
on line
287
It's amazing how so many Chinese dishes can be reuse and reinvented to create another dish. Case in point: the various Chinese stews were mainly served as a main course until somebody thought it'd be cool to combine the stews and noodles and make them soup noodles with the flavor of stew. I really like that idea!
A few months ago I shared a recipe for a Spicy Beef Stew that's very common in China especially in Sichuan (Szechuan) province.  The post was well received and I was quickly asked by one of the readers to also share a recipe for beef noodle soup – a very popular one bowl meal that was developed from the mentioned beef stew.
I finally got around to make the spicy beef stew again and of course I did not forget about the reader's request so here we are the very delicious Spicy Beef Noodle Soup from Yi's kitchen!!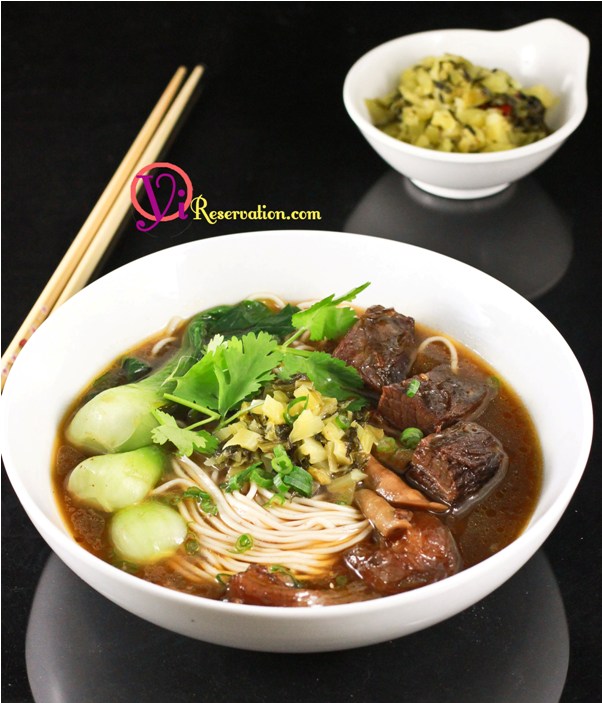 Wait, before we dive into the recipe part it's worth to point out this version of spicy beef noodle soup is only one of a handful famous beef noodle soup varieties. I also like the hand-drawn beef noodle soup from Lanzhou and I am big fan of the versions from Taiwan (from what I read there are many different varieties in Taiwan alone!).
Enough said, to make this noodle soup, you'll definitely need the spicy beef stew (refresh your memory here). If you can make the stew a day in advance so the beef would fully absorb the flavors. The picture shown is a stew made with beef brisket and tendon.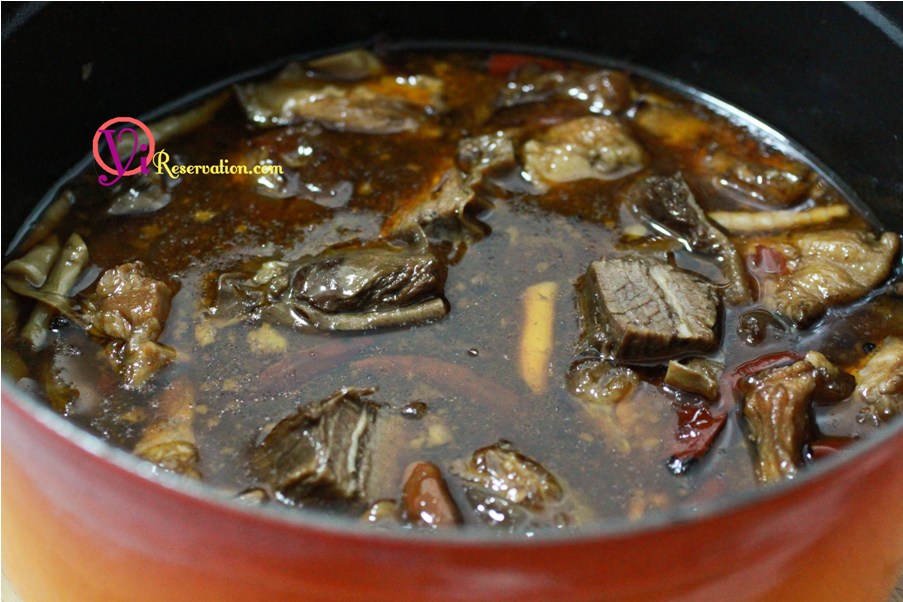 Make the broth ahead of the time. I have boiled this pot of beef bone for about 3 hours. You can certainly substitute the beef stock with other kinds of stock.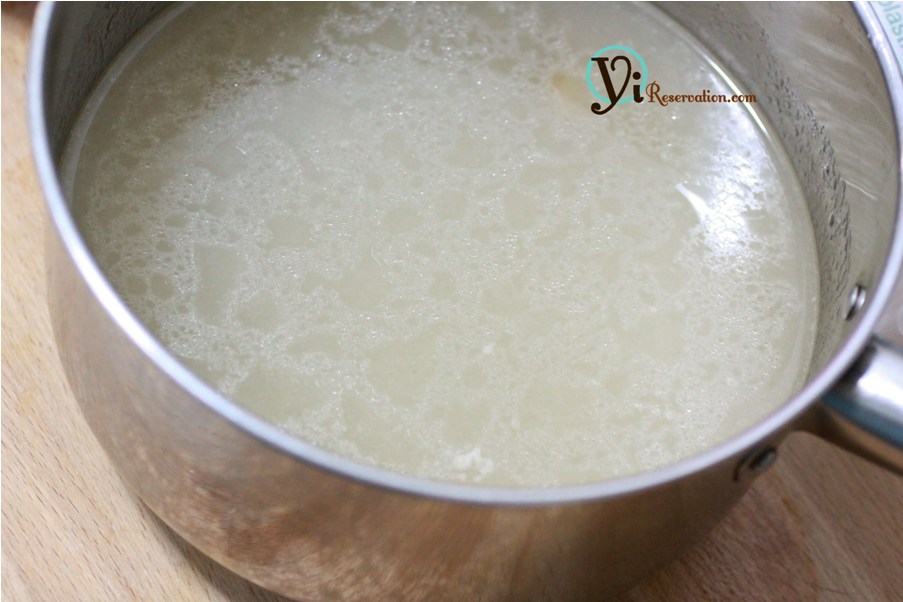 I add some personal twist to this traditional Sichuan version by using sour mustard green as a topping.  Sour mustard green is widely used in Taiwanese beef noodles and I think it's got a brilliant flavor so I conveniently borrowed the idea.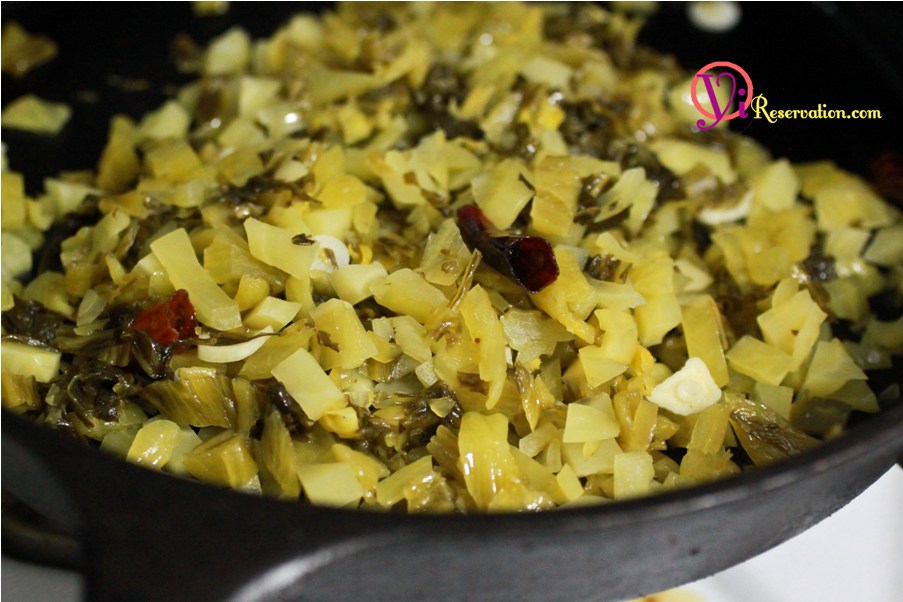 I like to use thinner noodles for my beef noodle soup because they can absorb more flavors from the broth. The best kind of noodle I can find is this freshly made thin noodle called Yang Chun Mian (陽春面). I like my noodles with a chewy bite so I usually cook them until al dente.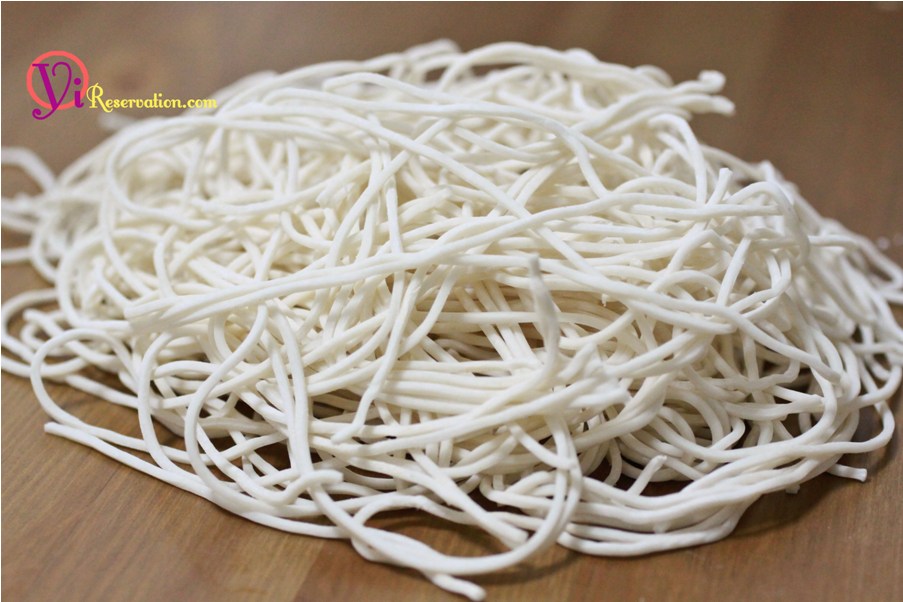 Once you have the noodles assembled with broth and toppings you are ready to go. However if you feel like adding a little more kick to the noodles you can add some homemade hot chili oil. The noodles taste just a bit better with some aromatic spicy oil in my option.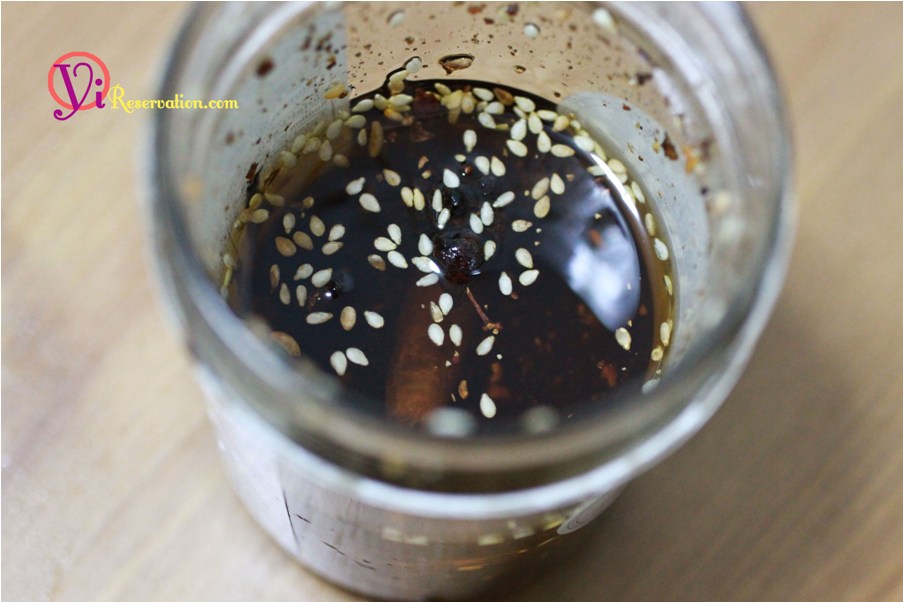 | | | |
| --- | --- | --- |
| Spicy Beef Noodle Soup (四川紅燒牛肉麵) | | |
Recipe Type: Main
Author:
Prep time: 20 mins
Cook time: 5 mins
Total time: 25 mins
Serves: 1
This Sichuan Spicy Beef Noodle Soup is absolutely delicious and quick to put together.
Ingredients
4 Oz Fresh Wheat Noodles
1 cup Spicy Beef Stew and the liquid
Stock
Baby Bok Choy
Scallion, chopped
Cilantro, Chopped
Sour Mustard Green Topping (optional)
Salt to taste
Instructions
Make the spicy beef stew in advance by following the recipe here. If you intend to use the beef stew for noodle soup you can omit the radish in the stew. I also find the stew made with beef brisket has better and stronger flavor than beef shank.
Pre-make your stock of choice. For this noodle soup I like to stick to beef stock. However you can certainly use pork, chicken, or even vegetable stock (but why?). Make sure you flavor your stock with salt so it wouldn't dilute the taste of noodle soup.
To make the sour mustard green topping: coarsely chop the sour mustard green. I finished my homemade sour mustard green so I used the package one bought from Asian supermarket. In high heat, stir fry the mustard green with 1 tbsp of cooking oil for 1 minute. Add 2 dried chilies, 1 clove of minced garlic, 1 tbsp of sugar and fry for 3 more minutes.
Boiling the fresh wheat noodles to al dente or your doneness of choice. Boil the baby bok choy with the noodles. Arrange both noodles in a soup noodle bowl.
Pour about ¾ cups of hot stock onto the noodle. Pour another ¾ cups of hot beef stew broth in to the soup bowl. Mix the noodles with the broth by picking the noodles up and down in chopsticks. Add additional stew liquid if necessary. Add salt to taste if necessary.
Top the noodles with bok choy, beef from the stew, and sour mustard green (optional). Add hot chili oil if desired. Lastly garnish with scallions and cilantro.
Now you go ahead and enjoy this bowl of hearty spicy beef noodle (right away!)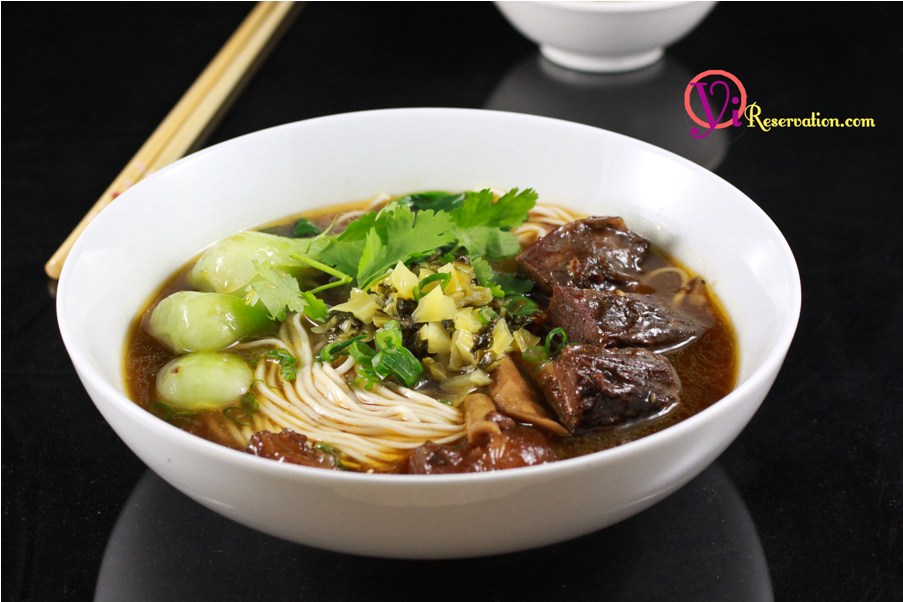 Warning
: Use of undefined constant rand - assumed 'rand' (this will throw an Error in a future version of PHP) in
/home/yirese5/public_html/wp-content/themes/yireservation/single.php
on line
72
Warning
: Parameter 2 to wp_hide_post_Public::query_posts_join() expected to be a reference, value given in
/home/yirese5/public_html/wp-includes/class-wp-hook.php
on line
287