Sweet Red Bean Paste Rolls
Warning
: Parameter 2 to wp_hide_post_Public::query_posts_join() expected to be a reference, value given in
/home/yirese5/public_html/wp-includes/class-wp-hook.php
on line
287
With the gold medal count for the summer Olympics reaching the 30s for the leading countries, the 2012 London summer Olympics in full swing.
Unlike many Olympics viewers around the world who watch the games in real time, most of the US viewers are put on time-delay coverage where most of the prime events are shown in the later evening. While I am used to this kind of time-delayed coverage after living in the States for all these years, I can never forget the times when I lived in China and I had to follow the entire event at odd hours.
The broadcasting network here does provide live-steaming on its website with subscription, however for now I've been trying hard to avoid that because I can never enjoy games while I try to be productive at work (yes I don't live off this blog).
So in order to stay away from all the spoilers flooding the digital world, I have been reluctant to not read news on my favorite news website and tried to completely avoid the sports section of the data feeds I use for work. And the result? I am happy to report that by avoiding the social media spoilers I still find the same excitement and suspense when I watch the delayed coverage as if I were to watch it live. And I get to watch the games while I snack on the crispy snacks I am about to share with you. What's more can I ask?
Drawing the inspiration from Cindy's asparagus rolls, I made these sweet red bean rolls after I found out I still had leftover sweet red bean paste from making my own mochi and some wonton wrappers from making this golden crispy cheese wantons.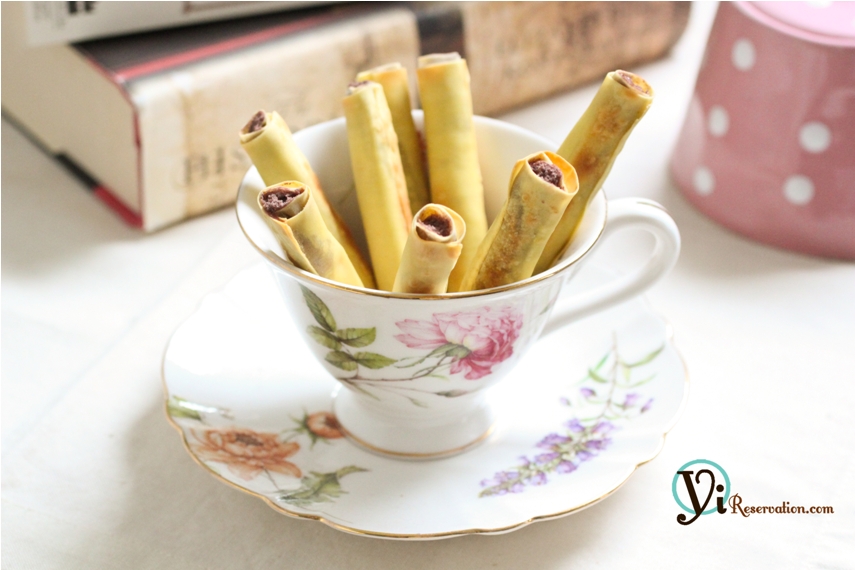 I made this red bean rolls on the fly so I had no idea how they would taste but they did taste good. The sweet filling and the crunchy skin made a nice Olympic game snack for me. If you want to have it crispier I'd suggest you deep fry it but for me I am happy to settle with the baked version. Here is how I make these rolls:
Preheat the oven at 375 F. Place a wonton wrapper on workstation. Fill a piping bag with the red bean paste. Use a piping tip the size of your pinky. Pipe out a straight line of bean paste on one edge of the wonton wrapper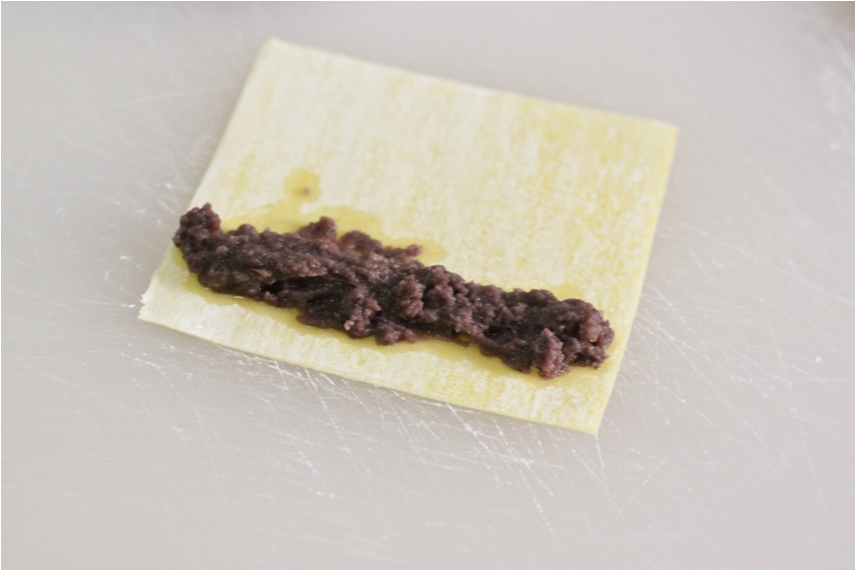 Gently roll the wrapper to form a roll. Seal the opening with water or egg wash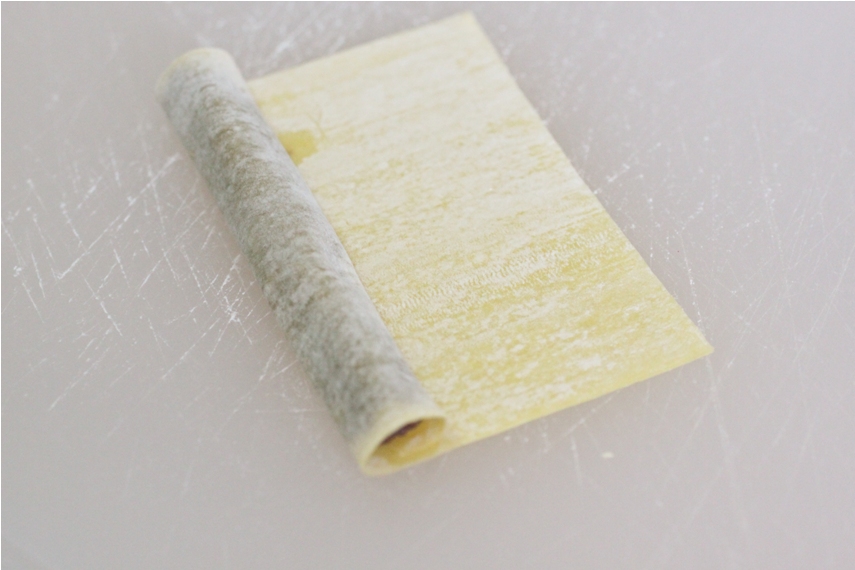 Evenly brush each roll with cooking oil. Place the rolls on a wax paper. Bake it in the oven for 12 minutes or until golden crispy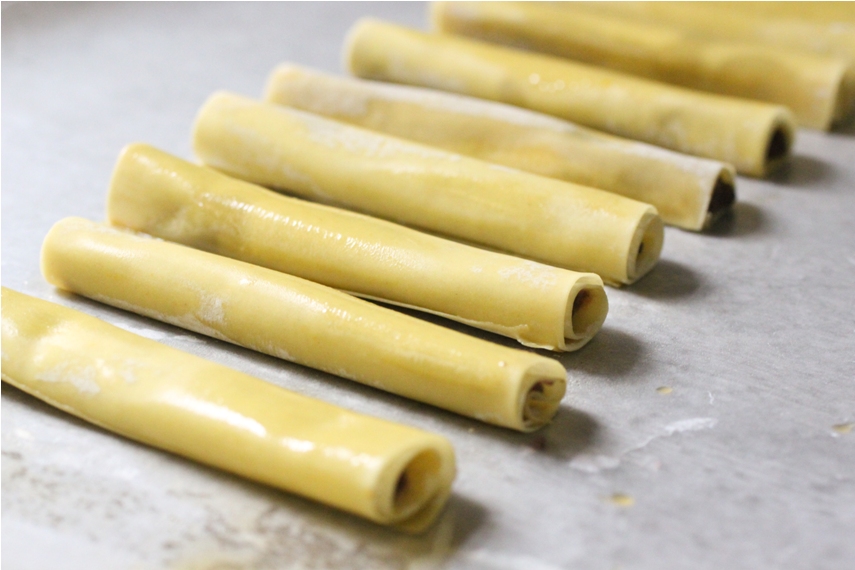 Serve the rolls in room temperature
Ingredients
Sweet Red Bean Rolls
1 cup sweet red bean paste
20 pc wonton wrappers
Cooking oil
Instructions
Preheat the oven at 375 F
Place a wonton wrapper on workstation
Fill a piping bag with the red bean paste. Use a piping tipe the size of your pinky. Pipe out a straight line of bean paste on one edge of the wonton wrapper
Gently roll the wrapper to form a roll. Seal the opening with water or egg wash
Evenly brush each roll with cooking oil. Place the rolls on a wax paper. Bake it in the oven for 12 minutes or until golden crispy
Serve the rolls in room temperature
https://yireservation.com/recipes/sweet-red-bean-paste-rolls/
Copyright © Yi Reservation 2010 - 2013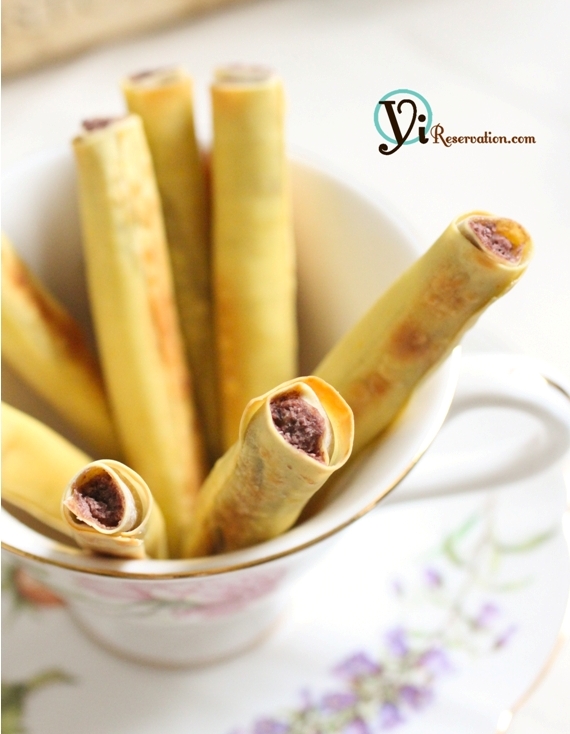 Warning
: Use of undefined constant rand - assumed 'rand' (this will throw an Error in a future version of PHP) in
/home/yirese5/public_html/wp-content/themes/yireservation/single.php
on line
72
Warning
: Parameter 2 to wp_hide_post_Public::query_posts_join() expected to be a reference, value given in
/home/yirese5/public_html/wp-includes/class-wp-hook.php
on line
287