Travel Through Tokyo On Modest Budget – Part 1
Warning
: Parameter 2 to wp_hide_post_Public::query_posts_join() expected to be a reference, value given in
/home/yirese5/public_html/wp-includes/class-wp-hook.php
on line
287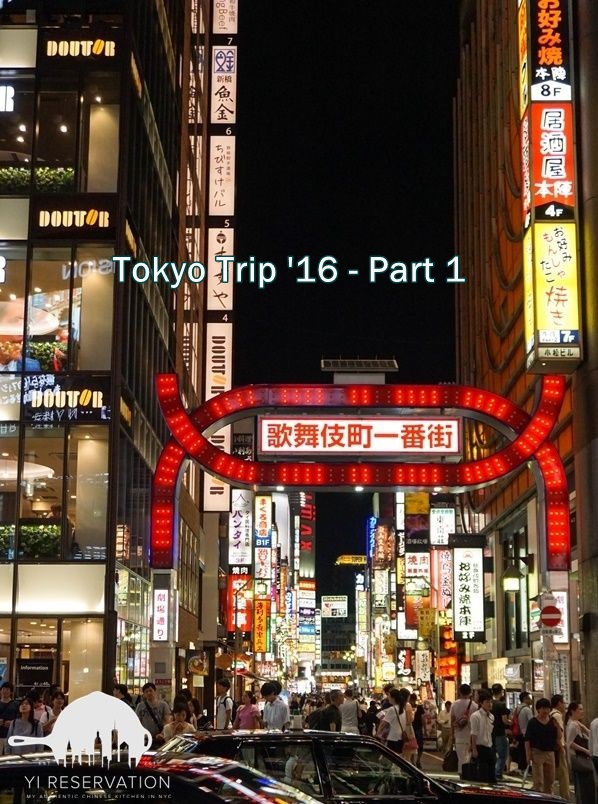 For a very long time, I have been wanting to start a travel / dining section on Yi Reservation where I can share some of my travel tips and dining experience.
In celebrating our anniversary, Mrs. YR and I visited Japan this past July. It was such an incredible trip filled with activities and good food. Many think traveling to Tokyo is expensive but in this pilot post, I'll share some of the fun things we did and good food we ate, all at a modest budget. Additionally, I'll also offer general tips to make your trip preparation a little but easier.
I hope you find this newly created Travel/Dine section fun and helpful 🙂
As always, if you have any comments or suggestions on how I can improve this segment, please don't hesitate to leave a comment down below. I love to hear from you!
As first time travelers to Japan, we are by no means Japan experts. While neither of us speak much Japanese, we were able to understand all the kanji characters, thanks to our background in Chinese language, which made our trip a little bit easier.
Getting around Tokyo was quite easy compared to some other cities but if you are going there for the first time I'd recommend you doing some research before you arrive. Here is the bare minimum you should know:
Getting Here
If you travel from a major international city, you'll most likely arrive at Narita International Airport, which is about one hour away outside of Tokyo.
Depending on where your accommodation is, you can choose from a wide range of transpiration methods to get to your accommodations (ranking from cheapest to most expensive):
Since we stayed in Shinjuku, which is located in the center of Tokyo, Mrs. YR and I decided to take the Narita Express which was about 3000 JPY ($30) each way and only took us a little over an hour to get right to Shinjuku JR Station. If you are looking for a relatively fast and reliable way of getting into Tokyo, Narita Express could be a good option.
Public Transportation in Tokyo
Coming from New York City, I was absolutely blown away by how clean, efficient, and on-time the Tokyo public transit system was (sorry MTA but Tokyo transit blows you out of the water). I'll have to say that it was definitely challenging to navigate the complicated transit system in the beginning but it did get better after a few trail-and-errors. For first timers, I strongly recommend downloading the Hyperdia App or plan your travel on Jorudan. An electronic transit map on your smart phone will come handy as well.
If you plan on traveling to other parts of Japan, you might consider getting a JR Pass which is a discounted package for using JR system throughout Japan. We got us a 7-day JR pass since we also went to Osaka on the same trip. We also purchased a 3-day unlimited subway pass for the days we didn't have JR pass activated. If you prefer to pay as you go, consider getting a pre-paid card which (Pasmo or Suica) would save you time and hassle.
Lastly, walking could be an effective way of traveling between short distances. In fact, Mrs. YR and I preferred walking whenever we could because there was always something to see en route.
Shinjuku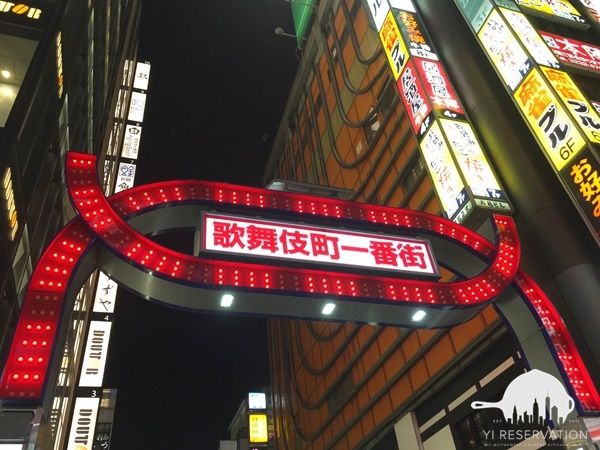 With the logistics out of the way, lets get the actual fun stuff to do around Tokyo.
As I mentioned earlier, for this trip we stayed in Shinjuku area which is a mega transportation hub and a major tourist area in Tokyo. If you enjoy night lives, noisy little bar restaurants (izakaya) and late night eats, you should definitely spend an evening in Shinjuku.
A quick stroll through Kabukicho (a very well known red night district in Shinjuku) is almost obligatory but be warned you might be blinded by the insane amount of neon signs along the way. Here are countless of restaurants, bars, and karaoke bars.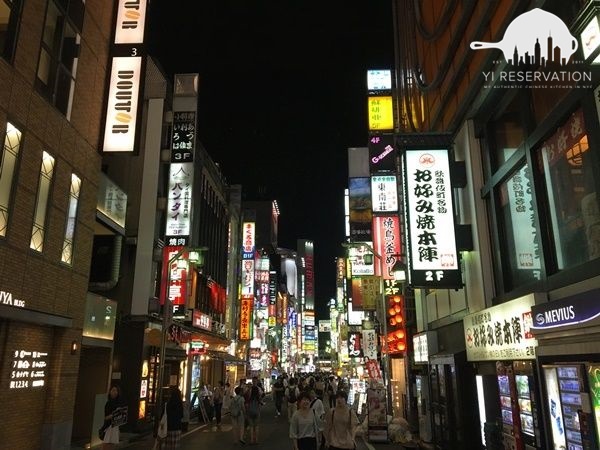 Also, if you are not interested in paying over priced drinks and other "special services" in this area, do not follow any solicitors. I've heard horrible stories about tourists forced to pay high prices for drinks.
Not far from Kabukicho, just north of Shinjuku JR station, there is the famous Omoide Yokocho aka Memory Lane or Piss Alley which is collection of micro-size Japanese izakaya restaurants (we are talking an open kitchen and a few counter stools all wrapped in a 10′ x 10′ room) packed into a narrow alley.
If you are looking to grab some delicious Japanese bar food and get drunk with local Japanese salarmen in a smoked-filled tiny restaurant, this is the place to be!
Yakitori or grilled chicken skewers are the common items served here although you'll be able to find many other cuts of meat and offal on skewers as well as noodles and sushi.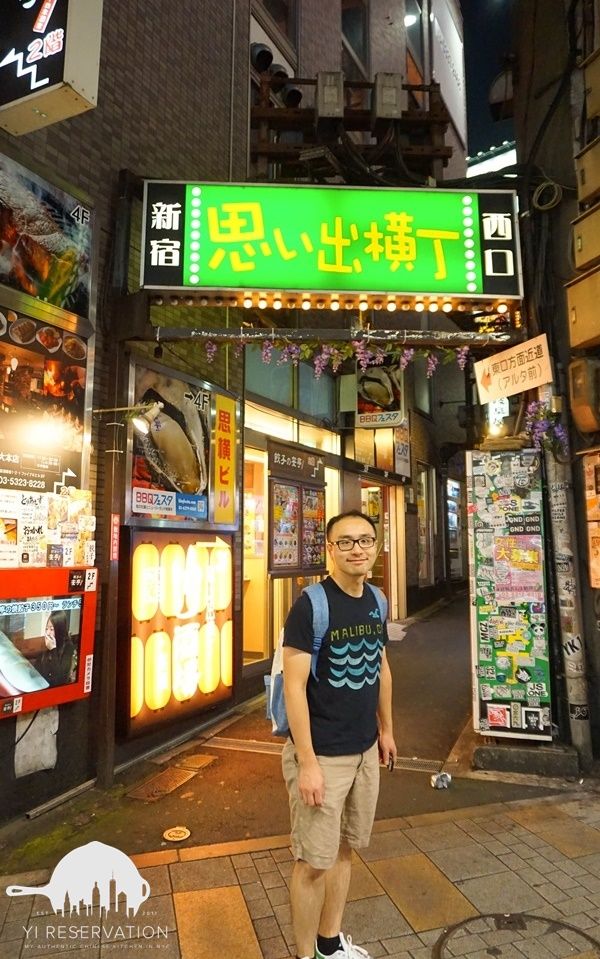 On our first night in Tokyo, we were very tired from the long flight and still jet-lagging so we wanted to grab something quick from Memory Lane. Since Mrs. YR doesn't do well with overly smoky ambience, we had to pass on the izakaya options but luckily we stumbled upon this noodle bar called Kameya (かめや 新宿店 • カメヤ) which consisted of a small kitchen with approximately 8 counter stools. We noticed a lot of local salrymen eating there so we decided to give it a shot and we couldn't be happier with our find.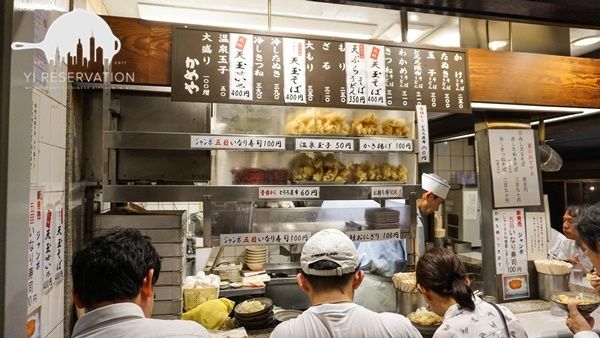 With many eateries in Japan, you are expected to wait on line to get seated a lot of time. Our 10 minute wait to noodle heaven was rather quick. We placed our order right after we got seated. It was fun watching the two men preparing noodles in a synchronized fashion.
Roughly 1 minute later, we received our bowls of soba and udon with freshly fried vegetable tempura and soft poached egg. They were just amazing. Fresh noodles, crunchy tempura went well with that simply but flavorful broth.
And best of all, the two bowls together only cost 900 JPY or $9.
While I didn't get to try the famous yakitori at Memory Lane, I was happy to my chicken fix at a popular izakayi chain called Torikizoku (鳥貴族) just a few blocks away in Shinjuku. Being a china restaurant, the dining area at this Torikizoku is a lot bigger than your typical hole-in-the-way izakaya and much better ventilated.
One of the biggest selling points of this joint, besides serving up some awesome chicken fare, is the fixed 280 JPY ($2.8) on every single item and that includes the drinks as well. So if you are traveling on the budget, your dollars will go much further at this joint.
The menu was really expansive here ranging from typical grilled skewers to quite a few vegetarian dishes and fried meat. The yakitori here did not disappoint. The meat was very juicy and tender and the touch of sea salt was just enough to bring out the natural chicken flavor.
We also ordered a dozen other dishes and several drinks and all of them tasted pretty good.
The $2.8 drinks were the deals I couldn't pass on.
Many restaurants in Shinjuku open past midnight and some of the bars stay open until 6:00 in the morning, making the area a great place for night owls looking for late night eats/drinks.
On one late night, we were looking for a quick late night dinner and we came across this casual seafood restaurant called Uonchushokudou (魚人食堂) which was not too far form our Airbnb. Seeing no line at the door, we decided to give it a shot.
Like many fast-food-ish restaurants, you purchase a meal ticket at a ticket machine by the entrance. Once you get inside the restaurant, all you have to do is hand the tickets to your server. Also there is hot water and green tea powder by the table side for you to make hot tea! Gotta appreciate the DIY culture.
We got two sets of grilled fish meals that came with miso soup, pickles, and rice. I also got a side of Japanese fried chicken (Karaage / 唐揚げ). Needless to say, everything tasted very good and the whole meal was under 2500 JPY or $25. Definitely check it out if you are looking for some fish at a casual environment in Shinjuku.
General Comments about Food in Japan
Tokyo offers a wide array of food options ranging from Michelin star restaurants to cheap fast food restaurants. You can get a satisfying meal for as low was 300 JYP ($3) or drop $200+ for a high-end meal. Part of our trip in Tokyo was just to eat, particularly the casual fare that locals would eat. So before I headed out, I asked a Tokyo native friend if he'd recommend a few of his favorite restaurants. He hesitated for a few second and told me that any restaurant I chose to go should be of good quality. I was a little skeptical at the beginning but my skepticism was gone just after a few meals. My impression was that the food quality in Tokyo and perhaps entire Japan was pretty high in general so anywhere you go you could expect decent food at minimum.
Although we did some research and bookmarked a few restaurants on our to-try restaurants, we didn't end up going to most of them because there were way too many good alternatives that were not under tourists' radar.
So if you wanted to go to Tokyo or Japan in general and eat like locals, I suggest trying places that are not filled with tourists. We did experience some difficulties communicating with the servers but we always manage to get our words across using a combination of pointing, sign-language, and google translate.
Another tip, if you want to eat well but also want to save a buck or two, eat a BIG lunch. Generally speaking, lunch offers much better bang for your buck and this includes some high end restaurants. If you don't feel like dropping a few hundred dollars for a fancy sushi meal, head over there for lunch! You'll be surprised that high quality lunch deals would only cost a fraction of what you'd spend during dinner service.
Shibuya
Shibuya is another vibrant area favored boasting many high-end shops and wide range of eateries. Of course, many tourists come here to see or cross the world famous Shibuya crossing just outside the Shibuya JR Station.
If you want to get a good view of the crossing scene, I recommend heading over to the Starbucks which is located on the second floor of Q-Front building across the street. I know it's kind of cheesy but like other good citizen tourists, I had to video tape the crossing while sipping the fine matcha latte from Starbucks.

Since Shibuya is only 3 stops away from Shinjuku on the JR Yamanote Line, we came here multiple times on our way home. If you like shopping, you'll find many high-end shops in this area. For us, we were more interested in local shops that are not on 5th Ave in Manhattan. We enjoyed browsing around LoFt (not to be confused with clothing store Loft) which is a Japanese chain store selling cute stationary, decors, accessories, and supplies. We also spend some time checking out Kinokuniya bookstore which also has some pretty interesting and cute stuff.
If you are interested in trying some high-tech sushi, check out Genki Sushi (元気寿司). Unlike the traditional Kaitenzushi (Conveyor belt sushi) joints where you grab the sushi you want from rotating conveyor belt, this restaurant lets you order the food from a tablet and 1 minute later your food will stop right in front of you through the conveyor belt.  The price for the sushi varies depending on what you order but expect to spend between 200 JPY ($2) to 500 JPY ($5) per plate of 2 pieces of sushi. At this price point, I'd say you could get decent amount of sushi although I've had better sushi at the same price point from another place in Tokyo.
Normally, I'd stick with Japanese food because what's whole point of going there with the exception of sweets and desserts. I heard a lot of good reviews on this French bakery called Gontran Cherrier and I happened to walk pass its Shibuya location. I wanted to try their famous matcha croissant but apparently they ran out so I settled with a matcha white chocolate scone. It had a really good matcha flavor however it's on the dry side so I'd stick to their highly praised croissant next time.
This wraps up part 1 of the Japan 2016 series. Please stay tuned for the next post on my stay in Tokyo!
P.S. please help me improve this section by leaving a comment or suggestion down below 🙂
Warning
: Use of undefined constant rand - assumed 'rand' (this will throw an Error in a future version of PHP) in
/home/yirese5/public_html/wp-content/themes/yireservation/single.php
on line
72
Warning
: Parameter 2 to wp_hide_post_Public::query_posts_join() expected to be a reference, value given in
/home/yirese5/public_html/wp-includes/class-wp-hook.php
on line
287