{Recipe} Easy Daikon Radish Cake 蘿蔔糕
Warning
: Parameter 2 to wp_hide_post_Public::query_posts_join() expected to be a reference, value given in
/home/yirese5/public_html/wp-includes/class-wp-hook.php
on line
287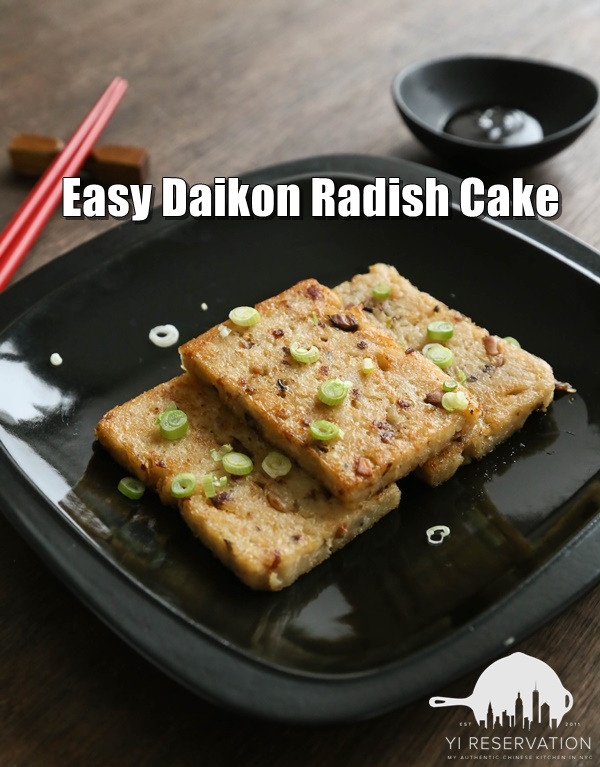 This pescatarian daikon radish cake (aka turnip cake) is a healthy take on the classic radish cake.
Hello everyone, hope you had a wonderful holiday season and a great start of 2017.
The holiday celebration marathon has kept me away from updating my blog but also gave me inspirations on recipe ideas for year 2017. I can't wait to share all the deliciousness I am working on!
For most people, the holiday pigging out is finally over, but for me, it's just starting because Chinese New Year is fast approaching.
In case you haven't found out, the Lunar Chinese New Year is around the corner!! This year the first day of Lunar New Year falls on Saturday, January 28 and it's the year of Rooster!
With all the hearty food consumption over the past few weeks, wouldn't it be nice to treat yourself to something light yet delicious during Lunar New Year instead?
Today's meatless pescatarian Chinese daikon radish cake will be your perfect solution.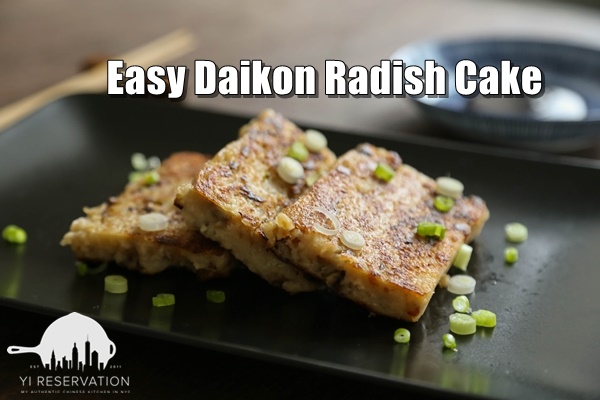 Let's first take a step back to talk about Chinese New Year.
If you have been following my blog for some time, you'd know that it's become a annual ritual for me to share a few Lunar New Year recipes around this time of the year in preparation for the New Year celebration.
This year, I have prepare a few so please make sure you check back in the next few days to see what surprises I have for you.
Free Cookbook
And if this is your first time visiting this site, make sure you grab my FREE Chinese New Year cookbook by subscribing to my recipe newsletter. It will cost you absolutely nothing and you'll get some of my favorite Chinese New Year dishes! It's really just that simple.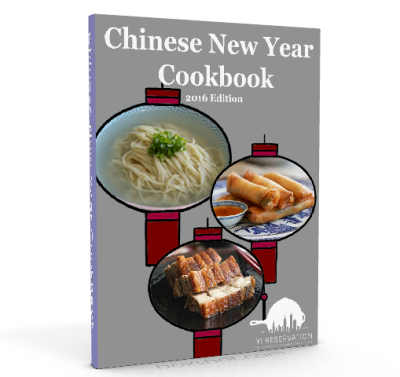 Daikon Radish Cake without Meat
To kick off this year's Lunar New Year series, I've decided to bring back the classic daikon radish cake aka turnip cake I shared a long time ago to a different level.
For those of you who haven't had this before, daikon radish cake (aka turnip cake) is a traditional Cantonese dish commonly served in dim sum restaurants or during Chinese New Year.
It's typically served pan-fried but I've also seen it served straight-up steamed or used in stir-fried dishes.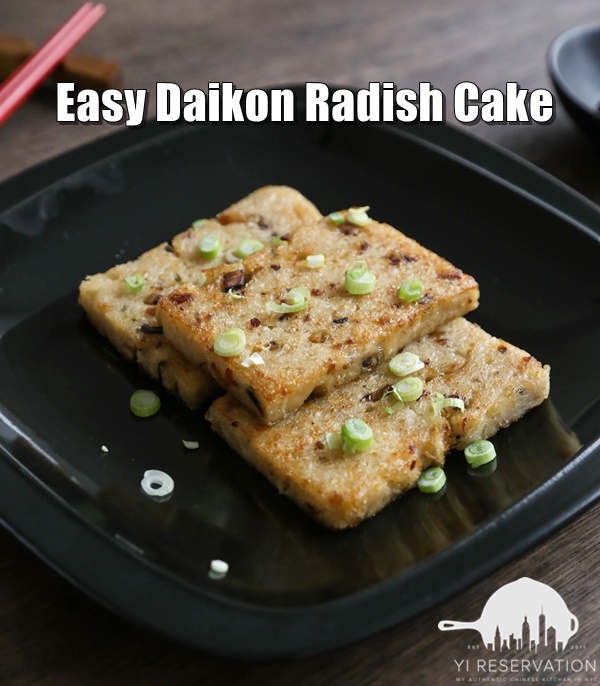 The traditional version generally comes with pork or sausage.
Although, as I preluded earlier, today's recipe is meatless, it's got tons of flavor that's more than enough to make you not miss meat for a bit. The shiitake mushroom and dried shrimp are so flavorful that I actually prefer this pescatarian verion over the classic version.
YouTube Video
Once again, I have made a YouTube video to better demonstrate this classic dish. Please subscribe to my channel if you want to be notified when a new video is posted.

Step by step recipe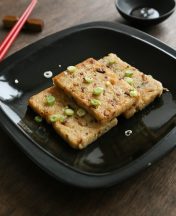 Yield: 1 x 9" loaf of radish cake
Prep Time: 30 mins
Cook Time: 70 mins
Total Time: 100 mins
Ingredients:
300g / 0.5lb + 2 tbsp plain rice flour (not to be confused with glutinous rice flour)
1360g / 3lb daikon radish (turnip works as well)
5 Dry shiitake mushroom
3 tbsp dried shrimp
2 tbsp cooking wine
1 tbsp sugar
2/3 tbsp salt + more to taste
1 tsp white pepper powder
1 scallion
Directions:
Soak the dried shrimp and shiitake mushroom for at least two hours until all softened. Clean and drain well. Optionally, save the soaking water for flavoring the radish cake.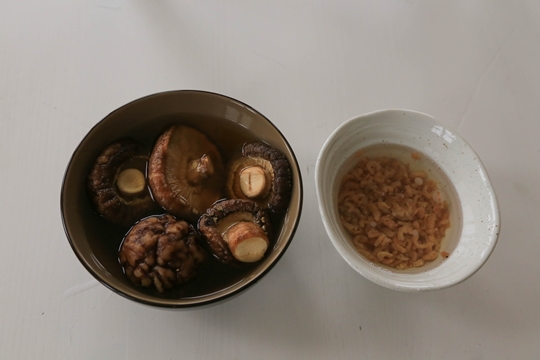 Peel the daikon radish. Then shred it into small match size slices. You can do that either by slicing with a knife, or a grater. If you happen to have an electronic shredder or Mandolin you can use it to save time. My food processor comes with a shredder so it was fairly easy for me. This is the most tedious and laborious part of the recipe.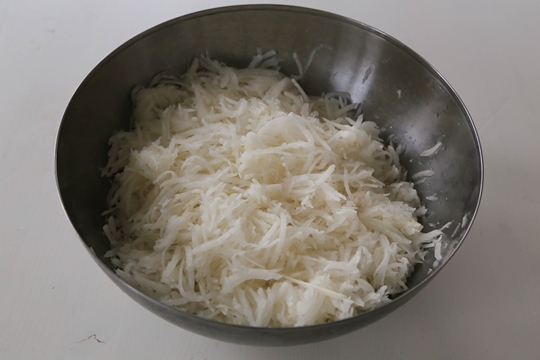 Chop the shiitake mushroom, shrimp and scallion and set aside.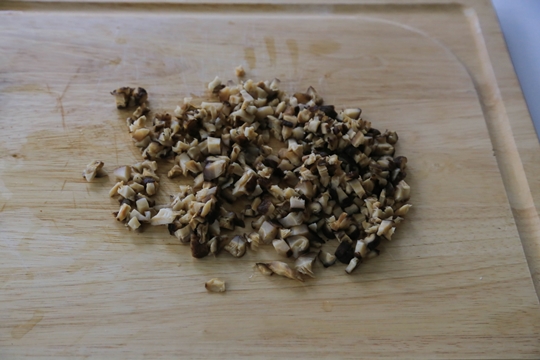 In a large skillet or wok, boil 4qt of water. Add the shredded daikon radish and 1tsp of salt to the wok and bring it to a boil. Once boiling, cooking for another 2 minutes. Drain off most of the liquid from the radish and save about 1.5 cups of the liquid for later use.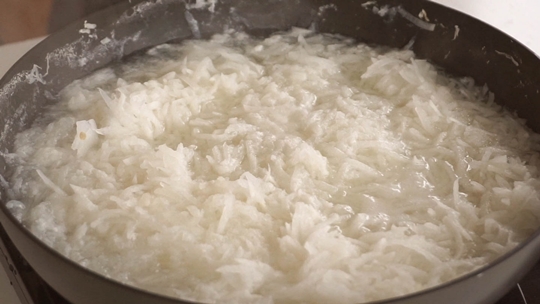 Add 2 tbsp of cooking oil to a large frying pan, add shrimp, shiitake mushroom and stir fry until aromatic. Add the cooked radish and toss to mix.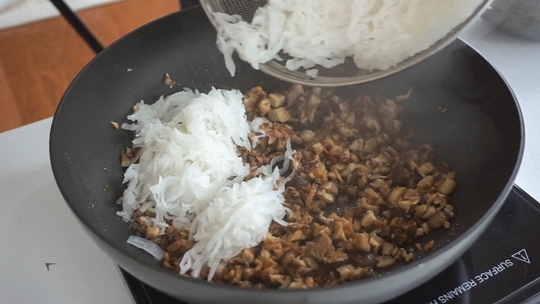 Mix in salt, white pepper, sugar, scallion and cooking wine. Mix well then turn off the heat. Set aside.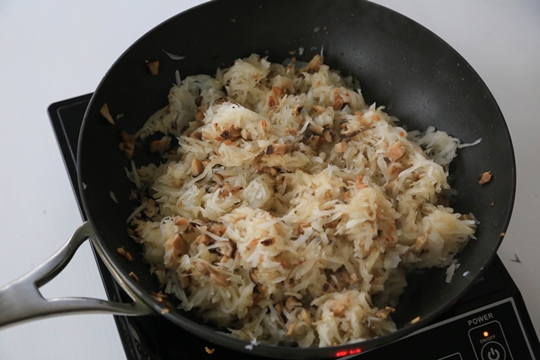 Add rice flour to a large mixing bowl. Gradually add the radish cooking liquid to the flour and stir to mix. Do not add all the liquid in at the same time. Once the batter is smooth and velvety, stop adding the liquid.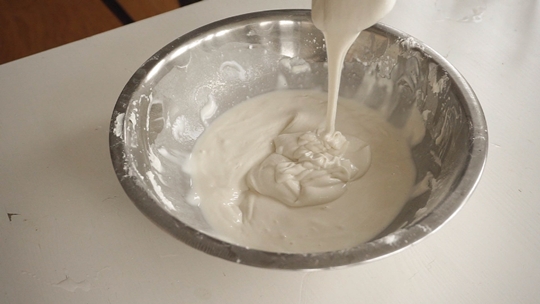 Pour the rice flour batter to the radish mixture. Mix well with two spatulas.
Heat up the wok containing the mixture over low heat. Mix the mixture by stirring. Taste of the mixture and add more salt if needed. You should see the mixture gets thicker and stickier. Once the mixture is stops falling off your spatula, turn off the heat.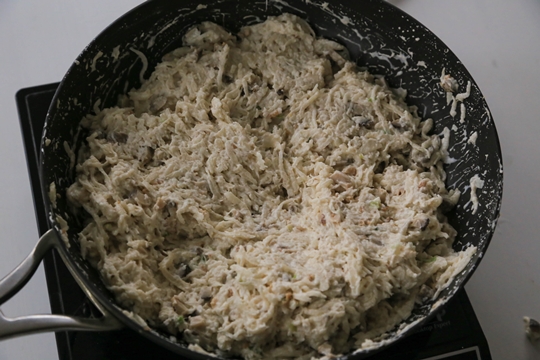 Coat a 9-inch loaf pan with some cooking oil. Transfer the mixture to the pan. Make sure the surface of the loaf is smooth.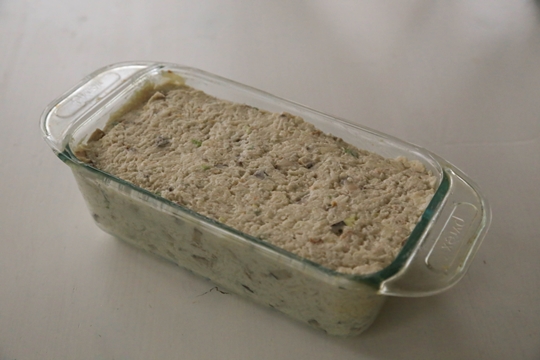 Steam the radish cake for 40 minutes. Once done, cool the radish cake to room temperate and chill in the fridge for a few hours or overnight so it's easier to cut.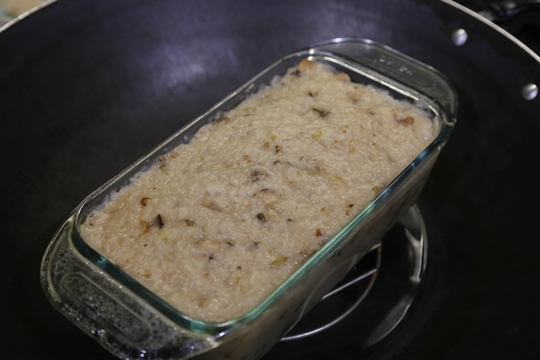 When ready to serve, slice the radish cake in to ½ thick slices and pan fry until both sides are gold brown, about 2-3 minutes per side.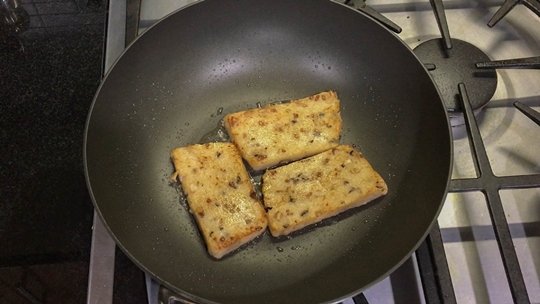 Garnish with some chopped scallion and serve with hoisin sauce on the side.
You can store chilled radish cake in fridge for up to 3 days in the fridge. Alternatively you can freeze it for up to one month.
Once again, please watch out for YiReservation emails as I have more goodies coming your way in the next few days!
If you like this pescatarian daikon radish cake? Let me know what you think if you get to make this recipe!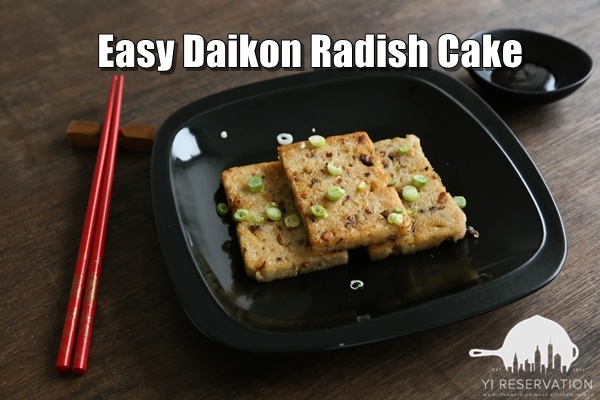 Warning
: Use of undefined constant rand - assumed 'rand' (this will throw an Error in a future version of PHP) in
/home/yirese5/public_html/wp-content/themes/yireservation/single.php
on line
72
Warning
: Parameter 2 to wp_hide_post_Public::query_posts_join() expected to be a reference, value given in
/home/yirese5/public_html/wp-includes/class-wp-hook.php
on line
287