Zen Rolls and More {Marx Foods Recipe Contest}
Warning
: Parameter 2 to wp_hide_post_Public::query_posts_join() expected to be a reference, value given in
/home/yirese5/public_html/wp-includes/class-wp-hook.php
on line
287
Let's admit it. If you are a food blogger, an avid home cook, a long time food network devotee, or just someone enjoys being in the kitchen, you've probably at some point thought of competing in one of those cooking challenge shows
I've certainly had my own food fantasies about putting that final touch on a multi-course meal cooking competition in a hectic kitchen studio with just seconds left to go. Hey dreaming is free right 🙂
That's why I couldn't help but be super excited when I get to participate in this "East Meets Delicious Recipe Contest" sponsored by Marx Foods.  I had never done a cooking contest before so I have to say I was pretty nervous especially the prize at the stake is high.
The competition requires each challenger to prepare one appetizer and an entrée with no less than four sample ingredients provided by Marx Foods. The dish will be judged by the readers and judging panel at Marx Foods. The two winners will receive their choice of either 4 Kobe Tomahawk Steaks or 5lbs of sushi greade Yellowfin Tuna (gulping).
** UPDATE**
The polls are now open. Please follow this link to vote for Yi Reservation's Entry! You'll have until Feb 23rd so don't wait for too long! I appreciate for your visit and your support to Yi Reservation 🙂
I received my sample ingredients promptly after the wonderful folks from Marx Foods confirmed my participation. The ingredients included adzuki beans, maitake mushrooms, mochi rice, dried star fruit, organic millet, and hijiki.

With all these wonderful Asian ingredients lying in front of me I decided to recreate some of the classic Chinese dishes with some twist.
I named my appetizer Zen Roll. The use of maitake mushrooms presented a stronger mushroom flavor in this all time Chinese classic appetizer. Also the addition of hijiki gave these Zen Rolls a great natural seaweed flavor that I'd never had before.
The Zen Roll filling also calls for ingredients such as wood ear mushrooms, carrots, and napa.  The first step is to julienne all the ingredients.

Stir fry the vegetables until soft. Thicken with some corn starch. The corn starch is the magic behind the juicy stuffing under those crispy Zen Roll skins.

My favorite step is to roll the Zen Rolls. It's fun and easy just follow the illustrations below.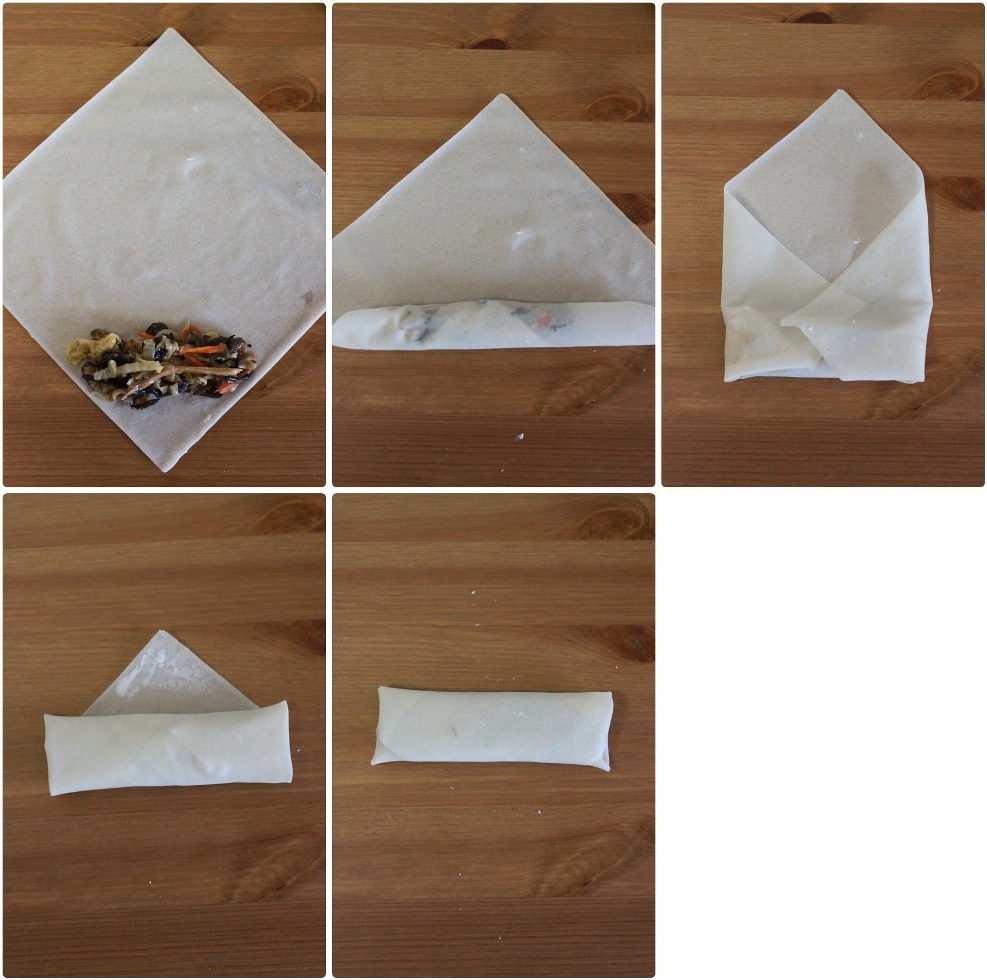 Next is to fry the Zen Rolls. Make sure you check on them frequently as they can get over-fried very easily.

To add some more twist, I have created this creamy hijiki dipping sauce to serve the Zen Rolls wtih.  I have to say the hint of seaweed flavor goes very well with the Zen Rolls.
These Zen Rolls are better when enjoyed hot.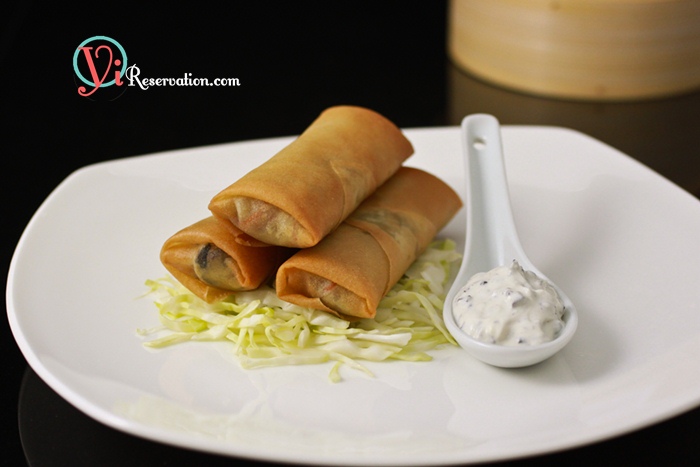 As for the entrée, I married two separate Chinese dishes into one which I named it Steamed Pork and Millet over Rice Tower.
I drew inspiration from a classic Sichuan dish called Steamed Pork with Rice Flour. This amazing dish combines the melt-in-your mouth tender pork is wrapped around with aromatic rice flour which absorbs a lot of flavors. I replaced the rice flour with millet and the dish came equally delicious if not better.
Moreover, the rice tower underneath the pork is the Cantonese-style-like fried glutinous rice. When steamed with the pork and everything else, the glutinous rice becomes incredibly savory that you'll want to finish every bit of it:)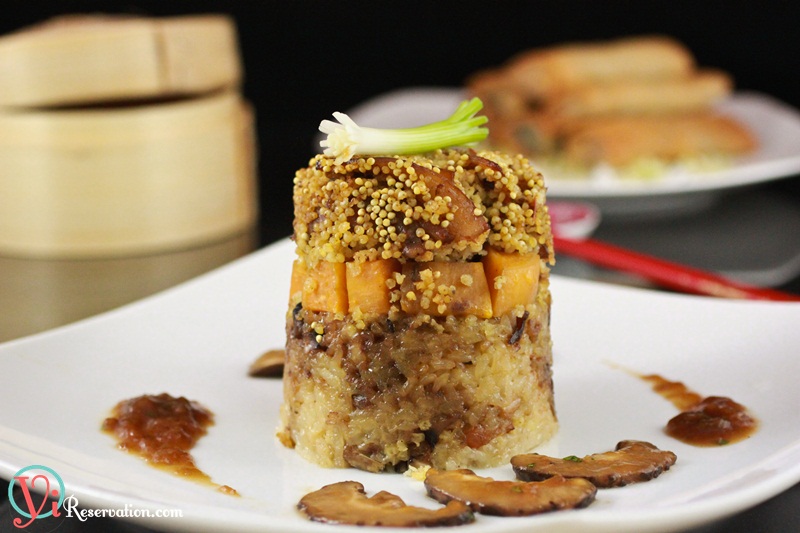 The ingredients used are somewhat extensive but you should be able to find them in a large Asian grocery store.
To start, you'll first have to pre-steam the glutinous rice (instructions here). And prepare the ingredients for fried rice.

Make the fried glutinous rice. Flavor the rice with soy sauce and white pepper powder.

Marinate the thinly sliced pork belly (recommended but other types of meat are OK) with Sichuan bean paste, soy sauce, and cooking wine. Coat the yam with oil and salt.

The millet is used for coating. It needs to be toasted with five spice powder. Coat the pork and yam with the roasted millet.

In a glass cup or tube-shaped container, arrange the pork on the bottom and place a layer of yam.

Fill the rest of the container with the fried glutinous rice. Steam for 30 minutes face up and 30 minutes face down. Last make a shiitake mushroom sauce to serve the dish.

I hope you enjoyed this extended post and the two dishes you created. I certainly hope you'll check back in a few days to learn how to vote for your favorite dish 🙂
~~Vote For Yi Reservation Here~~

Oh yes. As a bonus I also created a steamed red bean paste mochi ball dessert using the adzuki beans (red beans) and some more glutinous rice. Will post the recipe if a request is made in the comments area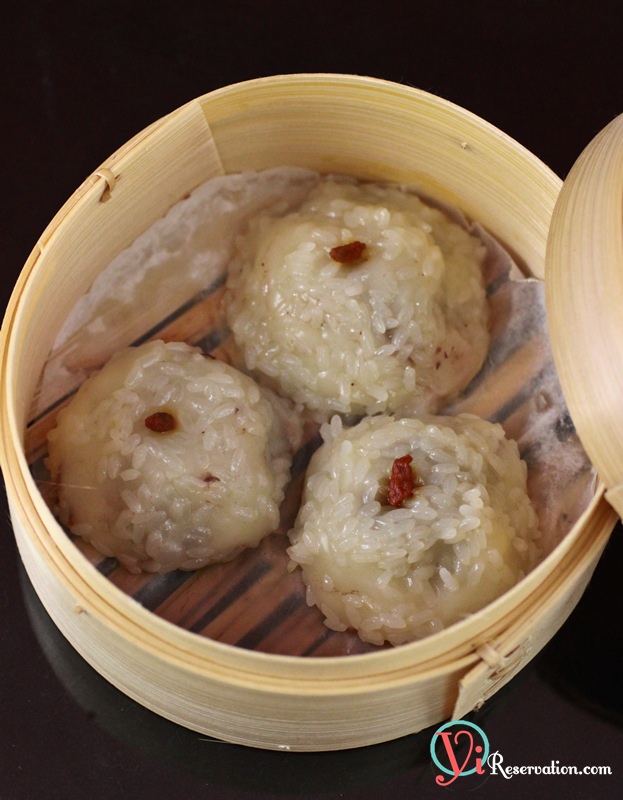 Ingredients
Ingredient
3 pieces dried maitake mushrooms, reconstituted
3 pieces dried wood ear mushrooms, reconstituted
1 tbsp hijiki, soaked until soft
5 slice carrots
6 napa leaves
Spring roll wrappers
1 tbsp Cooking wine
1 tsp sesame oil
2 tbsp Salt
White pepper powder
Instructions
Julienne the maitake, wood ear, carrots, and napa. Add 1 tbsp oil to a hot wok and stir fry all the vegetables except hijiki. Add cooking wine, salt, and white pepper. Continue to cook until all the vegetables are soft, about 10 minutes. Add half of hijiki and sesame oil. Thicken the vegetables with diluted corn starch. This is the Zen Roll filling
Place a spring roll wrapper flat on a work surface with corners pointing in four directions. Place a about 2 tbsp of vegetable filling close to the lower corner. Fold and roll up the skin to the mid-point. Fold sides of wrapper in toward center. Brush the upper corner with so egg wash or wet corn starch. Roll up the wrapper to seal the Zen Roll.
To make the creamy hijiki dipping sauce:
mix 1 tbsp of low fat creamy cheese and 1 tbsp of sour creamy together. Chop the rest of the hijiki and some scallion. Add the hijiki and scallion to the creamy sauce. Mix well.
Heat up oil in a skillet in medium heat. Fry a few Zen Rolls at a time until golden crispy. For about 3 minutes each. Drain on paper towels. Serve with the creamy hijiki sauce on the side
http://yireservation.com/recipes/zen-rolls-and-more-marx-foods-recipe-contest/
Copyright © Yi Reservation 2010 - 2013
Steamed Pork and Millet over Glutinous Rice Tower
Ingredients
10 slice pork belly. Slice to ¼ inch thick
1 cup of diced yam. 1"x1" cubes
1 cup millet
2 cup glutinous rice
2 Shiitake mushroom, reconstituted
1 tbsp dried shrimp, soak until soft
½ onion, diced
1 tsp Sichuan spicy bean paste
1 tbsp soy sauce
1 tsp cooking wine
1 tsp Five Spice powder
1 tsp white pepper powder
½ cup of chicken stock
Soy sauce and oyster sauce
Corn starch
Instructions
Prepare and steam the glutinous rice (refresh youe memory here). This can be done ahead of time. Coarsely dice the onion, dried shrimp, and 1 shittake mushroom. Minced the dried shrimp and 1 shiitake mushroom.
In a pan, cook the onion, minced shrimp, and shiitake. Add the steamed glutinous rice and stir to mix. Add the 1 tsp of salt and white pepper. Cook for another 1 minute. Set aside for later use.
Roast millet in low heat for 2 minutes. Stir frequently. Add Five Spice powder and continue to roast for another 2 minutes. Set aside for later use.
Marinate the pork belly with Sichuan spicy bean paste, soy sauce, and cooking wine for at least 10 minutes. Add 1 tsp of oil and 1 tbsp of salt to the diced yam. Toss to coat.
Place the roasted millet in a small plate. Evenly coat the marinated pork and yam with millet. In a greased glass cup, arrange the coated pork on the bottom layer. Then place a layer of yam on top of the pork. Lastly stuff the glass cup with the cooked glutinous rice until the cup is completely filled. Wrap the cup ream with a sheet of aluminum foil.
In a steamer, steam the stuffed cups face up for half an hour and steam with the face down for another half an hour. Removed the pork and rice stuffing from glass onto a plate.
To make the sauce, combine 1 sliced shittake mushroom, stock, 1 tbsp soy sauce, and tbsp of oyster sauce. Bring to boil and simmer for 3 minutes. Thicken the sauce with some corn starch. Serve the sauce either on top of the steamed pork or on the side.
http://yireservation.com/recipes/zen-rolls-and-more-marx-foods-recipe-contest/
Copyright © Yi Reservation 2010 - 2013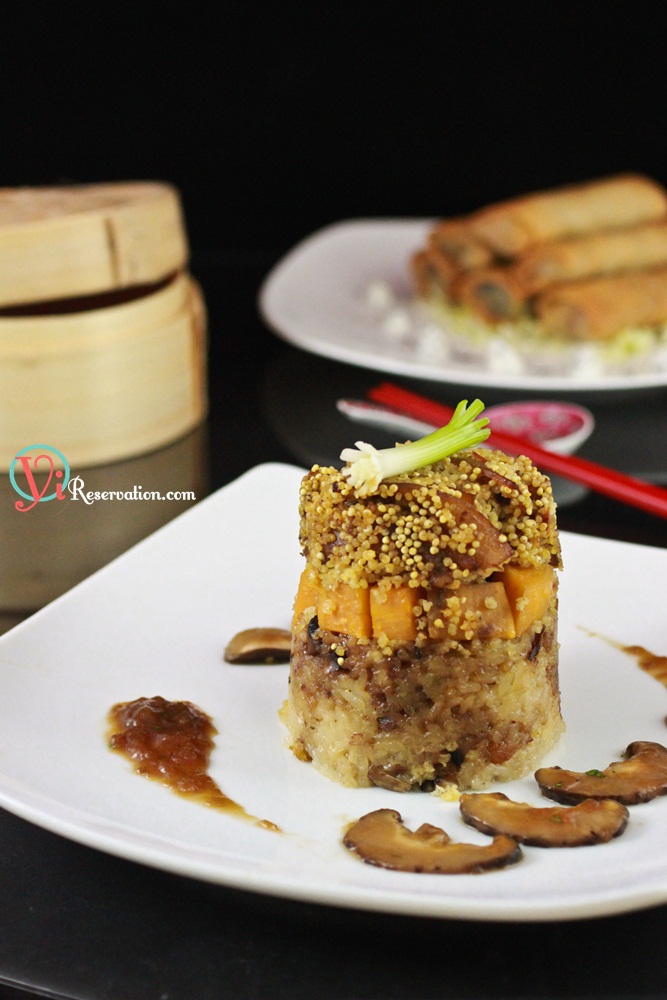 Warning
: Use of undefined constant rand - assumed 'rand' (this will throw an Error in a future version of PHP) in
/home/yirese5/public_html/wp-content/themes/yireservation/single.php
on line
72
Warning
: Parameter 2 to wp_hide_post_Public::query_posts_join() expected to be a reference, value given in
/home/yirese5/public_html/wp-includes/class-wp-hook.php
on line
287