Cooking Planit and T-fal Cookware Giveaway is LIVE!!! [CLOSED]
Warning
: Parameter 2 to wp_hide_post_Public::query_posts_join() expected to be a reference, value given in
/home/yirese5/public_html/wp-includes/class-wp-hook.php
on line
287
What would you like to cook with a set of brand new T-fal cookware? The answer to that question (along with other requirements) might get you this very set of T-fal cookware for free!
As previously announced, I have been fortunate enough to be part of this Cooking Planit T-fal giveaway where 50 setos of T-fal cookware is being given out to foodies and home cooks just like you.
I have been talking about the iphone/ipad app and website developed by Cooking Planit. you can find my review on this amazing application here and the wonderful Cooking Planit recipe I shared here.
Also check out my authentic Kung Pao Chicken Recipe prepared with the T-fal cookware!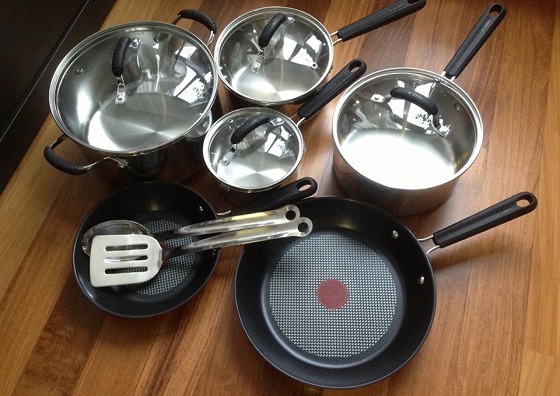 Now on to the giveaway!
The one lucky winner will receive a 12-piece stainless steel T-fal cookware which includes:
8" sauté pan
10" sauté pan
1 Qt. saucepan and lid
2 Qt.saucepan and lid
3 Qt. saucepan and lid
5 Qt. Dutch oven and lid
2 stainless cooking utensils
and features:
Oven safe to 500˚F
Dishwasher safe
Riveted handles
Limited lifetime warranty
Stainless steel interior
Thermo-­‐spot technology
I've also been cooking with my 12-piece T-fal cookware. I'll be sharing more of my thoughts on the cookware in the coming post but just let me tell that I have been constantly surprised by how great the cookware is. It's worth getting it even you don't win the free set.
Giveaway Rules
The giveaway starts today Thursday, 9/5/13 and ends on Wednesday, 9/11/13, at 11:59pm EST.
To enter, You MUST open a FREE account with Cooking Planit and leave the email address you used to open your acct in the choice for that in the Rafflecopter.
For extra entries, click on the rest of the options and follow the instructions.
Edit: This Giveaway has ended. The winner will be announced shortly. Thanks for your participation!
Additional rules: this giveaway is open to US residents only. Limit ONE winner per household so if you happen to be a lucky duck that wins more than one of the 50 sets, just know that you will only get one and an alternate winner will be chosen for the other set(s). All entries will be verified before the winner is confirmed.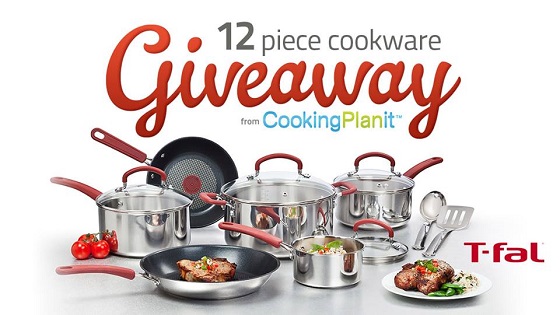 Also don't forget to maximze your chance to win by visiting other 49 giveaways:
Don't wait, try the FREE VERSION of Cooking Planit today. (Android version coming soon.) You can also use all features on the Cooking Planit Website. Registration is free, so try it today.
And check out the giveaway prize here: T-fal Stainless Steel with Thermo-spot 12-Piece Cookware Set, and get ready to WIN with Cooking Planit and T-Fal.
You can engage with our bloggers on these fine networks: Facebook, Twitter, andPinterest

Disclaimer: I received a copy of the Cooking Planit app and T-Fal Cookware set to use for my reviews. I agreed to write a post on each. In no way will that influence my opinions about the products. As always I will give you my followers my honest opinion
Warning
: Use of undefined constant rand - assumed 'rand' (this will throw an Error in a future version of PHP) in
/home/yirese5/public_html/wp-content/themes/yireservation/single.php
on line
72
Warning
: Parameter 2 to wp_hide_post_Public::query_posts_join() expected to be a reference, value given in
/home/yirese5/public_html/wp-includes/class-wp-hook.php
on line
287