Char Siu Pork | Chinese BBQ Pork 叉燒
Warning
: Parameter 2 to wp_hide_post_Public::query_posts_join() expected to be a reference, value given in
/home/yirese5/public_html/wp-includes/class-wp-hook.php
on line
287
Found hanging in the windows of Chinese restaurants around the world, Char Siu 叉燒 or Chinese BBQ Pork is probably one of the most popular Chinese dishes in the world and holds a symbolic status to Chinese cuisine.
Originated from the Canton region of China, Char Siu is also known as Char Siew, Cha Siu, Cha Shao, or 叉燒 and so on. This honey glazed Chinese barbecued pork has that slightly charred and signature mahogany color finish with an addicting sweet but savory flavor…
I started making my own Char Siu a few years ago after I was served with a plate of cold and flavorless Char Siu at a restaurant. There were a number of recipes online but few recipes could produce the same pork serviced in good Chinese BBQ restaurants because Char Siu was never meant to be cooked at home but in a professional kitchen. A good piece of Char Siu is quite an art and it takes time and patience to craft.
So I set out to create a good BBQ pork in my home kitchen. The recipe I am sharing is the result of me testing and fine-tuning the original recipe I learned during my short stint working in a Chinese restaurant. And in a few short scrolls you will be able to test and judge this recipe yourself.
Just as a general warning, this recipe is not for the faint of heart and it takes time to prepare. The pork is at its best when grilled on an outdoor grill. But if you are like me who can only cook in a tiny urban kitchen, just be aware that the oven might set your fire alarm so good ventilation is advised.
But let me assure you that it will be well worth every trouble…
Notes/Tips
So let's cut to the chase. Here are some notes you should know before proceeding to the recipe:
The Pork – many cuts of pork can be used to make Char Siu. For the most tender, juicy and fattiest version, use pork belly without the skin. If you prefer a good balance between meat and tenderness, use pork butt or pork neck. For the lean version, use pork loin. I don't really use pork loin because it has zero fat and as we all know fat is flavor:) For this particular recipe, I use a piece of well-marbled pork butt.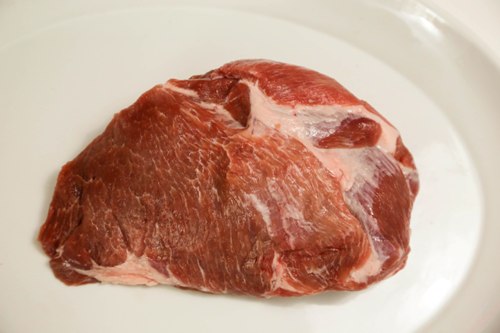 The BBQ Sauce – many restaurants claim to have developed their highly regarded secret BBQ recipes. However, almost every recipe involves the below three Chinese sauces. So it's essential to use all three of them: Ground Bean Sauce, Hoisin Sauce, and Oyster Sauce.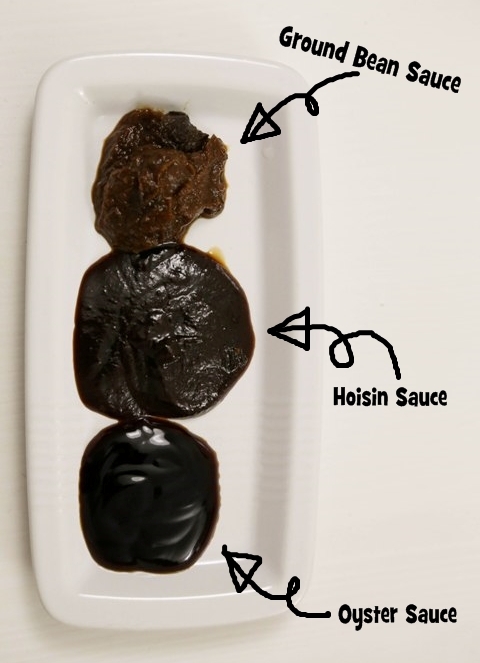 The Glaze – contrary to the common believe, the famous finger-licking sticky glaze on Char Siu is often created by using maltose instead of honey. Since I don't usual keep maltose in my pantry I just use honey which makes an even better glaze.
Step by Step Illustration
To save you some scrolling, starting today I have changed my post format by incorporating the step-by-step pictures in the main recipe box. I hope this change doesn't cause any inconvenience to you.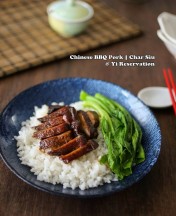 Char Siu Pork | Chinese BBQ Pork 叉燒
Yield: 4 servings
Prep Time: 1 day
Cook Time: 60
Make this restaurant quality Char Siu or Chinese BBQ Pork following this step-by-step recipe at www.yireservation.com.
Ingredients:
Marinade/BBQ sauce
2tbsp soy sauce
1tbsp dark soy sauce
1.5tbsp ground bean sauce (update: if you can't source this, you can replace with additional hoisin sauce)
1.5tbsp oyster sauce
2tbsp hoisin sauce
4tbsp Chinese cooking wine (rose flavored wine preferred)
1tbsp sugar
½tbsp kosher salt or 1/3 tbsp table salt
1tsp five spice powder
1tsp garlic powder
1 star anise (optional)
1 bay leaf (optional)
Honey Glaze
4tbsp honey
1tbsp sugar
3tbsp water
Directions:
Slice the pork along the grain to ½ inch thick slices. Thinner slice makes it easier for the flavor to penetrate. To get the best flavor and texture, brine the pork in salt water over night before adding the marinade
Make the BBQ sauce by combining all the sauce ingredients in a small pot. Cook over low heat while mixing until the sauce is smooth. About 3 minutes. Set aside to cool. This can be done in advance
Pour the BBQ sauce over the sliced pork. Make sure that you turn the pork over so that all sides are coated with the marinade. You can also marinate the pork in a sealed Ziploc bag. Keep the pork in the fridge for 12 to 24 hours
You can roast the pork on an outdoor grill or an oven. To roast the pork in an oven, first preheat the oven to 375 F or 190 C. Brush off the extra BBQ sauce on the pork and place the pork on a grilling rack with a tray beneath to capture the dripping. Do not place the meat directly on a tray. Roast the pork for 20 minutes on each side. Save the leftover pork marinade
While the pork is roasting/grilling, combine the glaze ingredients in a small pot and heat over low heat while mixing. Keep stirring until the honey, water, and sugar are well incorporated. About 2 minutes. Turn off the heat. The glaze should be a running sticky paste
Take the pork out after 40 minutes of roasting or grilling. Generously pour the glaze over top of the pork and let it run down. Make sure all sides of the pork are coated with the glaze. Brush off the excess glaze if necessary
Set the oven to 425 F or 219 C and place the pork back to the oven. Roast for another 5 minutes on each side or until the pork is slightly charred. Take out the pork and let it cool a little bit
Lastly, in a pot, combine a few tbsp of water, pork marinade leftover, and any dripping collected. Bring to boil. Add soy sauce and sugar to taste. This will be the au jus used for serving the pork.

Once the tender, juicy, and savory Char Siu is done, slice the pork against the grain and serve with the sauce over rice, make a Char Siu soup noodle, or even a Char Siu Steamed Bun.
What is your favorite way of serving Char Siu?
Warning
: Use of undefined constant rand - assumed 'rand' (this will throw an Error in a future version of PHP) in
/home/yirese5/public_html/wp-content/themes/yireservation/single.php
on line
72
Warning
: Parameter 2 to wp_hide_post_Public::query_posts_join() expected to be a reference, value given in
/home/yirese5/public_html/wp-includes/class-wp-hook.php
on line
287