Dan Dan Noodles 擔擔麵
Warning
: Parameter 2 to wp_hide_post_Public::query_posts_join() expected to be a reference, value given in
/home/yirese5/public_html/wp-includes/class-wp-hook.php
on line
287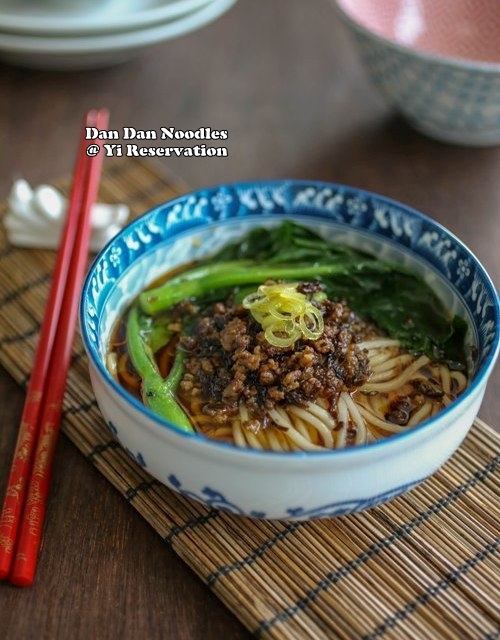 Happy Holidays and thank you all for participating the Holiday Gift Certificate Giveaway! Don't forget to check out the winner announcement here!
Holidays are all about family, friends, and delicious and fun food. For many Chinese families, that means 1) hosting a hot pot party or 2) attending a hot pot party at someone else's house. For me, since I am not seeing my folks this year, I'll mostly likely keep my Christmas really low key and cook some simple but comforting Sichuan dish such as Dan Dan Noodles (aka Dan Dan Mian, 擔擔麵, or 担担面)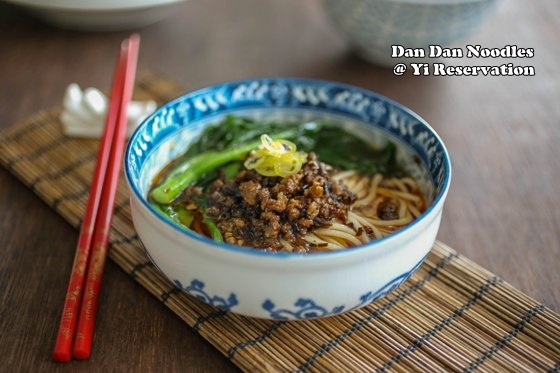 For those of you frequent Sichuan (Szechuan) eateries, you probably know that Dan Dan Noodles is arguably one of the must-try dishes at any Sichuan restaurants. In fact it's so popular that this spicy, sweet, and tangy noodle dish has often used to measure how authentic a restaurant is!
In Sichuan, I grew up eating authentic Dan Dan Noodles which are somewhat different from the versions served in the States. For one, the dish is generally considered as a quick snack and often served out of street stands and eaten from a Styron form bowl. Also, the authentic fare consists noodles swimming in scary amount of chili oil which could be lethal to some non-local eaters.
Unlike this Char Siu (Chinese BBQ Pork) Noodle dish, Dan Dan Noodles are traditionally not a soup noodle dish. Rather it's hybrid between soup noodle and noodle salad. There is just enough sauce to coat the noodles but not enough for you to drink.
A note about the noodles. If you have been following me on facebook, you probably know that I am a huge fan of noodle dishes. I live in a small apartment and cook in a tiny urban kitchen which is probably smaller than some of your powder rooms. But I still manage to keep a pasta machine just so I can make my own fresh noodles. If you don't feel like making your own noodles, you can use fresh Chinese noodles (such as lo mein) or fresh Korean noodles (thanks Luci for your tips).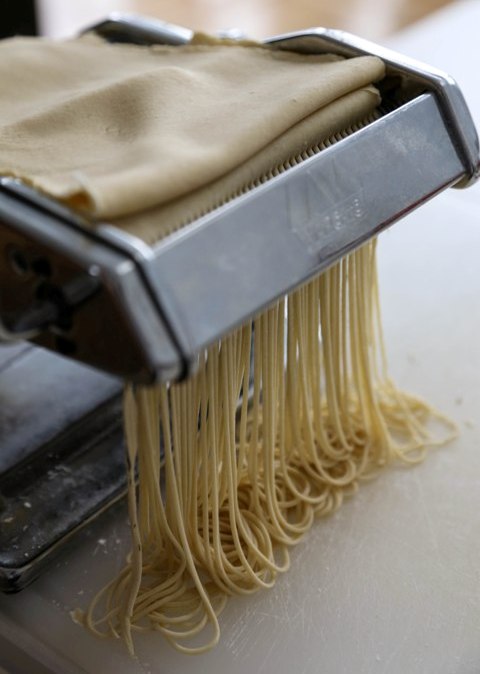 I know it's a lot of hassle but the fresh noodles do make a huge difference if you are into that perfect elastic and chewy noodle texture!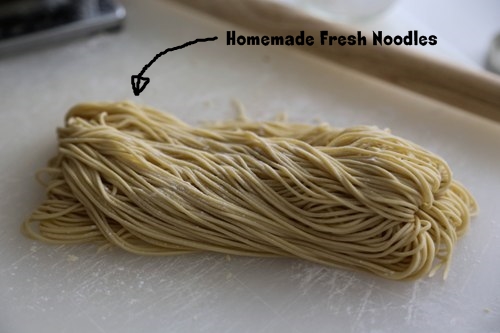 In this recipe, I am only suggesting the minimum of chili oil you should use in order to preserve the flavor profile. However if you feel like eating like Sichuan locals, just double or triple the amount of chili oil.
Step by Step Illustration
Notes:
This recipe serves two small bowls of Dan Dan Noodles. You need to divide the ingredients to two portions when building the sauce.
Ya Cai is a special persevered mustard green from Sichuan. If you can't find it use other kinds of Chinese persevered mustard vegetables instead.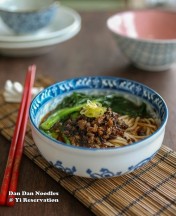 Dan Dan Noodles 擔擔麵
Yield: 2 servings
Prep Time: 15
Cook Time: 10
Total Time: 25
Make this famous Sichuan Dan Dan Noodles following this step-by-step recipe at www.yireservation.com.
Ingredients:
6oz fresh Chinese noodles (can substitute with fresh Korean noodles or dry noodles)
Handful of fresh leafy vegetables such as spinach
Dan Dan Meat Topping
Dan Dan Sauce
2tsp garlic, grated
2tsp Chinese sesame paste
4tbsp soy sauce
1tsp Sichuan peppercorn powder
1tsp sugar
4tbsp chili oil (more if you can handle the heat)
1tsp sesame oil
2tbsp Chinese black vinegar
1cup hot chicken or pork stock, unsalted (can substitute with boiled water)
Chopped scallions for garnish
Directions:
To make the meat topping: sautéground pork and ya cai in 1 tbsp of cooking oil over high heat. When the meat turns color, add soy sauce, cooking wine, and five spice powder. Cook for another 3 minutes. Set aside

To build the Dan Dan Noodle sauce: combine the garlic and sesame paste in a bowl. Mix using a spoon until smooth
Add the rest of the sauce ingredients except the scallions. Stir until well incorporated

While building the sauce, cook the noodles in a pot of boiling water until al dente. If using fresh noodles, it should take about 3 – 4 minute

Cook the vegetable in the same pot. To get the best noodle texture, shock the noodles in ice water right after cooking to stop the noodles from cooking
Drain the excess water and drop the noodles into the sauce. Add the meat topping and garnish with scallions. Feel free to add additional chili oil according to your own taste
These noodles need to be served right away so the noodles don't get saggy.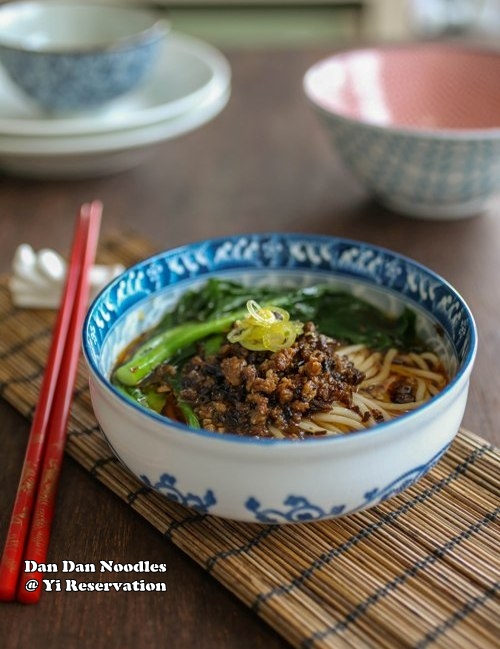 Warning
: Use of undefined constant rand - assumed 'rand' (this will throw an Error in a future version of PHP) in
/home/yirese5/public_html/wp-content/themes/yireservation/single.php
on line
72
Warning
: Parameter 2 to wp_hide_post_Public::query_posts_join() expected to be a reference, value given in
/home/yirese5/public_html/wp-includes/class-wp-hook.php
on line
287