Easy Stir Fry: Bamboo and Pork (竹筍炒肉絲)
Warning
: Parameter 2 to wp_hide_post_Public::query_posts_join() expected to be a reference, value given in
/home/yirese5/public_html/wp-includes/class-wp-hook.php
on line
287
Let me tell you that one of the reasons I enjoy blogging is that I get to interact with readers and other bloggers that share the same interest as me. So if you have anything to share, please don't hesitate to leave a comment or drop me a quick email.
Recently I have been getting some inquires about quick and easy authentic Chinese recipes. While I agree that some of the recipes featured on this site are not in the "quick and easy" category, the truth is that I almost never spend more than 30 minutes on cooking during the weekdays. So dishes such as this steamed millet pork and the Sichuan beef stew are out of the questions.
Instead, my day to day cooking are almost always simple stir fry dishes. To me, a quick stir-fry is one of the easiest ways to fix a hot meal. All you need is a hot wok and some simple ingredients and condiments. So today, I'd like to show you how easily and quickly you can cook a delicious quick stir fry dish in less than 30 minutes.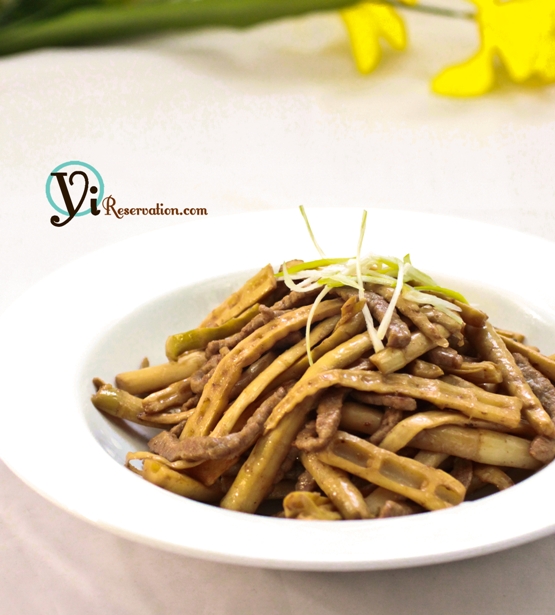 For the sake of demonstration, I use pork and bamboo shoots as my stir-fry ingredients as this protein- vegetable combination is the most common type of stir fry dishes in Chinese cuisine. Of course, you can certainly substitute the pork with chicken or beef and add other types of vegetables such as mushrooms or celery.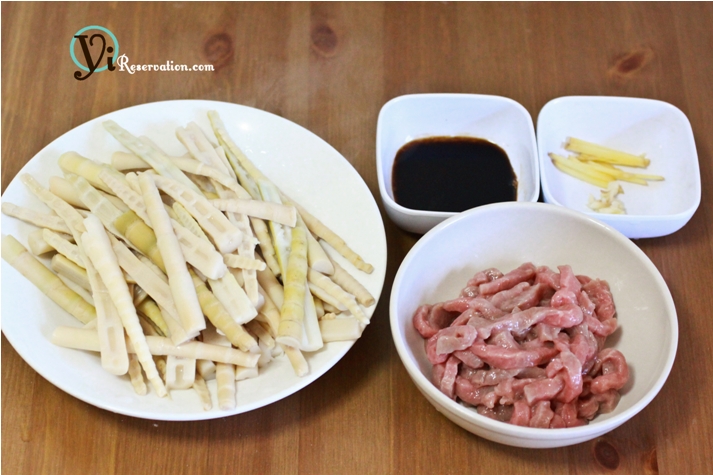 The pork needs to be sliced and properly marinated for stir-fry (refresh your memory on how to prepare meat). Also you can half the bamboo tips (find in the canned goods section of Asian grocery store) for better flavor.
Blanche the bamboo shoots in boiling water with ½ tbsp of salt. Pre-stir fry the pork until the color turns.

Sauté the ginger and garlic in the wok. Add bamboo to the wok.

Add pork and the stir fry sauce. Stir until thoroughly mixed.

Ingredients
6 oz pork (sliced and marinated)
1lb Bamboo shoots tips, halved
2 slice ginger
1 clove garlic, sliced
1 tsp Sesame oil

Combine the following to make the stir fry sauce:

2 tbsp Soy Sauce
½ tbsp Dark Soy Sauce
1 tbsp Oyster Sauce
½ tbsp Sugar
Instructions
Slice and marinate the pork for at least 10 minutes by following this basic method. I choose to use bamboo tips for the stir fry because they are easy to absorb flavors. Cut the bamboo tips in halves.
Blanche the bamboo shoots in boiling water with ½ tbsp of salt for about 3 minutes. This step helps to get rid of the strong bamboo flavor. Drain in a colander.
In a hot wok, add 1 tbsp of oil and pre-fry the pork until the color turns. About 2 minutes. Set aside.
Turn the stove to high heat and heat up the wok. Add another tbsp of oil. Cook the sliced garlic and ginger until they are turning brown. Immediately add the bamboo shoots and stir fry for about 2 minute.
Add the pre-cooked pork and the stir fry sauce. Stir fry thoroughly until everything is mixed. Keep sautéing for one more minute then add some sesame oil. Turn off the heat and plate the food.
https://yireservation.com/recipes/easy-stir-fry-bamboo-and-pork/
Copyright © Yi Reservation 2010 - 2013
Serve this stir fry dish with steamed rice.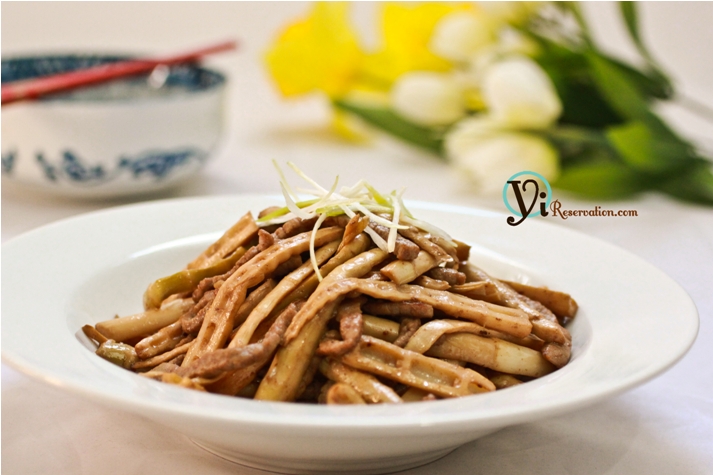 Warning
: Use of undefined constant rand - assumed 'rand' (this will throw an Error in a future version of PHP) in
/home/yirese5/public_html/wp-content/themes/yireservation/single.php
on line
72
Warning
: Parameter 2 to wp_hide_post_Public::query_posts_join() expected to be a reference, value given in
/home/yirese5/public_html/wp-includes/class-wp-hook.php
on line
287