Hokkien Fried Rice (福建炒飯 )
Warning
: Parameter 2 to wp_hide_post_Public::query_posts_join() expected to be a reference, value given in
/home/yirese5/public_html/wp-includes/class-wp-hook.php
on line
287
That's right, fried rice, or 炒飯 in Chinese, is probably one of the most well known stables in Chinese cuisine.  In North America, fried rice has been popularized in the form sold at Chinese takeout restaurants throughout the US.
Although there are gazillion ways of making fried rice, in the States, the most common form of fried rice is made from mixing the rice with scrambled egg, bean sprouts, peas, and different types of chopped meats depending if it's pork fried rice or chicken fried rice…..
Sounds old right? I think so too. Instead of making this yet another fried rice post I would like to introduce you to a different kind of fried rice dish called Hokkien fried rice – a popular variation of fried rice originated from Fujian province, China.)
Hokkien (aka Fukien or Fujian) fried rice is unique from the rest of the pack because it consists of two parts – a fried rice base and a juicy savory gravy that contains seafood, meat, and vegetables.  With that said, this dish does require a little more work than to make the vanilla fried rice you get from an average takeout restaurant.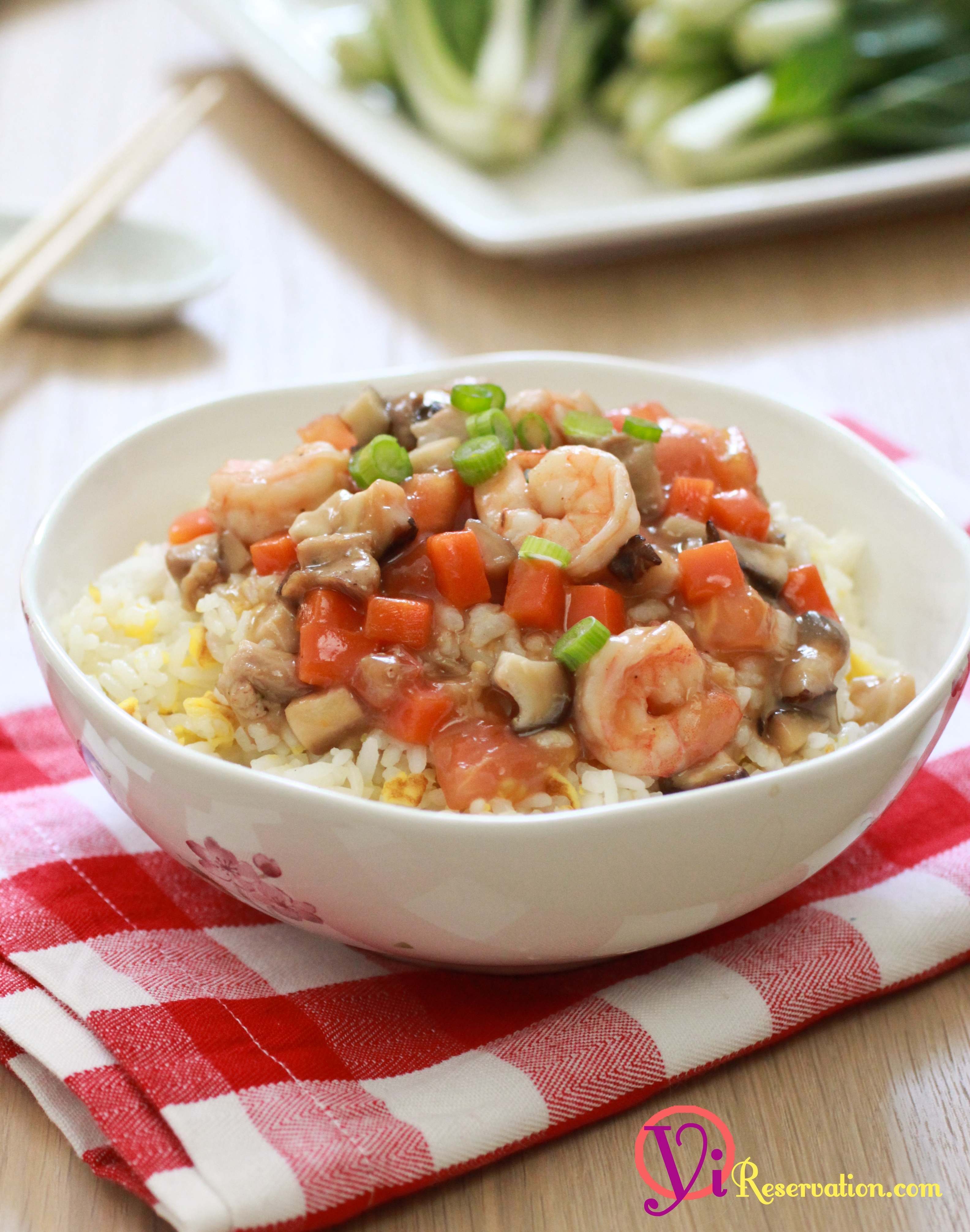 Let's start with the rice part. I first began to make fried rice when I was probably 11 or 12. Over the years I've made some really delicious fried rice dishes along with some unsuccessful ones. If you are new to fried rice, I've come up with a few quick tips for you:
Yi's Guide to Make Restaurant Style Fried Rice at Home
Use long grain non-sticky rice. This would help achieve that signature fluffy and non-sticky texture you find in restaurants without having the same high heat stove that restaurants use.
Use overnight leftover rice to efficiently avoid rice from lumping together. If you don't have previously refrigerated rice then try to cook the rice with 1 tsp of cooking oil and slight less water. Cool the rice to room temperature before frying
Fry over high heat. This is especially important if you add vegetables to the fry rice because you'll end up with watery fried rice if your wok is not hot enough.
Stir fry with a strategy. If you own a high output range stove like the ones used in the restaurants, you are definitely fine to employ the fancy frying skills like 2 feet high rice tossing or the turbo ladle stir action.  For the rest of us who aren't that lucky, I find the "wait-and-stir" technique to be very useful. More detail in the recipe section below.
Now on to the juicy part.  The recipe for the brown gravy normally calls for a combination of shrimp, small scopes, roasted duck meat, and chicken. In my recipe, I have simplified the ingredients by excluding roasted duck and small scallops because I didn't have them readily available on the day I made the dish. But still the dish came out absolute mouth-watering 🙂
If you happen to have duck and scallops though please feel free to use them. At the end of the day, fried rice is all about personal preference. So experiment!
Step by step illustrations:
Scramble the egg and add the rice and mix well.

Stir fry the rice using the "wait-and-stir" technique.

Saute all the ingredients for for the gravy except the tomatoes. Add the stock.

Add the tomatoes and the condiments. Use corn starch to thicken the gravy.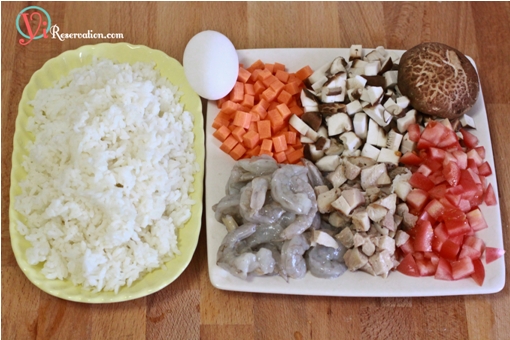 Ingredients
For the Fried Rice

4 cups Cooked 1 day old rice
1 Egg, beaten
Salt and pepper

For the Gravy

12 small shrimp
2/3 cup Grilled chicken or duck (chopped)
1/2 cup Carrot, diced
2/3 cup Shiitake mushroom, diced
1 cup Tomatoes, diced
2 tbsp soy sauce
1 tbsp Oyster sauce
2 tbsp Cooking wine
1 tbsp Sugar
1 tsp White pepper powder
2 cup Stock
Corn starch
1 tsp Sesame oil
Instructions
Before cook the fried rice, make sure the rice doesn't have any lumps in it. If so, gently break up to individual rice grain.
Heat up 2 tbsp of oil in a wok over medium heat, add beaten eggs and scramble until almost cooked but still moisture. Add the rice and mix well with the rice.
To get that restaurant texture, do not stir the rice non-stop, instead use the "wait-and-stir" technique. Turn up the heat. First spread out the rice to form a thin level and let it cook for 3 seconds or so. Then stir and scramble the rice quickly for few times. Repeat this two-process step for a few times. Flavor the rice with some salt and pepper. Set the rice aside and keep it warm.
To make the gravy, saute the shrimp, chicken/duck, carrots, and shiitake mushroom over medium heat for 2 minutes. Add stock to the saute pan and bring to boil.
Immediate add soy sauce, oyster sauce, sugar, cooking wine, and tomatoes. Mix well and bring to boil again. As soon as it is boiling, add sesame oil and white pepper powder for flavoring. Add some salt if necessary. Thicken the sauce with some corn starch.
In a rice bowl, place one scope of rice on the bottom. Top the rice with about ½ scope of the gravy and serve it hot.
https://yireservation.com/recipes/hokkien-fried-rice/
Copyright © Yi Reservation 2010 - 2013
What's your favorite fried rice?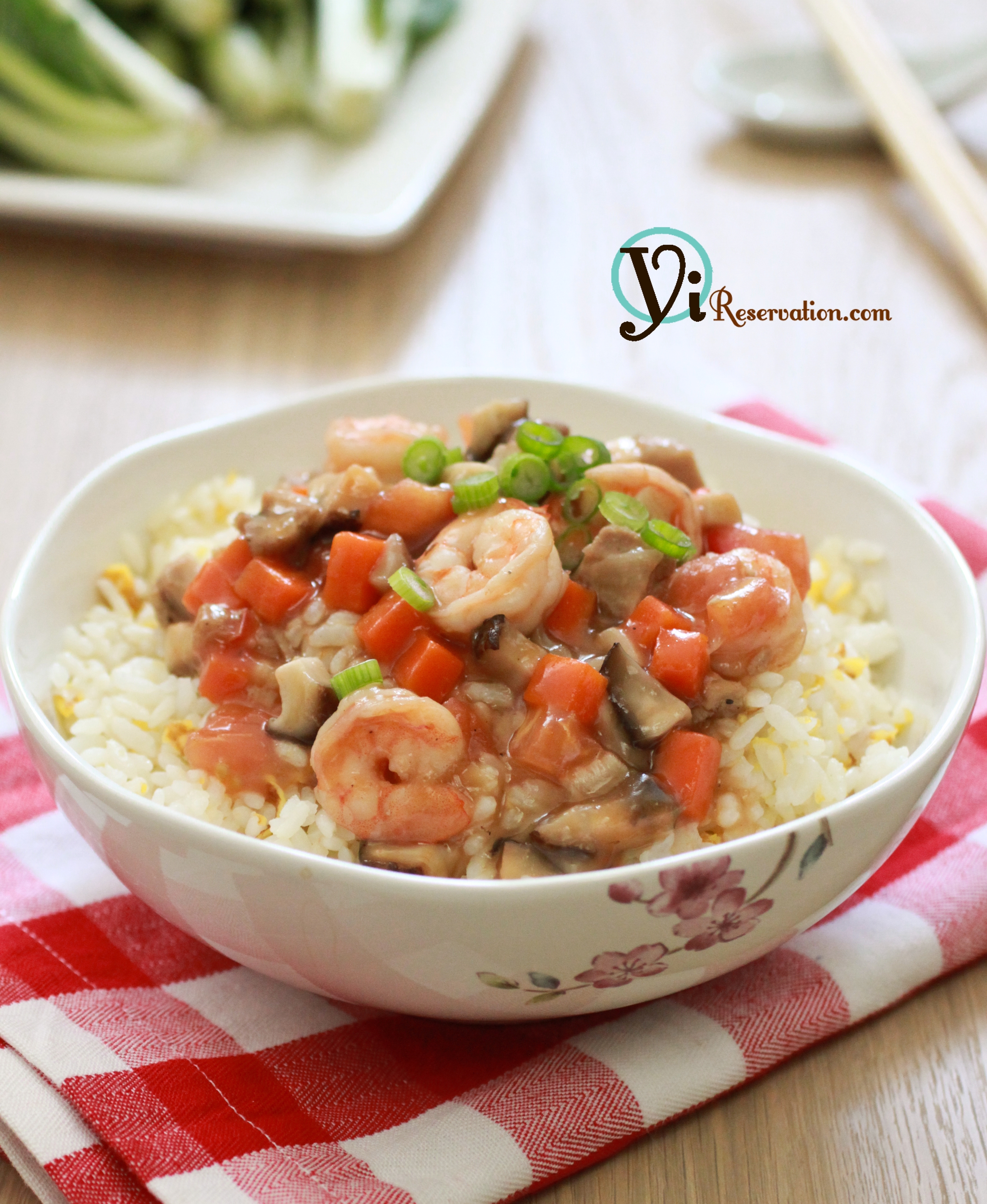 Warning
: Use of undefined constant rand - assumed 'rand' (this will throw an Error in a future version of PHP) in
/home/yirese5/public_html/wp-content/themes/yireservation/single.php
on line
72
Warning
: Parameter 2 to wp_hide_post_Public::query_posts_join() expected to be a reference, value given in
/home/yirese5/public_html/wp-includes/class-wp-hook.php
on line
287