Dry-Fried Green Beans (乾煸四季豆)
Warning
: Parameter 2 to wp_hide_post_Public::query_posts_join() expected to be a reference, value given in
/home/yirese5/public_html/wp-includes/class-wp-hook.php
on line
287
String beans aka green beans are loved by many people because they are healthy and delicious.  Like all legumes string beans are rich in protein and fiber and low in fat.
If you are like me who is considering shaking off a few extra ponds to get ready for the summer then string beans will be your best friends for the next few months.
String beans or green beans can be prepared in many different ways but for me there is no better string bean dish than the popular Sichuan (Szechuan) dish called Dry-Fried String Beans.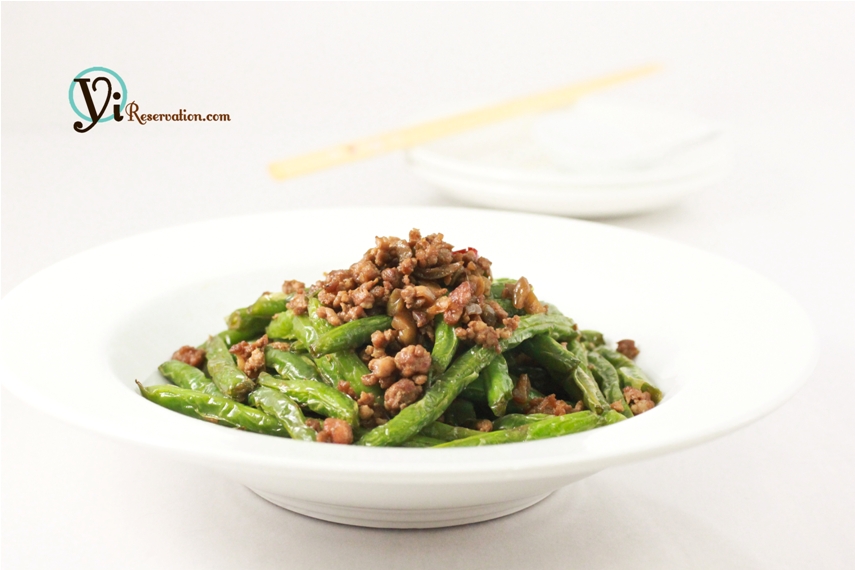 Known for its great flavor and outstanding texture, Dry-Fried Greens Beans are arguably one of most well known Chinese bean dishes served in virtually every Chinese restaurants ranging from takeout joints to high end places.
Traditionally, the green beans are first deep fried to seal the natural flavor. Then they are cooked using a special technique called dry-frying (乾煸) – a frying technique that involves high heat and little to no liquid. The technique is the key behind that famous slightly crispy outside but soft inside texture.
As usual let's start with the step by step illustrations:
Prepare and rinse the string beans.

Fry the green beans until slightly wrinkly. Rinse off the oil if preferred

Stir fry the aromatic ingredients. Add minced pork and beef

Once the meat is almost done, add the green beans and fry in high heat

For those who are health conscious, I've added to step to rinse off the extra oil after deep frying. Also you can skip the minced pork or beef to make it vegetarian friendly. And don't forget to make some steamed rice because this dish can be quite a rice killer 🙂
What's your favorite string bean dish?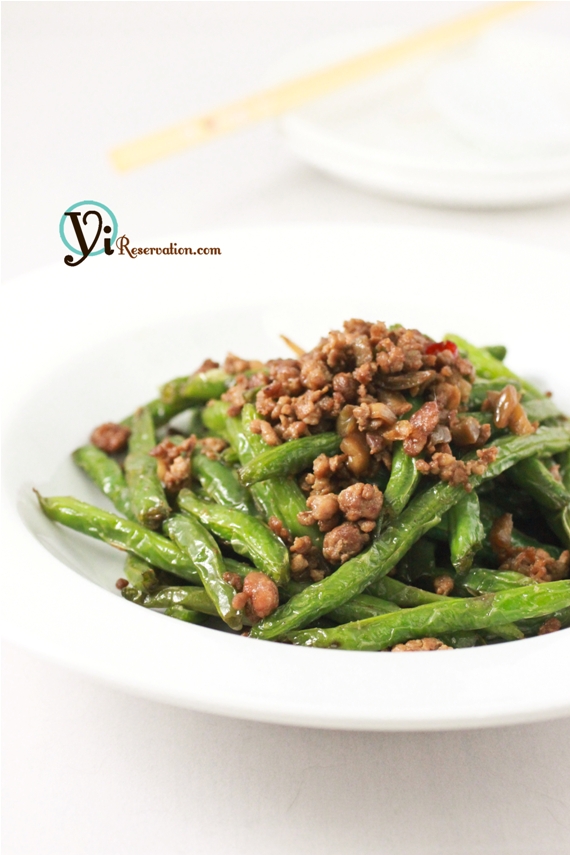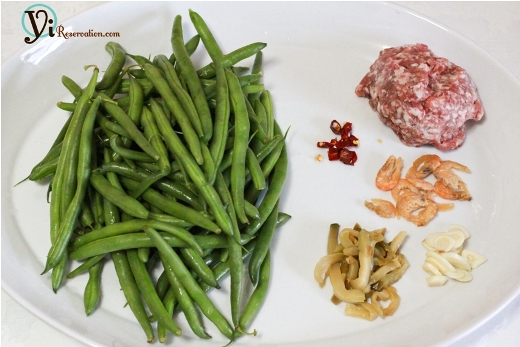 Ingredients
1 lb Fresh Green Beans (string beans)
6 oz Minced Pork or Beef
1 tbsp Dried Shrimp (optional)
2 tbsp Soy Sauce
1 tbsp Cooking wine
2 tbsp Chinese preserved vegetable, chopped
1 clove Garlic, sliced or minced
3 Dried Chili
Instructions
Prepare the green beans by trimming off both ends. Cut beans into 2- to 3-inch lengths. Rinse well and drain string beans in a colander.
Heat up about 2 cups of oil in wok or frying skillet. Fry the green beans over medium heat. Stir occasional to prevent from sticking. Fry for about 5 minutes or when the skin turns wrinkly.
For a healthier version, immediately rinse the beans under running water to remove excess oil. Drain well in a colander.
Heat up 1 tbsp of oil and add garlic, Chinese preserved vegetable, and dried shrimp. Dry fry for 2 minutes or until fragrant. Add minced pork or beef and mix well. Keep on turning the pork so it doesn't stick to the cookware.
Add the chili and cooking wine once the color of pork turns lighter. Once the pork starts to turn brown, turn the heat to high and add the green beans. Make sure your wok is hot enough to evaporate any liquid released from the ingredients. Add soy sauce while keep the string beans turning. Quickly stir a few times to mix well the soy sauce then turn off the heat. The string bean shouldn't be stir-fried for more than 3 minutes.
https://yireservation.com/recipes/dry-fried-string-beans/
Copyright © Yi Reservation 2010 - 2013
Warning
: Use of undefined constant rand - assumed 'rand' (this will throw an Error in a future version of PHP) in
/home/yirese5/public_html/wp-content/themes/yireservation/single.php
on line
72
Warning
: Parameter 2 to wp_hide_post_Public::query_posts_join() expected to be a reference, value given in
/home/yirese5/public_html/wp-includes/class-wp-hook.php
on line
287