Red Cooked Pork 紅燒肉
Warning
: Parameter 2 to wp_hide_post_Public::query_posts_join() expected to be a reference, value given in
/home/yirese5/public_html/wp-includes/class-wp-hook.php
on line
287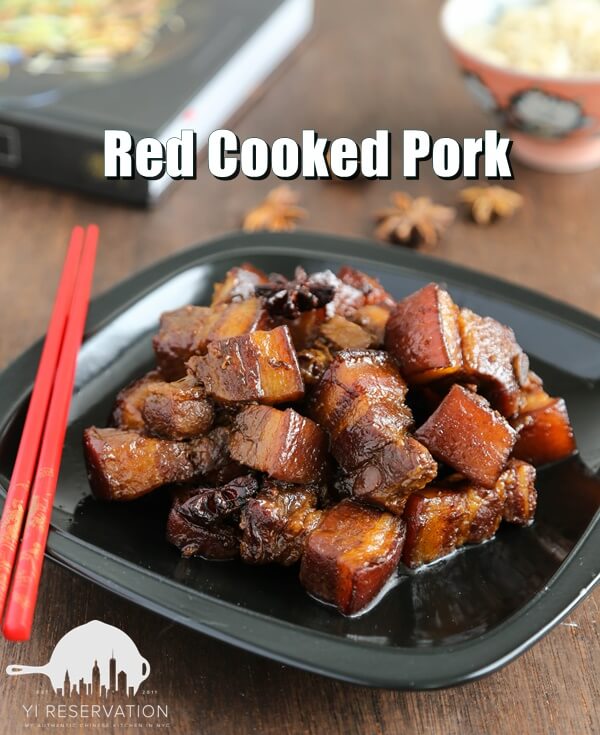 Hope everyone had a nice and relaxing summer.
To celebrate the fall season and to keep my promise from a few weeks ago, I am very excited to share this hearty and delicious Red Cooked Pork 紅燒肉 aka Red Braised Pork or Hong Shao Rou.
Red Cooking Technique
For the readers who haven't heard of it, red cooking is a Chinese slow cooking technique used to prepare a wide range of ingredients.
The technique requires braising or stewing ingredients in a sweet and savory sauce with just enough liquid over a period of time.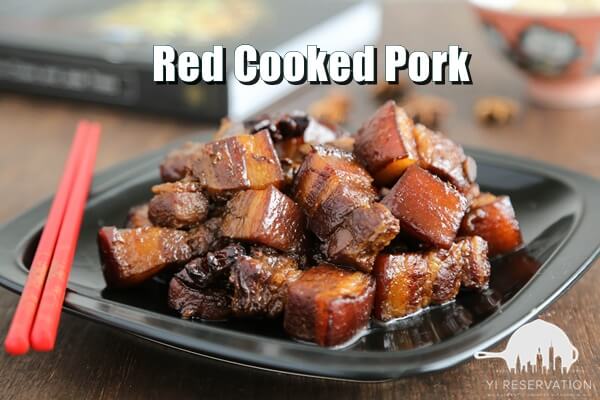 As the name suggested, this technique gives your final dish that signature appetizing red appearance which is a factor used to judge the quality of a dish in Chinese cooking.
There are a few ways to achieve that magic look. The most traditional way is to incorporate a caramel-like sugar mixture with other ingredients. Alternatively, you can add red yeast or dark soy sauce to the dish. Sometimes one more one method is used to get the best balance.
Among all red cooked dishes, Red Cooked Pork holds a special status in Chinese cuisine.
Red Cooked Pork to Chinese cuisine is Chicken potpie to American cuisine. It's a traditional dish you'll find at fancy Chinese resultants just as often as at household dinner table.
It's also one of the few dishes I grew up eating almost once every week at family gatherings.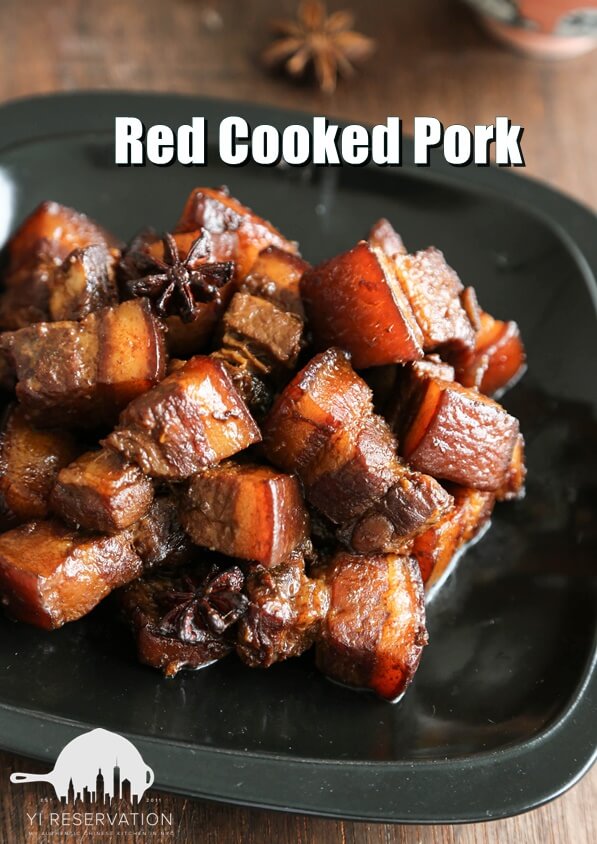 Although there are many regional variations and secret sauces from each family, the basic ingredients are just pork belly, sugar, and cooking wine. Today's recipe is just one variation (and a really good one!)
New YouTube Video
Because it's such a special dish, I even made a YouTube recipe video for this dish!
It's my first recipe video in almost 3 years and I am super excited about it. Head over to my channel now to check out this some of my other videos too.
If you haven't done so, please subscribe to my YouTube channel so you won't miss my upcoming videos that I am really pumped up about! And if you find my videos helpful, please kindly give me the thumbs up 🙂

Lastly, please don't hesitate to leave a comment on my Youtube channel and let me know how I can make my next video more helpful to you.
About this Red Cooked Pork Recipe
The recipe I am sharing today is adapted from chef Kian Lam Kho's award-winning cookbook: Phoenix Claws and Jade Trees. It's a great book for anyone's interested in Chinese cooking and you can read about my review here.
I've done Red Cooked Pork plenty of times using the recipe taught by my grandfather and I have to say that chef Kian's version is very straightforward and stress-free, making it perfect for readers who are new to this dish.
As seen in the recipe, it's amazing how few ingredients are required to make this tender and flavorful pork heaven. The pork belly is slowly braised in a sweet and savory sauce until it become really tender and flavorful while the fat is being rendered off and turning into part of the sauce. The end product are chunks and chunks of mouth-watering meat candies that'll melt in your mouth.
I'd also like to give credit to the Anolon Vesta cast iron braiser which made cooking this dish easy and fun.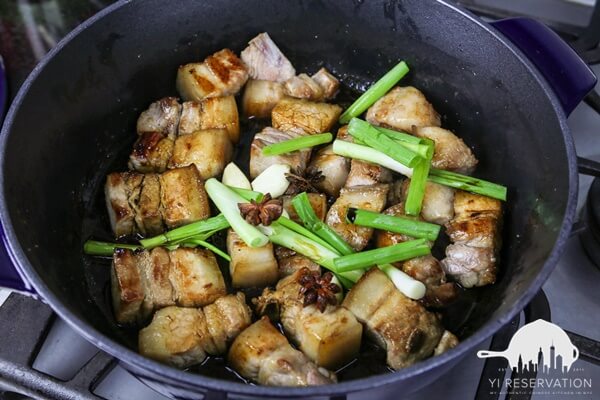 The heavy construction and seasoned interior of this his 5-qt beast produced a perfect sear I needed before braising. The spiky self-basing lid keeps all the flavor and moisture in the dish while speeding up the cooking process.
Giveaway Deadline Friendly reminder
This is the LAST WEEK (giveaway ends on 10/9/16) you can enter to win this Anolon braiser along with Anolon stir-fry pan and a copy of chef Kian's Phoenix Claws and Jade Trees Cookbook (a $20o value)
If you haven't done so, please take 30 seconds to enter to win by leaving a comment here.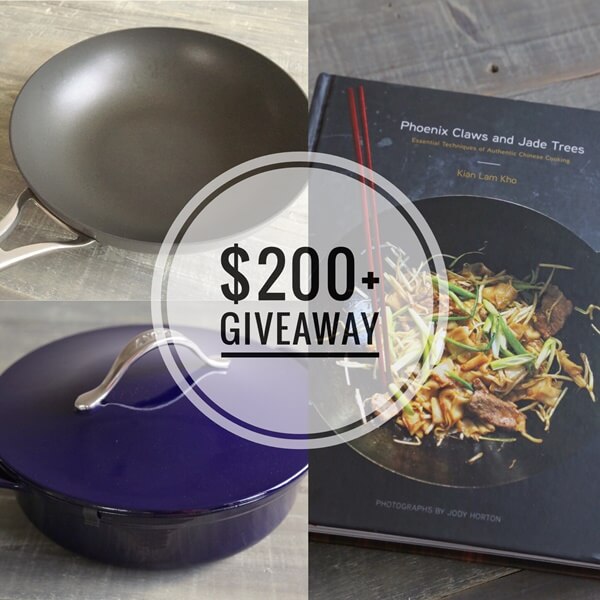 Step-by-step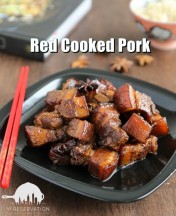 Red Cooked Pork 紅燒肉
Yield: 4 Servings
Prep Time: 30 mins
Cook Time: 90 mins
Total Time: 120 mins
Ingredients:
1.5lb pork belly
1.5cup water/pork broth from step 1
2tbsp sugar
1tbsp light soy sauce
2tbsp dark soy sauce
3 star anise
1/2cup shaoxing cooking wine
3 clove garlic
2 scallions, cut into 2 inch segments
Directions:
Parboil the pork belly in a large pot of water for 20 minutes. Skim off any foam or scum on the surface. Transfer the pork belly out and let it cool to room temperature. Save 1.5 cups of pork stock for later use.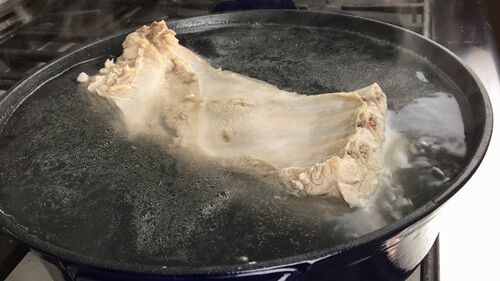 Cut the pork belly into smaller pieces. I generally prefer 1"x1" but you can go up to 1.5"x1.5". Anything larger than that will be hard to bite into.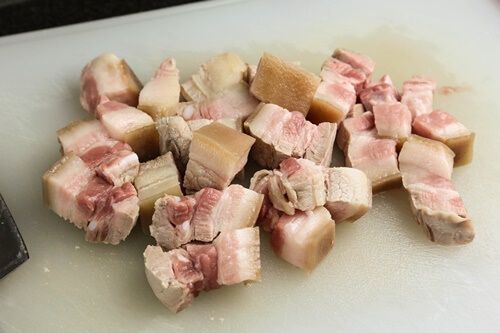 In a skillet or dutch oven, combine ½ cups of water and the sugar and cook over medium heat.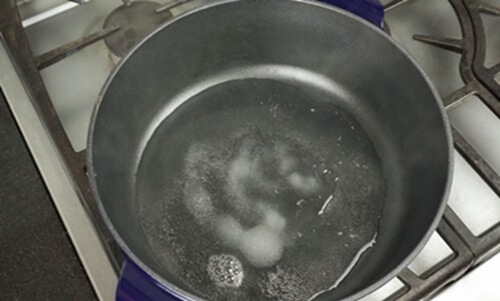 Once the mixture starts to caramelize, add the pork to the skillet and let it brown.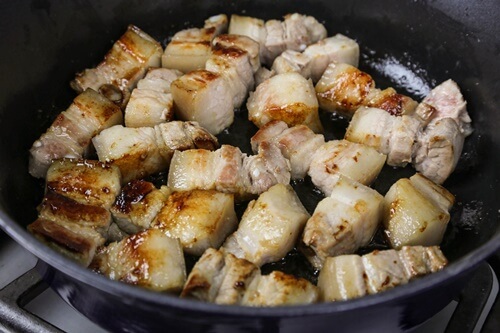 Make sure to stir and turn the pork chunks regularly to prevent from sticking to the bottom and get a nice and event browning.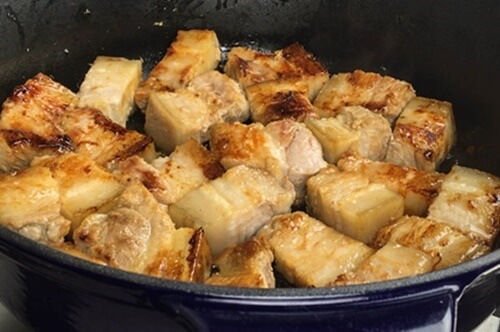 Then add garlic, scallions, star anise, dark and regular soy sauce, cooking wine, and pork stock from step 1 to the skillet. Stir to mix.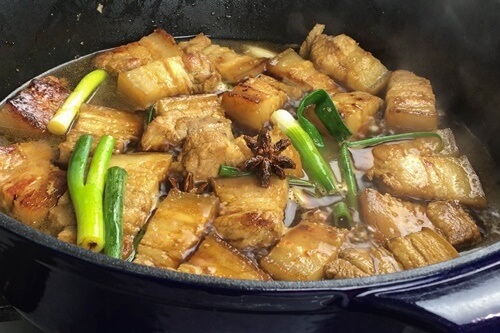 Bring to a boil and reduce the heat to simmer and cook for 1.5 hours with lid on. Stir periodically to prevent the meat from sticking to the bottom. Alternatively, you can also transfer everything to a slow cooker and cook until meat is tender.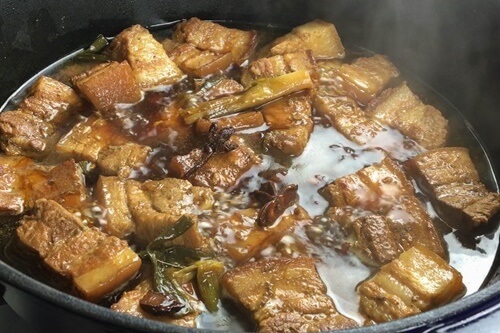 Last step, with the lid off, reduce the sauce to a rich and thick consistency and serve the pork with a side of steamed rice.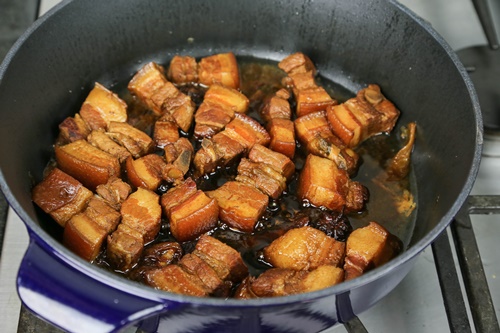 P.S.
After you finish the pork, you'd most likely be left with some very rich sauce from the red cooked pork. You can simply discard it but I always try to make use of it. The sauce is packed with tons of flavor so I like to roast some potatoes using that sauce.
Leave a comment if you have any other ideas!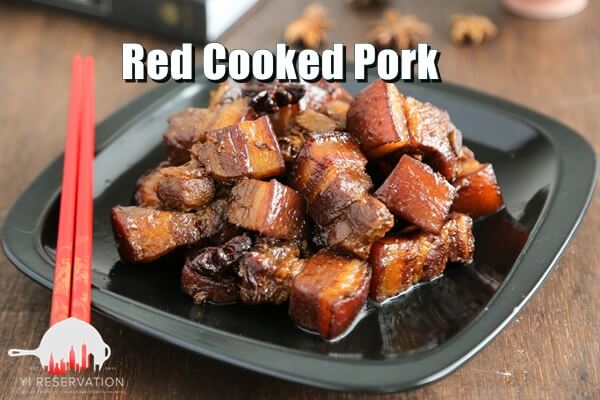 Warning
: Use of undefined constant rand - assumed 'rand' (this will throw an Error in a future version of PHP) in
/home/yirese5/public_html/wp-content/themes/yireservation/single.php
on line
72
Warning
: Parameter 2 to wp_hide_post_Public::query_posts_join() expected to be a reference, value given in
/home/yirese5/public_html/wp-includes/class-wp-hook.php
on line
287