Sesame Chicken / General Tso's Chicken
Warning
: Parameter 2 to wp_hide_post_Public::query_posts_join() expected to be a reference, value given in
/home/yirese5/public_html/wp-includes/class-wp-hook.php
on line
287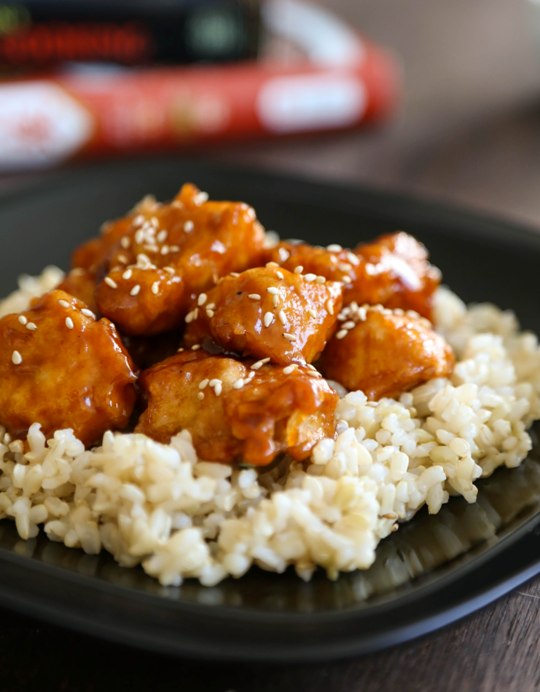 For readers who live in North America, the dish General Tso's Chicken (左宗雞) hardly needs any introduction. This American-Chinese dish is often considered as one of tje favorite Chinese dishes in the US.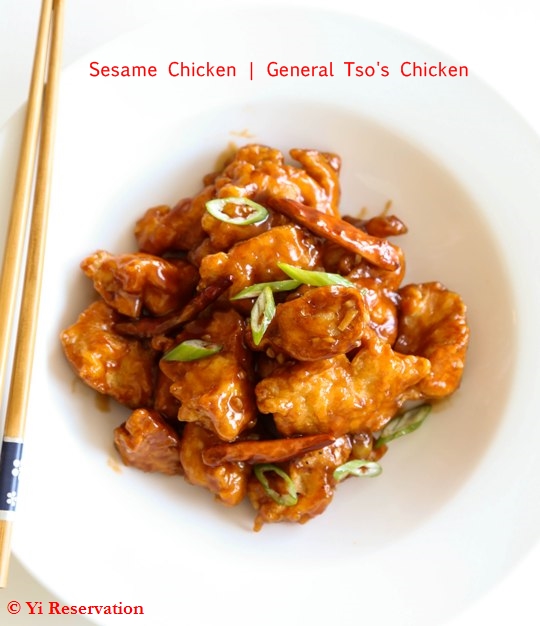 Since its inception in the 70s, General Tso's chicken has involved into a staple of American dining and even become the synonym for Chinese food!
Need proof? Just try walking into any of the 50,000+ Chinese takeout restaurants in the US and the chances are you'll find it on the menu!
While the origin of this dish is still up for debate, one thing we are sure is that this sweet, sour, and slightly spicy "Huannese" dish was created in the US and has remained relatively unknown in China even until now.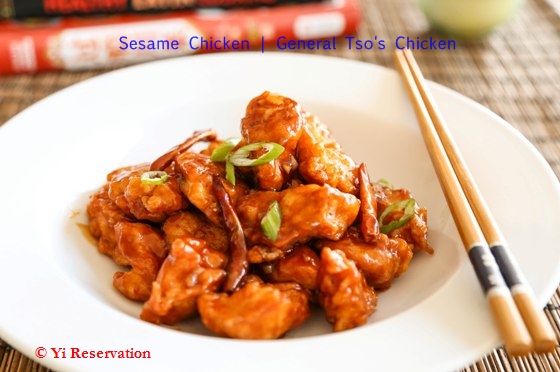 I like this dish to a certain extend. I love the combination of the crunchy texture and the sticky sauce but personally the restaurant version is a little too sweet and too greasy for my liking. So for the past few weeks I've been testing this homemade version of restaurant style General Tso's Chicken!
I wouldn't call my recipe the most authentic General's Tso chicken (if that even exists) but I have created this version by modifying a recipe from a restaurant I worked for so I can assure you that the dish will come out just like the pictures shown here 🙂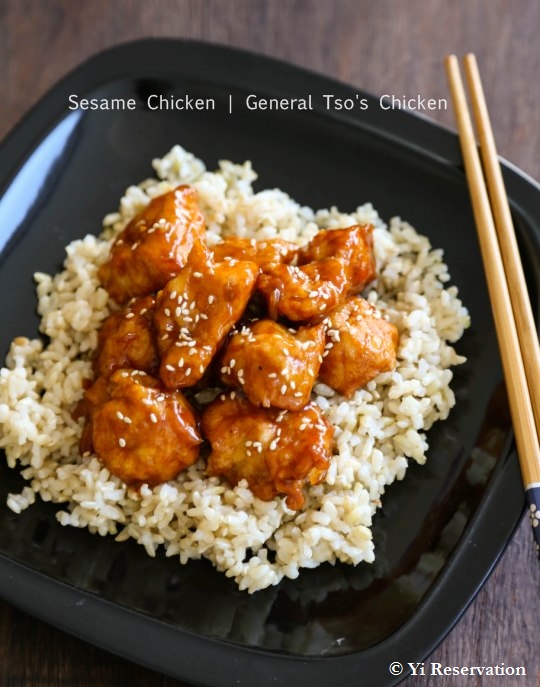 A couple of key points for you avid home-cooks to achieve that classic crunchy on the outside and tender on the inside consistency:
To get that tender texture, use chicken tenderloin, a smaller strip located on the upper breast, if possible. Can also use dark meat
All the batter ingredients should be well incorporated and the batter should be smooth and slightly thick
Fry the chicken over high temperate in hot oil. When the oil is not hot enough the chicken will not only come out saggy but also greasy
Double fry the chicken briefly after the initial fry will create that crunchy coating typically seen in Chinese restaurants
One last thing, if you have not been told, General Tso's chicken is 99% identical to its cousin Sesame chicken. To make sesame chicken, just follow this recipe minus the dried chili part and sprinkle some toasted sesame seeds at the end to garnish!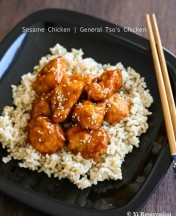 Sesame Chicken / General Tso's Chicken
Yield: 4 servings
Prep Time: 30
Cook Time: 15
Total Time: 45
Make this restaurant style Sesame Chicken / General Tso's Chicken following this step-by-step recipe at yireservation.com.
Ingredients:
1.5lb boneless chicken breast
Chicken Marinade:
1tbsp salt
1tsp white pepper powder
2tsp cooking wine
Batter:
1.5cup corn starch
1 large egg
2tbsp water
2tbsp cooking oil
General Tso's Sauce:
1tsp garlic, minced
1/2tsp ginger, minced
1tbsp, scallion white part, chopped
3 dried chili (optional)
2tbsp vinegar
2tbsp duck sauce (can substitute with peach jam)
1tbsp ketchup
2tbsp soy sauce
4tbsp sugar
1tsp oyster sauce
4tbsp water/chicken broth
1tbsp corn starch, dissolved
Directions:
Cut the chicken to 1.5 x 1.5 pieces
Combine the chicken pieces with all the marinade ingredients. Let marinate for 15 minutes
In a mixing bowl, combine all the batter ingredients except for the cooking oil. Slowly add the oil while whisking until a smooth batter is formed. Let it sit for 10 minutes
Add the marinated chicken to the batter. Gently fold the chicken to ensure each piece is coated with batter
For the sauce, heat up a frying pan and add 1 tbsp of cooking oil. Stir fry garlic, ginger, scallion, and dried chili until aromatic. About 2 minutes
Add the rest of the sauce ingredients except for the corn starch. Stir to mix and bring to a simmer
Thicken the sauce with dissolved corn starch. This sauce can be made ahead of the time and can be used for both General Tso's chicken and sesame chicken
Heat up frying oil in a wok or heavy skillet. Test the frying oil to make sure it's hot enough. Fry the battered chicken pieces in small batches until they urn golden brown. About 5 - 6 minutes
Remove the chicken and place on a paper towel lined plate. Optionally, for crispier texture, you can double fry the chicken right before moving on to the next step
In a frying pan, heat up the pre-cooked sauce over high heat. Add fried chicken and toss until all chicken pieces are coated. Plate the chicken. Sprinkle toasted sesame seeds for garnish if serving as sesame chicken
Serve with a bed of steamed white rice or brown rice
Enjoy and get more American-Chinese recipes here!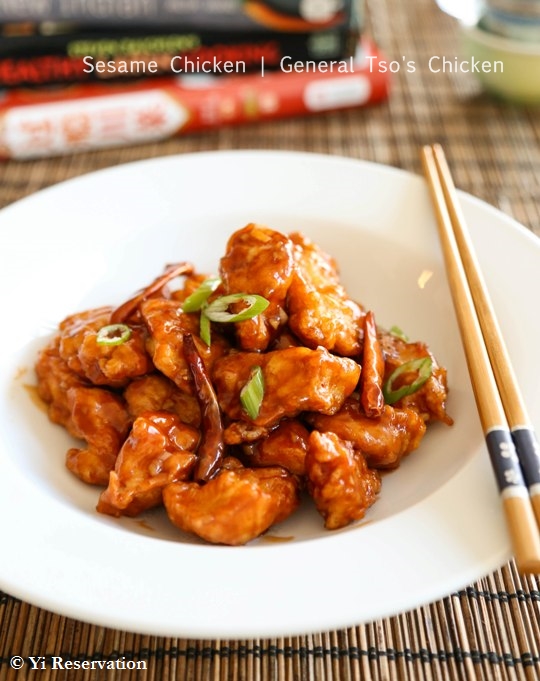 Warning
: Use of undefined constant rand - assumed 'rand' (this will throw an Error in a future version of PHP) in
/home/yirese5/public_html/wp-content/themes/yireservation/single.php
on line
72
Warning
: Parameter 2 to wp_hide_post_Public::query_posts_join() expected to be a reference, value given in
/home/yirese5/public_html/wp-includes/class-wp-hook.php
on line
287