Singapore Chow Mei Fun | 星洲炒米
Warning
: Parameter 2 to wp_hide_post_Public::query_posts_join() expected to be a reference, value given in
/home/yirese5/public_html/wp-includes/class-wp-hook.php
on line
287
What high school part-time jobs did you work on? I ask this question because without my high school job I probably wouldn't be able to share today's post.
One of my first part-time jobs was being a helper at a busy local Chinese takeout restaurant. It was a very demanding and stressful job that I almost quite on the first day but in the end I gained so much that I still benefit from the experience to this day.
First of all, it was fed well since I could take food home for free at the end of shift. Then the job was a great way for me to meet different kinds of people and practice my social skills. I also learned how to deal with high level of stress at a busy restaurant. And most importantly, I learned the secrets behind many popular dishes firsthand so I can share them with you on this blog.
The Mid-Autumn Festival is on 9/19/13 this year. Unfortunately I am not  going to share a mooncake recipe as I have planned. Instead I'll share another one of my favorite dishes called a recipe for Singapore Chow Mei Fun.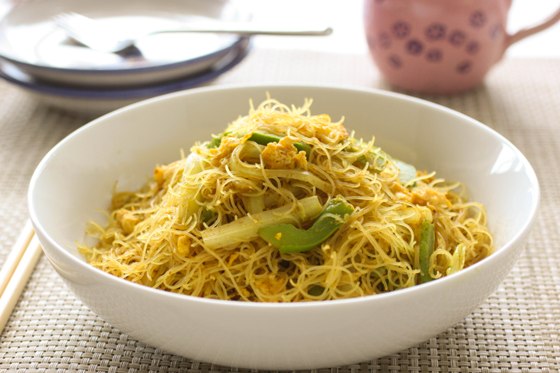 I'll be honest that I had never had this dish before I came to the States so I'll skip all that food history behind each dish like I normally do. However, as a mystery diner sent by my restaurant owner to sample all the same dish in the surrounding restaurants, I can claim that this is the recipe you can rely on if you just want a simple but good Singapore Chow Mei Fun!
So let's cut to the chase and reveal the secret ingredients!
1) Use Javin brand Curry Powder. I have tested with a few different brands but only this brand gives me the exactly the same flavor as the one from the restaurant
2) Use Taiwanese Rice Noodles such as this brand for the best flavor and texture
3) Use Sha Cha sauce (aka Chinese BBQ sauce). This is the ingredient that makes Singapore Chow Mei Fun a best seller at the restaurant I worked for 🙂
So here is the Step by step instruction to make this takeout favorite. Feel free to add other types of veggies and proteins such as shrimp, chicken, or pork to the recipe.
Soak the rice noodle in cold water until softened . About 30 minutes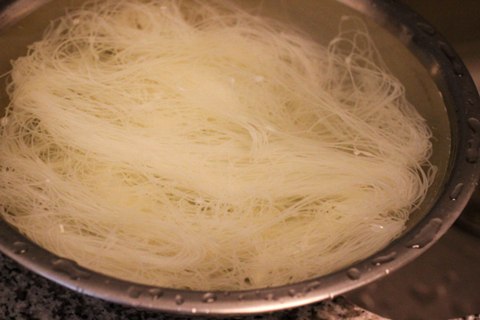 In the meantime, sliced the onion, celery, pepper, and napa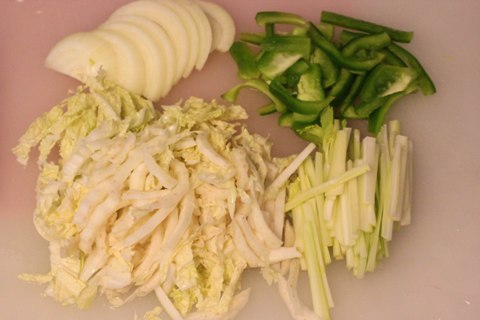 Combine all the sauce ingredients and mix well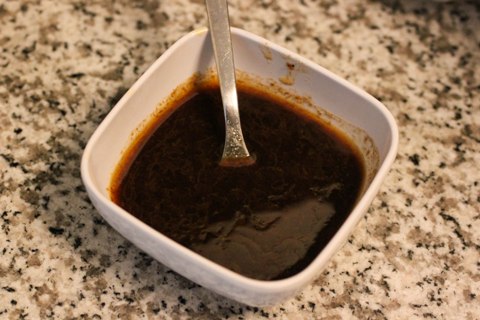 Boil a large pot of water. Add 1 tbsp of salt and 1 tsp of oil and blanch the rice noodles for about 1 minute. Drain well and set aside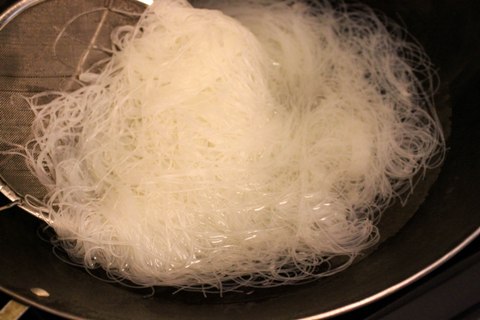 Add 2 tbsp of oil in a wok or frying pan, Add egg and scramble until set. Remove and set aside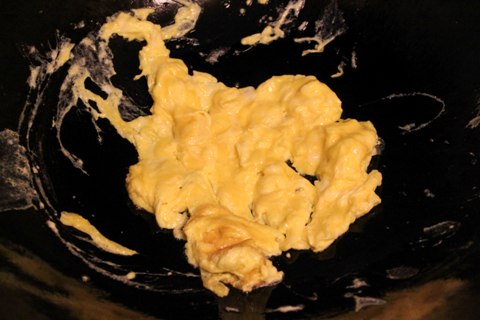 Drizzle another 2 tbsp of oil in a wok, add garlic and cook for 1 minute.  Add sliced onion, pepper, celery, and napa. Stir fry over high heat for 2 minutes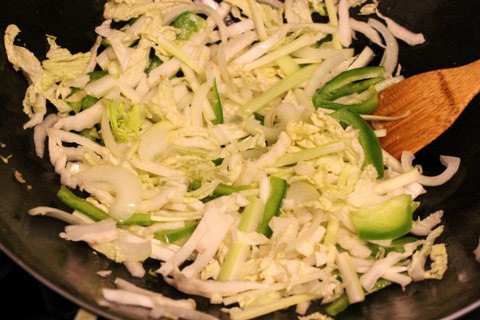 Add blanched noodles and stir to mix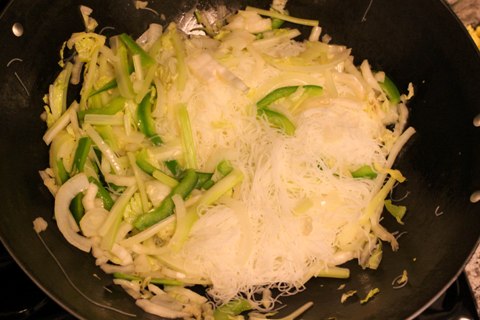 Add curry powder. Continue to stir until the curry powder is well incorporated , about 30 sec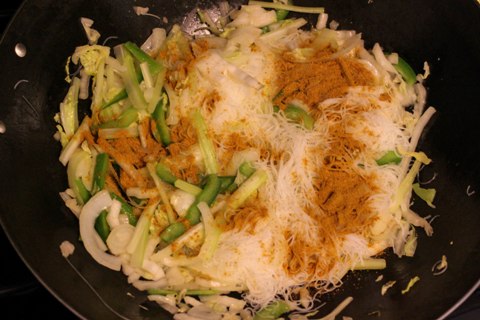 Mix in the sauce and stir immediately until the sauce is evenly distributed. Do not wait long before you start mixing as the sauce gets absorbed by noodles quickly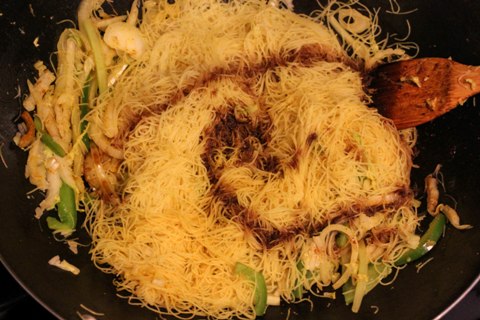 Add egg and scallion and stir fry for another minute. Transfer to a plate and serve hot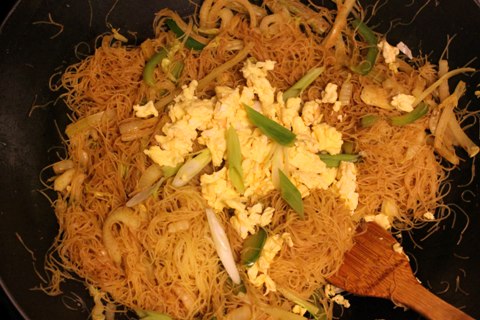 *Note – This is an ideal dish to serve in party however unless you own a giant wok and a high output burner (18,000+ BTU), you are better off cooking the noodles in smaller batches suggested in this recipe.
For those of you celebrate, Happy Mid-Autumn Festival!!
Ingredients
1/2 pk or 6oz dry rice noodle (mei fun)
1.5 tbsp curry powder
2 egg
1/2 large onion
2 celery rib
½ large green pepper
6 oz napa or cabbage
1 cup scallions, thinly sliced
2 clove garlic, chopped
1 Scallion, cut to 2 inch pieces

For the Sauce

2 tbsp soy sauce
½ tbsp dark soy sauce
I tbsp oyster sauce
1 tsp sugar
1 tbsp cooking wine
1 tbsp Sha cha sauce, aka Chinese BBQ sauce (optional)
Instructions
Soak the rice noodle in cold water until softened . About 30 minutes
In the meantime, sliced the onion, celery, pepper, and napa
Combine all the sauce ingredients and mix well
Boil a large pot of water. Add 1 tbsp of salt and 1 tsp of oil and blanch the rice noodles for about 1 minute. Drain well and set aside
Add 2 tbsp of oil in a wok or frying pan, Add egg and scramble until set. Remove and set aside
Drizzle another 2 tbsp of oil in a wok, add garlic and cook for 1 minute. Add sliced onion, pepper, celery, and napa. Stir fry over high heat for 2 minutes
Add blanched noodles and stir to mix
Add curry powder. Continue to stir until the curry powder is well incorporated , about 30 sec
Mix in the sauce and stir immediately until the sauce is evenly distributed. Do not wait long before you start mixing as the sauce gets absorbed by noodles quickly
Add egg and scallion and stir fry for another minute. Transfer to a plate and serve hot
https://yireservation.com/recipes/singapore-chow-mei-fun/
Copyright © Yi Reservation 2010 - 2013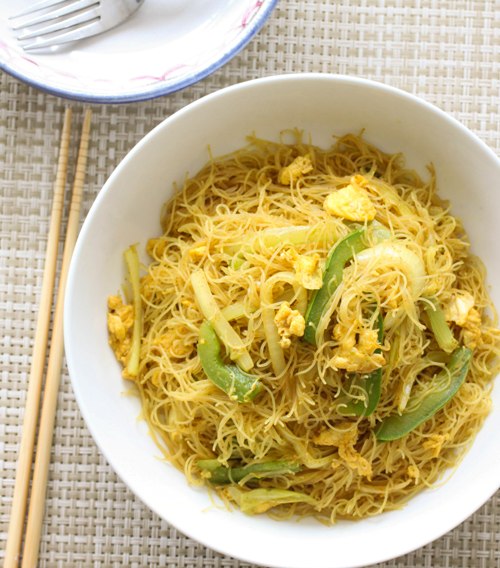 Warning
: Use of undefined constant rand - assumed 'rand' (this will throw an Error in a future version of PHP) in
/home/yirese5/public_html/wp-content/themes/yireservation/single.php
on line
72
Warning
: Parameter 2 to wp_hide_post_Public::query_posts_join() expected to be a reference, value given in
/home/yirese5/public_html/wp-includes/class-wp-hook.php
on line
287