Spicy Chinese Long Beans (涼拌豆角)
Warning
: Parameter 2 to wp_hide_post_Public::query_posts_join() expected to be a reference, value given in
/home/yirese5/public_html/wp-includes/class-wp-hook.php
on line
287
Happy Mother's Day!
As the food blogosphere is filled with Mother's day meal ideas, I'd pay a tribute to my brilliant paternal grandmother could always turn the common ingredients into a great meal.
I was very fortunately to spend quite some time living with my grandparents when I was little. I was even more fortunate to have grandparents who were both great cooks.
Unlike my grandfather who is a master with live poultry, fancy meat dishes, and delicate desserts such as this one here, grandma on the other hand was more of cook who specialized in simple and quick meals. Many of her signature dishes were either quick stir-fried dishes or cold dishes.
In honor of her great cooking and the countless meals I enjoyed when I was little, today, I am going to recreate her classic spicy Chinese long bean dish. This cold vegetarian dish is extremely easy to make yet it is so delicious that it has remained one of my all time vegetable dishes.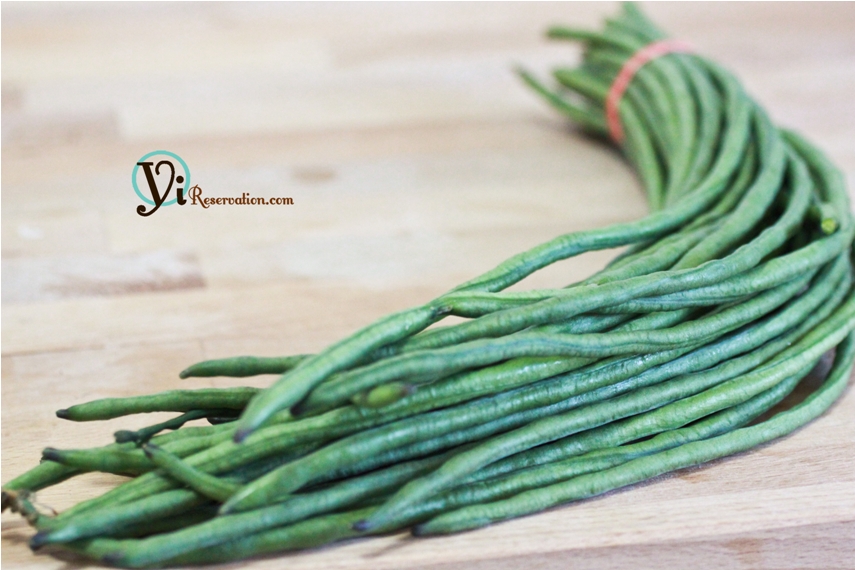 As the name suggested, Chinese long beans are long. Find out a little more about Chinese long beans here if you are not familiar with them. You can spot them in papaya salad at a Thai restaurant. They are normally sold in Chinese and Southeast Asian supermarkets in bundles.  Try to get the ones that are flexible and not too thick as the bigger ones are not as tender.
This dish is traditionally served as an appetizer and it goes well with beer in the summer time.
Now lets find out how these tasty long beans are made through the step by step illustrations:
Cut the beans into 2-3 inch long segments and boil them until just cook. Cool to room temperature.

Make the Sichuan spicy dressing and toss it with the cooked beans. Garnish with fresh cilantro.

Ingredients
1lb Chinese long beans

For Sichuan Spicy Dressing

3 tbsp Soy sauce
2 – 3 tbsp hot chili oil (add more if you like it spicy)
1 tsp sugar
1/2 tbsp Chinese dark vinegar (or rice vinegar)
1 tsp Sichuan peppercorn powder
1 tsp salt
1 tbsp minced garlic
½ tsp sesame seeds
1 tbsp each chopped scallion and chopped cilantro
Instructions
Rinse the long beans and remove both ends. Cut the beans into 2-3 inch long segments. In boiling water, add 1 tbsp of salt and 1 tsp of oil.
Boil the long beans until just cooked. About 5 minutes. Drain the water and cool to room temperature. Do not overcook as the beans will become soggy.
To make the spicy Sichuan dressing, combine all spicy sauce ingredients in a bowl and stir to mix. This can be done in advance.
Toss the cooked beans with the spicy dressing. Garnish with fresh cilantro.
https://yireservation.com/recipes/spicy-chinese-long-beans/
Copyright © Yi Reservation 2010 - 2013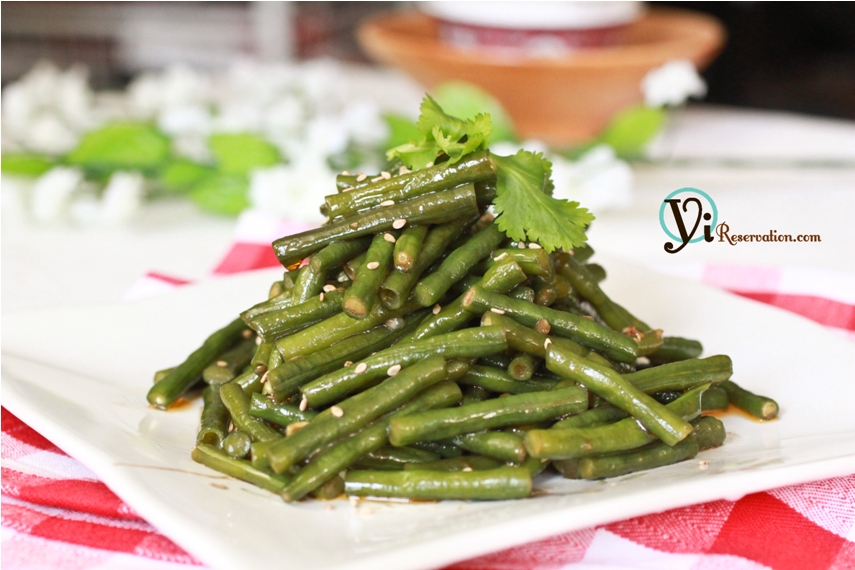 Warning
: Use of undefined constant rand - assumed 'rand' (this will throw an Error in a future version of PHP) in
/home/yirese5/public_html/wp-content/themes/yireservation/single.php
on line
72
Warning
: Parameter 2 to wp_hide_post_Public::query_posts_join() expected to be a reference, value given in
/home/yirese5/public_html/wp-includes/class-wp-hook.php
on line
287