Sweet Cinnamon Cold Noodle Dessert
Warning
: Parameter 2 to wp_hide_post_Public::query_posts_join() expected to be a reference, value given in
/home/yirese5/public_html/wp-includes/class-wp-hook.php
on line
287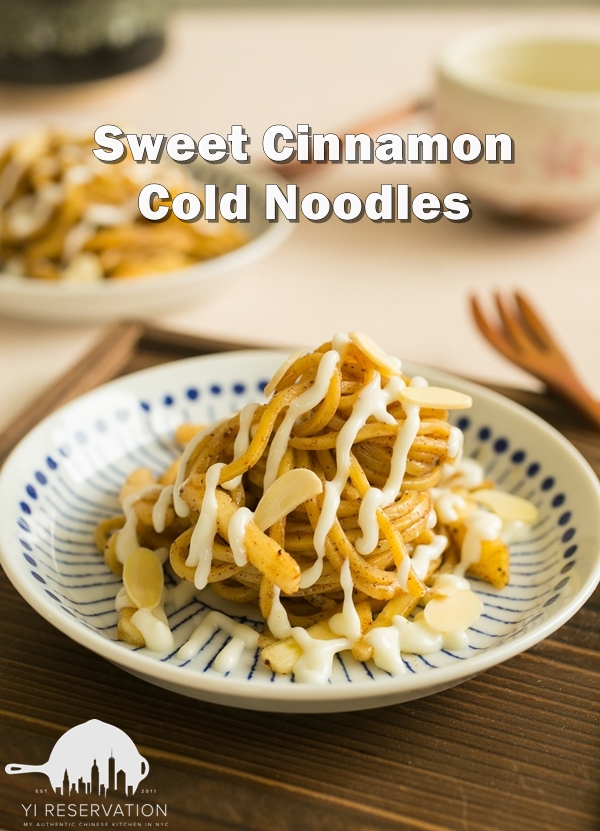 Last week's Szechuan spicy cold noodle was such a big hit. I received a number of emails from some of you and I truly appreciate your support to this recipe oasis of mine.
Since a lot of you expressed great interest in more cold noodle recipes, I am going to share a unique dessert cold noodle recipe with you today.
In sharp contrast to last week's spicy cold noodle recipe, this Sweet Cinnamon Cold Noodle Dessert is a fresh take on the classic sweet buttery cinnamon roll flavorful, making it one of the most unique desserts you'll ever serve at your next dinner party!
As much as I want to take credit for creating the world's first sweet cinnamon cold noodle dessert, I'll admit that the dish was a product of a lucky break.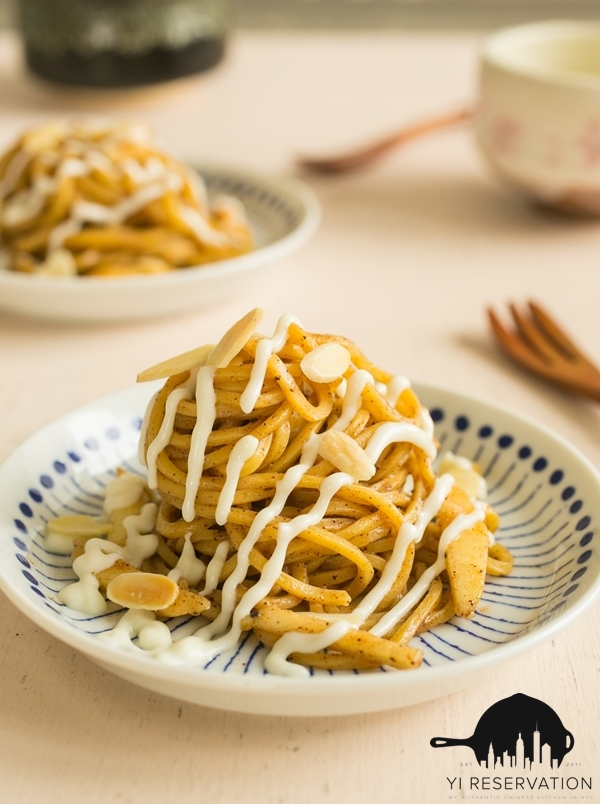 On one recent day, I was craving for some hot and fluffy cinnamon rolls but the weather was just too hot for me to turn on my stove. Coincidentally, I had just made some chilled noodles and with some experimenting, this delicious cold noodle dessert was born at Yi's kitchen.
If you love those glorious and luscious cinnamon rolls (let's be honest, who doesn't?), this easy and delicious cinnamon cold noodle recipe should definitely be on your to-try list.
2017 Twin Marquis Cold Noodle Tasting Review
As a side note, did any of you or your friends make it to the Cold Noodle Tasting Event hosted by Twin Marquis (TMI) last Sunday in NYC? If you unfortunately missed out, here is a quick rundown of how the event unfolded.
First of all, it was a pretty hot summer day which made having cold noodle dishes extra enjoyable. Not surprisingly, a good number of noodle enthusiasts showed up to the tasting event.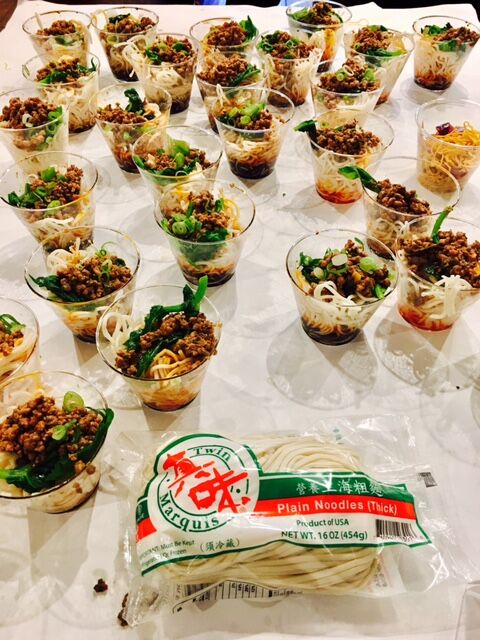 Since the centerpiece was high quality Asian noodles, there was never a shortage of amazing noodles. On the menu were eight different noodle dishes showcasing some of their most popular products. There were so many choices it was so hard to decide which one to try first.
Craving for Sichuan spicy cold noodles? Check!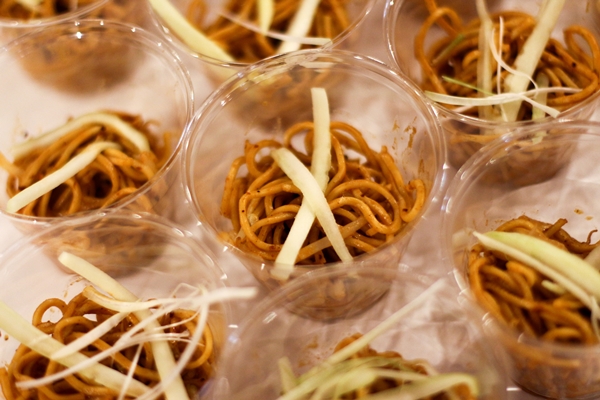 Wanted a hearty seafood noodle dish? Check!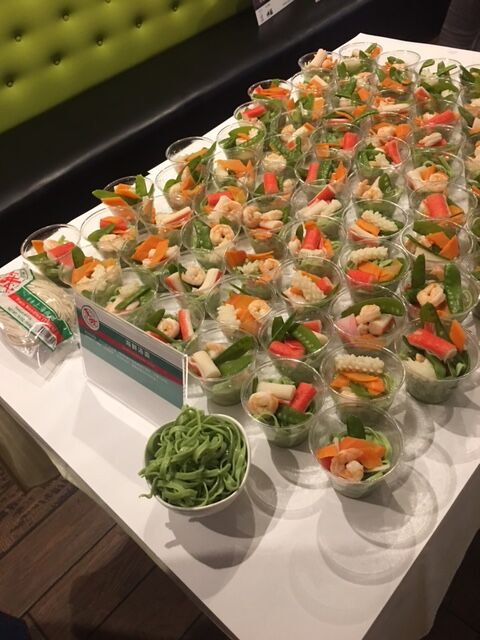 After sampling 8 diverse noodle dishes, the participants were tasked to vote for the most popular dish. That's a pretty tough choice as most of the dishes were finger-slapping yum!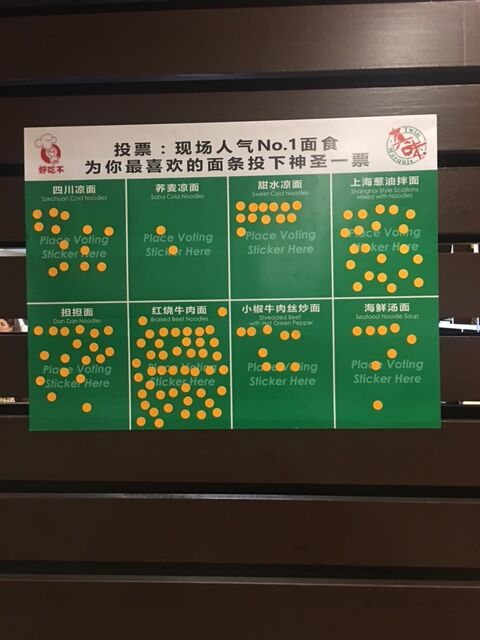 Fortunately, a consensus was finally formed at the end. The winning dish is…..drum roll please….
….Braised Beef noodle!!
…which is also Yi's favorite noodle dish. If you still haven't had beef noodles yet, you need to grab this recipe now!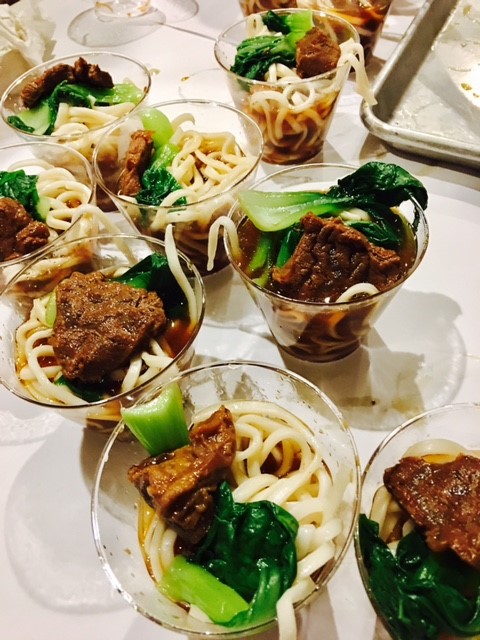 Again, if you got a few cool pictures from the 2017 Twin Marquis Cold Noodle Tasting Event, please make sure you tag them using #hotsummercoldnoodles so you can share with all of us noodle-heads.
About Twin Marquis (TMI)
TMI's journey began in 1989 by two Chinese American brothers in Chinatown, Manhattan. Twin Marquis' main focus is to create fresh and better quality Asian noodles. With the promise to "Bring happiness to your family," Twin Marquis has experienced exponential growth over the years. In 2007, TMI became the first manufacturer of Asian food products in the U.S. to receive an ISO 22000:2005 certification, an international standard for food safety. Currently TMI continues to receive the highest level of International Food Safety System Certification FSSC 22000.  In 2012, TMI became an affiliate of South Korea's conglomerate company, CJ Group.
Click here to learn more about Twin Marquis Noodles or follow them on Facebook to see what other fun events they will be hosting
Additionally, if you are looking to purchase TMI noodles online, please check out the following two links: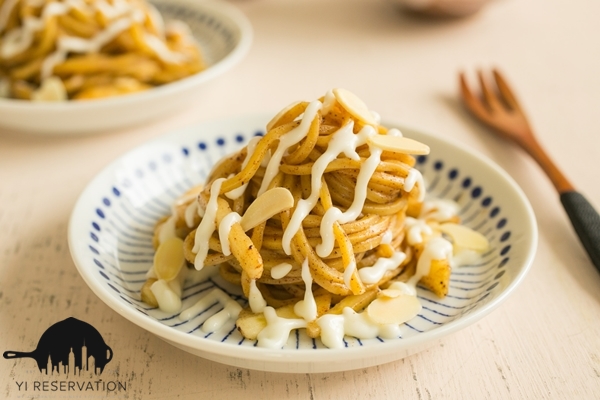 More about today's dessert recipe
Now let's get back to today's super cool dessert recipe.
While this cold noodle dish won't bring you quite the fluffy, soft, doughy goodness that cinnamon rolls are known for, the flavor and texture combination of the dish is more than enough to make up for the loss.
Just like last week's recipe, the key component of this dish are noodles. I used TMI egg lo mein noodles again and I was very happy with the final result. You can also use TMI plain noodle if the slight egg taste bothers you.
The cinnamon dressing is adopted from one of my favorite cinnamon roll recipes. Due to my personal preference, it's not as sweet as some other recipes but you can easily adjust that by adding more brown sugar.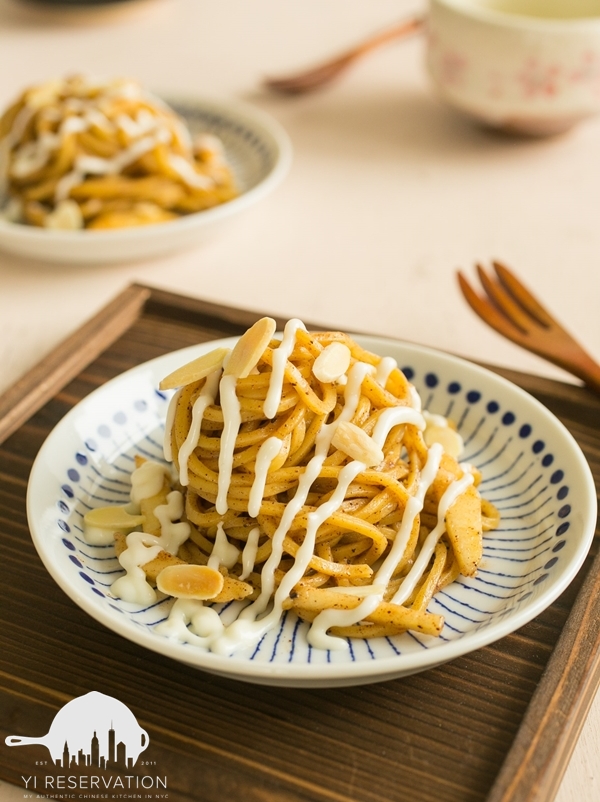 Lastly, the addition of apple strips not only adds a nice texture to the dish but the sourness of apple also counter-balances  the sweetness of the dressing. I also finished the dish with some toasted almond slices for extra crunch. If you are feeling adventurous, try adding other toppings such as raisins and nuts. It might turn out to be an even better recipe (if so please do report back here 🙂
Happy Cooking!
step-by-step recipe: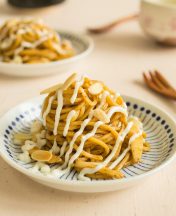 Sweet Cinnamon Cold Noodle Dessert
Yield: 4 Servings
Prep Time: 10 mins
Cook Time: 20 mins
Total Time: 30 mins
This sweet and buttery cinnamon cold noodle dessert combines the classic cinnamon roll flavor with chilled noodles. Perfect for your next summer party!
Ingredients:
1/2 lb TMI egg lo mein noodles or plain fresh noodles
1 medium size apple
sliced toasted almonds for garnish
Cinnamon Dressing
1/2 stick butter
1 tbsp ground cinnamon
1/4 cup brown sugar
Frosting
2oz or 1/4 block cream cheese, softened
1/4 cup confectioners' sugar
1/4 cup milk
1 tsp vanilla extract
Directions:
To prepare the cold noodle from fresh noodles, follow the first 3 steps from this Szechuan Cold Noodle recipe.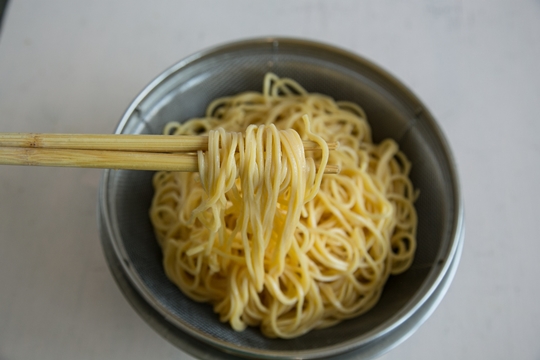 To make the dressing, melt the butter in a sauce pan over low heat. Mix in the brown sugar and ground cinnamon. Stir to mix well and set aside.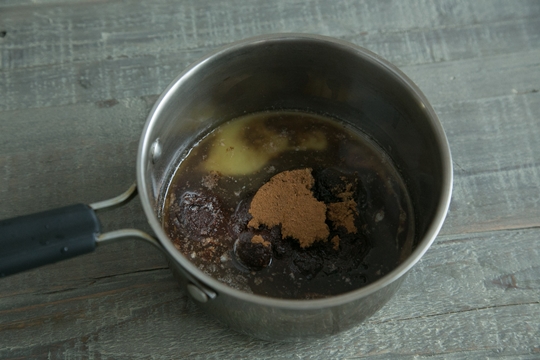 For frosting, beat the cream cheese, milk, vanilla until smooth and blended. Gradually beat in the confectioner's sugar until smooth and lump-free. Transfer the frosting into a pastry bag or a Ziploc bag (with one corner tip cut off after the transfer).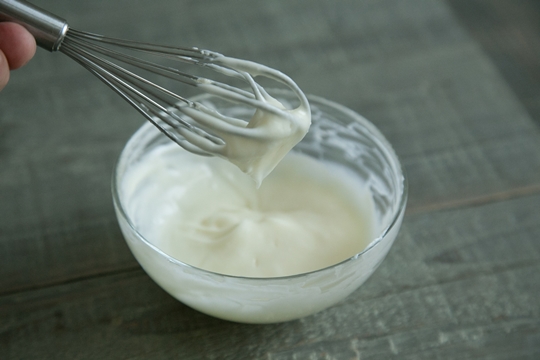 Peel the apple and cut into thin strips.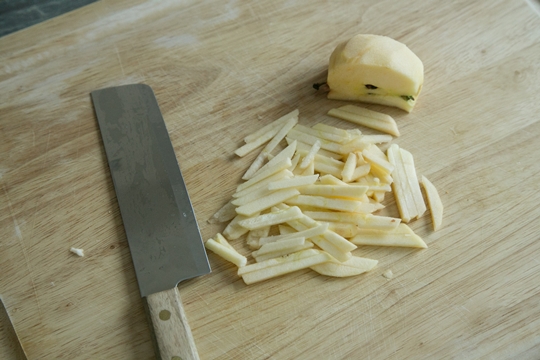 In a mixing bowl, combine the chilled noodles with apple strips. Add the cinnamon dressing.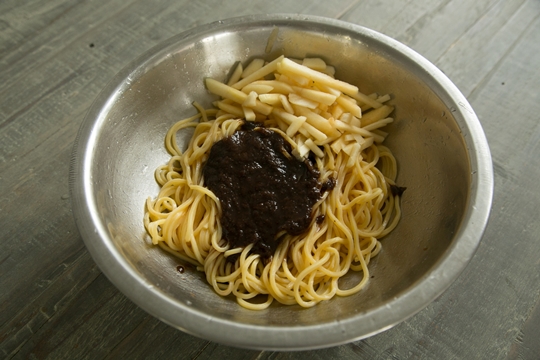 Toss until the noodles are evenly coated with the dressing.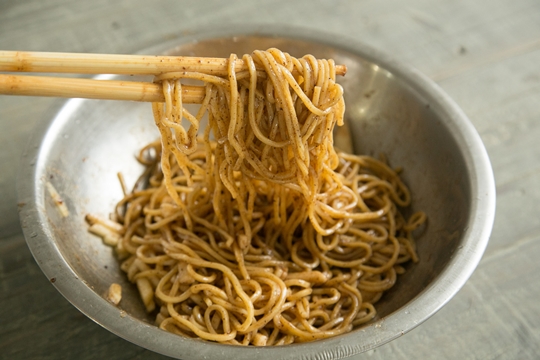 Divide the noodles into 4 portions. Squeeze the pastry bag gently to pipe on top of the noodles. Garnish the dish with tasted almond slices.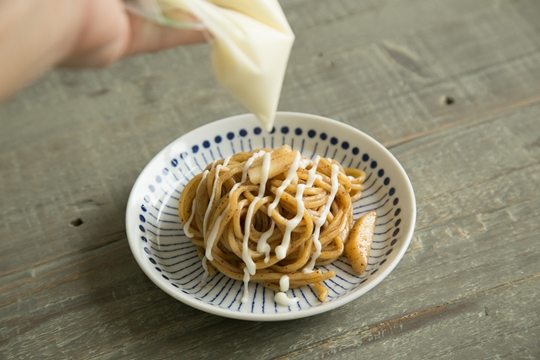 Disclaimer: this post is made possible by Twin Marquis. All words are my true opinion.
Warning
: Use of undefined constant rand - assumed 'rand' (this will throw an Error in a future version of PHP) in
/home/yirese5/public_html/wp-content/themes/yireservation/single.php
on line
72
Warning
: Parameter 2 to wp_hide_post_Public::query_posts_join() expected to be a reference, value given in
/home/yirese5/public_html/wp-includes/class-wp-hook.php
on line
287