Szechuan (Sichuan) Spicy Cold Noodles 四川涼面
Warning
: Parameter 2 to wp_hide_post_Public::query_posts_join() expected to be a reference, value given in
/home/yirese5/public_html/wp-includes/class-wp-hook.php
on line
287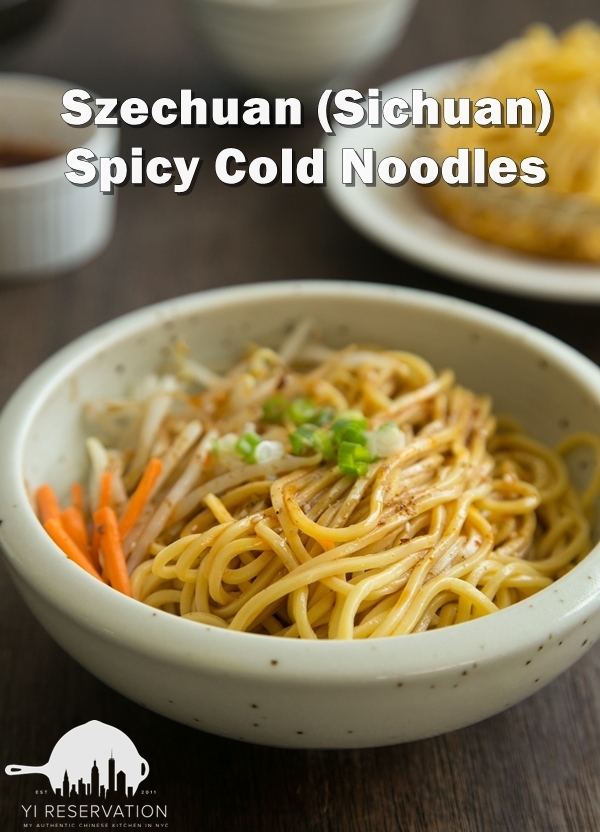 If you have been following this blog or my social media, you know my obsession with noodles is pretty well documented.
Not to exaggerate, I can take a bowl of delicious noodles at any time of the day, 365 days a year.
However, on a hot and humid summer day, I usually prefer a bowl of flavorful
Szechuan (Sichuan) Style Spicy Cold Noodles 四川涼面 over my all-time favorite Sichuan Beef Noodle Soup.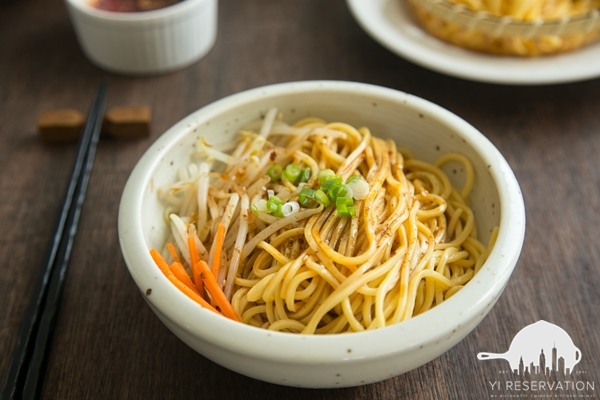 If you frequent authentic Chinese restaurants, you know there are a variety of cold noodle dishes in China. The Sichuan style, not surprisingly, features the chilled noodles in a spicy, garlicy and aromatic sauce. Blanched bean sprouts are added to give some crunchy texture and refreshing taste.
So if you like to slurp up some springy noodles in bold flavors, you'll definitely want to check out this authentic Sichuan style cold noodle recipe just like how it's done in Sichuan, China.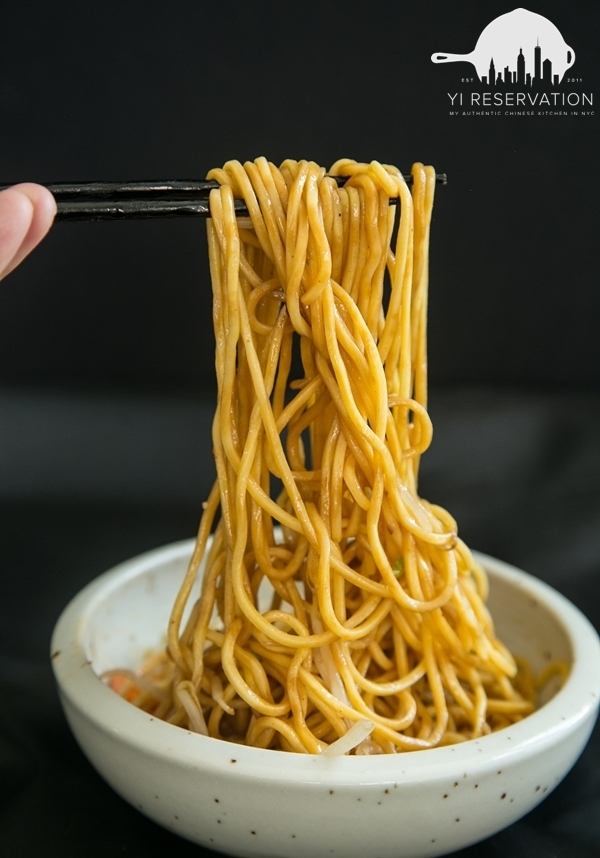 But before I jump into the recipe, I'd like to share an exciting noodle event with all you noodle heads here in Tri-State area.
2017 Twin Marquis Cold Noodle Tasting Event
Twin Marquis 真味, a renowned Asian noodle maker, is hosting a FREE tasting this Sunday, Aug 20th at their first-ever 2017 Twin Marquis Cold Noodle Tasting ("真味"夏日面條大賞) here in New York City.
If sampling a variety of authentic chilled noodle dishes prepared with the finest ingredients while getting mystery gifts (while supplies last) sounds like your cup of tea, definitely head over to Twin Marquis Facebook Page to RSVP now.
If you do make it to this event, please share your experience on social media using #hotsummercoldnoodles so we can all see it.
2017 Twin Marquis Cold Noodle Tasting
Where: Jasmine Restaurant (49th St between 2nd and 3rd ave)
Time: Sunday, Aug 20th, 12:30 pm – 3:30pm
Cost: FREE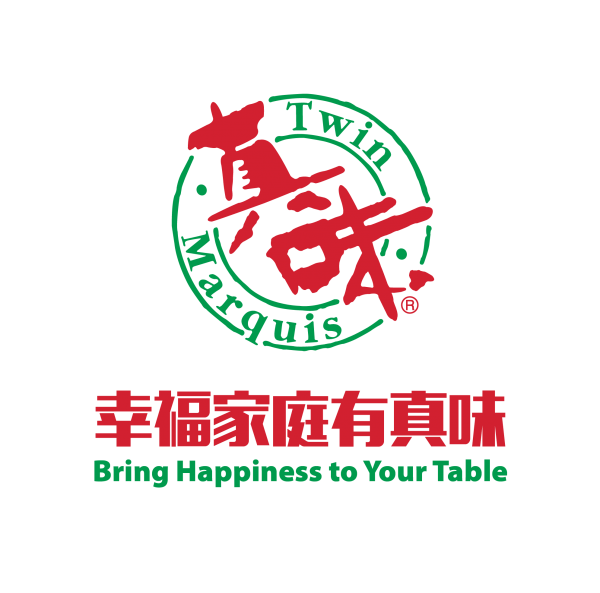 About Twin Marquis 真味
TMI's journey began in 1989 by two Chinese American brothers in Chinatown, Manhattan. Twin Marquis' main focus is to create fresh and better quality Asian noodles. With the promise to "Bring happiness to your family," Twin Marquis has experienced exponential growth over the years. In 2007, TMI became the first manufacturer of Asian food products in the U.S. to receive an ISO 22000:2005 certification, an international standard for food safety. Currently TMI continues to receive the highest level of International Food Safety System Certification FSSC 22000. In 2012, TMI became an affiliate of South Korea's conglomerate company, CJ Group.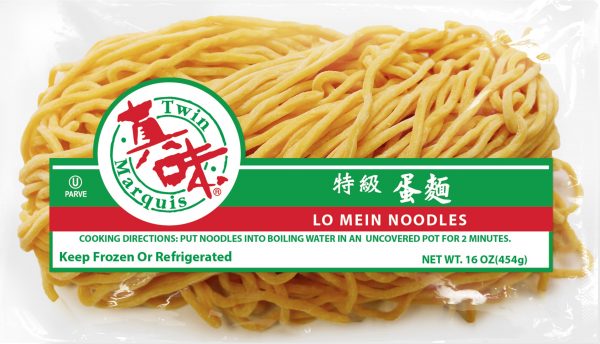 About Sichuan Spicy Cold Noodles
As many of you know, I spent my childhood in Chongqing (formerly part of Sichuan province), China. One of the fondest memories was to get a bowl of snack size spicy cold noodles from street vendors in the summer months.
This recipe was developed based on my experience of watching street vendors making bowls after bowls of cold noodles over the years in Sichuan.
This recipe follows the traditional way of making it with one modification: traditionally, after the noodles are cooked, they are cooled by lifting the noodles and blowing a fan at them at the same time because a lot of street vendors don't have access to a large amount of cold water. It's very labor intensive and for practical purposes, I cool my noodles in cold water then give it a good drain.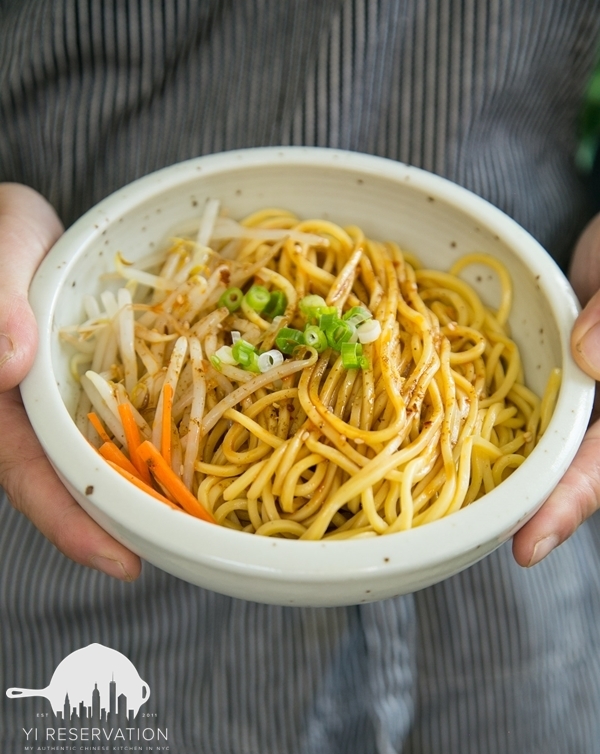 While the spicy sauce is what makes this dish unique, the texture of the noodles is equally important.
When the noodles are prepared properly, they are al dente with a slight crunchy bite. If the noodles are chalky starchy, it means they are not fully cooked. On the other hand, if the noodles are mushy and sticky, that means they are overcooked.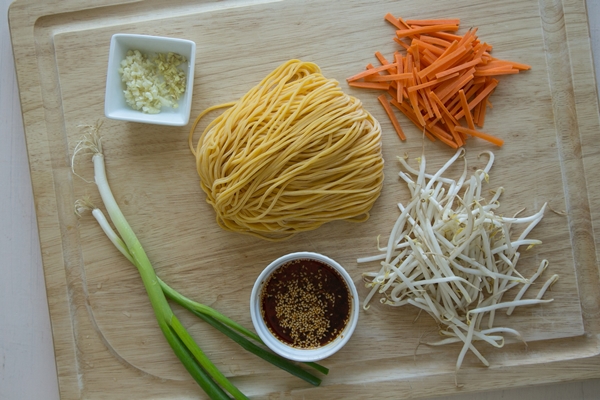 The trick to properly making the noodle is to use fresh noodles. I like TMI's plain or egg lo mein noodle because they are close enough to the fresh alkaline noodles used in Chongqing.
Next, try to boil the noodle in the largest pot and with the most water you can fetch. If that's not feasible, try cooking the noodles in batches.
Also, once the noodles are cool enough, try to drain the excess water as soon as possible. When too much water is absorbed by the noodles, they lose that crunchy texture.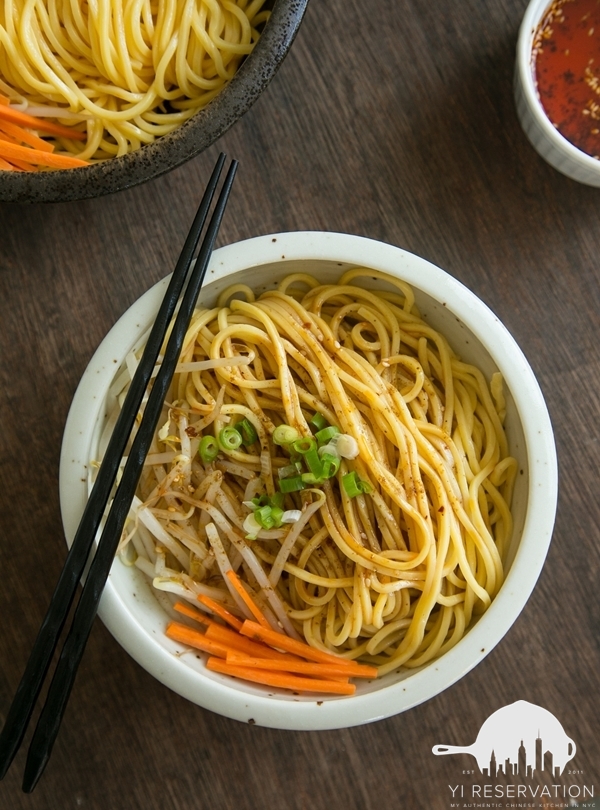 Regarding the spicy sauce, it's the best if you have fresh homemade chili oil but if that's not an option, try to use jarred chili oil that doesn't have any sodium.
One last thing, this recipe is for the most basic cold noodle found everywhere in Sichuan. If you fancy some protein, you can easily add shredded chicken as additional topping.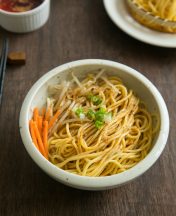 Szechuan (Sichuan) Spicy Cold Noodles 四川涼面
Step by step recipe to make this refreshing and flavorful Szechuan (Sichuan) style spicy cold noodles dish.
Ingredients:
1 lb TMI egg lo mein noodles or plain fresh noodles
handful of mung bean sprouts
½ carrot, shredded
Chopped scallion for garnish
Garlic Ginger Infused Water:
2 clove garlic, minced
1 two-inch slice ginger, minced
Spicy Cold Noodle Sauce:
4 tbsp soy sauce
2 tbsp chili oil + more
1 tbsp Chinese black vinegar
½ tsp sesame oil
1 tbsp sugar
1 tsp salt
½ - 1 tsp Sichuan peppercorn powder
Directions:
To prepare the noodles, bring a large pot of water to a boil and drop in the noodles. Spread out the noodle strands with a spatula or long chopsticks to let noodles cook evenly. Cook the noodles until al dente according to the instructions, usually takes 2-4 minutes. For the TMI egg lo mein noodles, it takes about 3:30 minutes.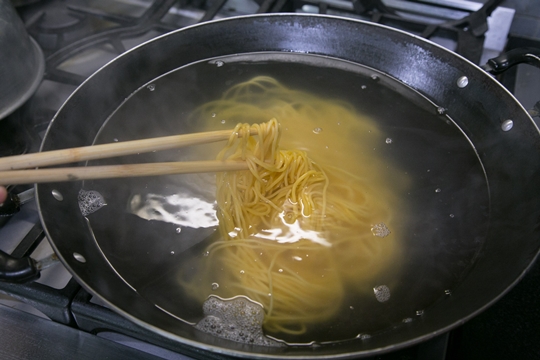 Remove the noodles from the boiling water and immediately submerge the noodles in cold running water for 1 minute until the noodles are cool to touch.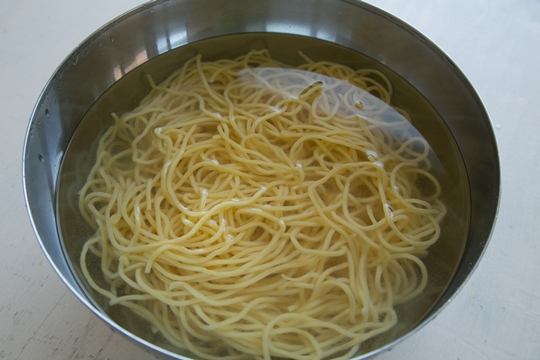 Drain the excess water in a mesh strainer or colander.
Add 3 tbsp of cold cooking oil to the noodles and mix thoroughly. Transfer the noodles to a bowl and cover with food wrap. Chill in the fridge for at least one hour before serving.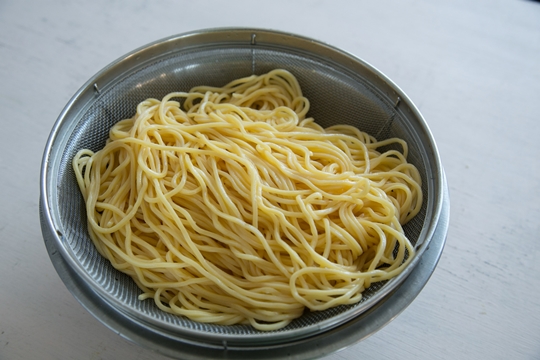 Bring another pot of water to a boil then blanch the bean sprouts for 10 seconds. Remove and set aside to cool.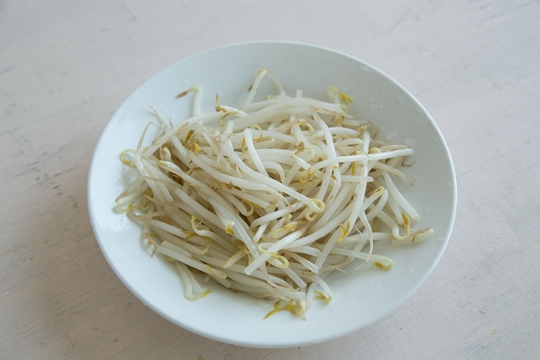 To make the garlic ginger infused water, combine the minced garlic and ginger with 1/3 cup of water in a small bowl. Stir and let infuse for at least 30 minutes. Can be made a day ahead and stored in the fridge. When ready to use, filter out the garlic and ginger and keep the infused water.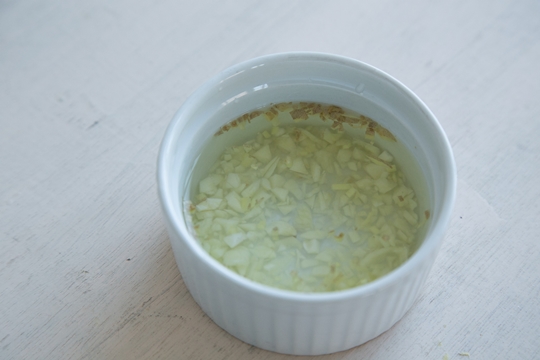 To make the spicy cold noodle dressing/sauce, combine all the sauce ingredients except for the Sichuan peppercorn powder in a bowl, add the infused ginger and garlic water then mix well until ingredients are fully incorporated.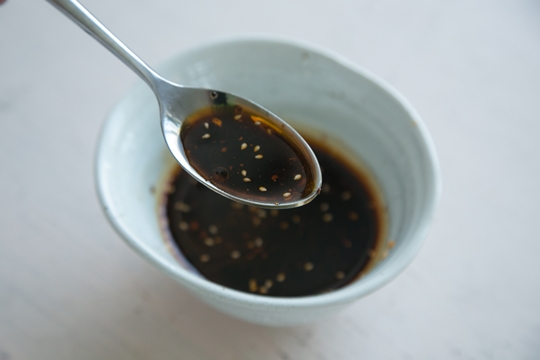 To serve, arrange the chilled noodles, bean sprouts, and carrots in four bowls.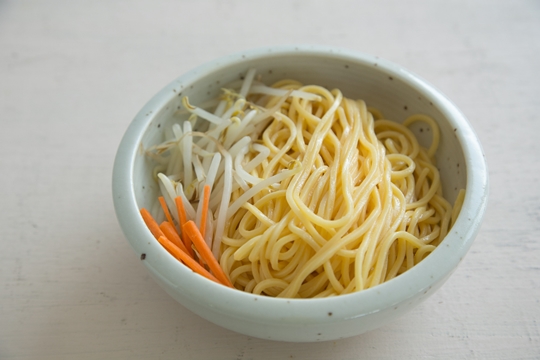 Add a quarter of the noodle sauce and Sichuan peppercorn powder to each bowl. Add additional chili oil to your own taste. Garnish with chopped scallion and serve immediately.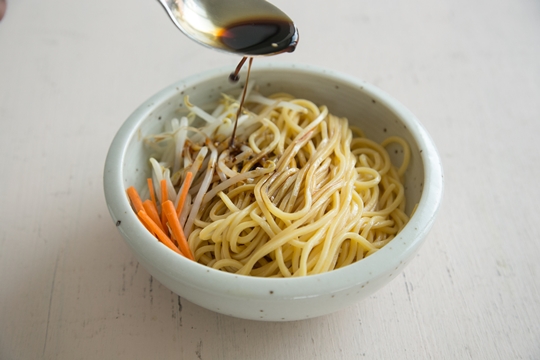 Disclaimer: this post is made possible by Twin Marquis. All words are my true opinion.
Warning
: Use of undefined constant rand - assumed 'rand' (this will throw an Error in a future version of PHP) in
/home/yirese5/public_html/wp-content/themes/yireservation/single.php
on line
72
Warning
: Parameter 2 to wp_hide_post_Public::query_posts_join() expected to be a reference, value given in
/home/yirese5/public_html/wp-includes/class-wp-hook.php
on line
287