{Recipe} Easy Matcha Lava Cake (Molten Cake) 綠茶心太軟
Warning
: Parameter 2 to wp_hide_post_Public::query_posts_join() expected to be a reference, value given in
/home/yirese5/public_html/wp-includes/class-wp-hook.php
on line
287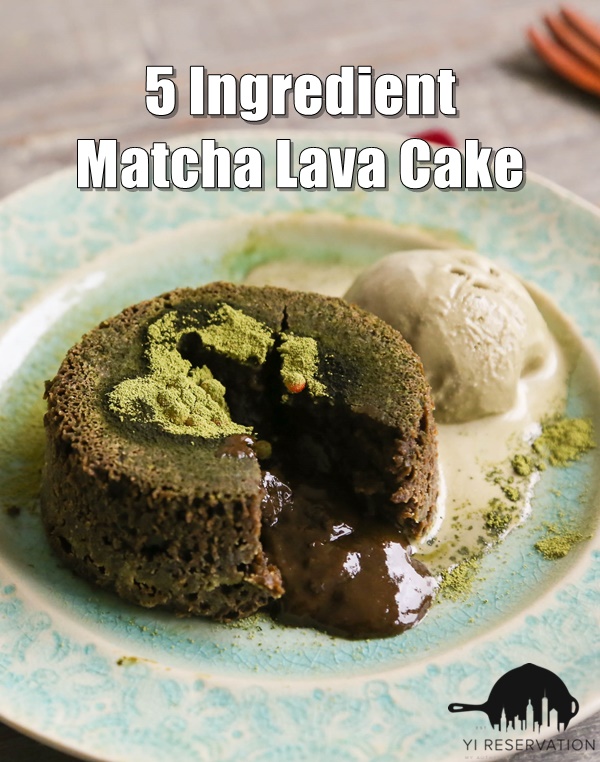 This elegant and decadent Matcha Lava Cake (molten cake) is perfect for the upcoming Valentine's Day!
While CNY is still going strong (in China anyway) and am still suffering from all the food comma, let's shift the focus to something less intimating, like the upcoming Valentine's Day.
First, I'll be very honest with you, I was never an expert in the sweets department and if you have been on this site long enough you can probably tell from my past Valentine's offerings because it was either something savory, or a not so sweet dessert, or something sweet made by Mrs. YR.
Well, that's about to change this year BECAUSE I decided to take baking more serious last year and I am happy to say that I have definitely had improvement as a baker.
And I am finally confident to share with you this fun, decadent, and luscious Matcha Lava Cake recipe that will win your Valentine's heart!
Ever since I first had this matcha molten cake a few years ago at a popular NYC dessert place called Spot, I had been trying to replicate it at home. And it turned out to be pretty easy to make, a lot easier than you'd think!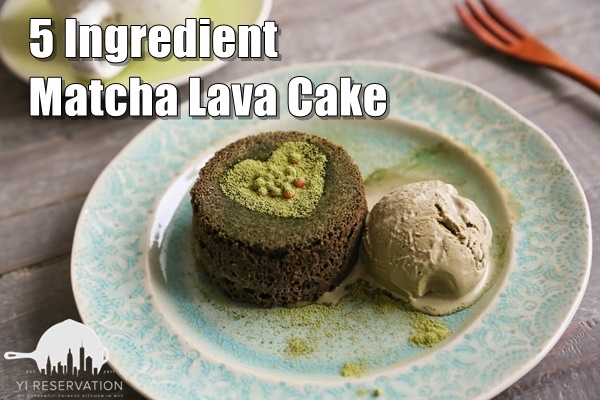 If you are not familiar with lava cake (aka chocolate molten cake), it's basically a half-baked cake where the outside of the cake is fully cooked but the inside is still liquidy. So when you eat it, the gooey and liquidy inside will flow out of the firmer shell.
Now for those of you enjoy dramatic effect, the real selling point of lava cake is when you slice open the cake, the rich and liquidy part would literally flow right out like lava from a volcano eruption. Just do this in front of your loved one and get your camera ready to capture that jaw dropping moment! .
Now, to elevate this already awesome dessert, just add a dose of matcha powder – one of the hottest, most talked about ingredients right now. BOOM, you've just got the prefect plan to impress your Valentine this year!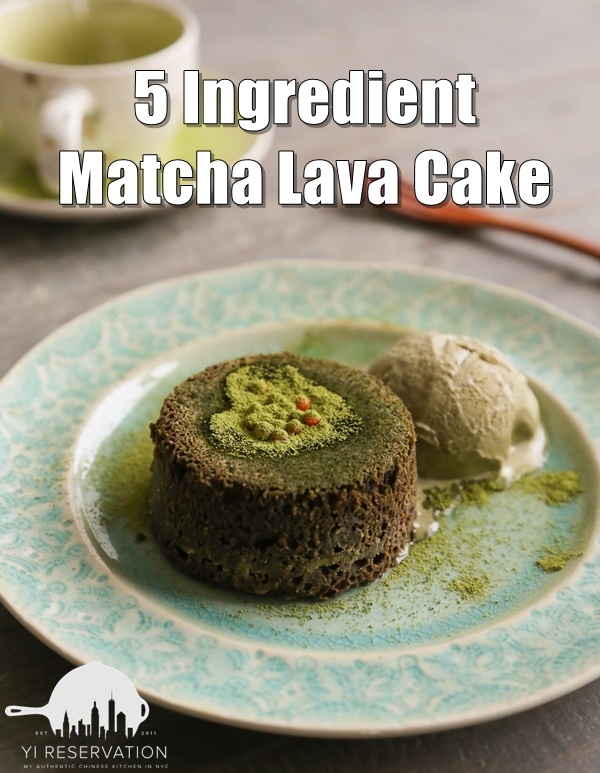 Tips on Making Perfect Matcha Lava Cake
Not a professional baker? No worries. As I mentioned that this lava cake is surprisingly easier to make than it looks and it's definitely less complicated than my favorite handmade soft Asian milk bread, by miles!
So, just follow these tips and you'll get your lava cake wish granted:
The single most important factor deciding whether your lava will succeed is the timing. Generally speaking it takes 10-13mins at 425F / 219C.  If you are unsure if the cake is done, do under-cook it rather than over-cook. Also start to monitor the cake at 10th minute and remove the cake as soon as the center is not wet.
The traditional chocolate lava cake uses bittersweet chocolate but since this is a matcha lava cake, I prefer to use milk chocolate so the amount of cocoa doesn't overshadow the matcha flavor. Also by using milk chocolate, you'll not need to add any sugar. If you want to further reduce the cocoa flavor, you can even use white chocolate or a combination of white chocolate and milk chocolate. It's a matter of personal preference.
Lastly, make sure your ramekin is well greased and covered in a thin layer of flour. The first time I made this, I forgot to butter my ramekin and the cake was stuck to the bottom (but it was still super tasty)
Step by Step Recipe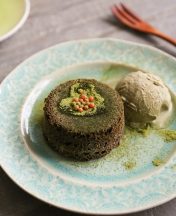 Easy Matcha Lava Cake (Molten Cake) 綠茶心太軟
Yield: 2 Servings
Prep Time: 10 mins
Cook Time: 12 mins
Total Time: 22 mins
Easy Matcha Lava Cake (Molten Cake) made with 5 ingredients. Perfect dessert for the Valentine's Day or other special occasions.
Ingredients:
2.8oz / 80g milk chocolate chips
2 medium eggs
½ stick / 50g unsalted butter
3 tbsp / 24g all purpose flour
4 tsp matcha powder
Directions:
Prehaet the oven to 425F or 219C. Grease two ramekins with butter and dusk with a thin layer of flour.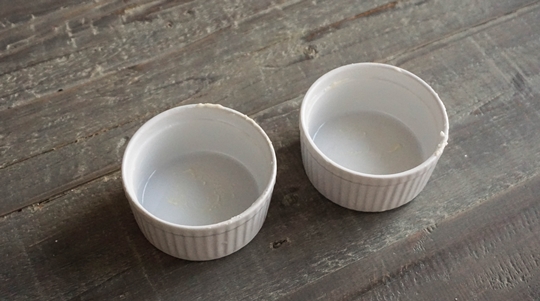 Set up a double boiler. Add the butter and chocolate chips and stir frequently to distribute the heat evenly. Once the mixture turns smooth, remove the pan from double boiler. Alternatively, you can also melt the chocolate and butter in microwave.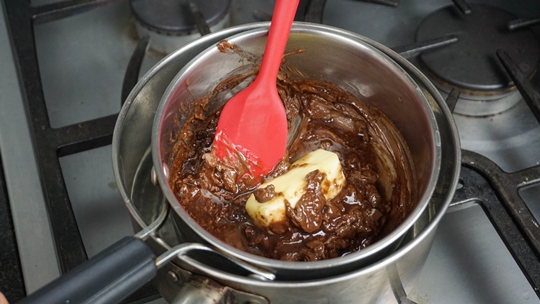 In a mixing bowl, add the eggs and beat the eggs manually or with an electric beater until fluffy.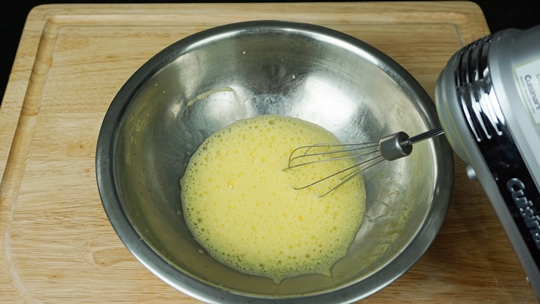 Slowly pour the melted chocolate to the egg mixture. Stir continuously.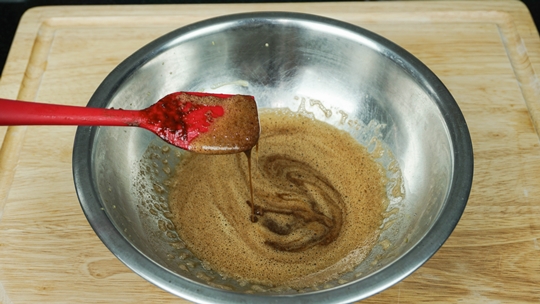 Combine 2tsp of matcha powder with flour. Add the dry mixture to the wet mixture through a sift or mesh strainer.Gently fold the dry mixture into wet mixture until the batter is smooth and lump-free.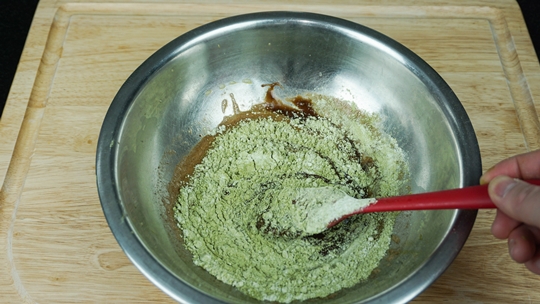 Divide the batter into two and fill the two ramekins.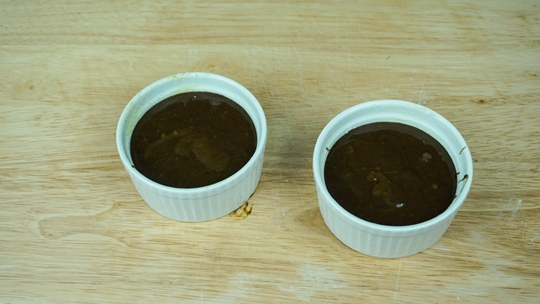 Bake at 425F / 219C for 10-13 minutes. Start monitoring the cake at 10th
minute. Once the outskirt of the cake is firm and the center just turns try and not jiggly when moving it, remove the ramekins from the oven and let them sit for 2 minutes.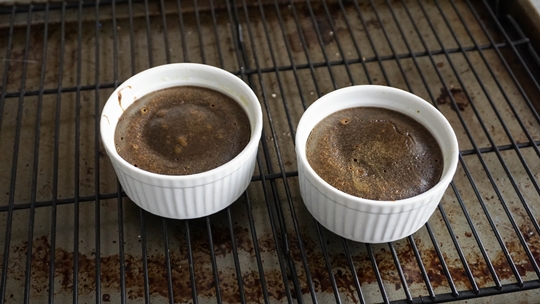 Slide a toothpick around the lava cake and transfer then it to a plate by quickly inverting the ramekin. Sprinkle the rest of the 2 tsp of matcha powder through a mesh and a heart-shaped paper stencil to form a heart-shaped matcha.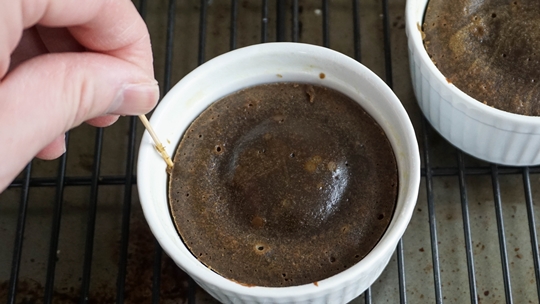 For the best result, serve this luscious lava cake with a scope of matcha ice cream on the side 🙂
P.S. if you made this recipe, please share your picture or video with me using #YiReservation
I look forward to seeing your delicious creations!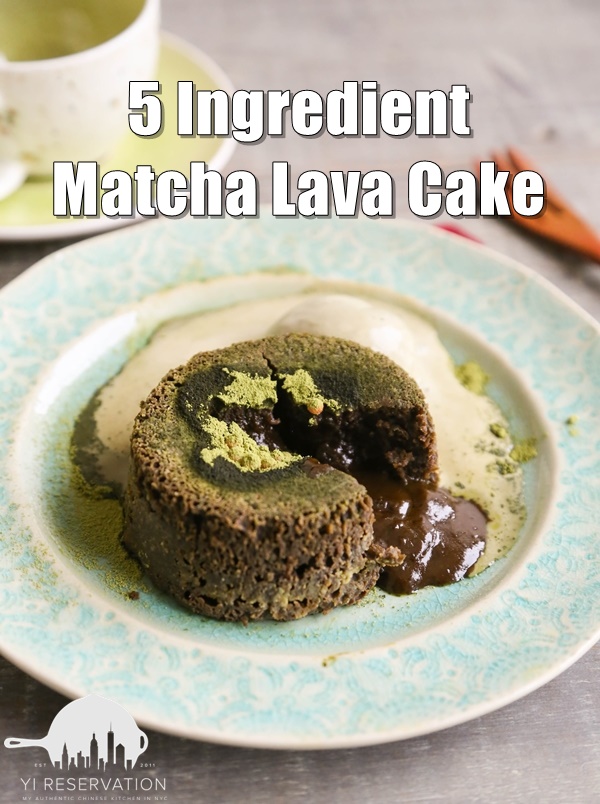 Warning
: Use of undefined constant rand - assumed 'rand' (this will throw an Error in a future version of PHP) in
/home/yirese5/public_html/wp-content/themes/yireservation/single.php
on line
72
Warning
: Parameter 2 to wp_hide_post_Public::query_posts_join() expected to be a reference, value given in
/home/yirese5/public_html/wp-includes/class-wp-hook.php
on line
287