Braised Eggplant in Sweet Bean Sauce (醬燒茄子)
Warning
: Parameter 2 to wp_hide_post_Public::query_posts_join() expected to be a reference, value given in
/home/yirese5/public_html/wp-includes/class-wp-hook.php
on line
287
Many ingredients featured on this site so far required a trip to a Chinese grocery store. But my friend, today this is not the case.
With eggplant's international status you are bound to find some in most parts of the earth even with the temporary shortage currently running in North America.
In Chinese cuisine, my favorite eggplant dishes are either stewed or braised usually in some kind of sauce. When it's done right, the eggplant would taste like a chunk of grilled meat covered in sauce – you feel the crispiness and firmness on the surface; and as you bite into it there is this warm explosion of eggplant juice and tenderness.
Despite my love for eggplant I had always avoided cooking it at home. The reason is simple. In order to achieve that steak-like firm surface and juicy soft interior, the restaurants often deep fry the eggplant (therefore soaks up a large amount of oil) before cooking it. And as you may already know that deep frying is something I try not to do too often at home unless it's something as tempting as the Chinese Buffet Style Coconut Shrimp.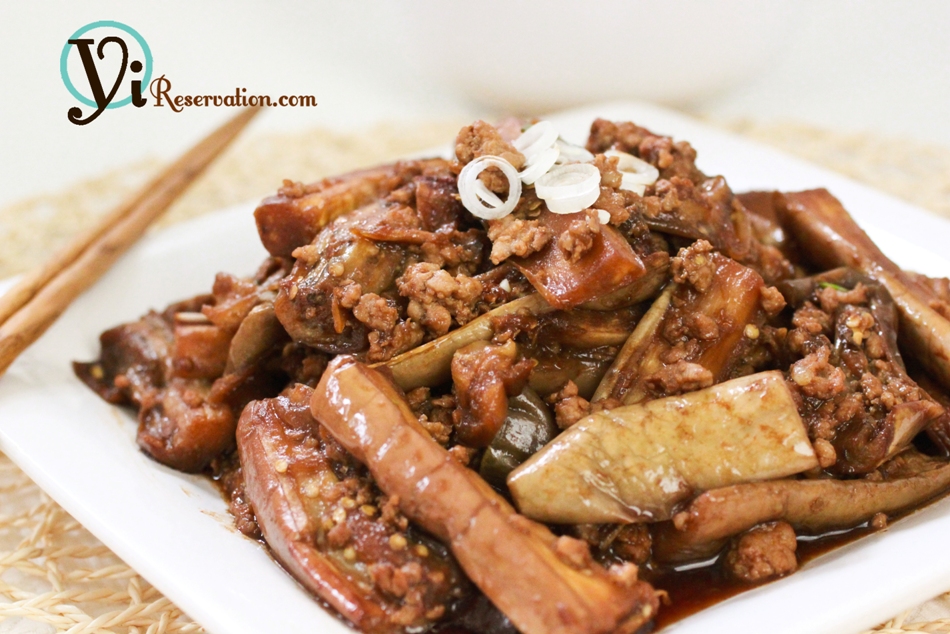 In a recent experiment, I produced the restaurant like eggplant dish without deep frying. The trick is to substitute frying with oven baking. The dish came out just as firm outside and soft inside as the deal you usually get from a Chinese restaurant.
I braised the eggplant with sweet bean paste sauce. The bean paste's sweet and savory flavor goes very well with the eggplant. True there is some extra work involved but it's worth it if you really want that restaurant texure without feeling guilty.
[stextbox id="info" bgcolor="B2FAEE"]
Braised Eggplant in Sweet Bean Sauce – Ingredients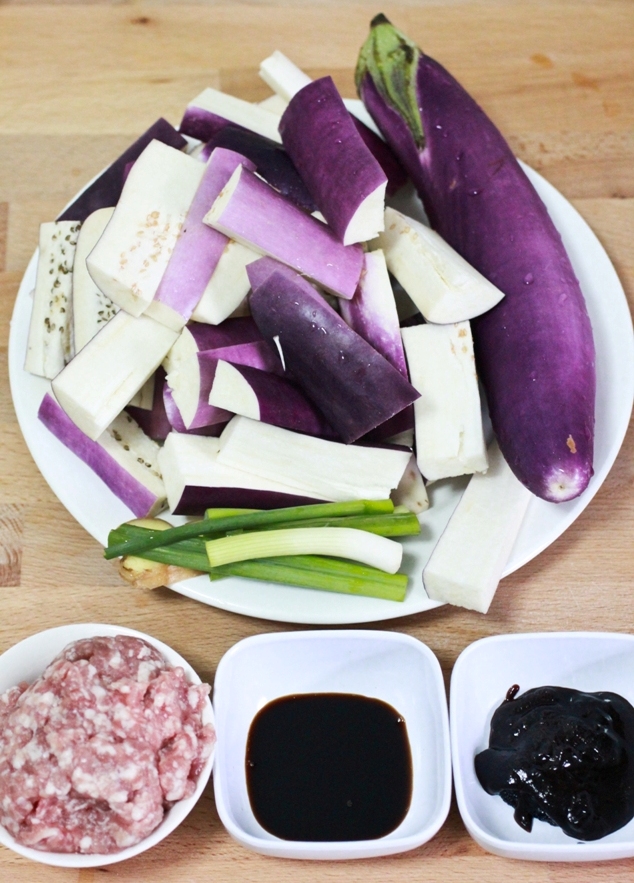 2 Eggplant (Chinese eggplant in picture)
¼ lb ground pork (or other meat of your choice)
2 tbsp Soy sauce
2 tbsp Sweet bean paste (find more info from this previous dish)
2 tbsp cooking wine
2 Scallions chop the white part and cut the rest into 2 inch long pieces
2 sliced Ginger, shredded
[/stextbox]
[stextbox id="custom"]
Braised Eggplant in Sweet Bean Sauce – Step By Step
1. Cut the eggplant into 3 x 1 chuncks. Salt the eggplant with 1/2 tbsp of salt for ½ hour. Drain out the liquid.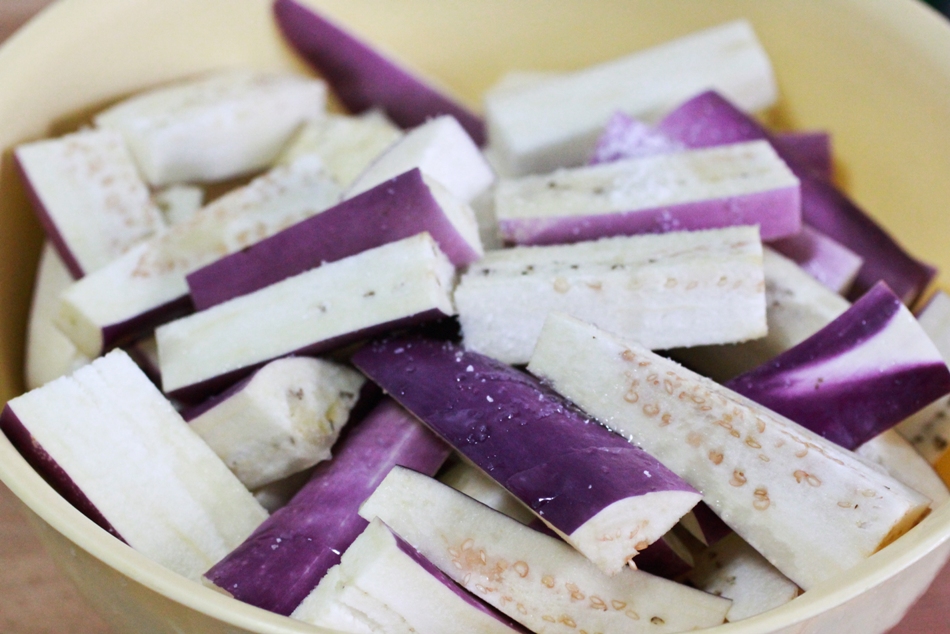 2. Pre-heat the oven to 400 F. Brush a generous layer of oil on a large baking sheet. Arrange the salted eggplant in single layer and lightly brush some oil on the eggplant surface.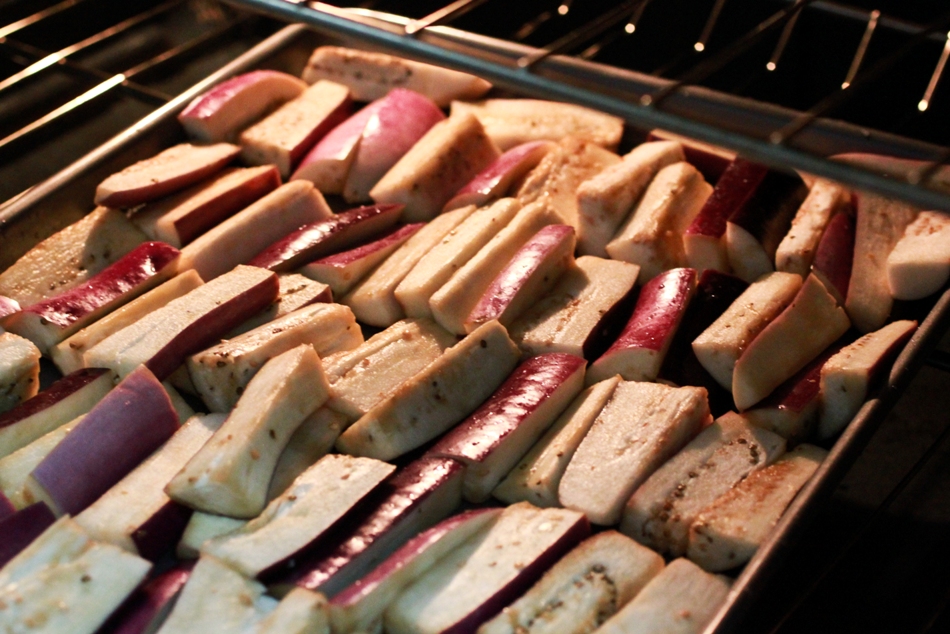 3. Bake the eggplant for 15 minutes. Check to see if the eggplant is crispy and firm outside.  Bake for additional 5 minutes if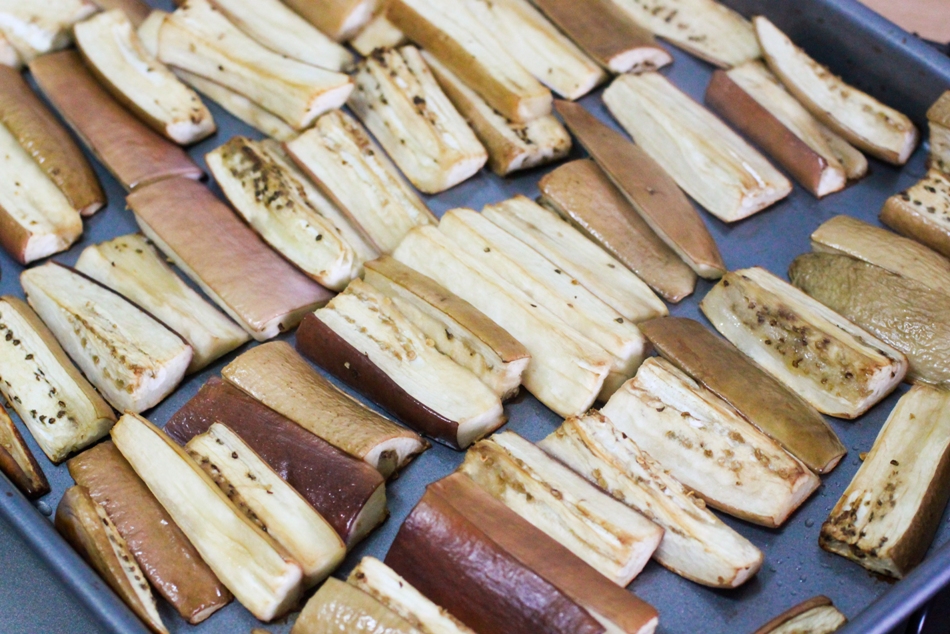 4. Pre-cook the ground pork in 1 tbsp of oil over medium heat. Mix in 1 tbsp of cooking wine. Cook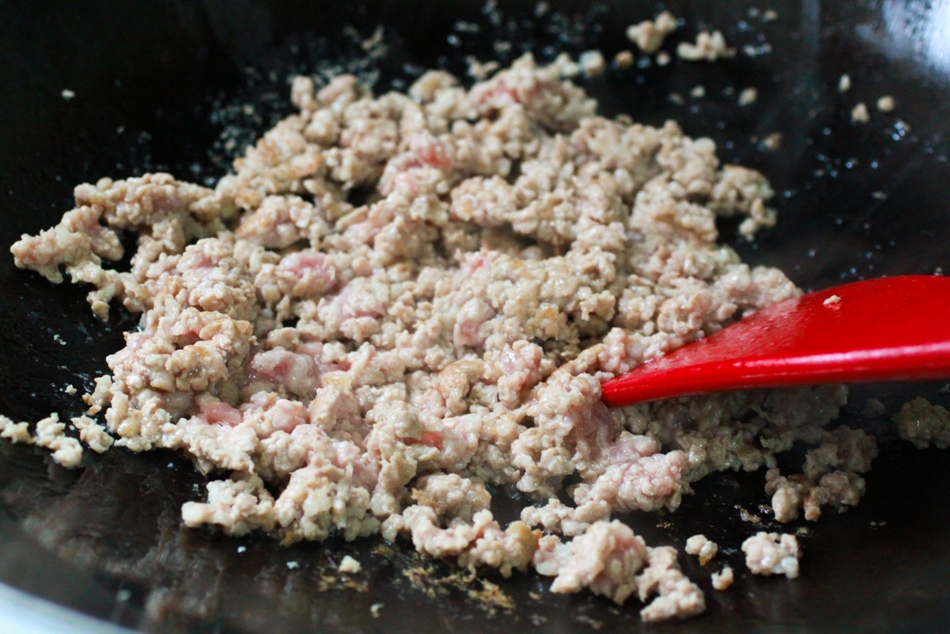 5. Over low heat, combine 1 tbsp of oil, 2 tbsp of soy sauce, 2 tbsp of sweet bean paste, 1 tbsp of cooking wine, 2 tbsp of water scallion whites, and ginger. Cooking until the mixture becomes bubbly. About 2 minutes.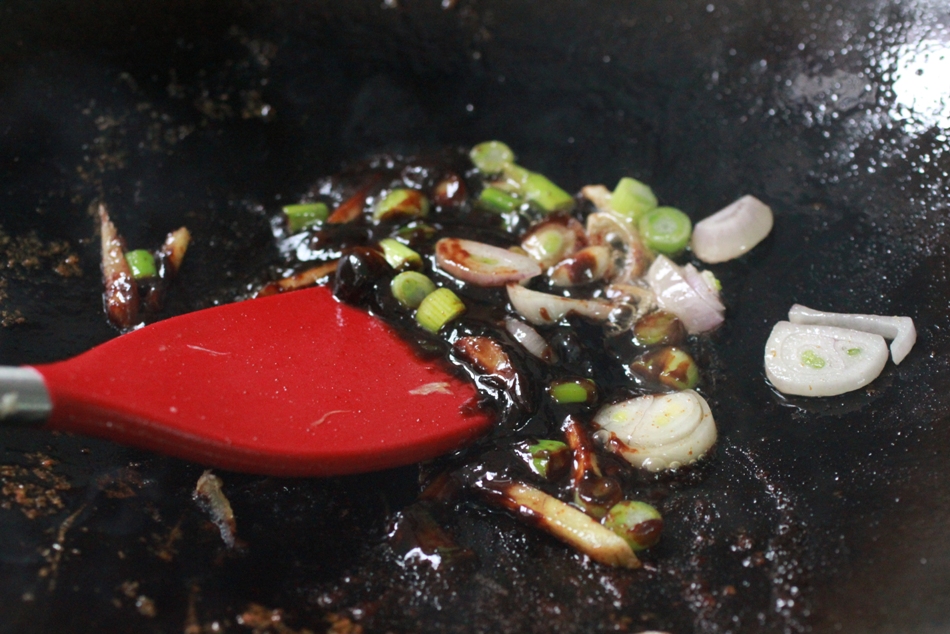 6. Add the pre-cooked meat and eggplant. Mix with the sauce gently. Cook for about 3 minutes. Add the rest of the scallion at the end. Thicken the sauce with corn starch if necessary.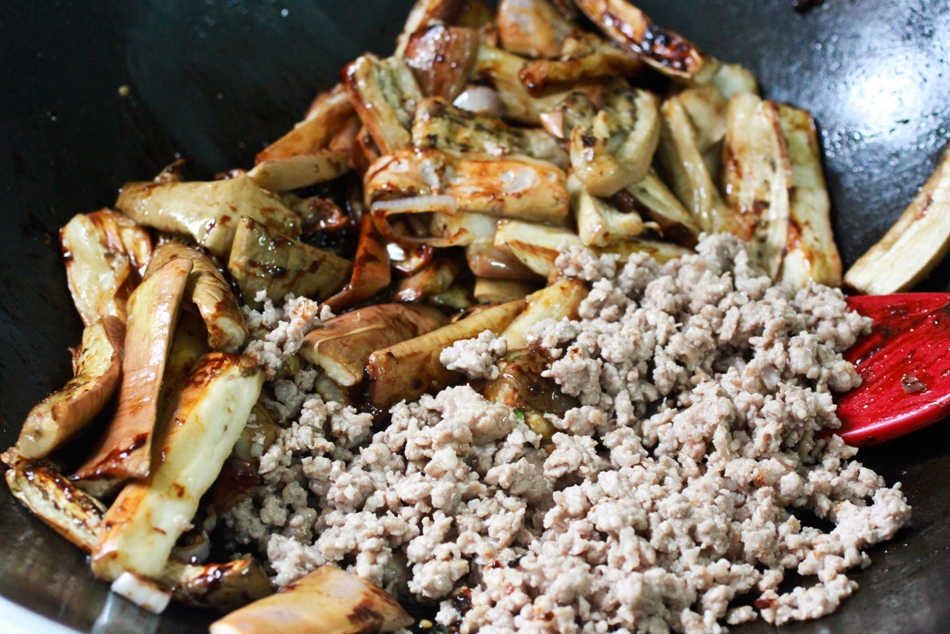 [/stextbox]
Serve it hot but make sure enjoy the dish slowly and carefully as eggplant stews are known for causing frequent tongue burning situations in the restaurants…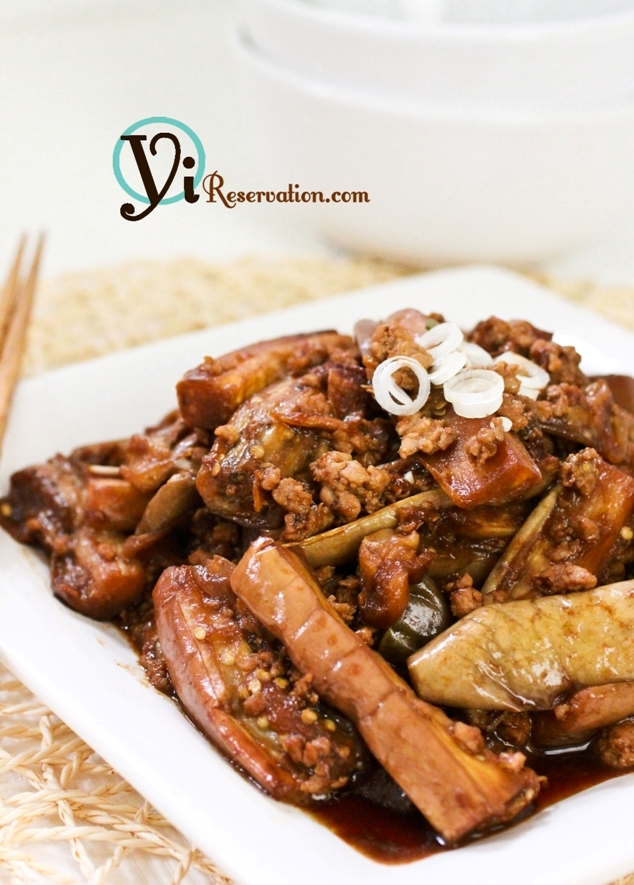 Warning
: Use of undefined constant rand - assumed 'rand' (this will throw an Error in a future version of PHP) in
/home/yirese5/public_html/wp-content/themes/yireservation/single.php
on line
72
Warning
: Parameter 2 to wp_hide_post_Public::query_posts_join() expected to be a reference, value given in
/home/yirese5/public_html/wp-includes/class-wp-hook.php
on line
287