Braised Spicy Pumpkin (肉碎燜南瓜)
Warning
: Parameter 2 to wp_hide_post_Public::query_posts_join() expected to be a reference, value given in
/home/yirese5/public_html/wp-includes/class-wp-hook.php
on line
287
I mentioned in the past that Chinese cuisine puts a big focus on the balance between protein and vegetables. In a given meal it is very common to see a good combination of protein dishes and veggie dishes or a one pot meal that contains a good split of protein or veggies.
I am not a vegetarian but I was raised eating meals with this kind of protein/veggie balance and when I prepare for a meal I always try to stick to this principle.
To me, nothing beats a stir-fried leafy vegetable with some minced garlic. It's quick, easy, and delicious. Best of all, one can use the same method to cook a wide range of vegetables such as bok choy, Chinese broccoli, spinach, kale,  and many other leafy varieties you can think of.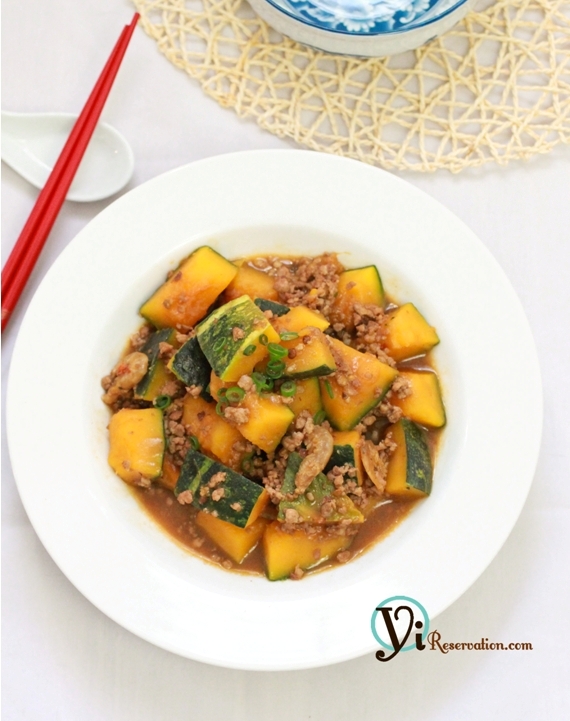 I thought I could just rotate difference types of stir-fried veggies and I'll never get tired of it until one day I just couldn't do this more. So today I wanted to make something else, something that was out of my comfort zone.
When I was at an Asian supermarket searching for a vegetable to cook, these small-sized Japanese pumpkin or kabocha really struck me. Pumpkin didn't usually end up being in my kitchen but I remembered liking this braised pumpkin dish a while ago so I eager to make that dish myself.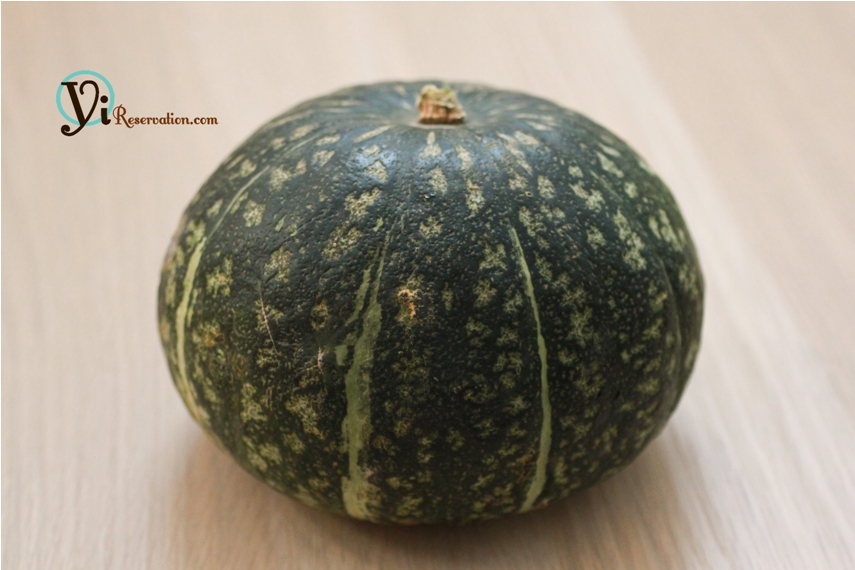 I had some leftover minced pork and dried shrimp from the dry fried string beans I cooked the day before so decided to make a braised pumpkin using all the leftover ingredients and with a touch of Sichuan.
If you are suspicious about how pumpkin's sweetness can fit into this savory dish you ought to give it try. The flavor from the meat and shrimp is fully absorbed by the pumpkin and the combination is just delicious.
Although it was a rather spontaneous cooking I still managed to snap a few pictures while I was at the stove:
In a wok, brown the ginger and then cook the meat and shrimp.

 Add the pumpkin cubes and rest of the ingredients. Cook until tender.

Serve this dish hot with some steamed rice 🙂
What's your favorite pumpkin dish?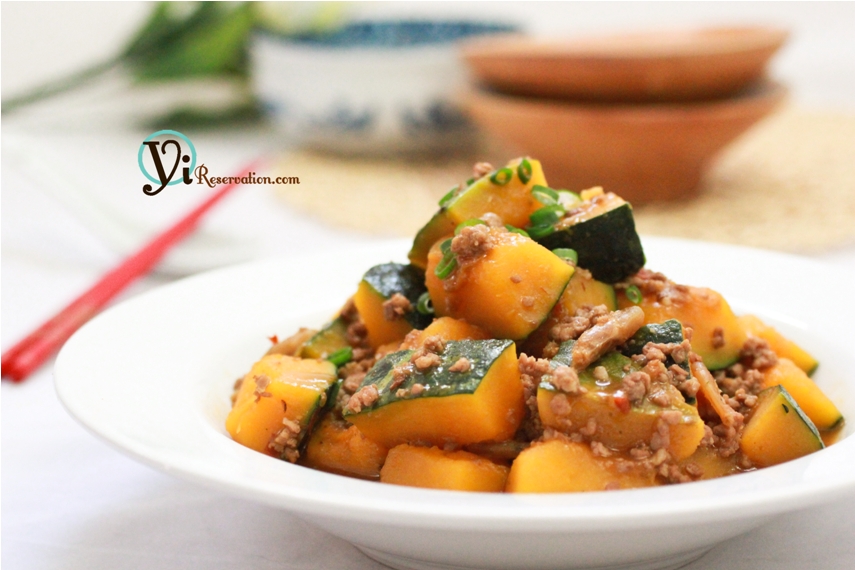 For step-by-step illustrations, please visit the link listed on the bottom of this recipe.
Ingredients
1 medium Japanese pumpkin, 2lb
4 oz minced pork or beef
2 tbsp dried shrimp, soaked until soft
1/2 tbsp spicy Sichuan bean paste
2 slice ginger
2 tbsp soy sauce
2 tbsp cooking wine
1 cup stock/water
Chopped scallions
Instructions
Cut the pumpkin into 1.5x1.5 cubes with the skin attached.
In a wok, heat up 2 tbsp of oil. Fry the ginger until brown. Add the minced the pork, dried shrimp, and the cooking wine. Cook until the pork turns color. Add cubes of pumpkin.
Stir the pumpkin to mix with the meat and shrimp. Add stock/water, Sichuan bean paste, and soy sauce. Mix well.
Bring to boil and simmer in low heat to your tenderness. Stir to mix periodically to make sure the pumpkin cubes are cooked evenly.
I like my pumpkin soft but not completely mush so I normally simmer for about 6 minutes. If you like it really soft, cook it for about 10 – 12 minutes. Garnish with some freshly chopped scallions.
https://yireservation.com/recipes/braised-spicy-pumpkin/
Copyright © Yi Reservation 2010 - 2013
Warning
: Use of undefined constant rand - assumed 'rand' (this will throw an Error in a future version of PHP) in
/home/yirese5/public_html/wp-content/themes/yireservation/single.php
on line
72
Warning
: Parameter 2 to wp_hide_post_Public::query_posts_join() expected to be a reference, value given in
/home/yirese5/public_html/wp-includes/class-wp-hook.php
on line
287