Green Tea Mille Crepe
Warning
: Parameter 2 to wp_hide_post_Public::query_posts_join() expected to be a reference, value given in
/home/yirese5/public_html/wp-includes/class-wp-hook.php
on line
287
Let me preface this post by saying again that…I am not a huge fan of desserts and pastries and then I'll immediately make another BUT exception to that claim 🙂
The newest addition to my ever growing exceptional dessert/pastry list today I am adding to the list today is Mille Crepe (a thousand layered crêpes) that I've come addicted to for the past year or so.
I had my first slice of mille crepe at a popular pastry shot Lady M in New York City. I was instantly hooked by this delicate cake made from layers and layers of fluffy crepes and delicious light cream. However, at cost of 7$ for a tiny slice, I realized this addiction was getting expensive so decided to experiment.
I adapted the recipe from Zen Can Cook (If you are serious about cooking you ought to visit his side now!). I slightly modified the recipe because I found out I didn't have a few ingredients.
Although it was far from Lady M's version, I was happy with the outcome considering it was my first time making this heavenly pastry. Obvious this is still work in progress and I'll be back with updated recipe(s).
Here are some of notes I took while I was making it:
The crepe batter is the key to the success of this pastry. I really like the green tea flavor however the crepe is not as fluffy as the one from Lady M. This needs a little more experiment.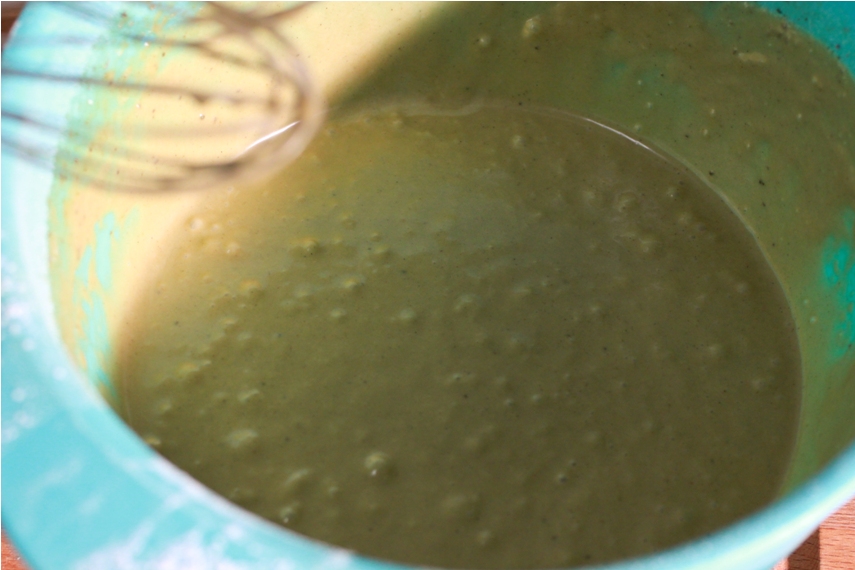 The cream filling is a combination of custard and whipped cream. This again comes out good however it is not as light and airy as the cream filling used at Lady M. Perhaps I should tweak the ratio of custard and cream at future attempts.

You'll realize how hard it is to make those perfectly round crepes. This is the step that takes lots of patience. In the future I'll definitely get another identical frying pan so I can make two crepes at a time.

Again, spreading the cream and assembling the crepes are not the most exciting steps but I do enjoy making the creame brulee style caramelized sugar at the end 🙂

Overall, this is a pastry that takes time and patience. I'll keep pursuit  the effort and hope one day it will come close to the Lady M's version. Do you have a better mille crepe recipe to share?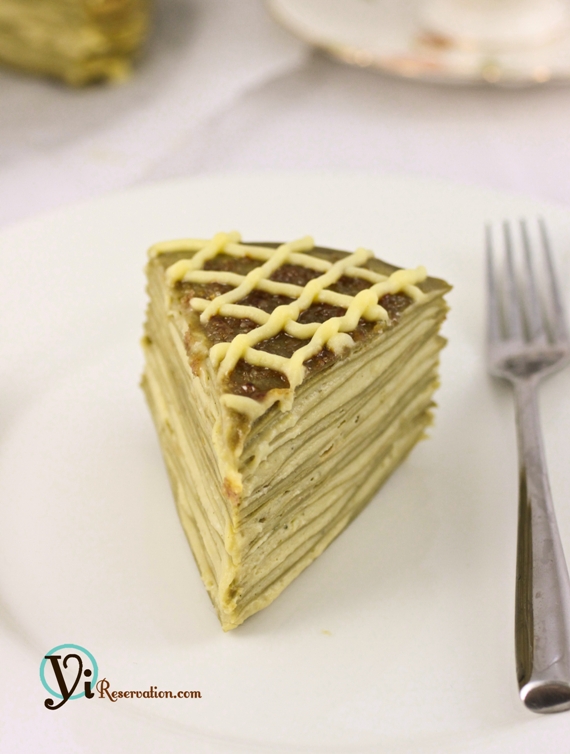 Ingredients
For the Crepe Batter

1 cup all-purpose flour
1 cup milk
1/2 cup lukewarm water
3 large eggs
3 tablespoons unsalted butter, melted
3 tablespoons sugar
1 pinch salt
2 tablespoons green tea powder (matcha)

For the cream filling:

1/3 cup cornstarch
2 cups whole milk
1/2 cup heavy cream, whipped
5 large egg yolks
1/2 cup sugar
2 tbsp raw sugar
2 tsp tablespoons green tea powder (matcha)
1 teaspoon vanilla extract
2 tablespoons butter
Instructions
For the crêpes:

Dissolve the green tea powder in the lukewarm water. Leave the butter at room temperature.
In a mixing bowl, beat the eggs. Gradually sieve in the flour and sugar while mixing. Add the green tea water, milk, and the rest of ingredients to the bowl and mix until it forms a smooth and slightly fluid batter. Cover the batter and chill in the fridge for a few hours.
Place a 6-inch nonstick or seasoned crepe pan over medium heat. Coat the pan with some butter or cooking oil using a brush. Over medium-low heat, pour about 2 to 3 tablespoons of batter into the pan. Lift, tilt and rotate the pan so that the batter forms an even, very thin layer. Cook until both sides are golden. Remove and place on a parchment sheet. Repeat the same steps to make 15 to 20 crepes.

Cream Filling:

In a small saucepan, bring the milk to a boil over medium heat. Mix the egg yolks, sugar, and cornstarch in a bowl. Gradually drizzle the hot milk into the mixture and whisk vigorously until you don't see any the clumps are dissolved.
Place the mixture in a saucepan and bring to boil over medium-low heat while whisking non-stop. As the mixture is getting thick and smooth immediately move the saucepan from the heat and place in ice water bath. Mix in the butter and vanilla extract once the custard is at room temperature. Chill in the fridge.
When ready to use, combine the custard with whipped cream and 2 tsp of green tea powder and mix until smooth (Chef Zen also recommends to process the cream filling for 10 seconds in a food processor).

To put it all together:

Place a crepe on a plate; spread a thin and even layer of cream filling on the crepe. Place another crepe on top of the cream filling. and repeat to make a stack of 15 to 20. Chill in the fridge until ready to serve.
Before serving, sprinkle some raw sugar and caramelize with a blowtorch and the mille crepe is ready to be served!
Notes
Recipe adpated from Zencancook.com
https://yireservation.com/recipes/green-tea-mille-crepe/
Copyright © Yi Reservation 2010 - 2013
Warning
: Use of undefined constant rand - assumed 'rand' (this will throw an Error in a future version of PHP) in
/home/yirese5/public_html/wp-content/themes/yireservation/single.php
on line
72
Warning
: Parameter 2 to wp_hide_post_Public::query_posts_join() expected to be a reference, value given in
/home/yirese5/public_html/wp-includes/class-wp-hook.php
on line
287