Chinese Chive Pork Dumplings 韭菜餃子
Warning
: Parameter 2 to wp_hide_post_Public::query_posts_join() expected to be a reference, value given in
/home/yirese5/public_html/wp-includes/class-wp-hook.php
on line
287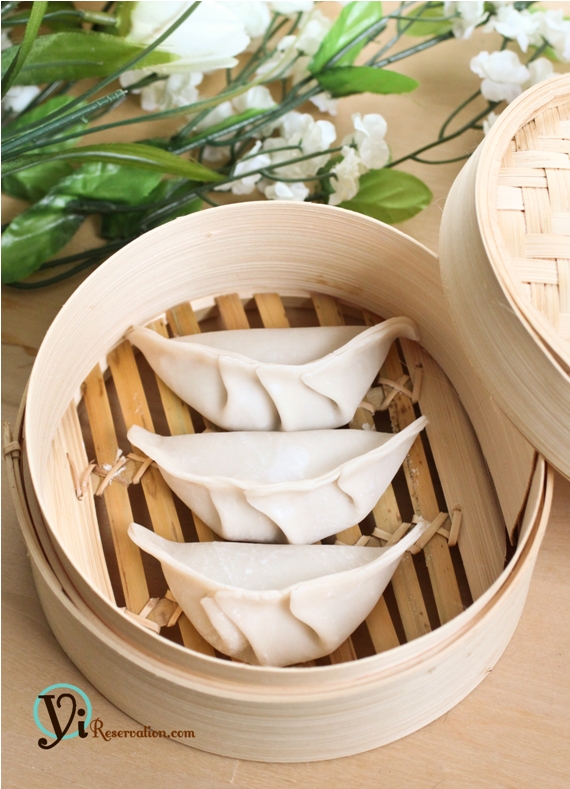 With the Super Bowl behind us it's time to start thinking about the next game plan.  As some of you might already know, February 10th 2013 is the first day of Chinese New Year. This year is the Year of Snake!
According to this site, if your lucky element is fire, your fortune will begin to take off. Don't know what your lucky element is? Find out from simple system. All you need is your birthday. If you are that lucky person with the fire element, you should also consider participating this giveaway I am hosting. The winner will take home a 10-piece wok set I am giving away and that winner could be you. You'll have until Feb 17 2013 to enter to win.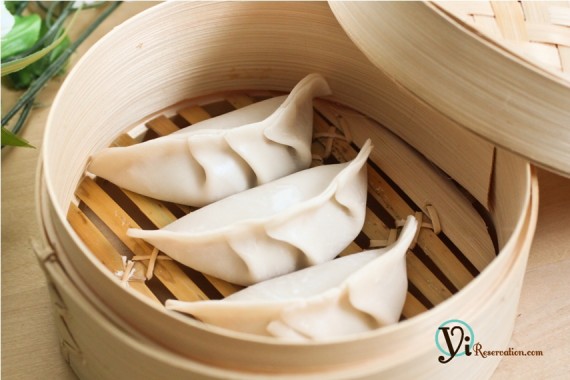 Since food is a huge part of the celebration, I have included Chinese New Year dinner ideas from my past posts. Hope you'll find something you like for this year's celebration.
Clockwise from top left
Lu Wei (滷味) – Braised aromatic goodness
Turnip Cake (蘿蔔糕) – Classic Dim Sum Dish
White Boiled Shrimp (白灼蝦) – Simple and delicious
Black Sesame Tang Yuan (黑芝麻湯圓) – Chinese Glutinous Rice Ball
Eight-Treasure Rice (八寶飯)
Steamed Fish (清蒸魚) – Holiday family dinner essential
Now, let's talk about this year's dish. Dumplings or Jiaozi 餃子 in Chinese, are widely considered an essential part of Chinese New Year meals by many. Not only these dough-wrapped pockets are delicious to eat, the shape of dumplings also resembles the gold ingot (元寶) which means wealth and prosperity.
In many parts of China, making dumplings from scratch is truly a team work. The whole family would sit around the dinner table with divided task. Each member, in synchronization, would carry out one of the steps ranging from making the dough, to rolling the skins, to folding the dumplings, while chatting and watching the CCTV's Spring Festival Gala.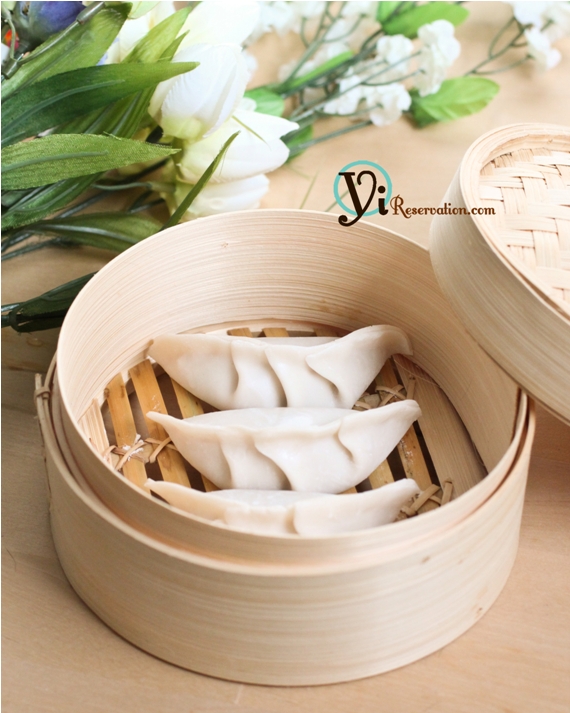 If you don't have a whole family to work on the dumplings, you can still make them albeit with store-bought dumpling wrappers. I'll show you how easy this is in a few more sentences. Chinese chive dumplings are my favorite but if you are not used to the taste of chive you can also use other types of veggies. Later on I'll post a dumpling recipe with cabbage stuffing.
There are many ways to make dumplings and today Alice and I will show you one of the easiest ways to make some delicious dumplings, with step by step instructions!
step-by-step recipe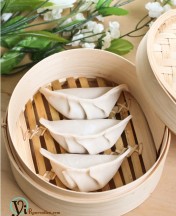 Ingredients:
1/2 lbs. Chinese chive
Chinese Chive Pork Stuffing
1 lb ground pork
2 tbsp soy sauce
1 tsp Sugar
Salt
1 package round dumpling wrapper
1tsp white pepper powder
1 tsp sesame oil
2 stalk scallion
2 slice fresh ginger
2 tsp cornstarch
1 tbs vegetable cooking oil
Directions:
Start with the filling. Chop the Chinese chive into small pieces. About 1/8 inch long.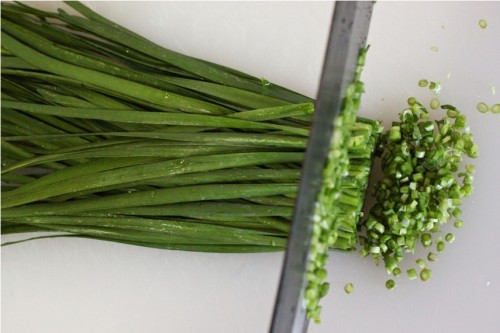 In a large bowl, combine the chopped chives with 1tsp of salt. Mix well and set aside for 20 minutes. This process will leave the chive to wilt, making it easier to mix later on.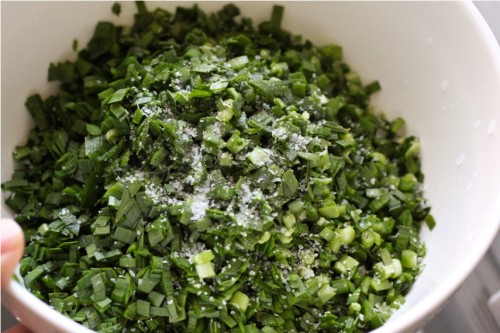 In the meantime, chop the ginger and scallion then mix them with I cup of water. The ginger scallion water will be used in flavoring the meat filling.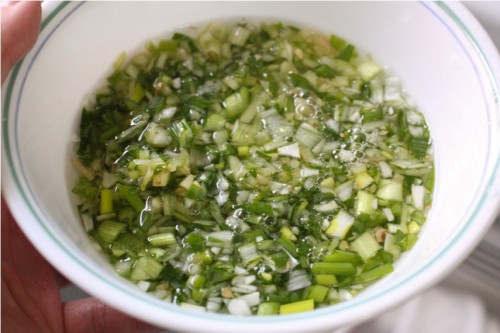 Combine the wilted chive with pork, white pepper powder, soy sauce, sugar, cornstarch, and 1 tbsp of salt. Mix well using a soup spoon.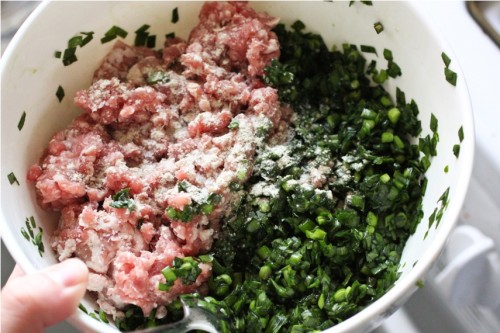 Slowly add ginger-scallion-water to the filling while swirling the spoon in one direction until you have a paste consistency. Add the sesame oil and vegetable oil and mix for one more minute. All this stirring and mixing will make the meat absorb the liquid you add to it, resulting a juicy stuffing. Set the filling aside.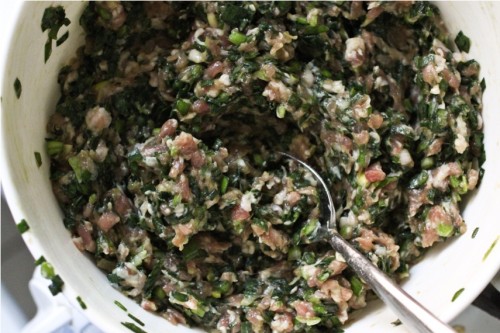 To fold the dumplings, fist lay a dumpling wrapper flat on your palm. Then spoon about 1 tbsp of dumpling filling and place in the middle of the wrapper.  Dip your fingertip in water and wet the entire edge of the wrapper. Make 3 pleats (or more if you want to go fancy) on one side of the wrapper then fold dumpling in half to enclose filling, and pinch the two edges together tightly.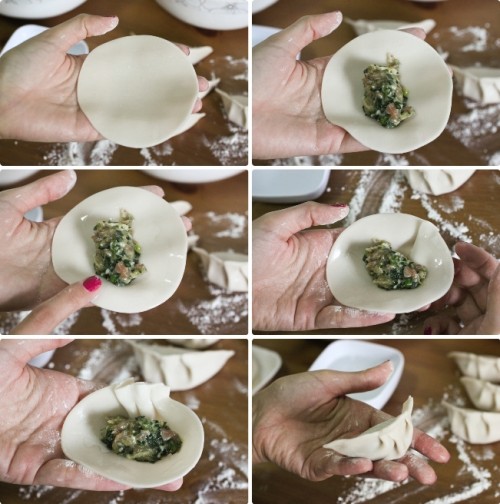 Place the dumplings on flour-dusted workstation. Repeat this process for the rest of the filling.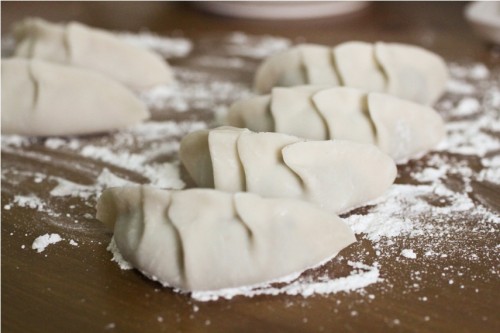 There are many ways of cooking dumplings. The easiest is to boil them in water and serve with a dipping sauce. Steamed dumplings are also very popular in China. Of course you can also fry the dumplings to make potstickers.
Lastly, wish everyone a Happy Chinese New Year / Gong Hey Fat Choy / 恭喜發財 / Xin Nian Kuai Le / 新年快樂!
In tomorrow's post, I will show you how to make the potstickers aka fried dumplings (and they are easy to cook I promise). So please don't wander too far 🙂
P.S. if you make extra dumplings like I also we, you can place them in a Ziploc and freeze them in the freezer. Just make sure you sprinkle enough flour so they don't stick.
P.S.S. I will also post a Youtube video on how to fold dumplings. Please check back soon!
P.S.S.S. If you absolutely are not into folding your dumplings, you can considering getting a dumpling makers such as the ones shown below. These tools will make your life even easier!


Warning
: Use of undefined constant rand - assumed 'rand' (this will throw an Error in a future version of PHP) in
/home/yirese5/public_html/wp-content/themes/yireservation/single.php
on line
72
Warning
: Parameter 2 to wp_hide_post_Public::query_posts_join() expected to be a reference, value given in
/home/yirese5/public_html/wp-includes/class-wp-hook.php
on line
287