Eight-Treasure Rice (八寶飯)
Warning
: Parameter 2 to wp_hide_post_Public::query_posts_join() expected to be a reference, value given in
/home/yirese5/public_html/wp-includes/class-wp-hook.php
on line
287
Chinese Eight Treasury Rice aka babaofan is a special sweet rice dish enjoyed during holiday meals such as Chinese New Year dinner.
For more Chinese New Year Recipe, please check out my FREE Chinese New Year Cookbook.
Happy Chinese New Year, the Year of Dragon!
Unlike my last minute celebration from last year, I started this year's celebration a lot earlier with some of my New Year special dishes. Find them here and here if you haven't checked them out.
Looking back, year 2011 has been quite an exciting year for this site. Not only I got to experiment new ingredients and learn new cuisines, I also got to meet so many like-minded foodies and home chefs whom I have learned so much from.
In celebrating the beginning of another exciting year, I have compiled a small list of dishes I did last year that are definite worth trying (if you have not done so)!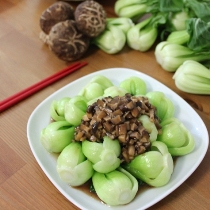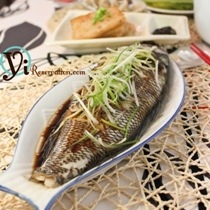 On to today's recipe.
Eight-Treasure Rice is traditional served during Chinese New Year celebration and festival banquets.
The wonderful origin of Eight-Treasure Rice traces back to Western Zhuou Dynasty in ancient China. That's over 2000 years in making of history!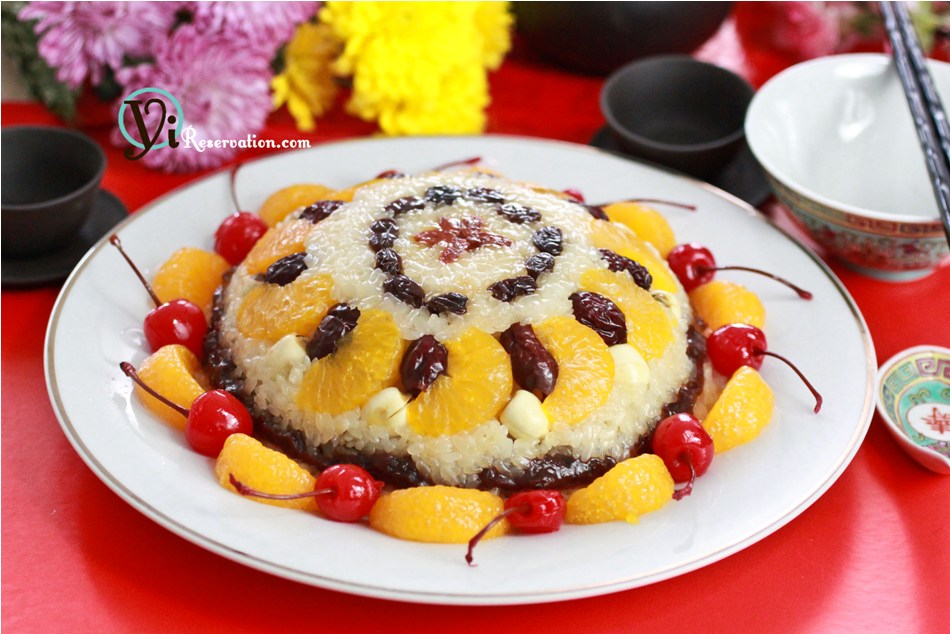 The dish is common made from glutinous rice and a combination of with eight fruits that, according to Chinese medicine, are meant to provide therapeutic effect. The commonly used treasures are: dried red dates, lotus seeds, candied plums, sweetened winter melon, dried longan, red bean paste, assorted beans, assorted nuts, and etc.
Like many other Chinese dishes with long histories, the Eight-Treasure Rice has seen many variations and regional flavors. In the recipe I am sharing, I use butter instead of lard that's normally used… I also have to skip the sweetened winter melon because it was sold out at the store I shopped…and I am also missing one or two traditional ingredients that are not available here…..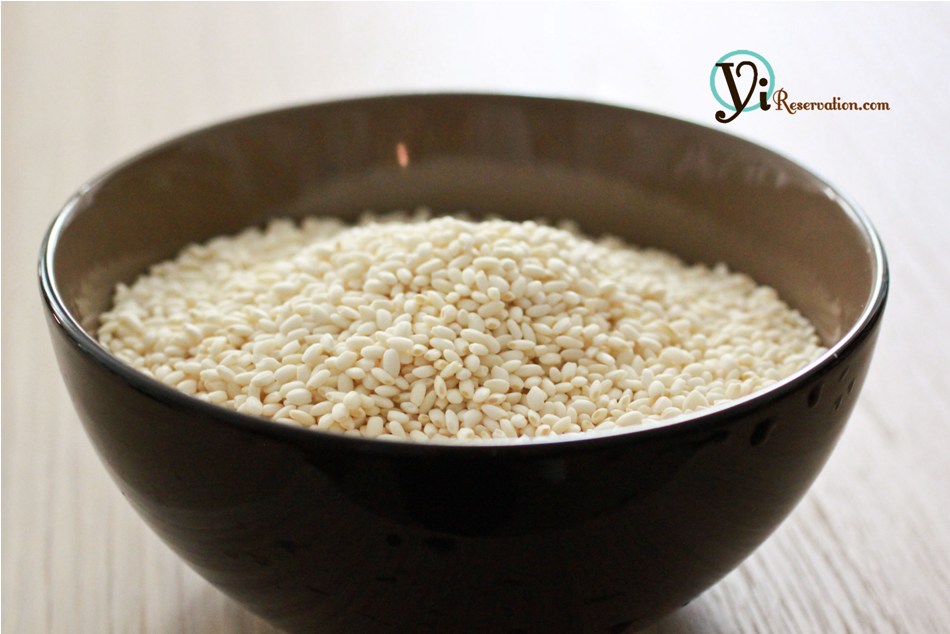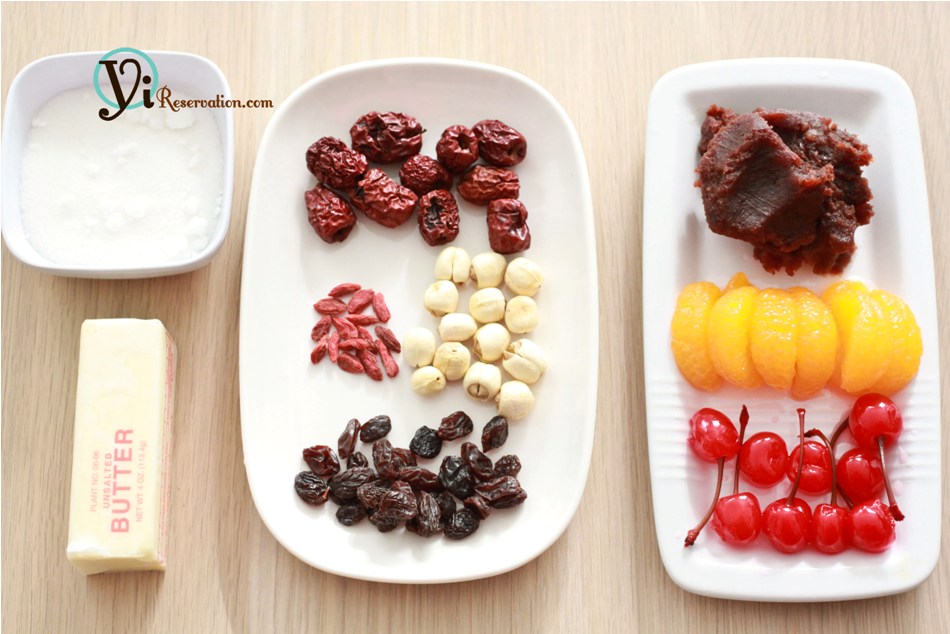 The point is, if this recipe looks very different from the Eight-Treasure Rice you had at that 200 year restaurant during your last trip to China, it is perfectly fine. No two Eight-Treasure Rice dishes are the same but they are all delicious!
Step-by-Step Illustrations
Steam the soaked gluteus rice for 30 minutes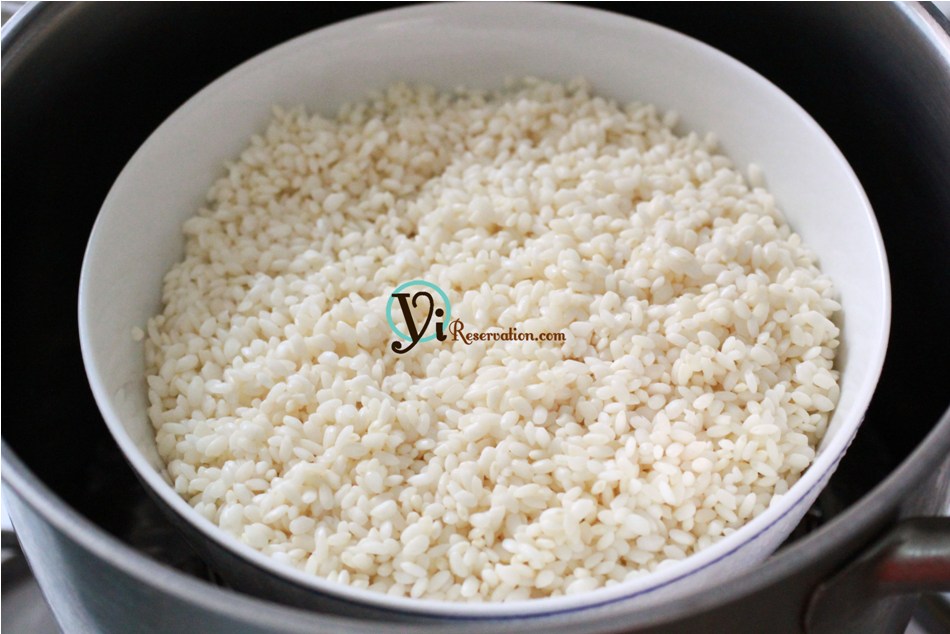 Soak the lotus seeds and dried dates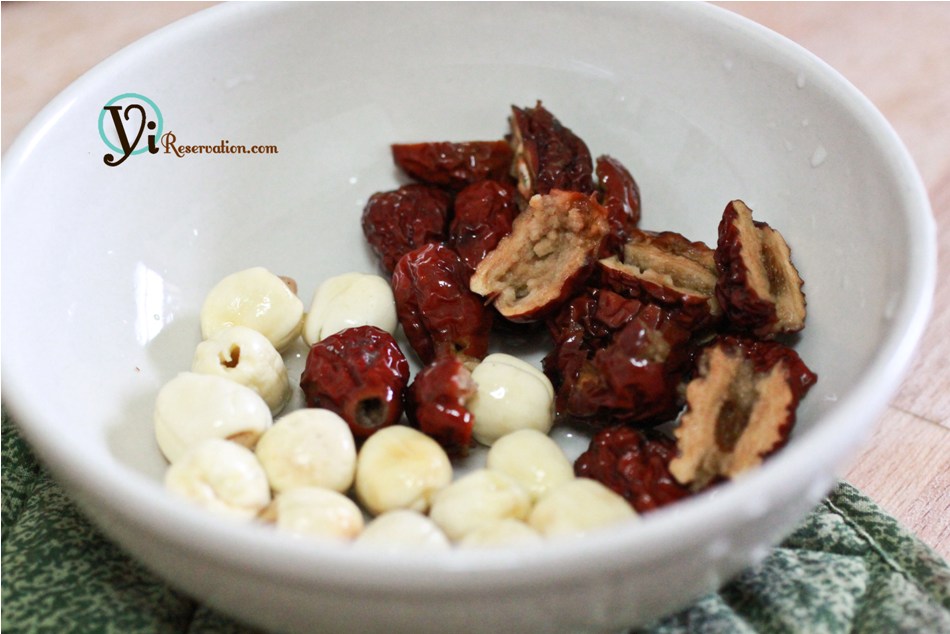 Mix the steamed rice with butter and 1 tbsp of sugar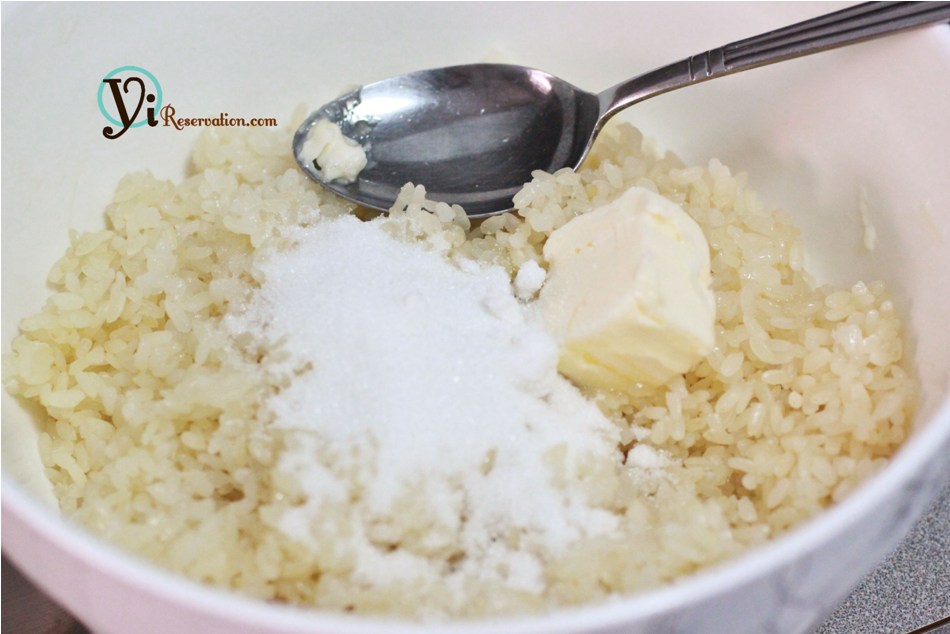 Assemble the rice and treasures in a serving bowl. If you are a talented decorator this will be a fun step for you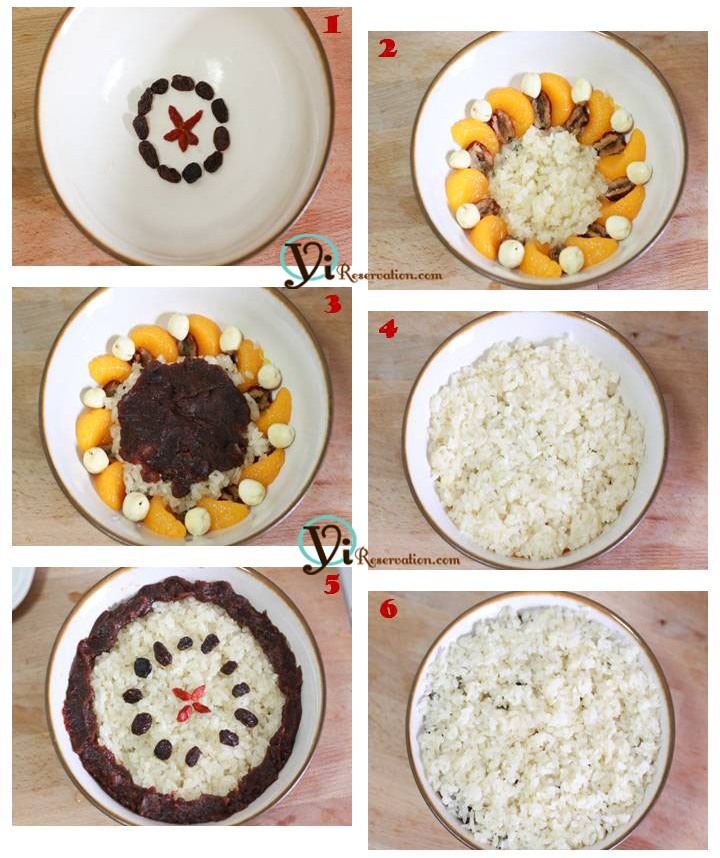 Steam the flip into a serving plate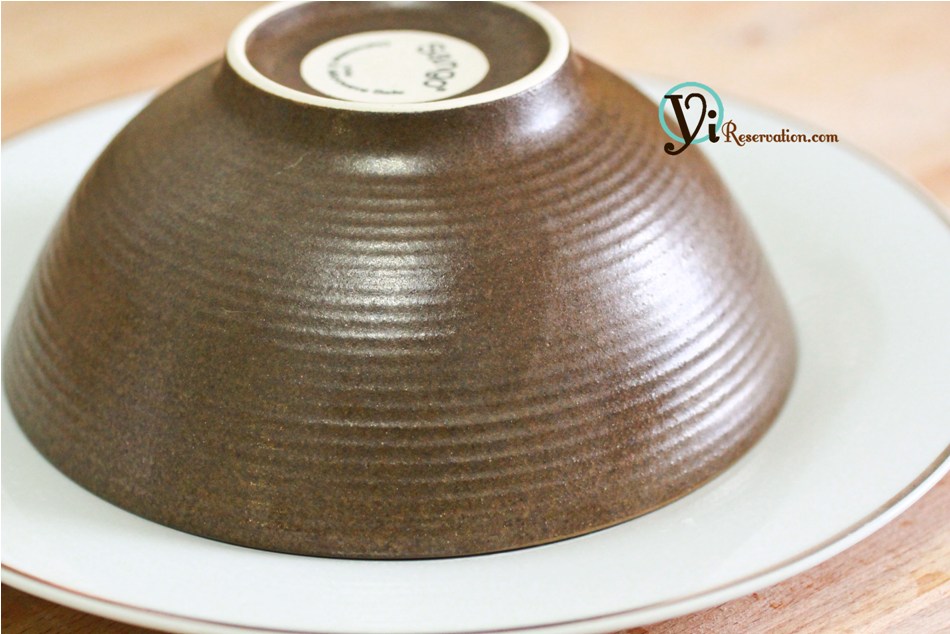 Make the syrup and pour the syrup on top of the eight-treasure rice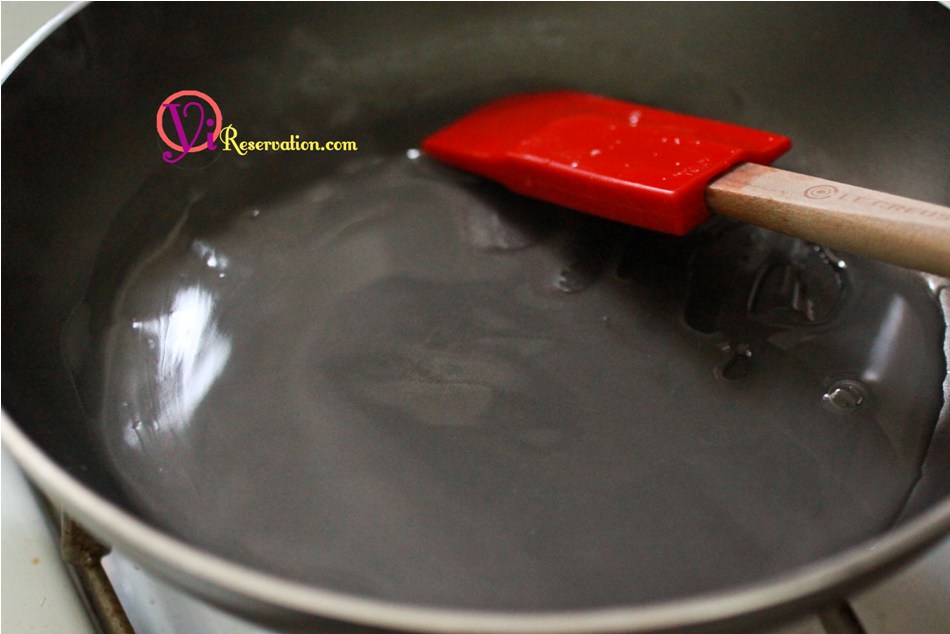 | | | |
| --- | --- | --- |
| Eight-Treasure Rice (八寶飯) | | |
Recipe Type: Main
Author:
Prep time: 12 hours
Cook time: 1 hour
Total time: 13 hours
Serves: 4
Eight-Treasure Rice is a traditional Chinese festival dish.
Ingredients
1.5 cup Glutinous rice
2 tbsp sugar or brown sugar
1 tbsp Butter or lard
1 tsp Goji berry
10 Lotus seeds
10 Dried red dates
2 tbsp raisins
3 tbsp Red bean paste
15 Candied mandarin orange
10 Candied cherry
Candied winter melon (optional not shown)
Instructions
Soak the glutinous rice overnight in water. Before steaming, drain all the water and add about 3 tbsp of water to the rice. Steam for 30 minutes with the lid on.
Soak the lotus seeds and dried dates in warm water for at least 2 hours. You can do this one day in advance. Cut the dates in halves
While the steamed glutinous rice is still warm, mix in the butter and 1 tbsp of sugar. Taste the rice to make sure it's not too dry. Mix in some warm water if the rice is too dry.
Assemble the rice and treasures in a serving bowl to your liking. If you like to decorate, you'll find this step FUN. The rule of thumb is separate each layer of treasures with a layer of glutinous rice. Try to keep the pretty ingredients on the bottom and around side of the bowl. Finish the top layer with rice.
Steam the assembly with the serving bowl rim facing up for 30 minutes. Flip the bowl onto a serving plate. Generally remove the bowl.
Make syrup by combining the rest of the sugar with 1/3 cup of boiling water. Thicken the syrup with a little corn starch. Evenly pour the syrup on top of the eight treasures rice.
Happy Chinese New Year and I look forward to more exciting dishes!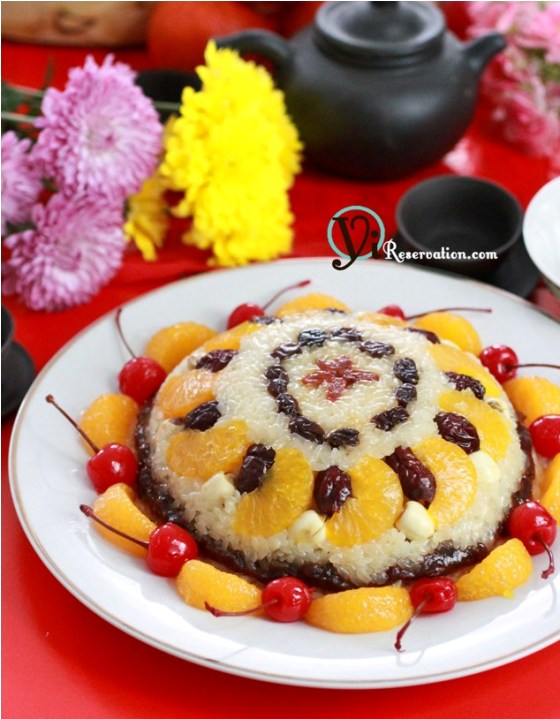 Warning
: Use of undefined constant rand - assumed 'rand' (this will throw an Error in a future version of PHP) in
/home/yirese5/public_html/wp-content/themes/yireservation/single.php
on line
72
Warning
: Parameter 2 to wp_hide_post_Public::query_posts_join() expected to be a reference, value given in
/home/yirese5/public_html/wp-includes/class-wp-hook.php
on line
287