A Taiwanese Special – Chinese Chives w. "Flies Head" (韭菜花炒蒼蠅頭)
Warning
: Parameter 2 to wp_hide_post_Public::query_posts_join() expected to be a reference, value given in
/home/yirese5/public_html/wp-includes/class-wp-hook.php
on line
287
Besides still being sick, the past 48 hours have been so much fun kitten sitting two little fluffy guests, Midnight and Oreo. These 8-week old curious big-eyed kittens are so cute that we have spent a lot our free time to play with them. Nothing is more wonderful to have these natural wrestlers, carpet-scratchers, desk-climbers, and frequent sleepers around to keep us accompanied (see Midnight and Oreo in action).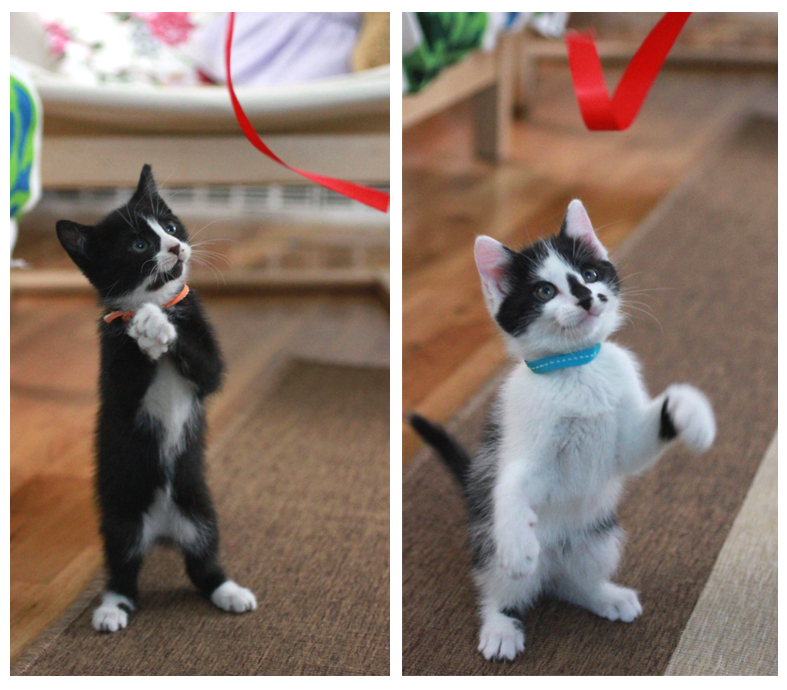 A few weeks ago I was craving for some Taiwanese food so Alice and I went to one of my favorite Taiwanese restaurants in Queens, New York. Like most of the Taiwanese restaurants in the area, this one serves up some very authentic fares out of their small cozy dining room.  After getting seated with two other couples at a big round table, we ordered a few signature dishes here including oyster pancake, three-cup chicken, and our favorite Chinese chive with "flies head", an original house special of theirs (number 23 in the menu screenshot).

That's right! The dish is called Chinese chive with "flies head". But there is no real fly or other insects in there. A more straight forward name should be something like Minced Pork with Chinese Chives and Black Bean In Taiwan-Style. The "heads" are in reference to the Chinese black beans used in the dish. This is the dish I get every single time I eat there and it is still growing on me. What make this dish outstanding aside from having an unusual name are its mouth-drooling fragrant, crispy juicy texture, and unbelievably savory taste.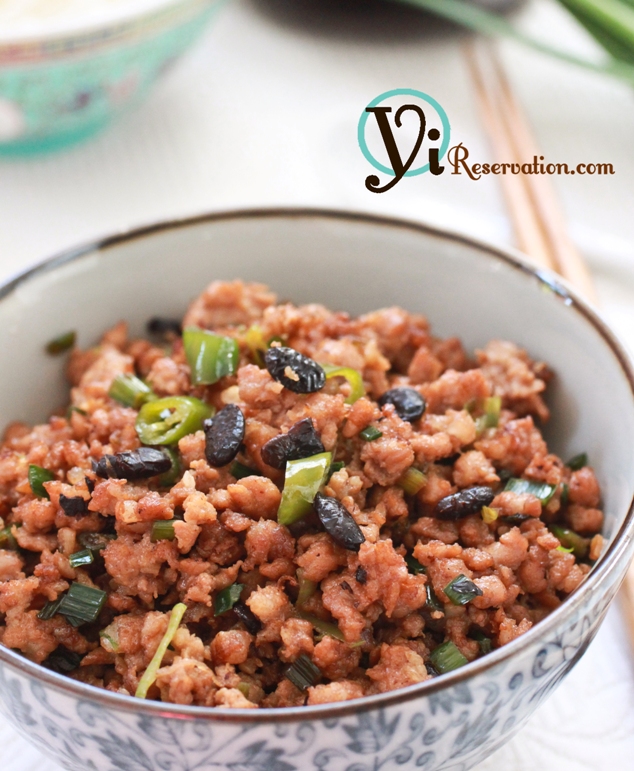 After a few experiments at home, I have come up with a recipe that is very close to the restaurant version.  This is a simple stir-fry dish but it's hard to make it like in the restaurant because the home stove is a low heat. Follow the below step-by-step instructions to see how you can work around this barrier.
[stextbox id="info" bgcolor="B2FAEE"]
Chinese Chives w. "Flies Head"- Ingredients
1 lb Minced pork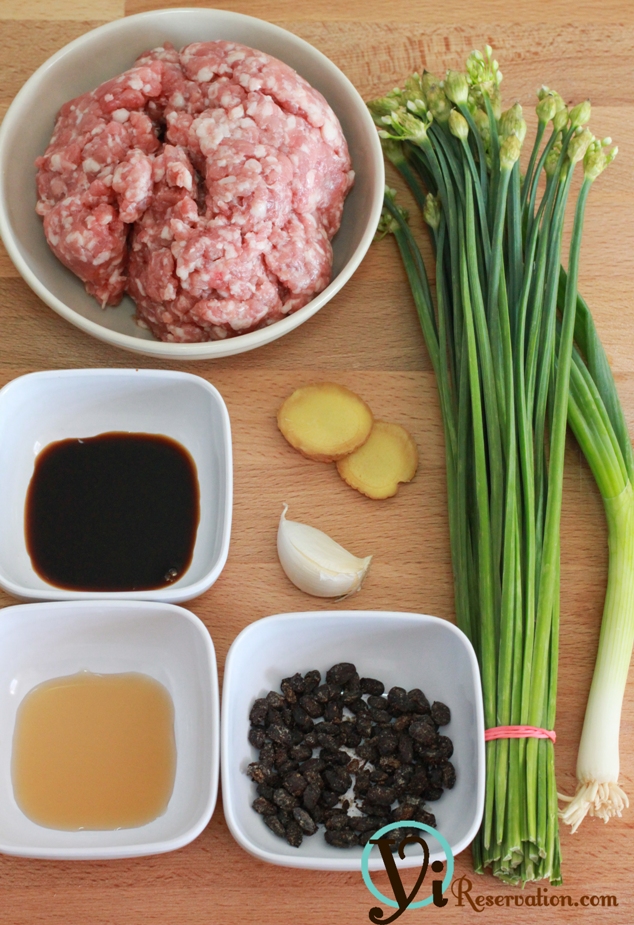 2 tbsp Chinese black bean
5 oz Chinese chives, preferably the ones with flowers
2 tbsp Fresh Thai chili, seeded and chopped
2 tbsp Soy sauce + 2 tsp
2 tbsp Cooking wine
1 tsp Sugar
1/3 tsp Sesame oil
1 clove garlic, minced
2 slice Ginger, minced
1 Scallion, minced
[/stextbox]
[stextbox id="custom"]
Chinese Chives w. "Flies Head" – Step By Step
1. Soak the black beans in 2 tbsp of water for 5 minutes. Raise and drain.
2. Chop the Chinese chives into tiny pieces. Marinate the pork with 2 tsp of soy sauce and 1 tbsp of cooking wine.
3. Pre-cook the pork. This is a key step to determine if you can achieve that restaurant quality at home.  You will need a cookware that can heat up to high temperature and has good heat retention. I use a cast iron wok.
Over high heat, heat up the wok until you see continuous smoke. Add 1 tbsp of oil and add 1/3 of minced pork. Quickly spread out the pork to ensure you get a quick and nice sear to lock in the juice, about 1.5 minutes. Set the pork aside and repeat this for the rest of the pork. If you see a good amount of liquid coming out of your pork that means your cookware is not hot enough.
Alternative you can deep fry the pork over low-medium heat. I suspect that's what the restaurants do.
[nggallery id=87]
4. Over high heat, stir fry the black bean, minced garlic and ginger in 1 tbsp of oil.
5. Add pre-cooked pork and chopped chives. Mix rest of soy sauce, cooking wine, and sugar. Cook for about 2 minutes. Add salt if necessary. Add a few drops of sesame oil at the end. Before serving sprinkle some chopped scallion.
[nggallery id=88]
[/stextbox]
What's your favorite Taiwanese dish(es)?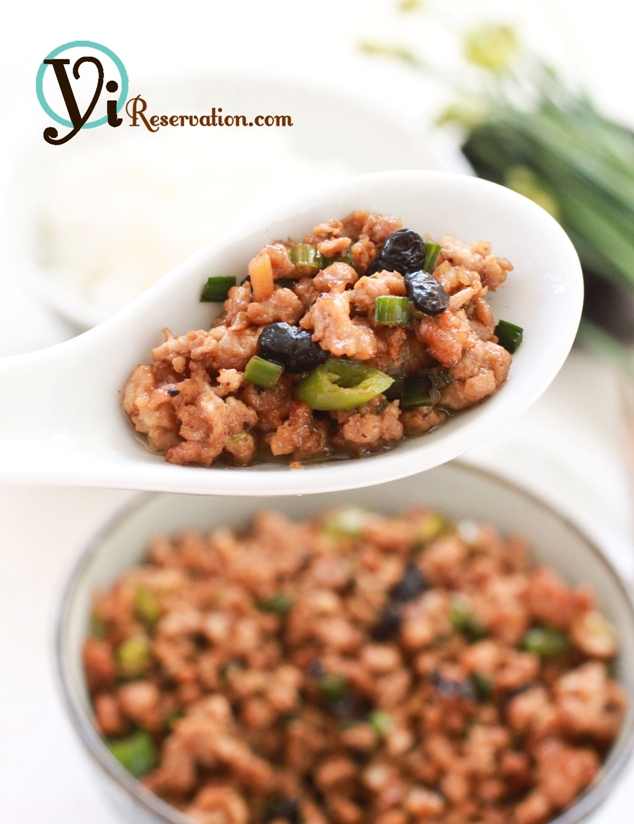 Warning
: Use of undefined constant rand - assumed 'rand' (this will throw an Error in a future version of PHP) in
/home/yirese5/public_html/wp-content/themes/yireservation/single.php
on line
72
Warning
: Parameter 2 to wp_hide_post_Public::query_posts_join() expected to be a reference, value given in
/home/yirese5/public_html/wp-includes/class-wp-hook.php
on line
287