Oxtails Braised in Red Wine
Warning
: Parameter 2 to wp_hide_post_Public::query_posts_join() expected to be a reference, value given in
/home/yirese5/public_html/wp-includes/class-wp-hook.php
on line
287
If you have been following this site for a while you might have noticed that I have a rather small collection of cookware due to the size of the kitchen in my apartment. I primarily cook in my cast iron wok and cast iron pans (the rest of it is done using my stainless steel pots and pans and a small non-stick pan).
So as the winter is slowing approaching, I decided to add a cast iron pot to my collection for making slow cooking dishes such as stews and braised one-pot-meals.
Specifically I was considering a heavy enameled Dutch oven for its outstanding heat distribution and retention, healthy cooking, natural non-stick surface, and easy to clean. This makes it sound like a magic, right?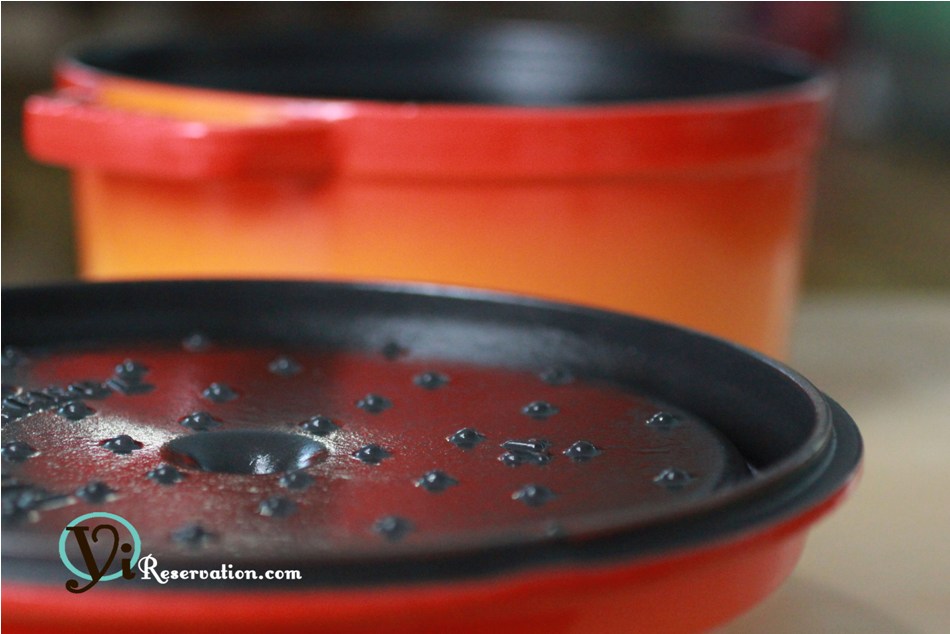 After some extensive research I finally went ahead with this gorgeous orange round enameled cast iron oven from a reputable brand. Once I received the product, I jumped right ahead to test if it was worth the investment.
For its debut meal, I cooked this simple but really delicious red wine oxtail stew that I used to cook in a regular stainless steel pot. While it is still early to say I was still somewhat blown away by how tender, flavorful, and moisture my oxtails were after several hours of slow braising.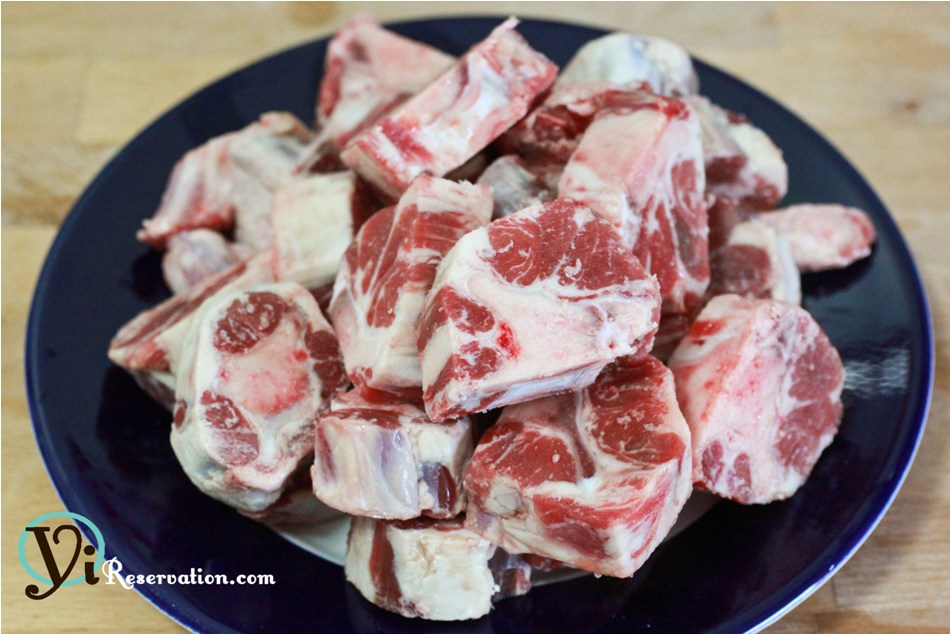 Needless to say, the long winter ahead will warrant me plenty of opportunities to further explore the Dutch oven.  If you have any wonderful slow cooking recipes please don't hesitate to share with me 🙂
[stextbox id="info" bgcolor="B2FAEE"]
Oxtails Braised in Red Wine – Ingredients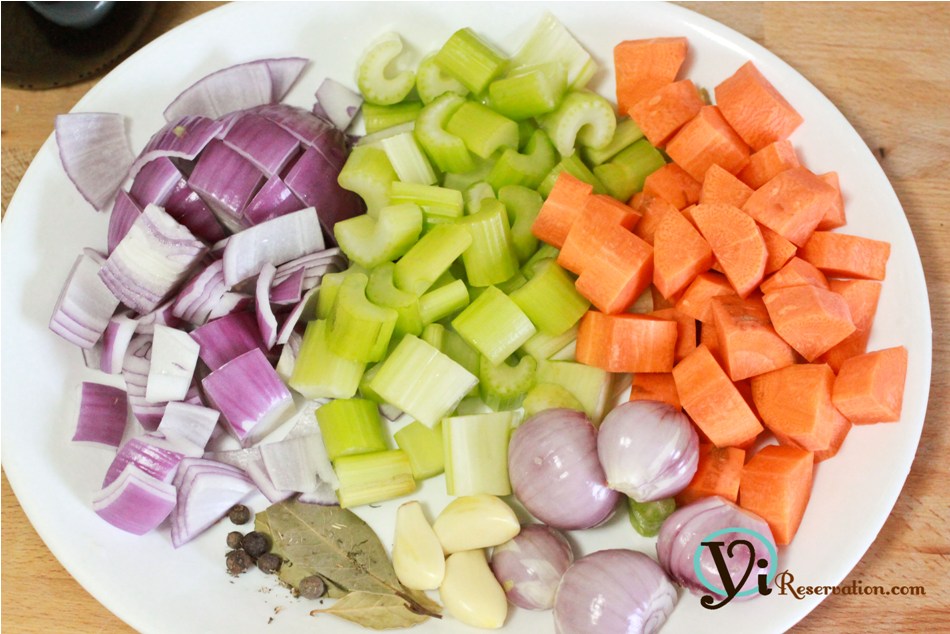 3 lb Oxtail, cut into 2 inch thick
1 cup Carrot, chopped
1 cup Celery, chopped
1 cup Onion, chopped
4 clove Garlic
3 Shallot or a dozen of pearl onion
3 Bay leaves
4 Allspice
2 tsp Thyme (2 sprigs if using fresh ones)
Red wine, about two cups ( I used Cabernet)
Salt and pepper
[/stextbox]
[stextbox id="custom"]
Oxtails Braised in Red Wine – Step By Step
1.Rinse the oxtails in cold water. Pat it trade dry with paper towel. Generously season the oxtail with salt and pepper.  This can be done a day in advance.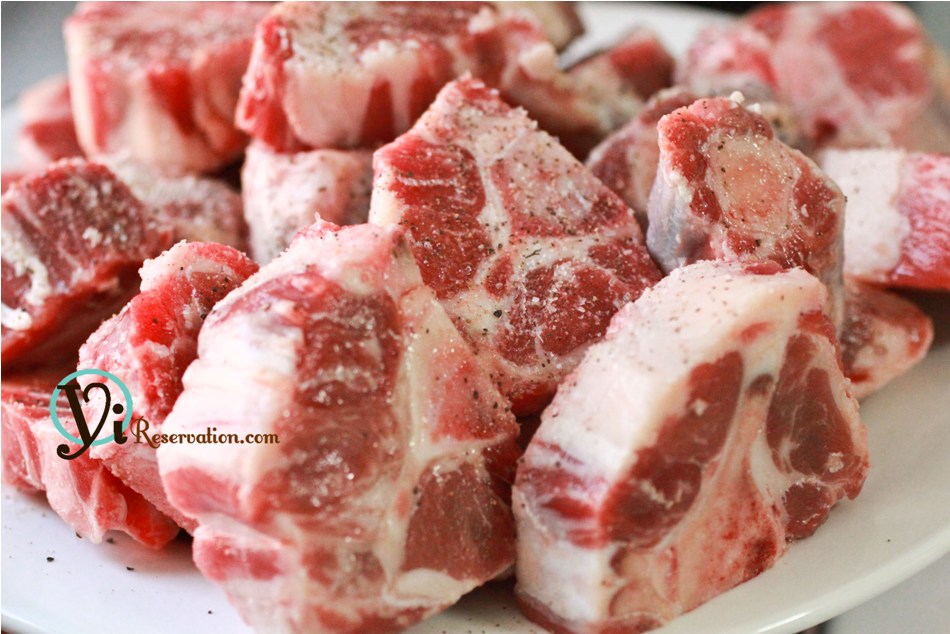 2.Pre-heat the oven to 300 F. Heat up the Dutch oven pot and add one tbsp of oil. In batches, brown both sides of the seasoned oxtails. About 4 minutes per side. Remove the oxtails and set aside.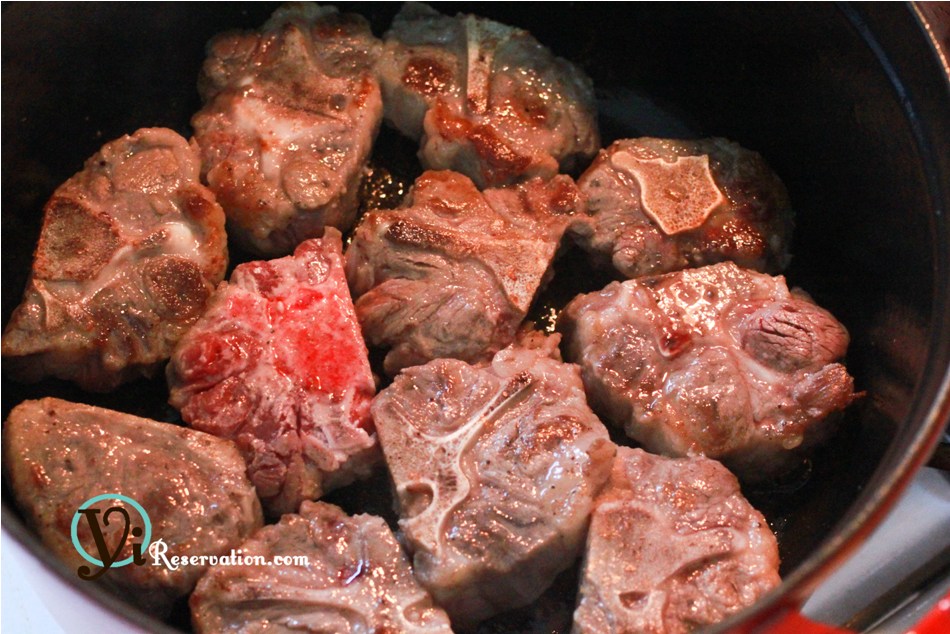 3.With the remaining grease in the pot, brown the chopped onions and carrots. About 4 minutes.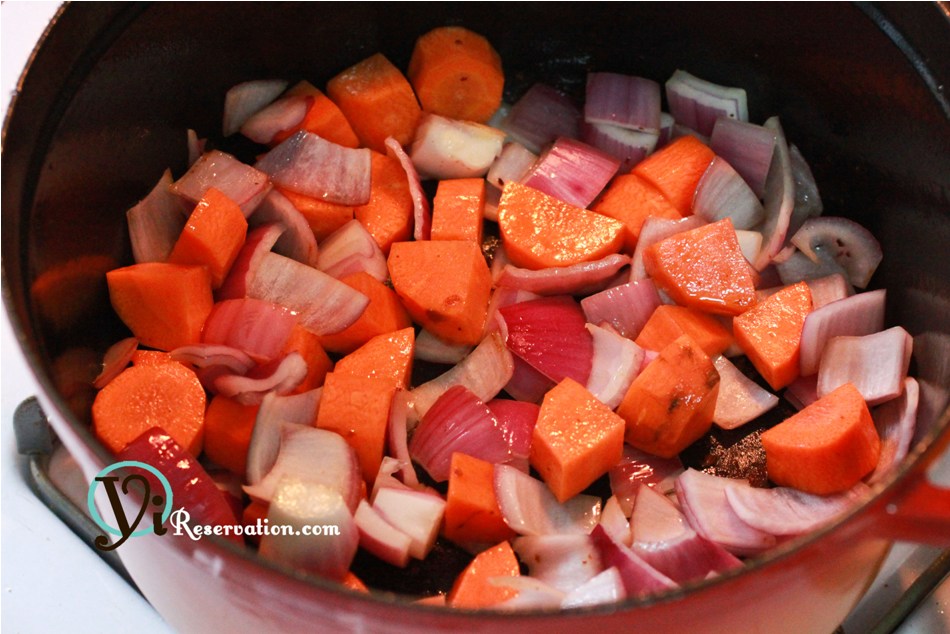 4.Add the browned oxtails back to the pot. Gently mix with the carrots and onions. Also add the chopped celery, bay leaves, allspice, thyme, garlic, shallots (or pearl onions).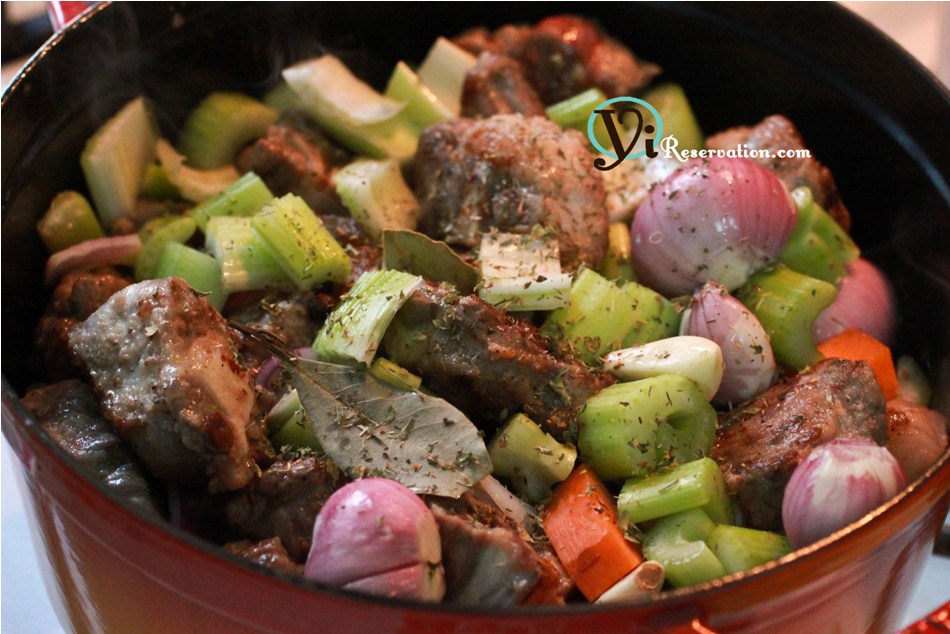 5.While mixing slowly pour the red wine until all the ingredients are cover. Bring the pot to boil and remove from the stove top. Cover the pot with the lid and put in the oven to braise for about 2 hours. Check for the doneness and rock the pot to avoid any sticking. Put it back to oven for another 30 min to 1 hour.  Add salt to taste at the end.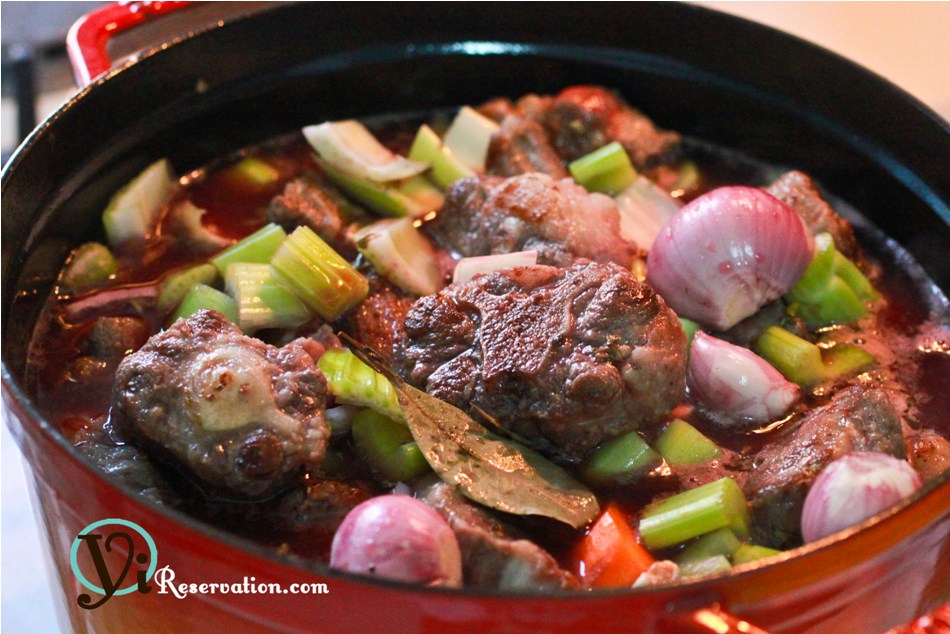 [/stextbox]
Serve with a side of mashed potatoes and you are in heaven!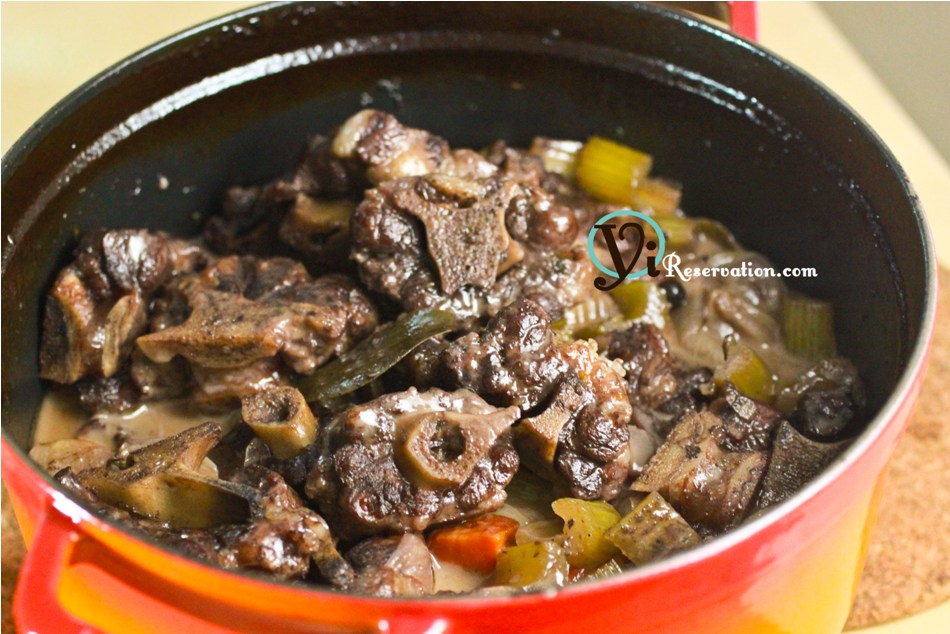 Warning
: Use of undefined constant rand - assumed 'rand' (this will throw an Error in a future version of PHP) in
/home/yirese5/public_html/wp-content/themes/yireservation/single.php
on line
72
Warning
: Parameter 2 to wp_hide_post_Public::query_posts_join() expected to be a reference, value given in
/home/yirese5/public_html/wp-includes/class-wp-hook.php
on line
287