Seafood with Fuzzy Melon and Noodle Casserole (海鮮節瓜粉絲煲)
Warning
: Parameter 2 to wp_hide_post_Public::query_posts_join() expected to be a reference, value given in
/home/yirese5/public_html/wp-includes/class-wp-hook.php
on line
287
I survived New York's brutal weather last week without an AC (the poor fan was working overtime everyday). It was nothing to be proud of but I was certainly glad that I had made some great summer snack to help me get through the heat.
This weekend has been a quite different story compared to the past few days. The temperature is a notch lower so I finally feel like to cook again. I finally roll up my sleeves and put up the AC that I had been pushing off.  I also feel like eating something light and soupy but not sure what exactly to cook.
On a trip to a friend's house, between beers and conversation exchange, I notice something familiar from the friend's vegetable garden. Although it is smaller and skinner than I've known, its unmistakable hairy skin is like a name tag with "fuzzy melon" on it.  Right there, I know the perfect dish for my summer appetite has to be the seafood fuzzy melon and noodle casserole – a popular Cantonese home-style dish.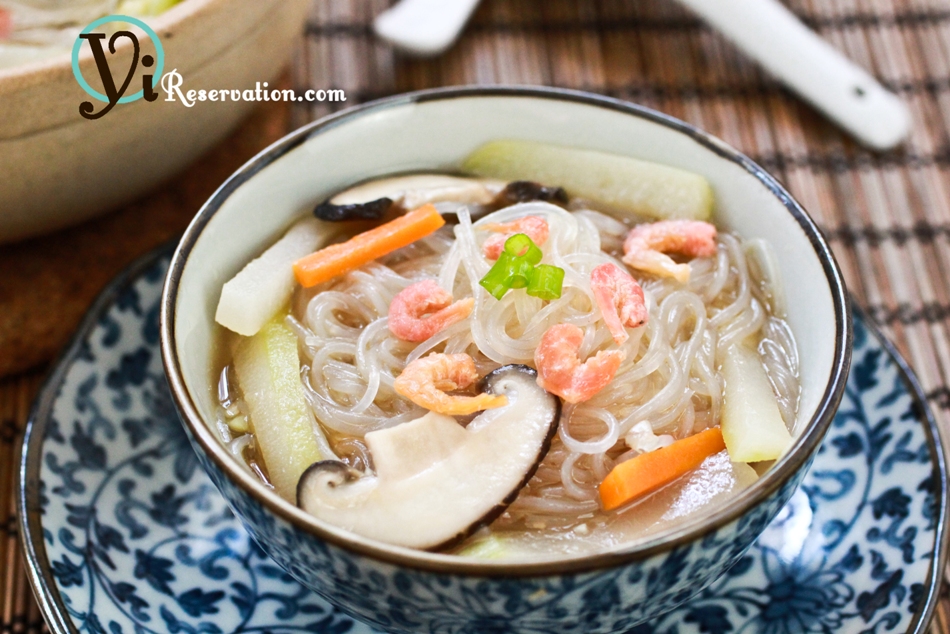 Fuzzy melon aka hairy melon is no stranger to Yi Reservation. It was featured in this excellent Cantonese banquet dish sometime last year. It's got a light refreshing flavor which is good for my current appetite.
The seafood stock used is the key of the dish. This kind of stock is called "superior stock" in Chinese cooking. It's normally made with various dried seafood, Chinese ham, and chicken. For a simple version I use dried scallop, dried cuttlefish and dried clam. You can also test it out with other kinds of dried/fresh seafood of your choice.
[stextbox id="info" bgcolor="B2FAEE"]
Seafood Fuzzy Melon and Noodle Casserole – Ingredients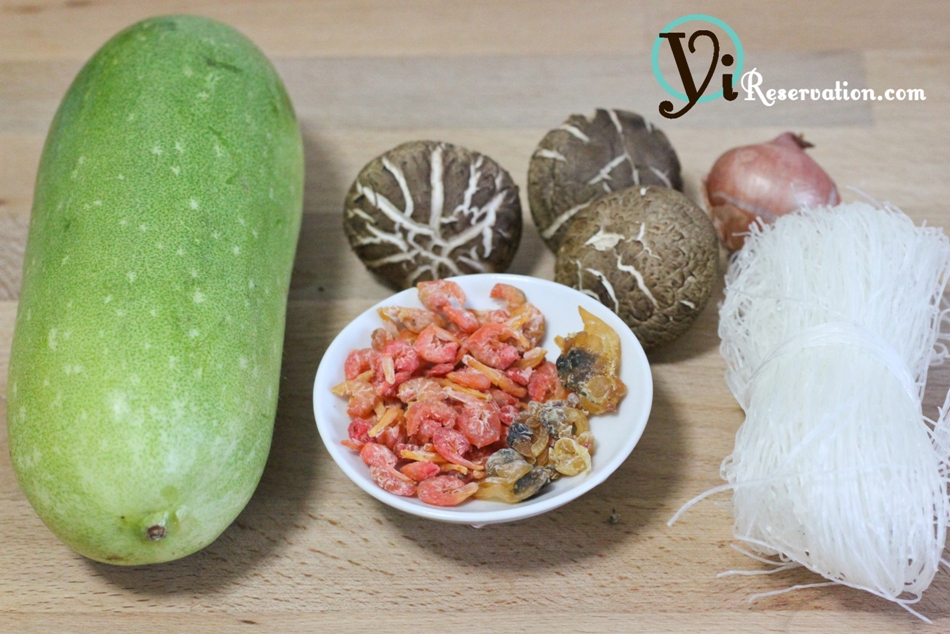 1 fuzzy melon, about 1.5 lb
1 roll thin Chinese rice noodles
3 fresh or dry shiitake mushroom
I small carrot
2 tbsp dry shrimp
1 tbsp ginger, sliced
1 shallot, sliced
2 tbsp cooking wine
½ tsp white pepper powder
For Seafood Stock
1 lb Chicken bones
1 tbsp dried scallop
1 tbsp dried clam
1 dried cuttlefish
[/stextbox]
[stextbox id="custom"]
Seafood Fuzzy Melon and Noodle Casserole – Step By Step
*click the images to enlarge*

1. Peel the melon skin with a knife. Sliced the melon, carrot, and shiiitake mushroom to the size of your pinky. Soak the dried shrimp in 1 cup of water. Soak the rice noodle in water until soft.
2. Combine all the seafood stock ingredients with 2 litter of water. Cook for 2 hours in a stock pot or 45 minute in a pressure cooker.
3. In a wok, stir fry the shallot and ginger with 1 tbsp of oil until brown.
[nggallery id=93]
4. Add the sliced fuzzy melon, carrot, and mushroom. Stir fry in medium heat for 3 minutes.
5. Add seafood stock just enough to cover the ingredients. Add the soaked dried shrimp with its soaking liquid. Cook for 15 minutes in low heat.
6. Add the soaked rice noodle, cooking wine, and white pepper. Add salt to taste. Cook for another 3 minutes. Serve in a heated casserole with chopped scallion. [nggallery id=95]
[/stextbox]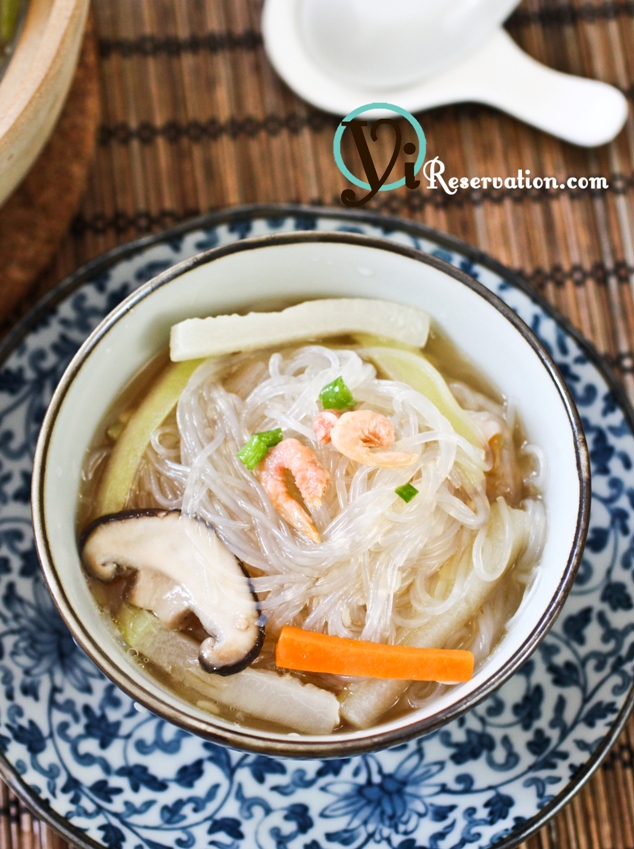 Warning
: Use of undefined constant rand - assumed 'rand' (this will throw an Error in a future version of PHP) in
/home/yirese5/public_html/wp-content/themes/yireservation/single.php
on line
72
Warning
: Parameter 2 to wp_hide_post_Public::query_posts_join() expected to be a reference, value given in
/home/yirese5/public_html/wp-includes/class-wp-hook.php
on line
287