Shanghai-Style Rice Cake w. Pickled Mustard Green(上海雪菜炒年糕)
Warning
: Parameter 2 to wp_hide_post_Public::query_posts_join() expected to be a reference, value given in
/home/yirese5/public_html/wp-includes/class-wp-hook.php
on line
287
I admit that my limited knowledge on Shanghainese food does not make me a creditable person to write about this topic. But my unparalleled fascination with this cuisine makes it irresistible to not offer my 2 cents. From the drunken chicken to the stinky tofu to the more popular juicy soup dumplings, my every trip to a local Shanghainese restaurant has been a discovery of more exciting dishes.
To define Shanghaiese food is no easy task. This newly established cuisine (relatively speaking) was in fact born out of the influences of multiple surrounding cuisines. Through years of refinement, today's Shanghai cuisine is known for its sweet, sour, and winy taste profile. Being a stubborn spicy food eater, I was pretty suprised by the fact that I am happy with most of the Shanghainese dishes I have sample so far.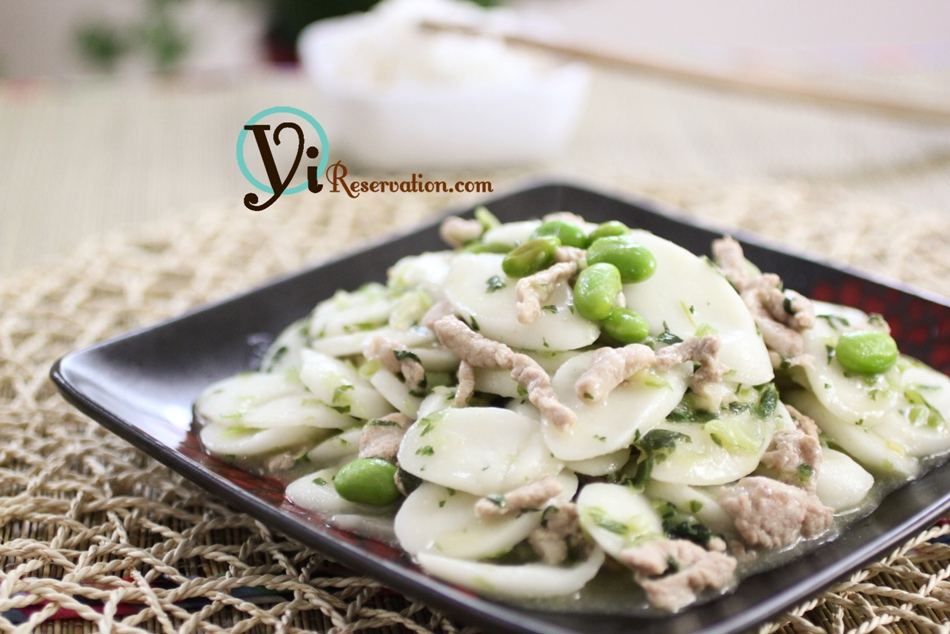 I only started to cook Shanghainese food recently, mainly on the simple homemade dishes so far. This stir fried Rice Cake is one of them. Rice cake is no delicacy but it's one of the dishes I have ordered repeated from different restaurants. The rice cake is prepared in dozen ways at each restaurant and they are all super tasty. Out of all the variations I especially like the dish that uses pickled mustard green, which adds some salty and sour flavors to balance out rice cake's blandness.
This recipe was from a Chinese Cooking show I came across a while ago. I added some fresh soybeans (edamame) as an experiment and it worked out great. For a different style, you can substitute pickled mustard green with napa, broccoli, or vegetables of your choice. Also you can add seafood or eliminate meat to make it vegetarian. Some variations also use soy sauce as seasoning.
[stextbox id="info" bgcolor="B2FAEE"]
Shanghai-Style Rice Cake w. Pickled Mustard Green- Ingredients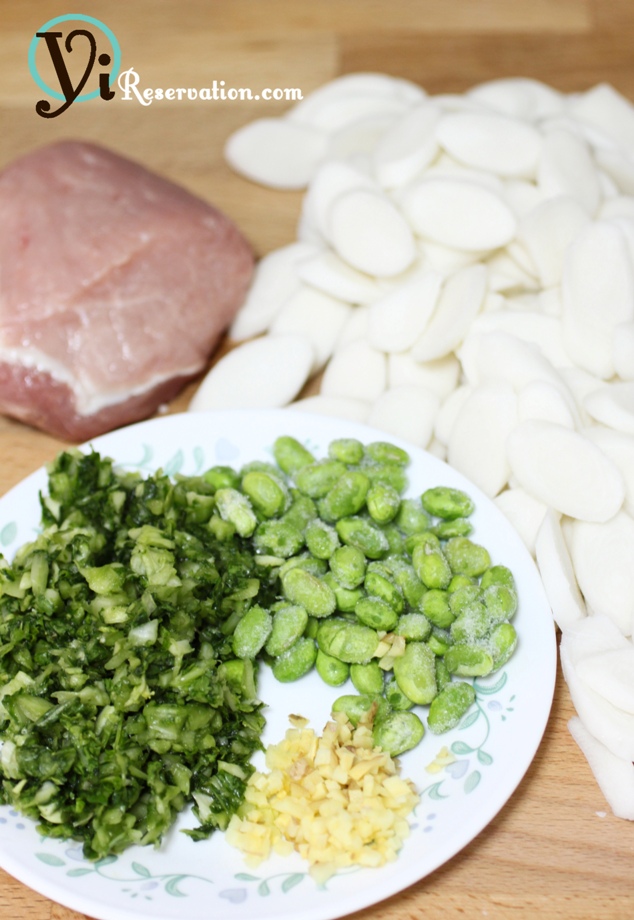 16 oz Rice cake, sliced
4 oz Pork, shredded and marinade.
3 tbsp Perseved mustard green
2 tbsp Soybeans(edamame), precooked (optional)
1 tbsp Ginger, chopped
1/2 cup stock or water
½ tsp Ground hite pepper
½ tsp sesame oil
Salt
[/stextbox]
[stextbox id="custom"]
Shanghai-Style Rice Cake w. Pickled Mustard Green – Step By Step
1.Cut and marinate the pork. This step can be done in advance.
2.Over medium heat, stir fry your pork with 1 tbsp of oil. Take it out as soon as the pork turns white.
3.This step is to soften the rice cake to make it easier to stir fry. You can either blanche it in boiling water for about 2 minutes or soak in hot water for 2.5 mins until the rice cake starts to turn soft. drain out the water and keep the rice cake in a strainer. Try to avoid blanching or soaking the rice cake for too long. If it's too soft it will be sticky and hard to stir fry.
[nggallery id=84]
4.In a skillet or pan, add 1 tbsp of oil, ginger, pickled mustard green, and soybeans. Stir fry until aroma arise. About 2 minutes.
5.Add the stock or water to the cooking ingredients. Stir to mix. Bring it to boil.
6.Add blanched rice cake and pre-cooked pork. Saute until incorporated. The liquid will reduce as the rice cake gets softer.  Add white pepper powder, salt, a few drops of sesame oil to season.
[nggallery id=85][/stextbox]
What's your favorite rice cake dish?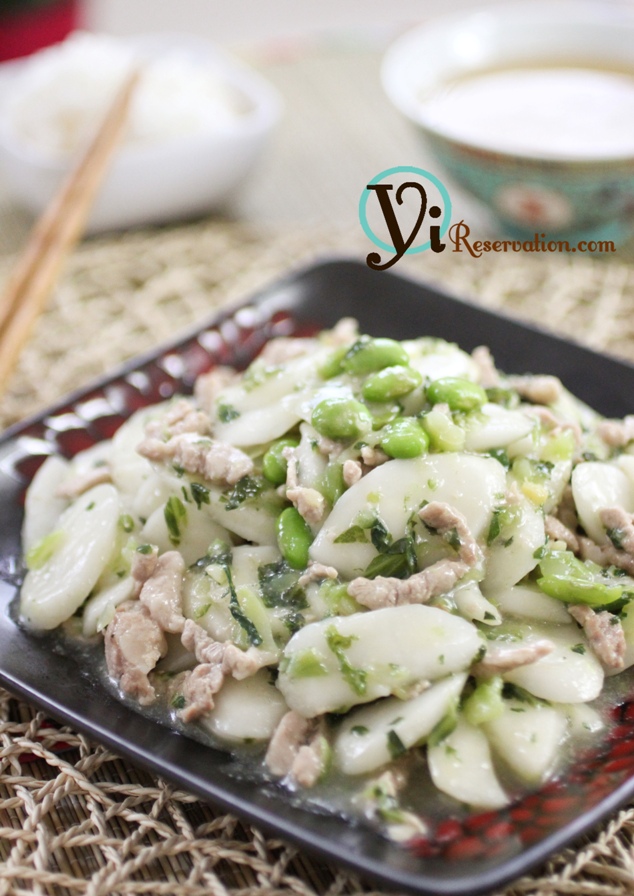 Warning
: Use of undefined constant rand - assumed 'rand' (this will throw an Error in a future version of PHP) in
/home/yirese5/public_html/wp-content/themes/yireservation/single.php
on line
72
Warning
: Parameter 2 to wp_hide_post_Public::query_posts_join() expected to be a reference, value given in
/home/yirese5/public_html/wp-includes/class-wp-hook.php
on line
287