Cantonese Style Shrimp Wonton 鮮蝦雲吞 + NYC Dumpling Festival 2016
Warning
: Parameter 2 to wp_hide_post_Public::query_posts_join() expected to be a reference, value given in
/home/yirese5/public_html/wp-includes/class-wp-hook.php
on line
287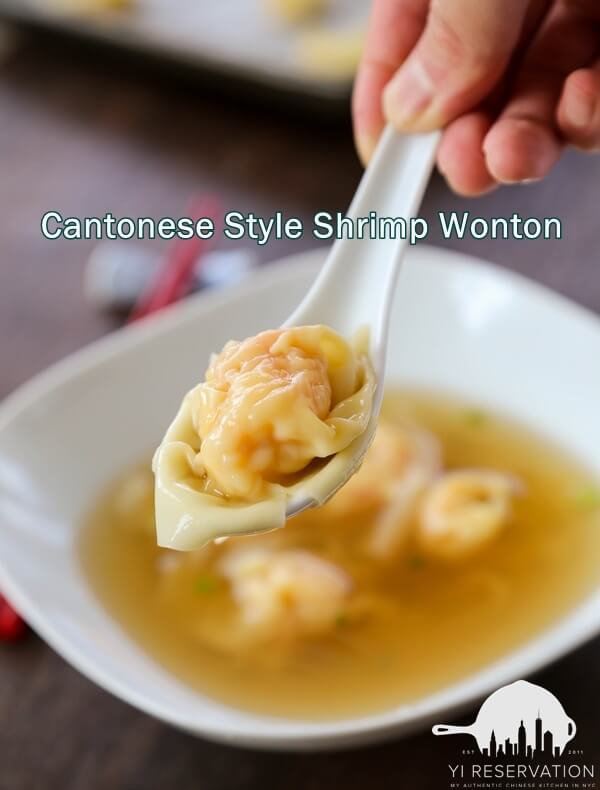 While I am still recovering from mooncake hangover during last week's Mid-Autumn Festival celebration, I am already pumped about upcoming National Dumpling Day which falls on 9/26/2016.
To celebrate, I am sharing this wonderful Cantonese-Style Shrimp Wonton Recipe that I have been holding off for special occasions like this. It's one of Mrs. YR's favorite dishes so I hope it'll become yours too.
Dumpling vs Wonton
"What's the difference between dumpling and wonton" is an age-old question I have been asked a lot. So I'll take this opportunity to offer my understanding.
So here are two ways to look at this.
One way is to consider dumpling as a general category includes food with filling wrapped in thin layer of dough. In that case, wonton is a type of dumpling. In fact, most Chinese restaurants list wonton under the dumpling section on their menu.
The other way is to strictly compare a traditional Chinese dumpling to a traditional Chinese wonton. Here are some of the differences:
| | | |
| --- | --- | --- |
| | Dumpling | Wonton |
| Shape & Folding Method | Taco shape with folds pinched length-wise | Triangular shaped with flat bottom. No folds |
| Skin | Round skin, relatively thicker | square skin, relatively thinner |
| Stuffing | Mostly ground meat with vegetables such as chive and cabbage | Mostly ground meat |
| Cooking Method | Boiled, Steamed, Pan-fried | Mostly boiled, occasionally pan-fried or deep fried (i.g. Crab Rangoon/Cheese Wonton) |
| When to server | Chinese New Year /significant festivals signifying  unity as well as year-round | Year-round |
So as you can see that the differences are really minor and the name dumpling is used interchangeably in certain context.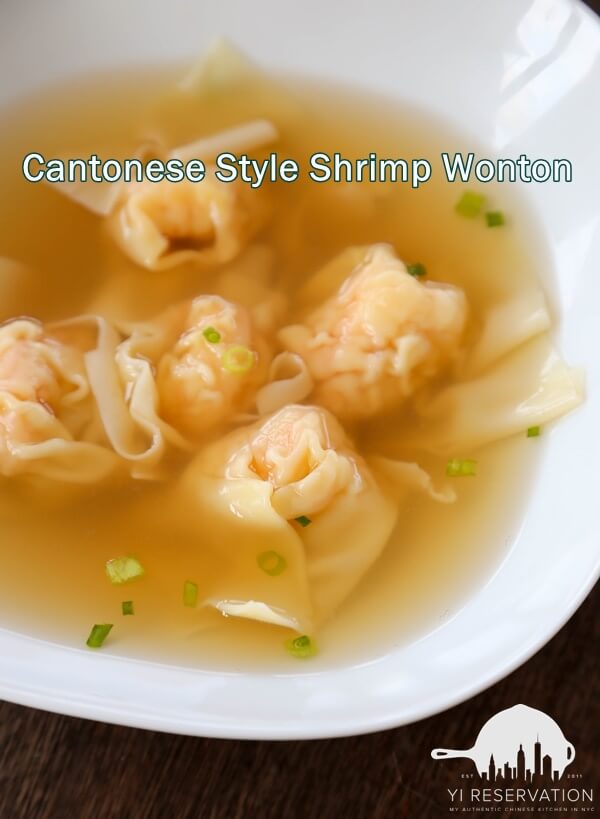 So, hope that clears up the dumpling/wonton confusion and you are now comfortable to enjoy these shrimp wontons on the National Dumpling Day!!
For all the dumpling lovers around NYC, you will also not want to miss the biggest dumpling celebration of the year by attending the 2016 New York Dumpling Festival hosted by Chef One. I had a great time at last year's Dumpling Festival so I have a really high expectation for this year's event.
6th Annual Dumpling Festival & 13th Annual Dumpling Eating Contest
This year's NYC Dumpling Festival marks the 6th year of this annual tradition. Here is what you need to know about the Festival:
The Dumpling Festival is held on Sept 24, 2016 from 12p, – 5pm at:
Sara D. Roosevelt Park in Manhattan's Lower East Side
The admission is FREE but you definitely want to purchase a tasting ticket ($20) which will get you 4 tastings and entry into raffle draw to win two Delta tickets and One Year worth of dumpling supply from Chef One! All the ticket sales will go to Food Bank of NYC.
This year, the organizer at Chef One will have a number of booths offering a wide variety of dumplings from vegan options (kale and edamame) to brand new flavors such as kung pao chicken dumplings. So you'd better bring your appetite!
Pro tip – please make sure you catch the Annual Dumpling Eating Contest which kicks off around half way into the festival.
Last year, I witnessed the winning contestant devouring 93 dumplings in just 2 minutes and world class act Takeru Kobayashi tearing down 32 dumplings in just 30 seconds so I am pretty sure another furious competition is awaiting.
If you are interested in learning the differences between different kinds of dumplings and making your own dumplings, I also encourage you to sign up for a dumpling making class offered on the day of the festival.
Lastly, if you are on social media, please tag your pictures to #Dumplingfest2016. I'd be thrilled to hear your experience.
More on Cantonese Style Shrimp Wonton Recipe
If NYC is not somewhere you'll be this fall, then definitely give today's Shrimp Wonton recipe a shot. It's, in my opinion, easier to make than the traditional pork chive dumplings and excellent for people who love seafood or simply don't eat red meat.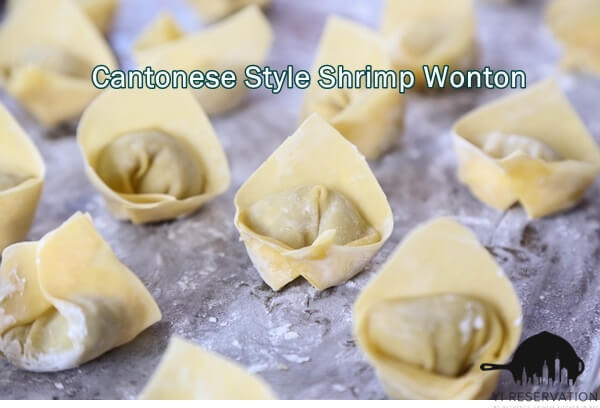 The Cantonese style wonton is known for its simple flavor and wrapping method. If you've made wonton before, you probably know there are quite a few folding methods (and at least 5 different Chinese names). The folding method introduced in this recipe is not the easiest but it's totally doable and it makes a really pretty wonton compared to the traditional Cantonese style folding method.
Note on storage. When I make wonton I tend to make a bunch so I can freeze the extra wontons for a future quick meal. If you end up having leftover wrappers, you can also freeze them for up to 1 months but just make sure you wrap them really really well.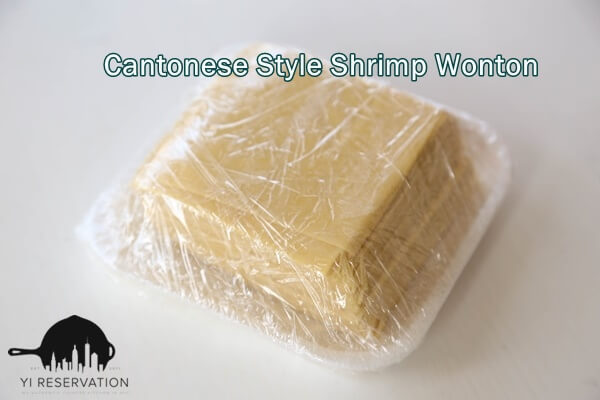 Note on wonton soup. These Cantonese Style Shrimp Wontons are typically served in a seafood stock made with dried seafood. To simplify, I included a quick shrimp stock made from the shrimp shell. If you are working with de-shelled shrimp, you can substitute the stock with any seafood or chicken stock of your choice.
One last thing, although it's not included in the recipe, you can simply add a roll of cooked noodle to the final dish to make the famous Cantonese Style Wonton Noodle soup – it's just that easy.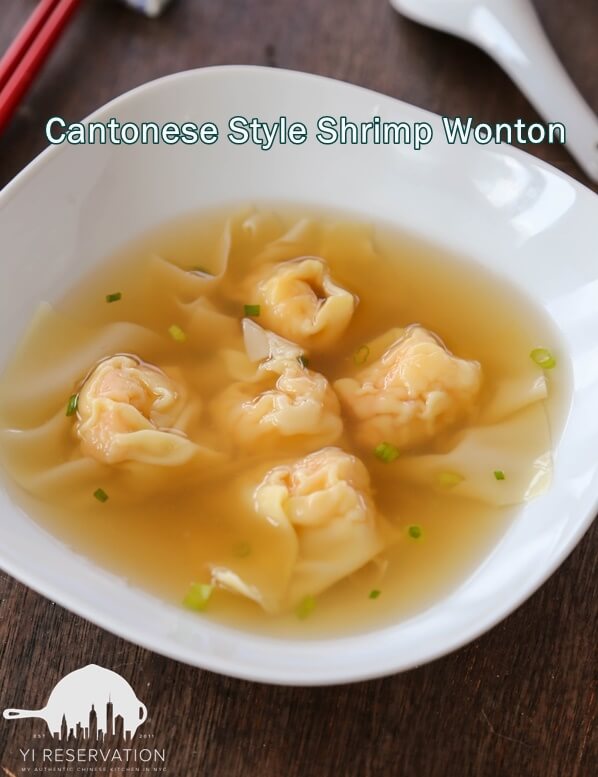 Step-by-Step
Cantonese Style Shrimp Wonton 鮮蝦雲吞

Yield: 50 Wontons

Prep Time: 60 mins

Cook Time: 5 mins

Total Time: 65 mins

Make these classic Cantonese-Style Shrimp Wontons following my step-by-step recipe at YiReservation.com

Ingredients:

1 pack Wonton wrappers, around 50

Shrimp Filling:

2 lb shell-on medium shrimp (0r 1lb 10oz deshelled)
1 egg
2tbsp Shaoxing cooking wine
2 tbsp corn starch
1.5 tsp kosher salt
1 tsp sugar
1 tsp sesame oil
1 tsp  white pepper powder

Wonton Soup

shrimp shell
salt to taste
white pepper powder to taste

Directions:

If working with shell-on shrimp, follow this instruction to de-shell, devein the shrimp. Keep the shrimp shell. Cut each piece of shrimp into 2-3 pieces depending on the size. Transfer to a bowl. Separate the egg white from egg yolk. Use egg white to marinate the shrimp. Save the egg yolk for later. Add all the shrimp marinade ingredients to the shrimp and mix in one direction until the ingredients are fully incorporated. About 3 minutes. Cover and leave in the fridge for 20 minutes. To make a light and clear seafood soup, combine the shrimp shell from step 1 and 4 cups of water in a pot and bring to boil. Remove as much foam as possible. Simmer the shrimp shell for at least one hour or up to 3 hours. Drain and use the soup to serve wontons. Combine the egg yolk with 1tbsp of water to make an egg wash. To assemble wonton, place one wonton wrapper on your palm in diamond position. Use a butter knife to place one or two pieces of shrimp on one corner of the wrapper. Flip the corner of the wrapper inward to wrap the shrimp and roll the wrapper one more time. Gently squeeze out any air left inside Wet one side of the two corners with egg wash Bring the two long corners together to form a "boat" shape. Repeat these steps until you finish the filling or wonton wrapper. Bring a large pot of water to boil and cook the wonton for 3 minutes. Gently stir the wonton to prevent from sticking to the bottom of the pot. Serve with shrimp soup from step 3.
I hope you enjoy this post and please leave a comment if you have any questions.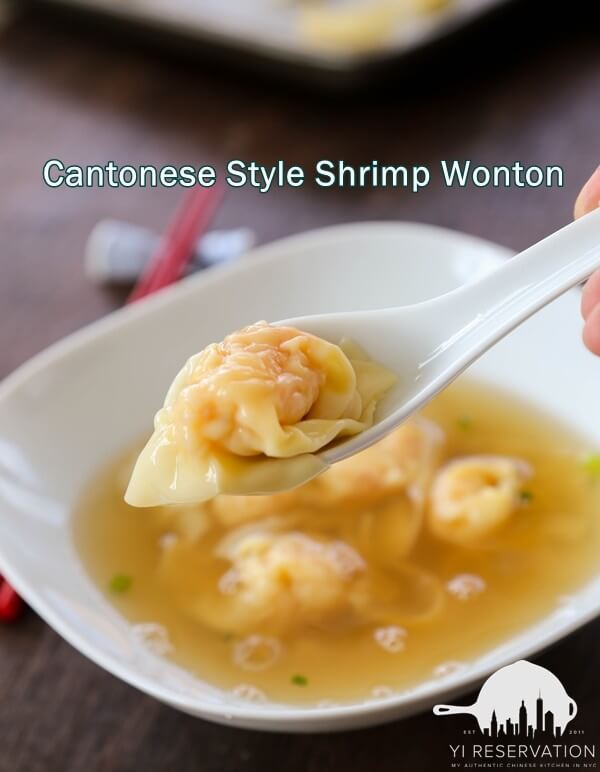 Warning
: Use of undefined constant rand - assumed 'rand' (this will throw an Error in a future version of PHP) in
/home/yirese5/public_html/wp-content/themes/yireservation/single.php
on line
72
Warning
: Parameter 2 to wp_hide_post_Public::query_posts_join() expected to be a reference, value given in
/home/yirese5/public_html/wp-includes/class-wp-hook.php
on line
287