Sichuan Spicy Cold Noodle (四川麻辣涼面)
Warning
: Parameter 2 to wp_hide_post_Public::query_posts_join() expected to be a reference, value given in
/home/yirese5/public_html/wp-includes/class-wp-hook.php
on line
287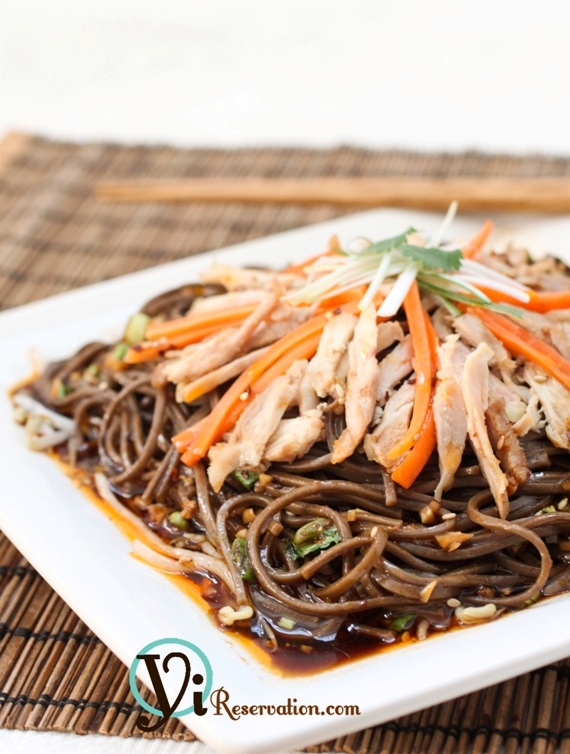 To give myself a break from this winter diet (which mainly includes stews, soups, and stuff that's generally hot and saucy) that I've been having, I decided to make some comfort food , something tastes like home that I've been craving for. As a bonus, you'll be glad that you've found this post if you have some leftover chicken or turkey meat that you don't know what to do with. You are about to turn that into something really yummy.
For those of you noodle fanatics who appreciate the essence of the famous Dan Dan Noodle, you'll surely love his less known brother named Sichuan cold noodle. Like the Dan Dan Noodle, this addictive classic cold noodle dish is spicy, sour, garlicky, and sweet. Of course, as you've guessed it also features the "ma la"( 麻辣) or tongue numbing Sichuan peppercorn in the special Sichuan spicy sauce.
Similar to the hot and sour noodle, the Sichuan cold noodle also a very common dish found all over the streets in Sichuan (Szechuan) region. I missed the days when I could just grab a snack size bowl of these noodles from one of many street vendors and chow it down as I walk back home from school. More formally though, the cold noodles are served with congee or soup as a simple brunch.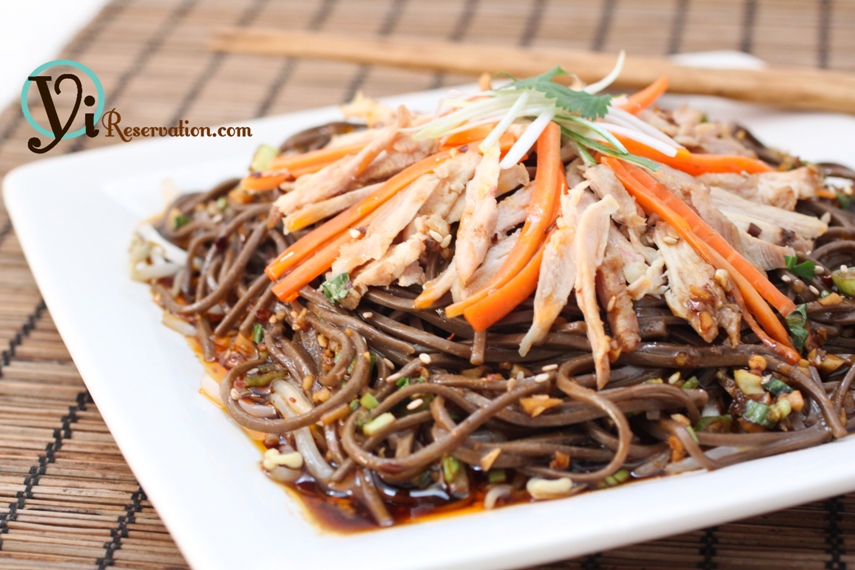 In this recipe, I used Japanese soba noodles instead of Chinese wheat noodle. I find the texture of soba just a little better for the cold noodle. The Sichuan spicy sauce in the recipe is so versatile that I encourage you to try it on different ingredients. You'll be surprised how well it goes with your other ingredients.
[stextbox id="info" bgcolor="B2FAEE"]
Sichuan Spicy Cold Noodle – Ingredients (for 4 people)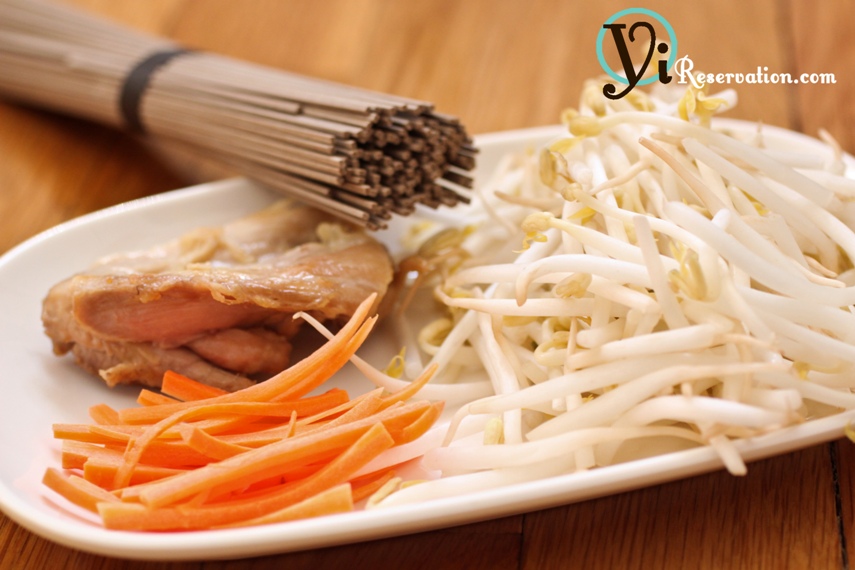 4 roll Dry soba noodle
1 piece Leftover chicken meat (or freshly made chicken)
1 oz Carrots, thinly shredded
2 oz Mung bean sprouts
Sichuan spicy sauce
5 tbsp Soy sauce
2 – 3 tbsp Hot chili oil (add more if you like it spicy)
1 tbsp sugar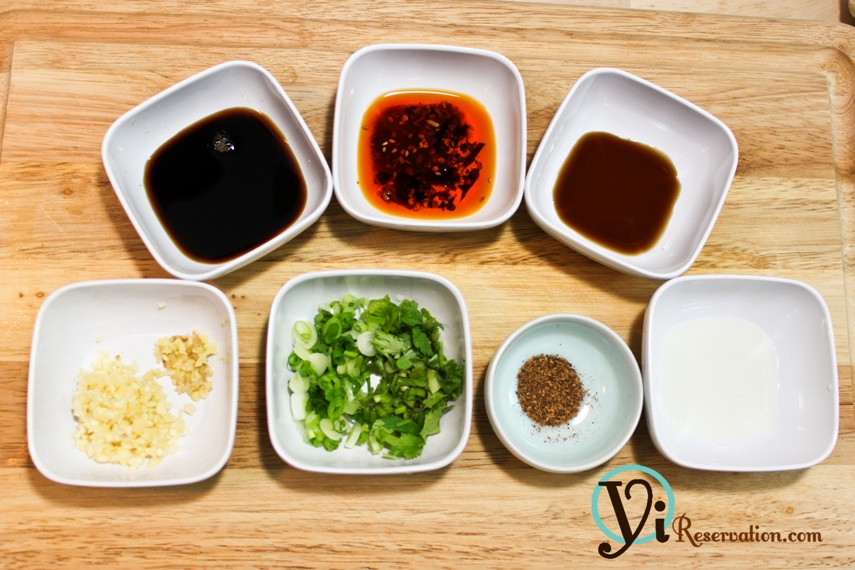 1.5 tbsp Chinese dark vinegar (or rice vinegar)
1 tsp Sichuan peppercorn powder
2 tbsp water
1 tsp Salt
½ tsp Minced ginger
½ tsp sesame seeds
1 tbsp each of Minced garlic, chopped scallion, and chopped cilantro[/stextbox]
[stextbox id="custom"]
Sichuan Spicy Cold Noodle – Stey By Step
1. For Sichuan spicy sauce, combine all spicy sauce ingredients in a bowl and stir to mix. This can be done in advance.
2. Blanched the mung bean sprouts and carrots in boiling water for about 30 seconds. Drain and set aside.
3. Shredded the chicken into small stripes.
[nggallery id=64]
4. Cook the soba until al dente. About 4 minutes. Emerge the noodles in running cold water immediate to chill. Drain the noodles on a mesh strainer.
5. Place the bean sprouts, noodles on a plate. Top the noodles with chicken and carrots. Lastly, dress the noodles with 2 to 3 tbsp of Sichuan spicy sauce.
[nggallery id=65]
[/stextbox]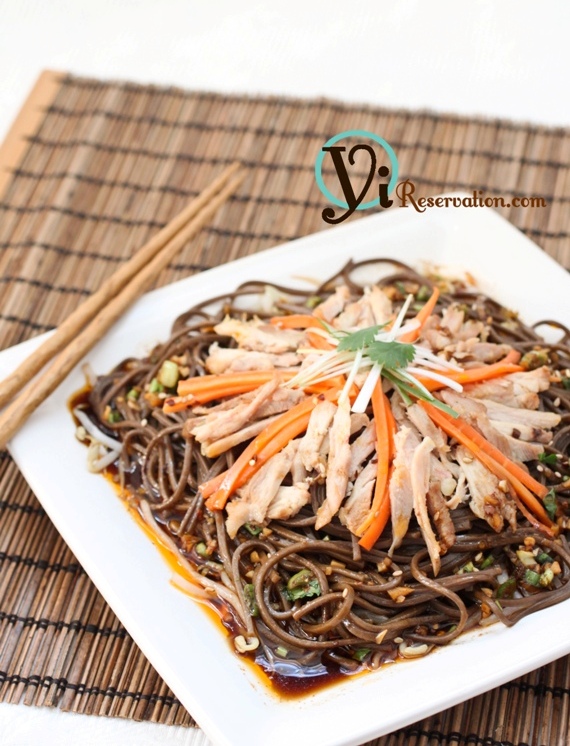 Warning
: Use of undefined constant rand - assumed 'rand' (this will throw an Error in a future version of PHP) in
/home/yirese5/public_html/wp-content/themes/yireservation/single.php
on line
72
Warning
: Parameter 2 to wp_hide_post_Public::query_posts_join() expected to be a reference, value given in
/home/yirese5/public_html/wp-includes/class-wp-hook.php
on line
287