Stuffed Fuzzy Melon(瑤柱肉餡扒節瓜)
Warning
: Parameter 2 to wp_hide_post_Public::query_posts_join() expected to be a reference, value given in
/home/yirese5/public_html/wp-includes/class-wp-hook.php
on line
287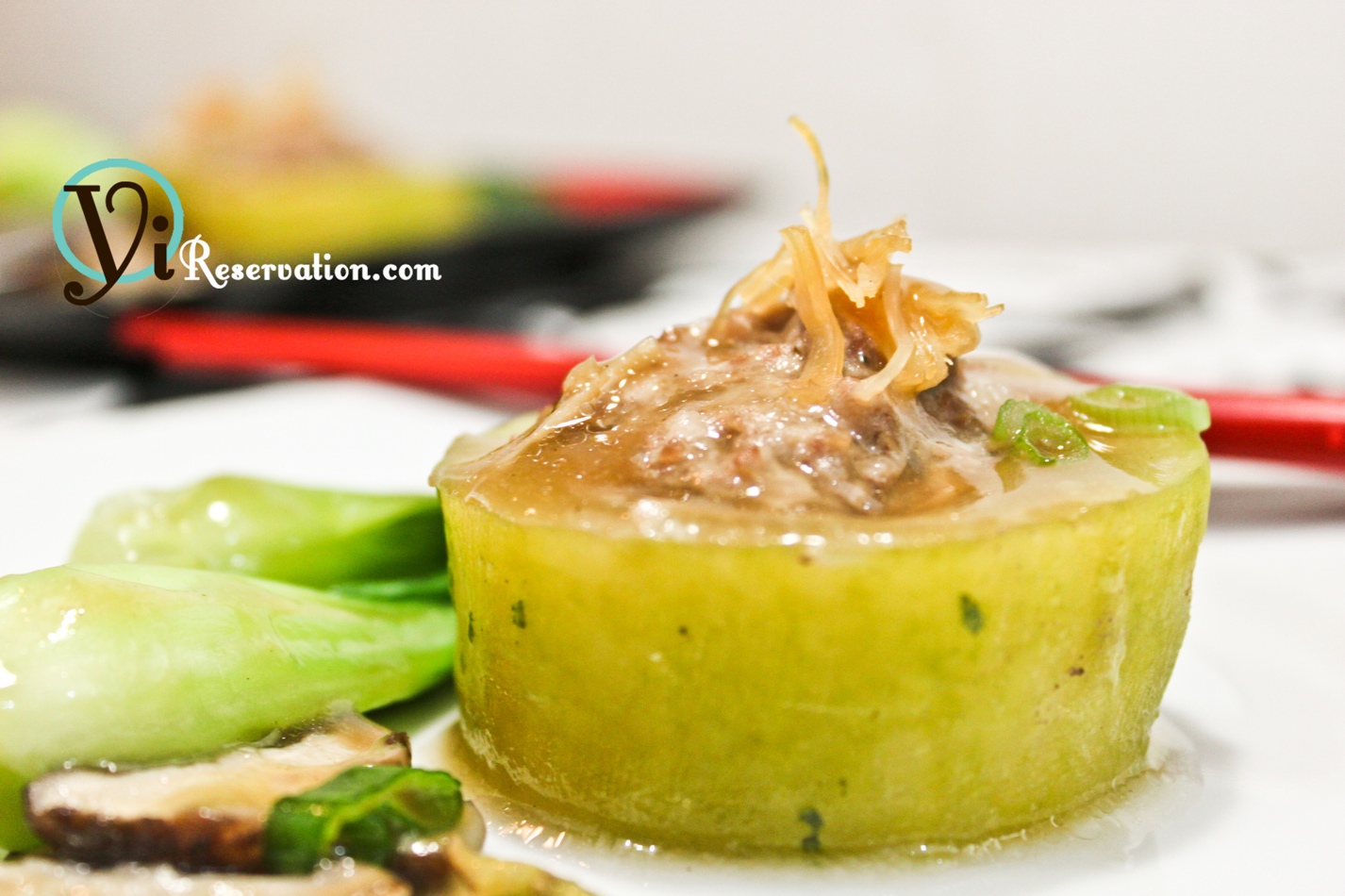 Although a perfectly grilled juicy medium-rare steak is one of my favorites when I dine out, I almost always do it with a side of green. Not that I like vegitables that much but I was brought up eating Chinese food where most of the dishes are consisted of a mix of proteins and non-protein ingredients.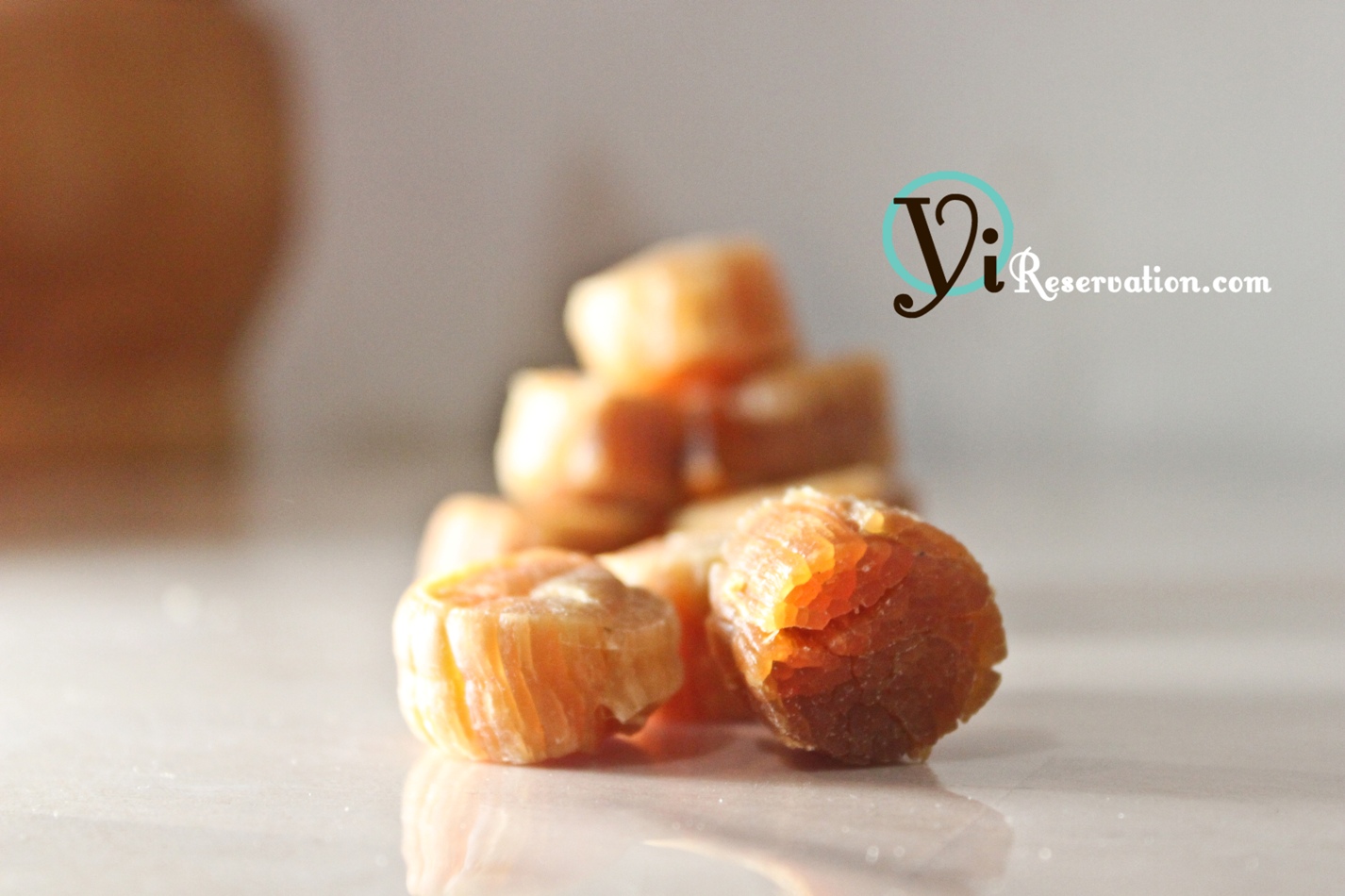 The Chinese are very good at combining meat and vegetables together. You'll find that a lot of Chinese dishes are really just a balance between meat and vegetables. The interactions between the ingredients can be complicated but they tend to live in harmony. The protein gives the flavor to the vegetables and the vegetables complements the protein. Confused of what I just said? Let me explain to you with this elegant stuffed fuzzy melon dish.
First of all, I'd like to introduce a dry seafood ingredient call conpoy or dried scallop. Conpoy is believed to be very rich in amino acids and other nutrients. It is very rich in flavor so normally a small quantity goes a long way. Conpoies are sold under different grades.Premium grade conpoy can be sold for over $300/lb.
In this recipe we will use exactly one medium size conpoy to flavor the fuzzy melon (also known as Hairy Melon). This dish will also involve steaming to preserve the natural taste of all the ingredients. If you can not find fuzzy melon you can also substitute it with zucchini.
[stextbox id="info" bgcolor="9fdfd9″]Ingridients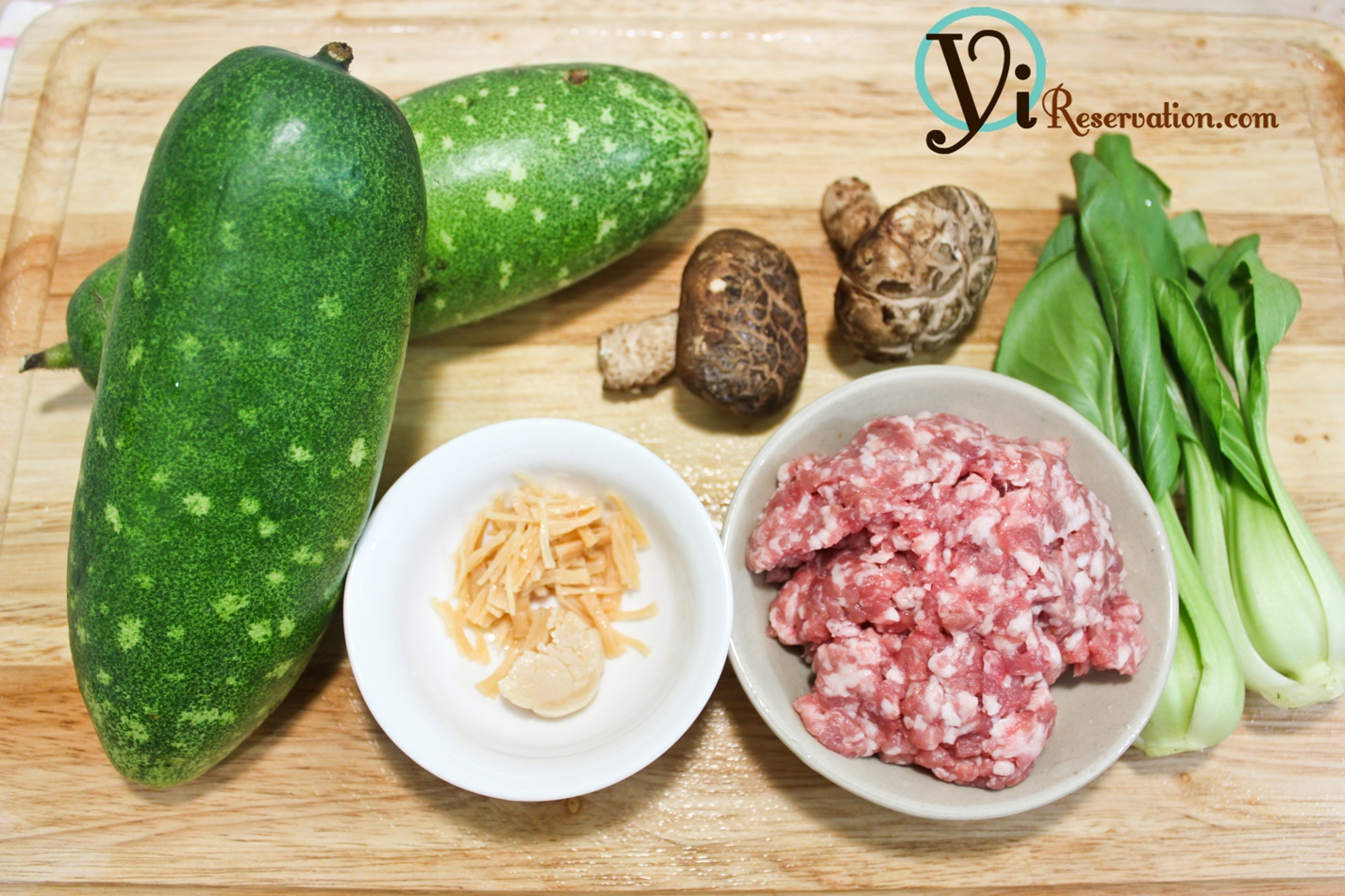 2 Small fuzzy melon, about 1.5 lbs
10 oz ground pork (can use chicken or beef)
1 shiitake mushroom, sliced
2 head bok choy
1 conpoy
Stuffing Marinade
2 tbsp soy sauce
1 tsp white pepper powder
1 Shiitake mushroom, minced
1 tsp Minced ginger
1 tsp sugar
1/2 tsp Sesame oil
1 tbsp Corn starch
2 tbsp Water
1/2 tsp Salt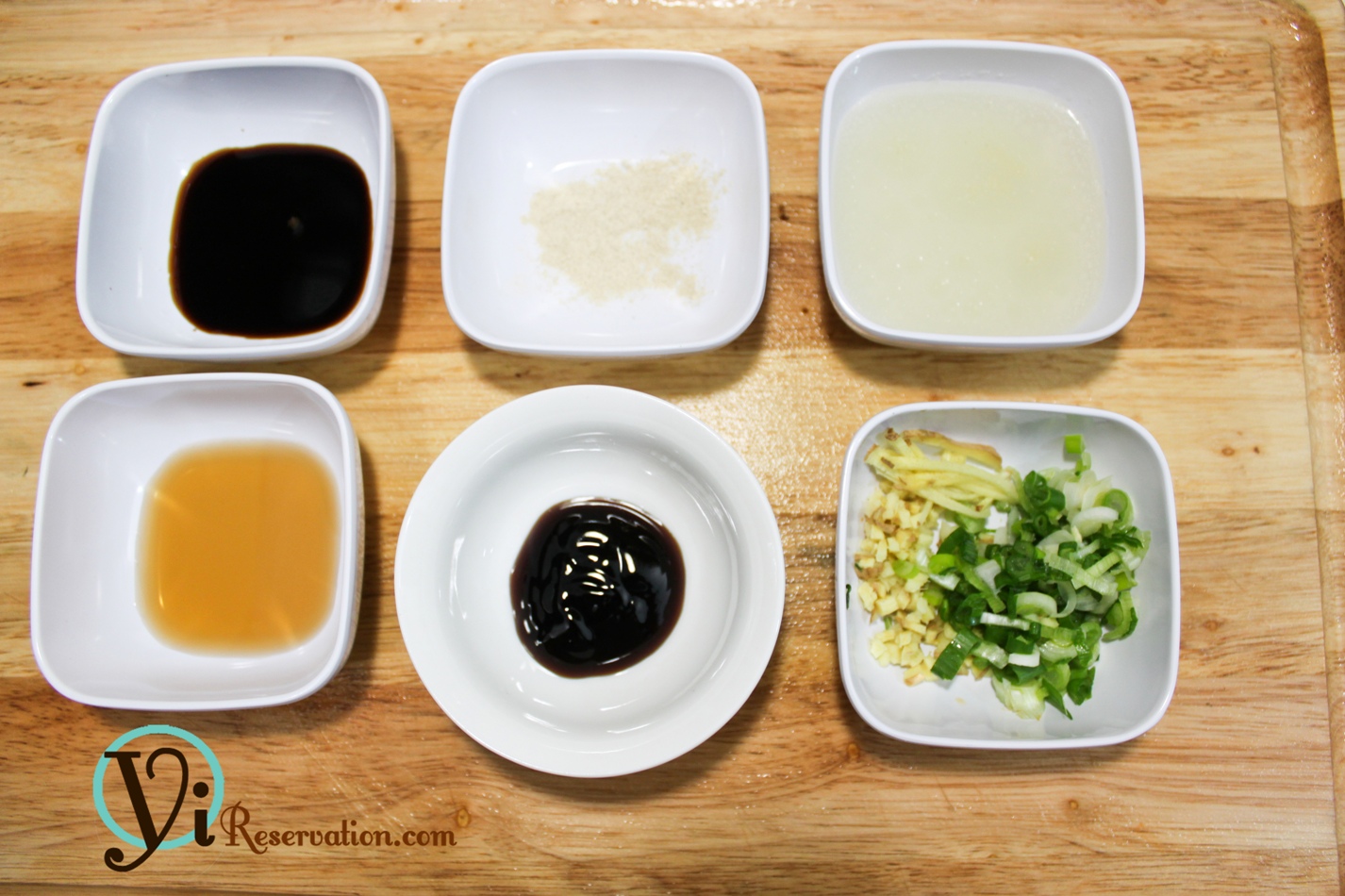 Sauce Condiments
1 tbsp Oyster sauce
2 tsp Soy sauce
1 tsp White pepper powder
1 tsp Thin ginger strips
1/3 Conpoy strips
1 tbsp Chopped scallion
1/2 tsp Sesame oil
1 tbsp Corn starch, dissolved in 1.5 tbsp of water
4 tbsp Chicken stock[/stextbox]
[stextbox id="custom"]Steps (for 4 Servings)
Do ahead of time: Soak the conpoy overnight. Break the re-hydrated conpoy into small strips.
1. Lightly peel the fuzzy skin using a knife. A skin peeler tends to peel off too much of the flesh. . The peeled fuzzyu should look pale green, not white. Cut into to 1 inch tall tubes. Marinate ground pork with the marinade condiments.
2. Combine all the stuffing ingriends and mix well in a bowl. Let it sit for at least 10 mins before use.
3. In boiling water, blanche the fuzzy melon and bok choy. About 1 mintues for the bok choy and 4 minutes for the melon. Drain and let them cool.
[nggallery id=19]
4. Carefully carve out the seeds and some soft flesh in the middle of the melon. Stuff the melon with meat stuffing until it forms a small dome. Then top the stuffing with few strips of conpoy.
5. In a steaming pot, steam the stuffed melon and sliced shiitake mushroom for 15 minutes. When done, set aside any liquid rendered from the melon.
6. In a small skillet, combine the rendered liquid with the chicken stock. Add all the sauce condiment except the corn starch. Make well and let it boil for 2 minutes. Ajust the flavor by adding salt. Add the starch to thicken the sauce. Serve your melon with 1 tbsp of the sauce.
[nggallery id=20][/stextbox]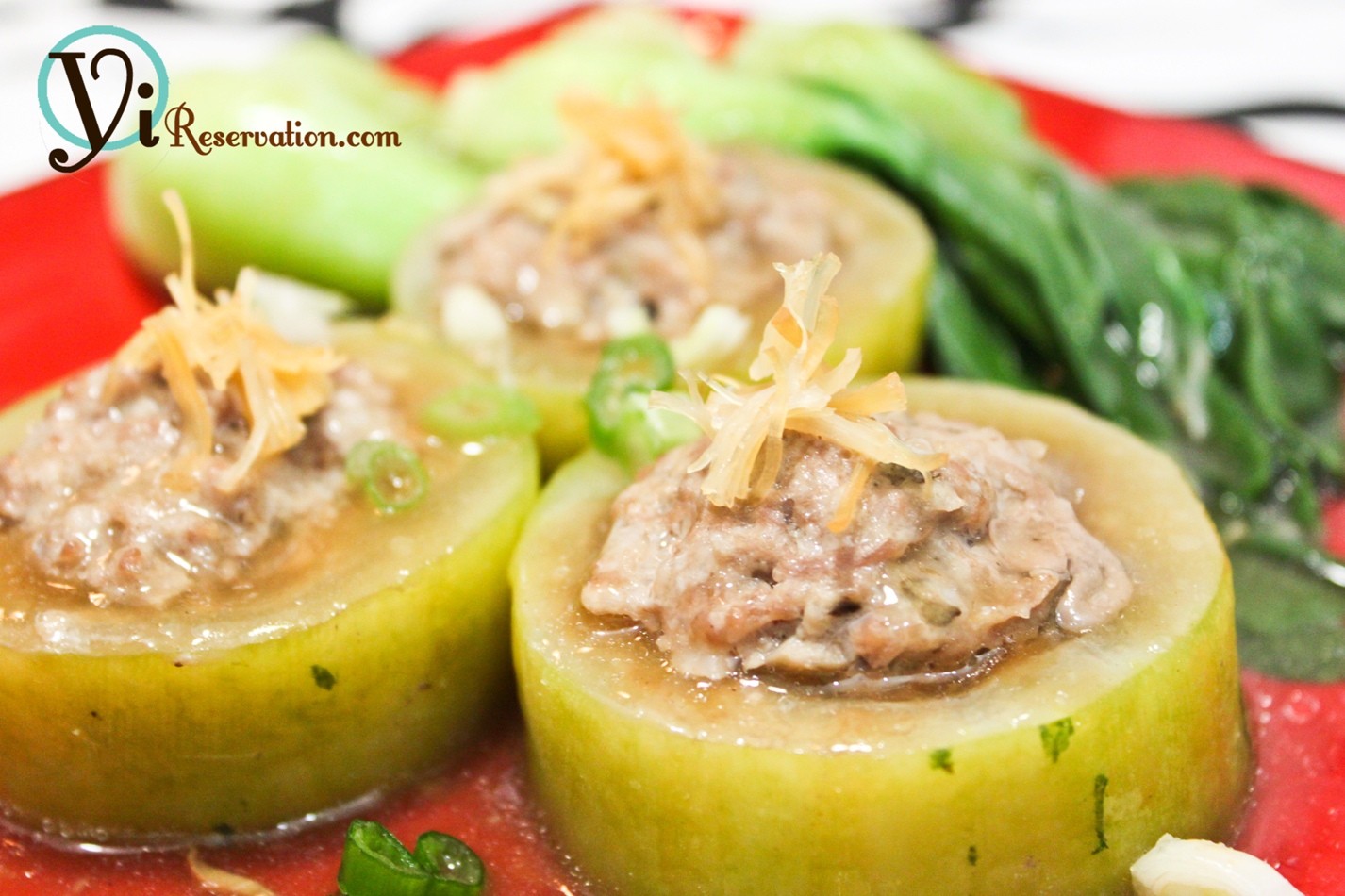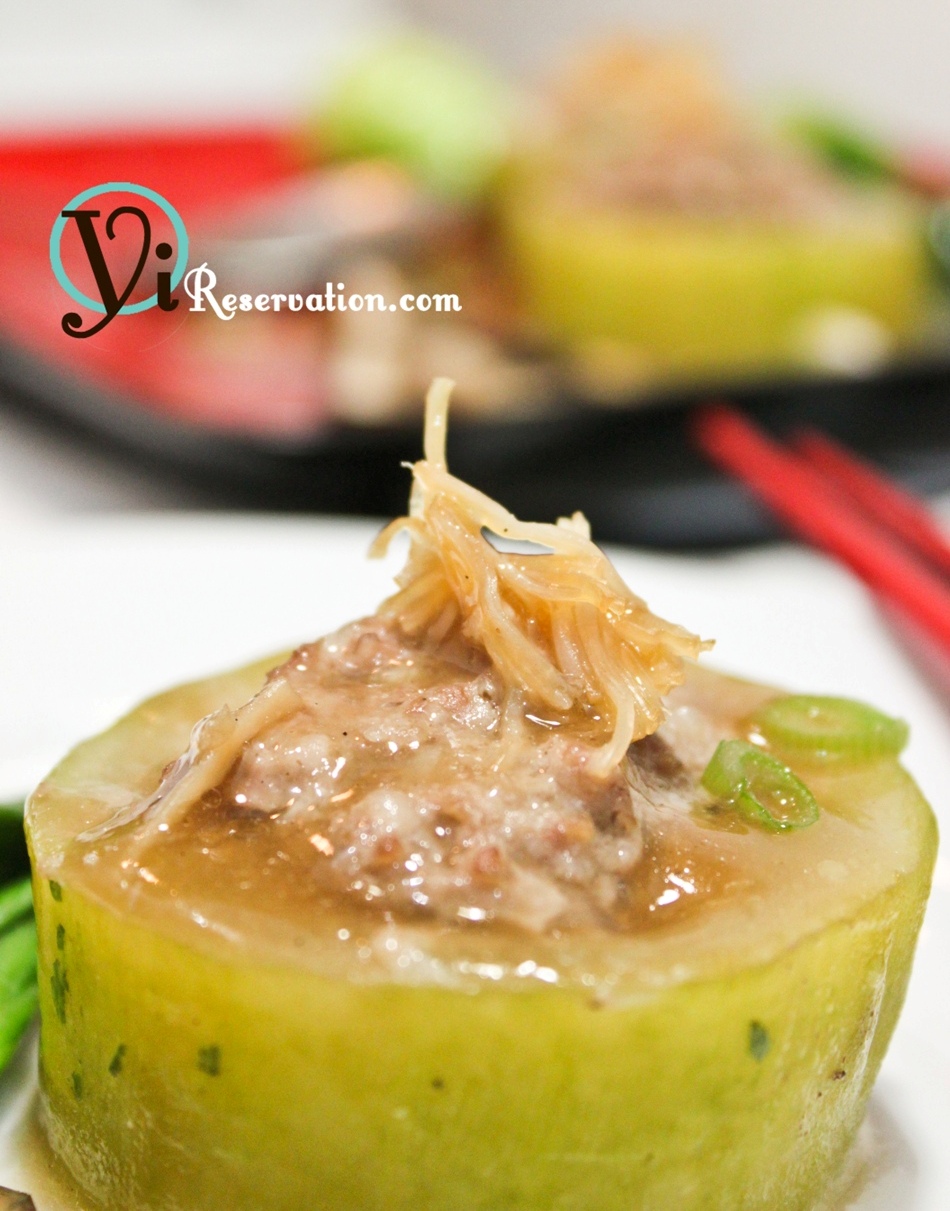 Warning
: Use of undefined constant rand - assumed 'rand' (this will throw an Error in a future version of PHP) in
/home/yirese5/public_html/wp-content/themes/yireservation/single.php
on line
72
Warning
: Parameter 2 to wp_hide_post_Public::query_posts_join() expected to be a reference, value given in
/home/yirese5/public_html/wp-includes/class-wp-hook.php
on line
287