Sweet Coconut Mochi (椰絲麻糬)
Warning
: Parameter 2 to wp_hide_post_Public::query_posts_join() expected to be a reference, value given in
/home/yirese5/public_html/wp-includes/class-wp-hook.php
on line
287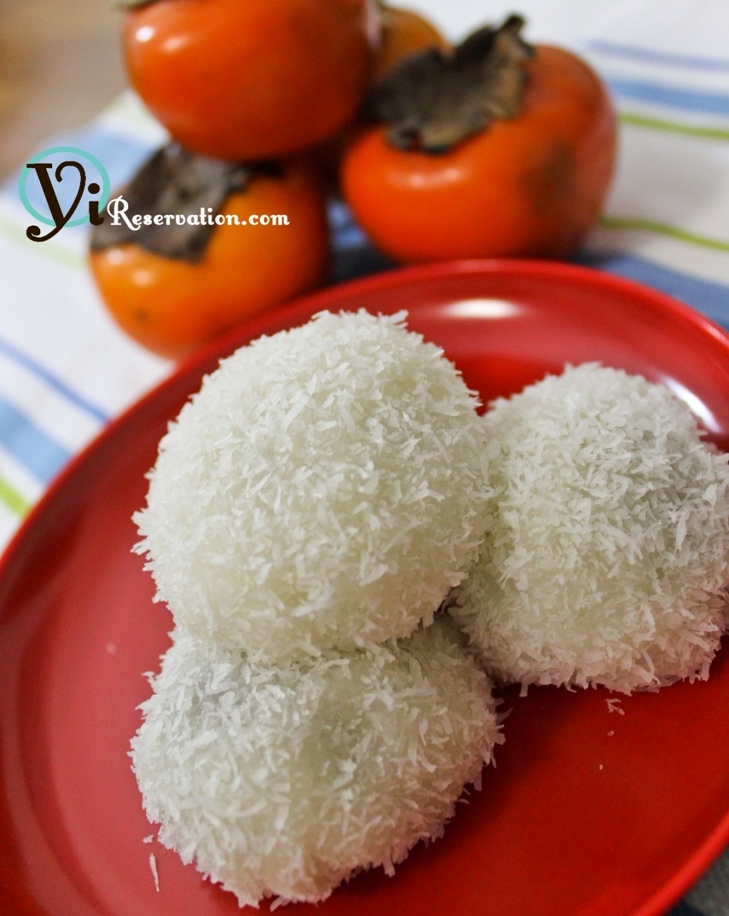 I have never been a big fan of sweets throughout my life. Partially it is because I just love the "real cooked"  food so much that I never end up having room for any dessert. However when I do feel like enjoying some desserts I tend to stick to a few of my beloved sweets. And mochi with sweet stuffing is definitely one of my favorites.
Mochi is the  Japanese anme for glutinous rice cake. The origin of mochi is unknown, though said to come from China. The mochi itself does not offer much of taste but a soft and sticky texture. However, the real magic starts when you incorporate some flavors to the mochi and stuff it with some sweet filling such as red bean paste. The name Daifuku (means good luck in Japanese) was given to this kind of mochi and it is popular around the world.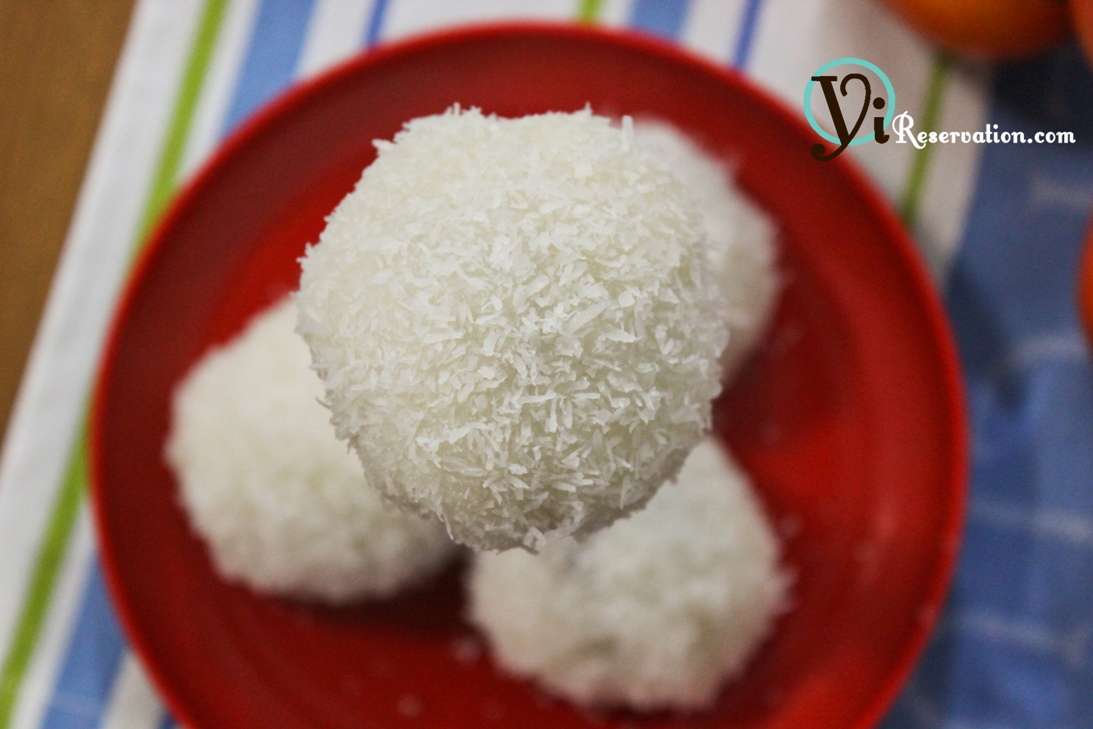 Although not a strictly Chinese dessert, mochi shares a lot of similarities with many of its Chinese counterparts such as sticky rice roll and Chinese sweet rice ball (湯圓). And of course, the same kind of red bean paste and glutinous rice flour have long been used in many Chinese cooking beyond just desserts As the first recipe in 2011, I would like to share this "good luck" mochi dessert with all of you and wish you a great Year of the Rabbit!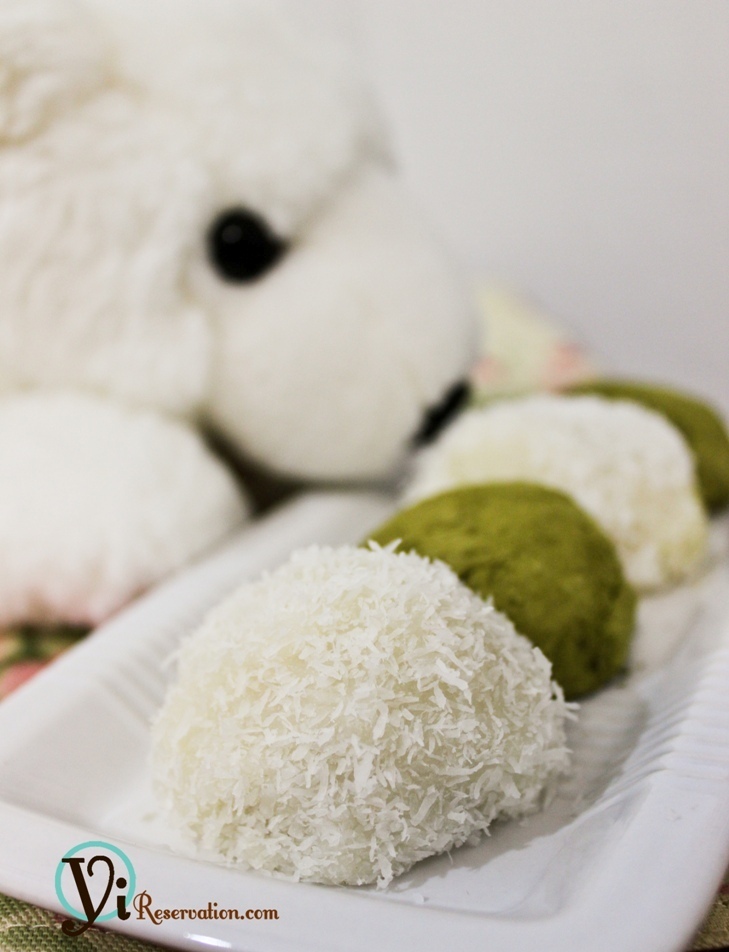 Before we get started I would like to introduce you to my first special guest to Yi Reservation – Alice C. Alice is a great home pastry chef as well as my fiancée. When she is in the kitchen she likes to whip up all sorts of desserts especially cookies, breads, cakes, and other baked goods. When I found out she also specialized in some Asian desserts I had to ask her to share this mochi recipe on Yi Reservation.
In this simple mochi recipe, you'll need some glutinous rice flour (sweet rice flour) as well as red bean paste. Both of them can be purchased from Asian supermarkets. If you cannot find red bean paste, you might want to check out this red bean paste recipe.
I love coconut flavor so I used threaded coconut to finish the mochi. The coocnut mochi looks like a puffy stuffed bear's fur. When the bear spotted the leftover he really wantes to take a bite on the sweet coconut mochi and green tea mochi. You can also easily substitute it with otherflavors such as green tea, chocolate, mango, orange, and etc. What is your favorite mochi flavor?
[stextbox id="info" bgcolor="9fdfd9″]Mochi Ingredients (make 10 mochi)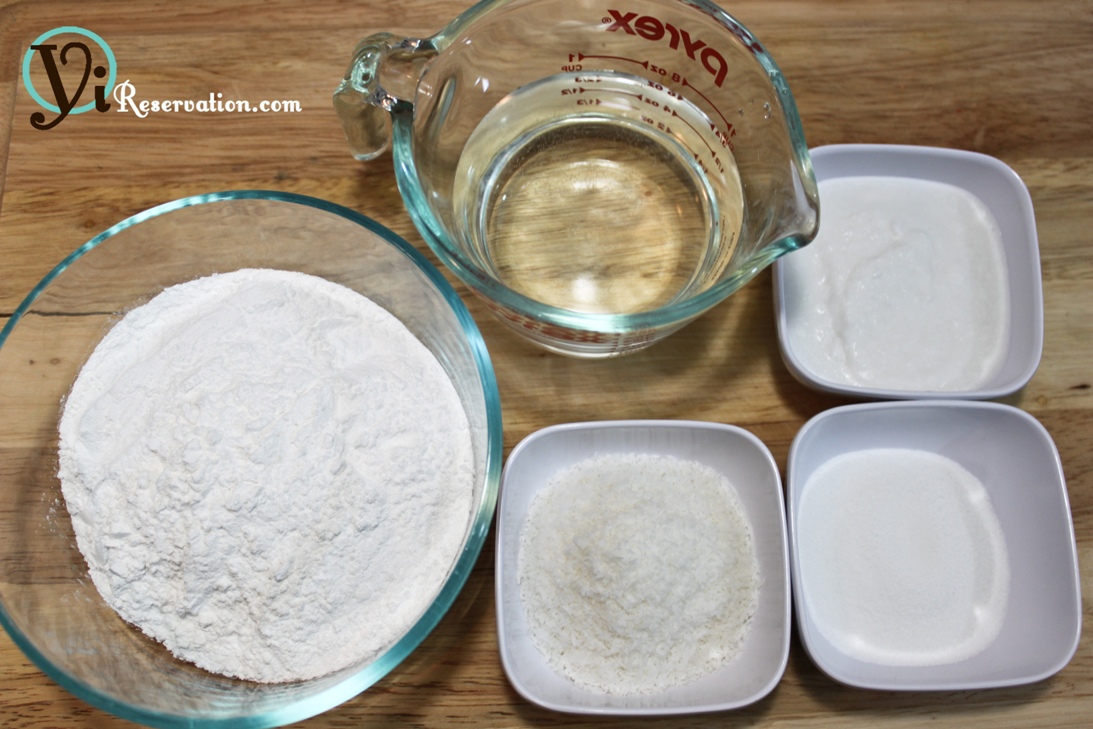 4.5 oz glutinous rice flour
1tbsp Sugar
2tbsp coconut milk
¾ cup water
2 drops of oil
Stuffing and Coating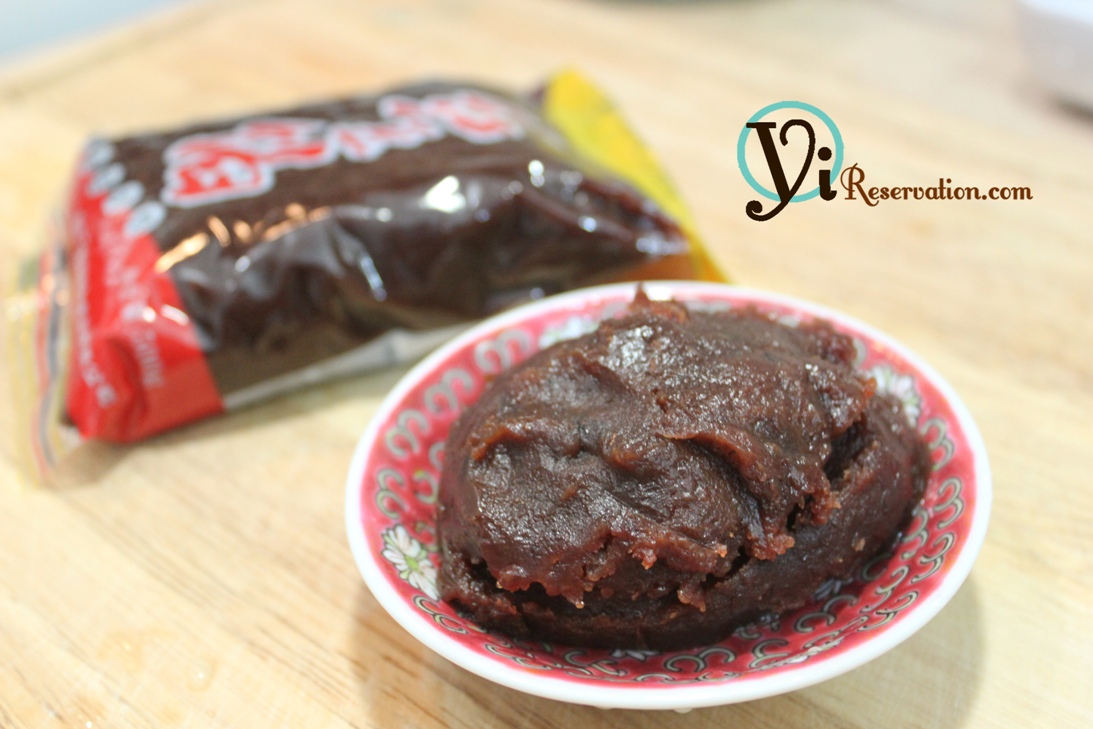 4 tbsp Sweet red bean paste
1 cup Threaded coconut
.
.[/stextbox]
[stextbox id="custom"]Step-by-Step
1. To make mochi batter: in a mixing bowl, combine glutinous rice flour, sugar, and coconut milk. Add water gradually and mix well.
2. The batter should be somewhat liquid. Add 2 drops of oil at the end and mix well with the rest. Transfer the batter to a heat resistant container and steam it for 20 – 25 minutes over medium-high heat.
3. While waiting for the glutinous rice, shape the red bean paste into 1 inch diameter balls. These will be the filling.
[nggallery id=38]
4. Check the steamed rice mixture with a stick or chop stick. It should be completely solid. Cool it down for about 8 minutes until you can handle it by hands. Do not let it cool down to room temperature.
5*. Take 1 tbsp of rice cake and covered it in a plastic food wrap on both sides. Slightly press the cake to flatten it out.
6. Place the bean paste ball filling n the middle of the flat cake. Carefully wrap the rice cake around the filling.
[nggallery id=39]
7. As you fold the cake to wrap the filling and close the opening, make sure you shape the rice cake in a ball.
8. Dust the mochi with threaded coconut thoroughly.
[nggallery id=40]*Tips: alternatively you can also work with a pair of food prep gloves. The idea is to have a no stick surface when handle the rice cake.[/stextbox]
Warning
: Use of undefined constant rand - assumed 'rand' (this will throw an Error in a future version of PHP) in
/home/yirese5/public_html/wp-content/themes/yireservation/single.php
on line
72
Warning
: Parameter 2 to wp_hide_post_Public::query_posts_join() expected to be a reference, value given in
/home/yirese5/public_html/wp-includes/class-wp-hook.php
on line
287