Osaka Food and Tour on Modest Budget – Part 1
Warning
: Parameter 2 to wp_hide_post_Public::query_posts_join() expected to be a reference, value given in
/home/yirese5/public_html/wp-includes/class-wp-hook.php
on line
287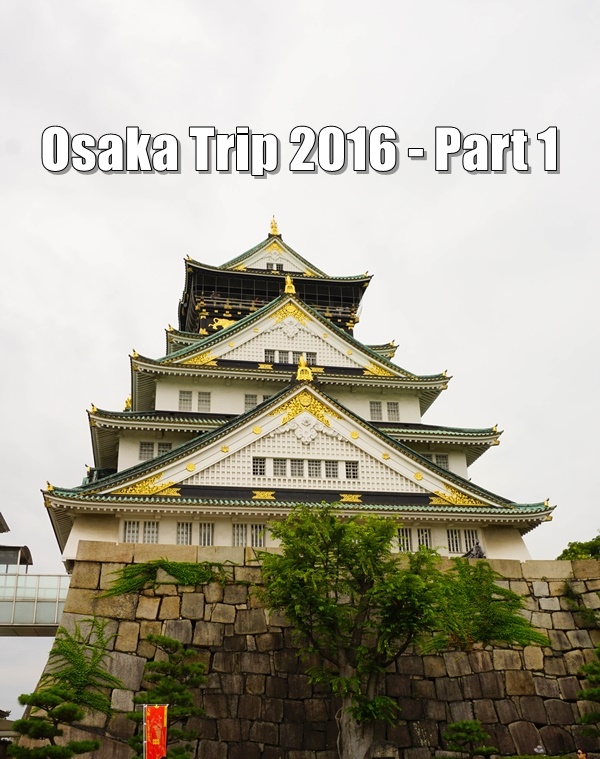 In summer 2016, Mrs. Yi Reservation and I visited Japan for 9 days where we spent time in Tokyo and Osaka/Kyoto/Nara (aka Kansai region). (I know this is a super-duper-late post nonetheless we wanted to share with you how awesome it was)
Our goal of this trip was to travel and eat well in Japan on a modest budget and we both think it was a success!
Although we didn't get to splurge on some of the famous Michelin stared restaurants during this trip, we had plenty of adventures and delicious and affordable local food everywhere we went.
You can read about our experience in Tokyo in my previous posts:
Tokyo Part 1
Tokyo Part 2
Tokyo Part 3
After spending five days in Tokyo, we took a 3 hour Shinkansen (bullet train) ride to get to Kansai area where we spent the last four days visiting Osaka/Kyoto/Nara. Let me just tell you up front now that four days in the Kansai is NOT nearly enough!
If you were to visit Japan for the first time, I'd suggest staying in Kansai for a little bit longer to get a full flavor of all the culture it offers
Osaka, the second largest city in Japan, is often regarded as Japan's kitchen, a name attributed to its major rice trading hub in the past but also largely reflecting its current status as a foodie's paradise.
Instead of giving a rundown of everything we did in Osaka, I am going to list the top 7 things we did and some of the tips for first timers. The list is in no particular order.
Kuromon Ichiba 黒門市場

The Kuromon Market is a massive covered outdoor street market that's also regarded as the kitchen of Osaka. It's perhaps one of the hottest tourist destinations in Osaka and everyone falls for it for a good reason: the endless amount of FOOD.
The biggest selling point of this market for me is I can try a wide range of Japanese food at the same time. You will find vendors selling fresh seafood such as all kinds of super fresh sashimi. Tuna lovers watch out because you will find yourself overjoyed by abundance of perfectly marbled toro sashimi.
If you like shellfish you will be equally excited by the display of fresh Japanese crabs, palm sized fresh oysters, uni (sea urchins), and sweet shrimp/ prawns. Depending on what you get the prices are not too bad for the most part.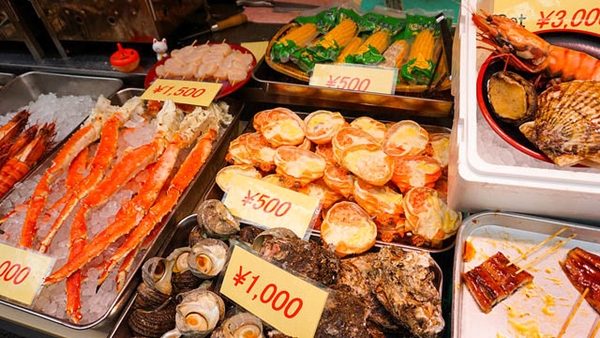 Another snack we liked a lot is this lollipop-like cooked baby octopus on a skewer. Just bite into the head and you'll find a stuffed quail egg inside as a surprise.Exotic? Maybe. Delicious? Absolutely! These cost 300 JPY each.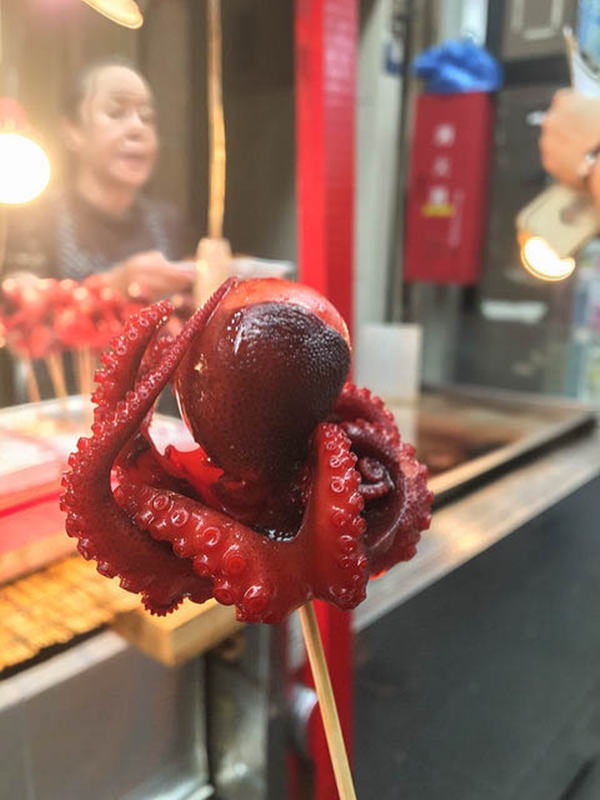 Or try a puffer fish aka blowfish aka fugu? From what I hear, it tastes like chicken.
We really wanted to give a shot but unfortunately we didn't budget the time for this and had to wait for our next visit 🙁
(If you've had puffer fish before please do share your experience in the comment)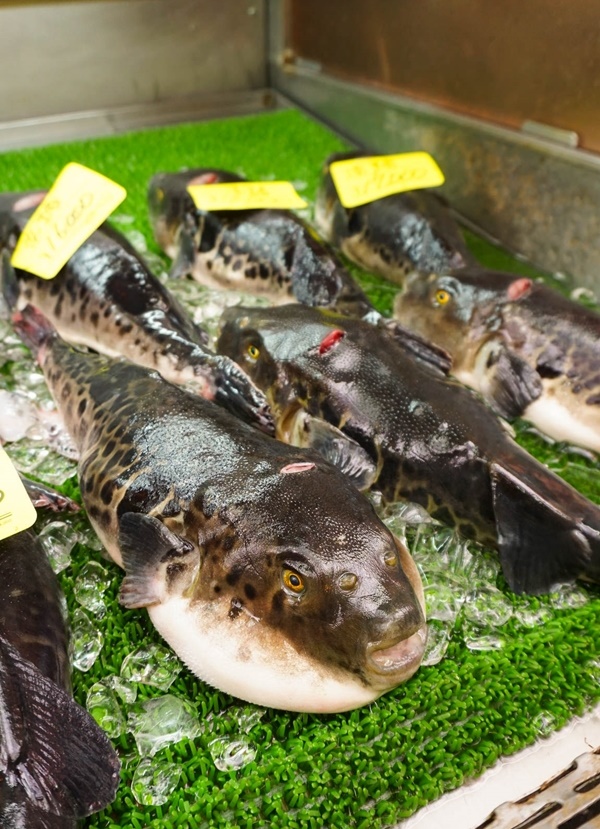 Not up for something as exotic? There's something for everybody here at Kuromon Market. If you like beef, you will find vendors selling grilled Japanese beef (wagyu) at very reasonable price – okay you need to read the fine prints before you order because the cheaper cuts may not be the top-notch Kobe Beef that you think you are eating.
In the winter, you can find this deliciously dish called Oden everywhere. Oden is a Japanese hot dish where things like fish cakes and daikon radish are slowly simmered in a big pot of dashi broth. Eating oden will warm you up in cold weather therefore pretty popular in the winter.
The oden found in Kuromon market is sold on skewers and will cost you between 100 JPY to 300 JPY per skewer.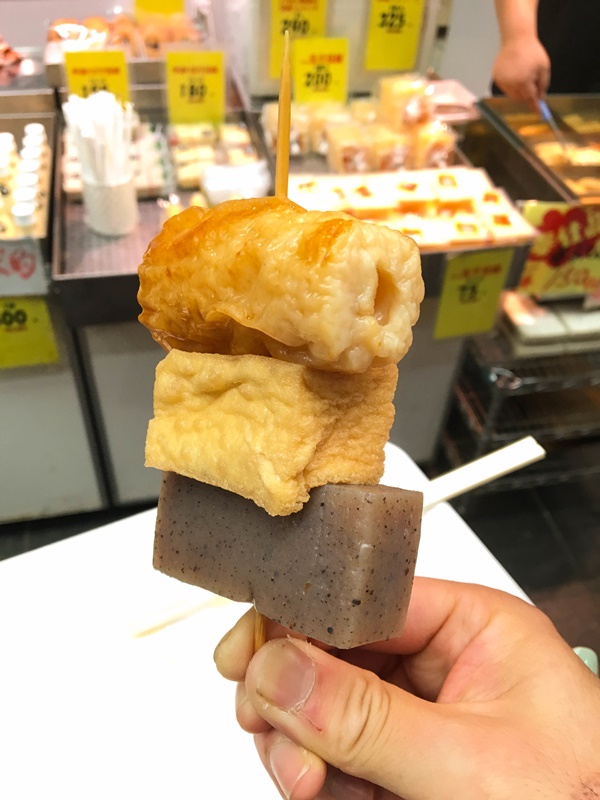 Looking for desserts or souvenirs to go? Kuromon Market got you covered. You will find shops that sell everything from strawberry mochi to ice-cream of all flavors to wasabi Kit Kat to cool Japanese socks, to cosmetic here. Excited yet?
The only problem we had was — we didn't have enough room in our stomachs. We pretty much stuffed our faces walking around this foodie's paradise.
If you don't speak Japanese at all, like us, don't worry, we managed to get around this market pretty effortlessly. The cool thing about traveling in Japan (so far) is that everyone's good at communicating with body languages when google translate fails.
Once again, I would recommend anyone who intended to visit the Kuromon Market to spend at least 2-3 hours here because you will need it. Just make sure you get there early before shops start to close in the late afternoon.
Kuromon Ichiba Address: 2 542 0073, 2 Chome-4-1 Nipponbashi, Osaka Prefecture 542-0073, Japan
Osaka Castle

Osaka castle is one of the most famous historic landmarks of Osaka and a must visit for first time visitors.
I suggest allocating at least 2 hours here. Why? Well, just the walk from the entrance, which is on the out skirt of the castle will take about half an hour. You have to pass through the garden then the moat before getting close to the castle itself.
The castle is beautiful. If you have the time you should definitely go inside for the exhibitions and a good look at the city from the top.
We got to the castle when the museum was about to close so didn't make it inside. Just make sure you check the schedule before getting there.
After walking around for almost 2 hours under the sun we were hoping to find a refreshing snack. And conveniently, there was a shaved ice shop right by the other side of the castle.
We got this matcha shaved ice with warabi mochi which was absolutely AMAZING and hit the spot! 500 JPY well spent!
The mochi was so soft with a hint of sweetness together with the matcha shaved ice, OH I could have two all to myself. We also got a matcha ice tea from the same vendor. It was gone before I could take a picture.

Osaka Castle Address: 1-1 Osakajo, Chuo Ward, Osaka, Osaka Prefecture 540-0002, Japan
Takoyaki たこ焼き

Takoyaki (grilled octopus ball) is famous street food originated from Osaka and they are really delicous!
These octopus balls are made by cooking a flour batter with chucks of soft and succulent octopus in a special pan to form a ball shape. Then they are served with all sorts of toppings such as Japanese bbq sauce, mayo, seaweed flakes, and shaved dried bonito flakes.
When they are freshly made, these balls are slightly crunchy on the outside and soft on the inside.
Most of the places sell 4-6 of them for 300 JPY to 500 JPY so they are a good dish to fill you up if you have a very tight budget.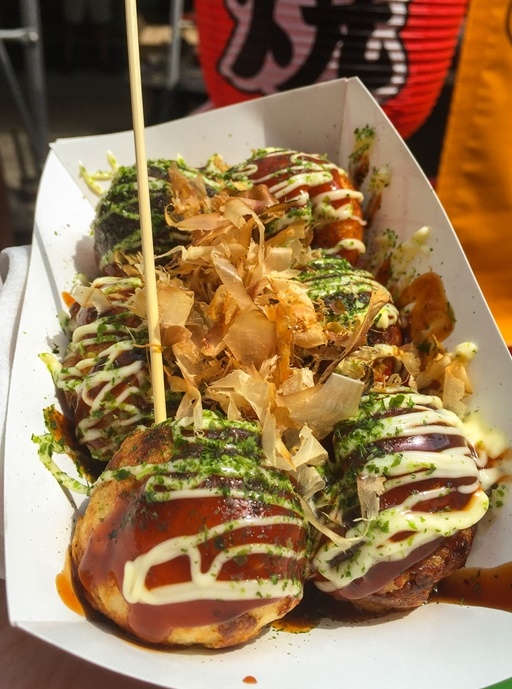 There were tons of takoyaki shops in Osaka and many of them had some sort of octopus signage so you won't miss. People seemed to know who makes it best. So we went with the ones that had a long line and the strategy worked out for every takoyaki vendor we tried during our trip 🙂
Tip: careful not to take a big bite when it came out fresh. It's extremely hot (fresh from the grill duh) we learned the hard way so be warned…
Shitennoji 四天王寺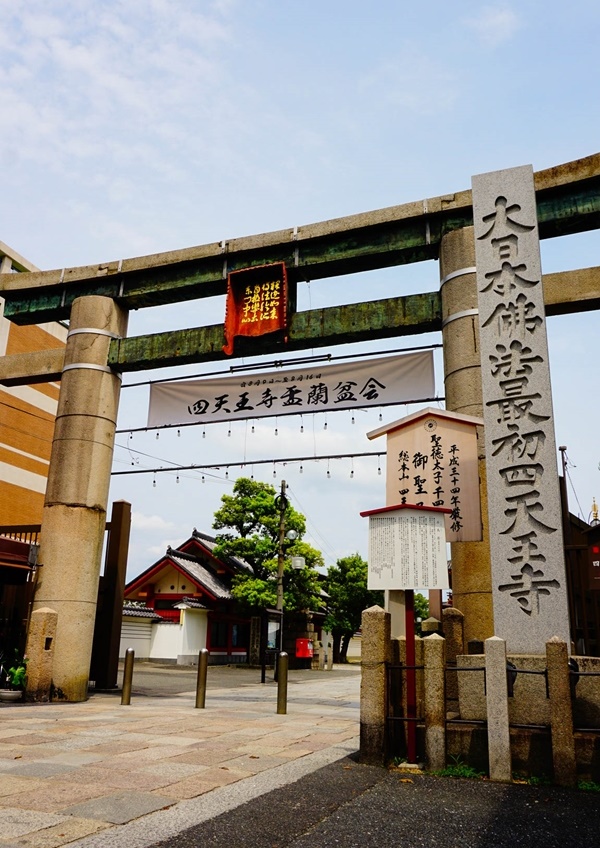 Shitennoji is the first and the oldest Buddhist temple in Japan on record. Interestingly it's one of the less crowded places in our entire trip. A lot of tourists go to the shitennoji zoo and park nearby instead.
We came here because of its history. The main pagoda is incredibly charming 5 store structure. You do have to pay a small fee (300 JPY) to enter and you will be asked to remove your shoes as a form of respect.
Inside of the pagoda, the Japanese place their ancestors' names on plate to wish them find peace in their afterlives. These plates are placed around the entire pagoda surrounding the center spiral wooden staircase.
There's an open area for Buddhist monks to gather and a garden full of fish and turtles inside. It's quite a peaceful place to visit especially you want to get out of the Osaka's hustle and bustle.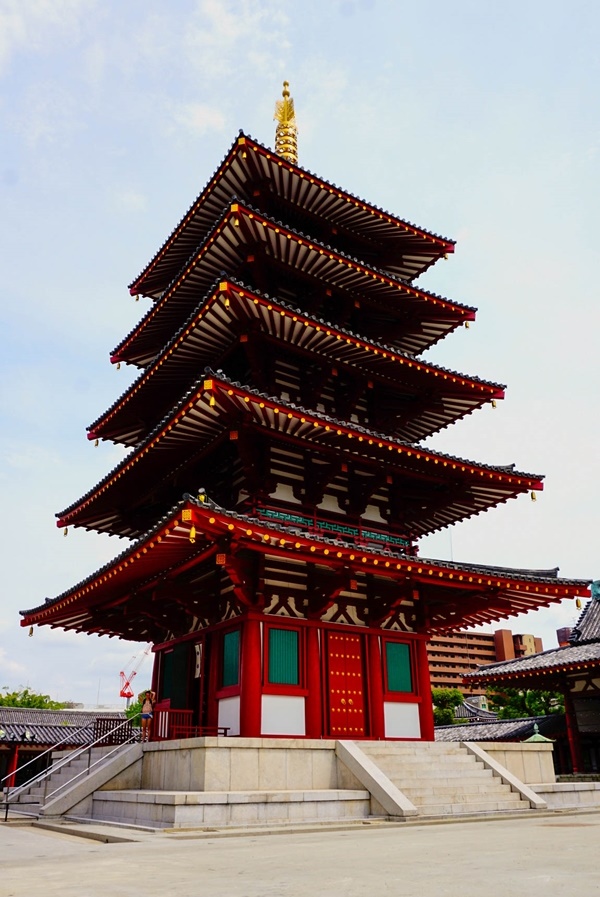 Shitennoji Address: 1-11-18 Shitennoji, Tennoji Ward, Osaka, Osaka Prefecture 543-0051, Japan
That wraps up 4 out of the 7 things we really enjoyed in Osaka. Please stay tuned to the second installment of our Osaka trip.
Warning
: Use of undefined constant rand - assumed 'rand' (this will throw an Error in a future version of PHP) in
/home/yirese5/public_html/wp-content/themes/yireservation/single.php
on line
72
Warning
: Parameter 2 to wp_hide_post_Public::query_posts_join() expected to be a reference, value given in
/home/yirese5/public_html/wp-includes/class-wp-hook.php
on line
287