Osaka Food and Tour on Modest Budget – Part 2
Warning
: Parameter 2 to wp_hide_post_Public::query_posts_join() expected to be a reference, value given in
/home/yirese5/public_html/wp-includes/class-wp-hook.php
on line
287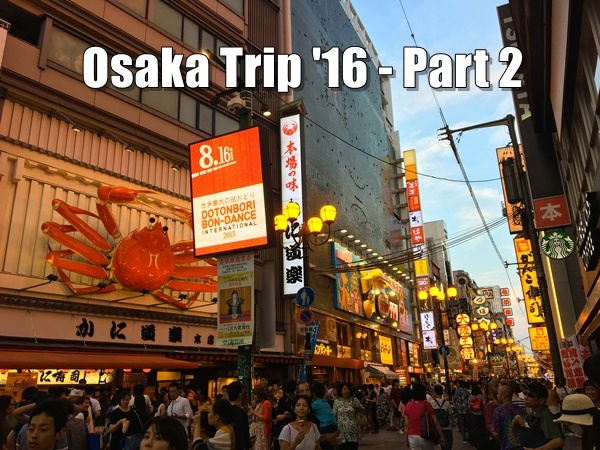 In summer 2016, Mrs. Yi Reservation and I spent 9 days in japan touring Tokyo and Osaka/Kyoto/Nara (aka Kansai region).
Our goal of this trip was to travel and eat well in Japan on a modest budget and we both think it was a success!
You can read our previous posts on this trip here:
Tokyo Part 1
Tokyo Part 2
Tokyo Part 3
Osaka Part 1
Picking up from the first part of Osaka post, we continued to explore what this great city has to offer…
Dotonbori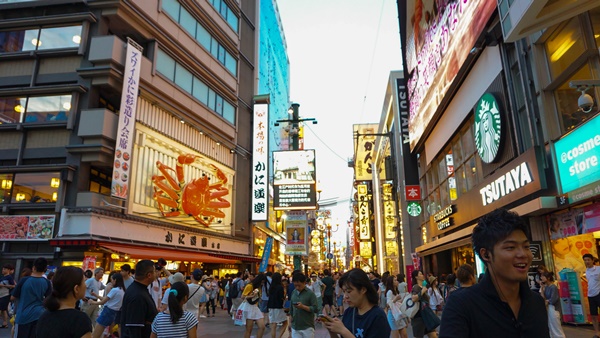 Located in Namba area, Dotonbori was a former theater district turned into mega center of food, shopping, and entertainment. It is a popular tourist destination that offers endless options for nightlife and entertainments. Shops open late in the morning (or 24 hours) and activates go on all night long.
Nobody would go to Osaka without visiting Dontonbori and there's no exception for us.
It's such an exciting place to be. You will see a looooottttttt of people, leon billboards, shops, and restaurants EVERYWHERE. It's so hard to decide which restaurants to go to. We basically walked back and forth many times to narrow down restaurants on our wish list.
What amazes us here is that, any direction you walk you are bound to find something exciting to check out. I can't tell you where Dotonbori starts and ends because we wondered around for hours and even into a few other sub-districts of Namba. And boy, I can be here for a week and not be bored. If you are looking for a vacation that you can feed your curiosity we highly recommend going to Osaka, Japan.
Mrs. YR and I both have  non-createoive day jobs where we sit in the office. We found this trip comforting because of all the visual and sensual stimulants here and it is bascially Disneyland for adults.
This is the famous original Glico running man. This is an icon for Osaka. We have to take an obligatory picture here! For those who have no idea what Glico does, no worries, have you ever had a snack called Pocky Sticks? Like a chocolate covered pretzel stick? That's a famous Glico product. A lot of Japanese snacks are made by Glico. You must have tried one of them without knowing.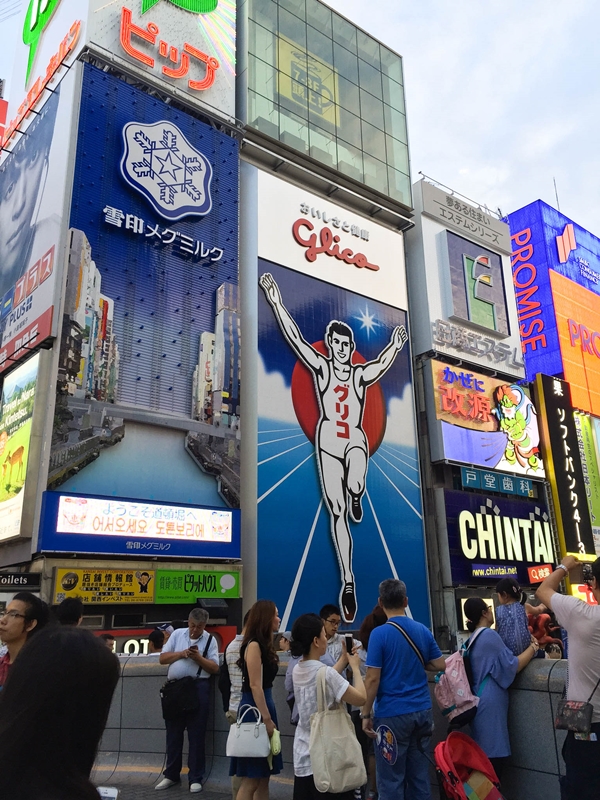 As annoying as going to Japan in the summer due to its hot and humid weather was, you would be rewarded by a whole spectrum of summer festivals here. We were fortunately to see this boat  rowing practice/ rehearsal along the canal. There was a group of adults rowing, drumming, and chanting for a few hours.
We also saw a group of 7-10 year old boys doing the same thing on a different night. It looks pretty cool right?
Whatever they were doing, their activity made our experience here along the canal very festive!
If you happen to know what these guys were up to, please enlighten me in the comment area.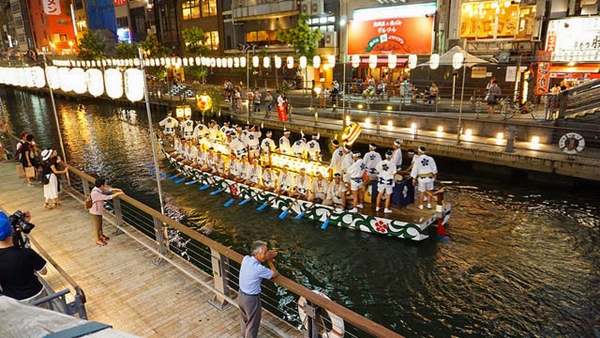 Dotonbori
Address: Dotonbori, Chuo Ward, Osaka, Osaka Prefecture 542-0071
Okonomiyaki
Okonomiyaki is a Japanese savory pancake with ingredients such as cabbage, onions, pork/beef seafood, topped with a sweet and sour okonomiyaki sauce, Japanese mayo (optional), seaweed power, and benito flakes.
Osaka style okonomiyaki is considered one of the top regional varieties in Japan.
We stopped by a well-known okonomiyaki restaurant called Fukutaro (福太郎) in Namba to satisfy our craving for some delicious pancakes. Those guys were pros and they did put on a cooking show in front of you so we got fed and entertained at the same time.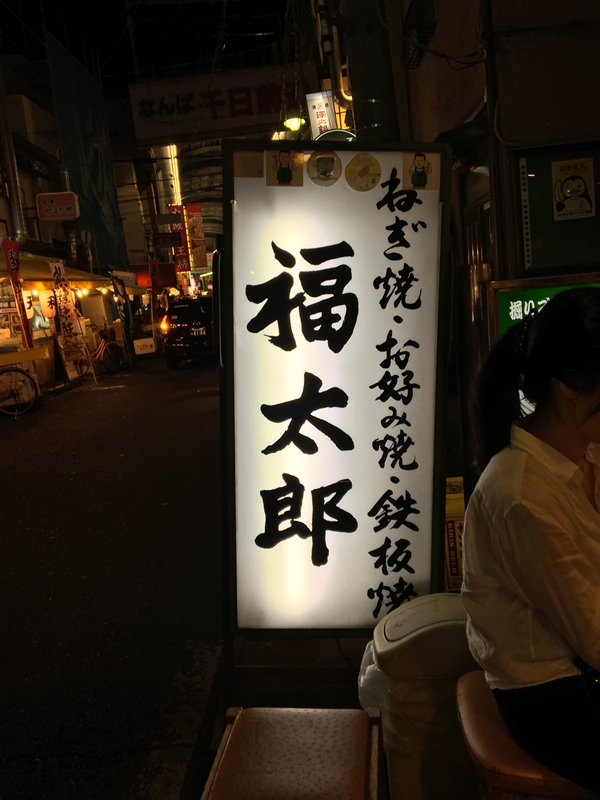 We ordered two okonomiyaki – a seafood one (for Mrs YR.) and a pork belly one. It took a good half an hour to make it on a flat top in front of us but we thoroughly enjoyed every minute of it.
Look at this freshly made okonomiyaki right in front of us. It smelled absolutely awesome and is making my mouth water even looking at the picture.

The battery was lighter than we thought and the toppings were cooked just right so the pork was crispy and the seafood was crunchy but not soggy.
The pancake overall was very flavorful and moist. We really enjoyed this meal.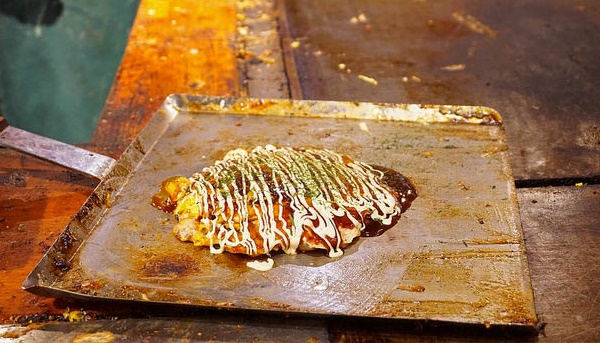 Fukutaro 福太郎
Address: 2-3-17 Sennichimae, Chuo-ku, Osaka 542-0074, Osaka
Food, Food, Food
There was so much wonderful food in Osaka I think it deserves to be a destination just by itself. Below are a few other highlights we enjoyed in Osaka.
Japanese Cheesecake
After being out and about the whole day, we did not feel guilty to eat whatever we liked while we were here in Osaka. A must try is the famous jiggling cheesecake from Uncle Rikuro.
Yes the jiggling cheesecake. Look how cute it looks like from the oven?! It was melt-in-your-mouth soft. You can find their location online. We found this one inside the Shin-Osaka Station there's no line!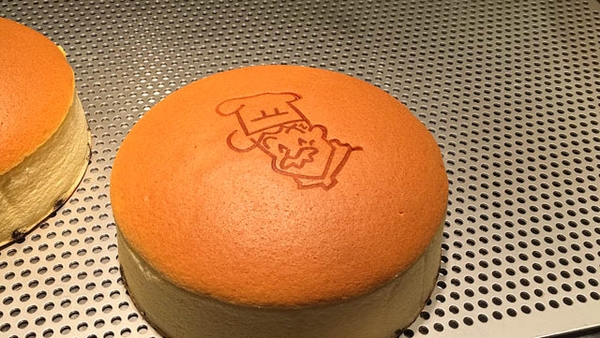 Rikuro Ojisan no Mise (many other locations)
Address: 3-2-15 Namba, Chuo-ku, Osaka 542-0076, Osaka Prefectire
Taiyaki
Another light snack that you should try while in Japan is called Taiyaki. It's a fish shaped waffle with sweet red bean or golden yam stuffing.
Not only it's cute and yummy. I mean who doesn't love waffles?
I got this one from a chian store called Naruto Taiyaki which has multiple locations in Osaka and other prefectures.
When it's fresh out of the grill it's warm and yummy but so hard to take the first bite. Should I or should I not bite off its head?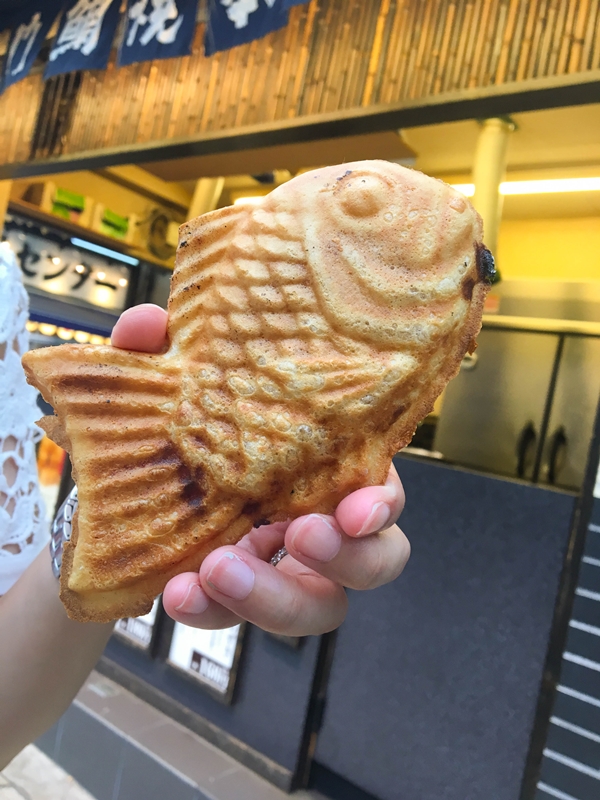 Naruto-taiyakihonpo Sennichimae-Aiaibashi 鳴門鯛燒
Address: 1-4-10 Sennichimae, Chuo-ku, Osaka 542-0074, Osaka Prefecture
Department Store Restaurant
We also ate at a tempura restaurant upstairs of a department store near Osaka Station. Once again, if you don't know where to eat, head to the food floor of a department store near you. You'll be overwhelmed by all the options come in your way.
Unlike restaurants in the train station downstairs, these upstairs restaurants tend to be a little less touristy and more for locals who want to take a break from shopping or just want to meet up with friends over a meal.
They have very nice environment but usually less user friendly because most menus were in Japanese only. We managed to order a nice meal by pointing at pictures and displays of food items. The food was quite delicious just how the locals would eat.
The multiple course tempura came with in different varieties and some of the best pieces were vegetables and this shrimp cake seen in the picture below (the dark piece on lower right hand side).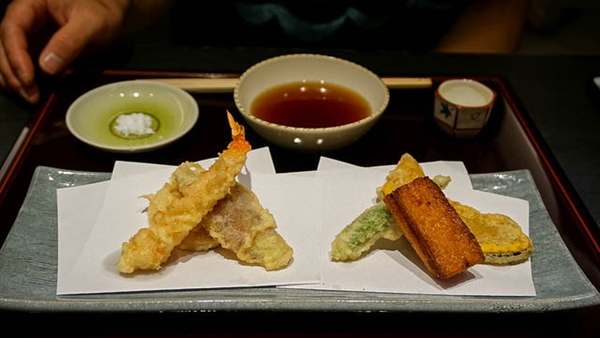 This soba noodle was part of the dinner set. It was simple but mind blowing delicious.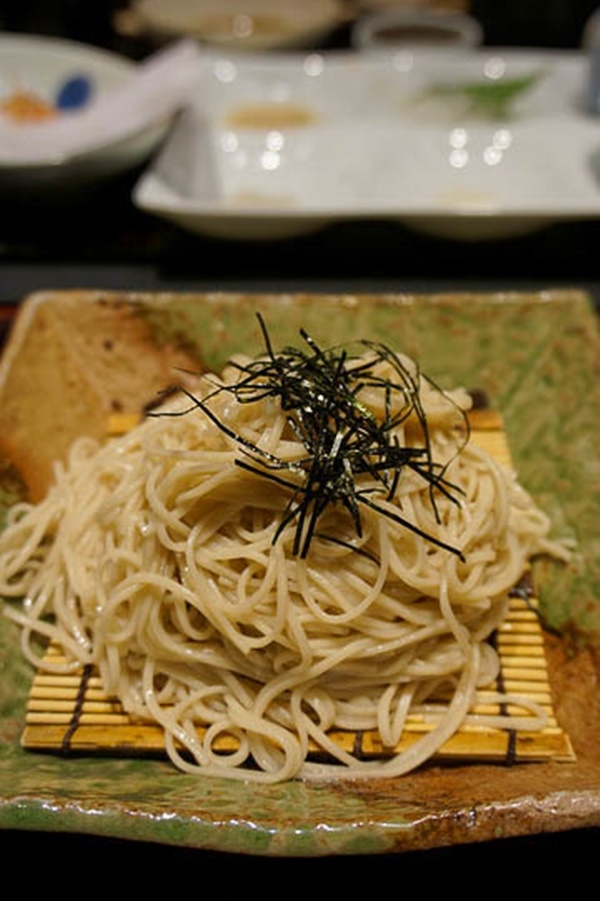 The set ran from 3000 JPY to 6000 JPY but the quality was pretty high for the price.
Sorry I don't remember the name of the department store.
Spicy Miso Ramen
For those of you who follows my blog you know my passion for spicy food. If you are like me, you gotta try this ramen joint Kamitora.
It has quite a few ramen options but my spicy miso definitely hit the spot. The soup had a deep flavor while the noodles and pork were cooked to perfection.
Also the joint offers unlimited pickled leeks and bean sprouts should you want to spicy up your bowl even more….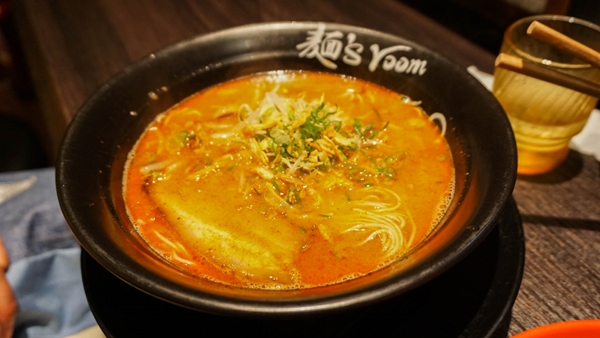 Address: 2-2-18 Nanbanaka, Naniwa-ku, Osaka 556-0011, Osaka
Ice Cream Tower
Another must try in Japan is their ice cream, specifically the ice cream tower that's as long as your forearm.
We found ourselves an extra tall ice-cream place called Shiroichi in the Amerikamura (aka American Village) near Namba area.
Coming from NYC, Amerikamura felt like Soho or East Village to me. You can find cute accessory shops, dessert parlors, and trendy and hipster clothing stores.
This was by no mean an extra delicious vanilla ice-cream but it's quite unique for the shape. It's definitely gram worthy!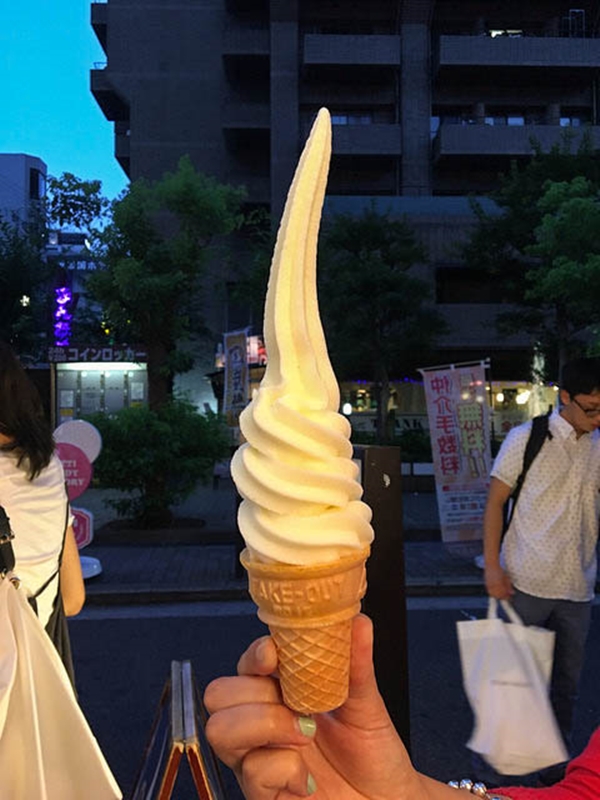 Shiroichi
Address: 2-11-9, Nishishinsaibashi, Chuo-ku Osaka-shi, Osaka
Bonus Side Trip: Nara Park
One of the many things on Mrs. YR's list was to visit Nara Park in Nara prefecture.
Nara Park is located about 30 minutes way from Osaka or Kyoto by train and the biggest attraction of this area is……
…..the free roaming deer!!!!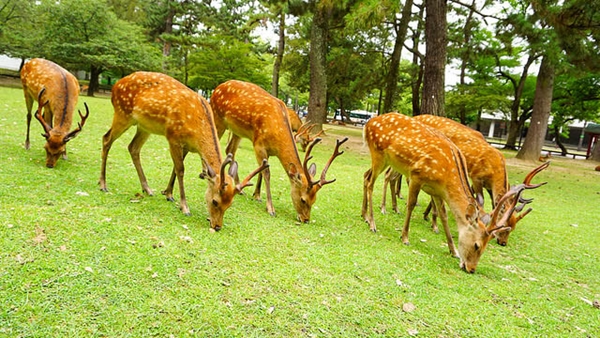 It's one of Mrs. YR's favorite moments on this trip.
If you are from the U.S. deer may not be your best friends since the ones in the U.S. are typically associated with car accidents and not nearly as tamed as these ones.
The deer in Nara are just like people, they hang around in the park, wondering freely. The legend says these deer are considered sacred. Before WWII, killing a deer in Nara would result in a death penalty. They seemed to know when and how to cross the street just like us. They socialize with you. They bow when you give them deer crackers! (yes they are very polite!)
Look how Mrs. YR kisses this "guy" with antlers. Don't even ask me if I was jealous seeing my wife kissing another male creature…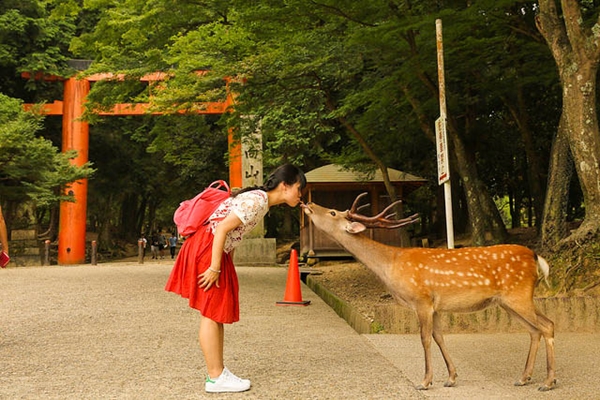 She was going after almost all the deer in the park and there were thousands of them. She even made a few new boyfriends there, who followed her around and rubbed her like Oreo and Tinkerbell would. It was a lovely experience. As a big animal lover, she was in heaven. If she could she would have come back to the U.S. with a lovely Nara deer as a new addition to the family.
If you find her magical experience here in Nara resonates with your love for animals, do visit Nara while you are in the Kansai area. It will leave you with unforgettable memories.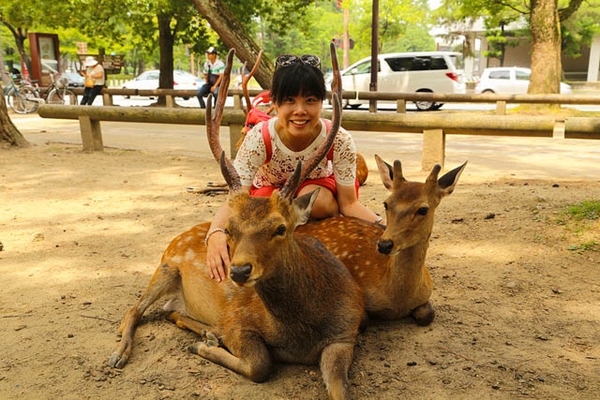 Nara Park
Address: 469 Zoshicho, Nara 630-8211, Nara Prefecture
Before we headed back to Osaka, we made a quite lunch stop at a local udon shop.
It's one of those local little shops you'd easily pass by without noticing it but boy it was delicious and cheap.
One of the reasons we loved local food is that they are very simple, fresh, and generous in portion size. We ended up getting two lunch sets that came with both udon and tempura over rice. And it was less than 1000 JPY (10 USD) for each set.
I would recommend this udon place if you are coming to Nara.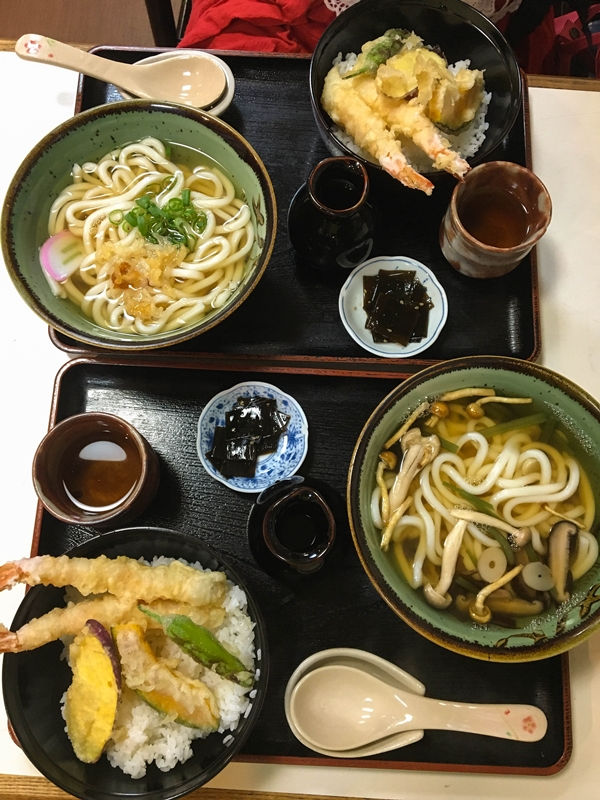 Bikkuri Udon びっくりうどん三好野
Address: 27 Hashimotocho Nara Nara  
That wraps up our short stay in Osaka and a quick trip to Nara. In the next and the final post, I'll be sharing the highlight of our trip – Kyoto. Please stay tuned.
P.S.
A tip for those who are planning a trip to Japan. We found that people don't carry plastic shopping bags around like people in the U.S. do.
We noticed that when we were carry multiple shopping bags after visiting department stores and perhaps we were eye sores to the locals.
It seems that locals all bring a large, fashionable reusable tote with them when they go shopping. It's a great idea since it helps reduce wastes while not having to worry about plastic bags breaking on you.
Warning
: Use of undefined constant rand - assumed 'rand' (this will throw an Error in a future version of PHP) in
/home/yirese5/public_html/wp-content/themes/yireservation/single.php
on line
72
Warning
: Parameter 2 to wp_hide_post_Public::query_posts_join() expected to be a reference, value given in
/home/yirese5/public_html/wp-includes/class-wp-hook.php
on line
287