Braised Beef with Chili Sauce (水煮牛肉)
Warning
: Parameter 2 to wp_hide_post_Public::query_posts_join() expected to be a reference, value given in
/home/yirese5/public_html/wp-includes/class-wp-hook.php
on line
287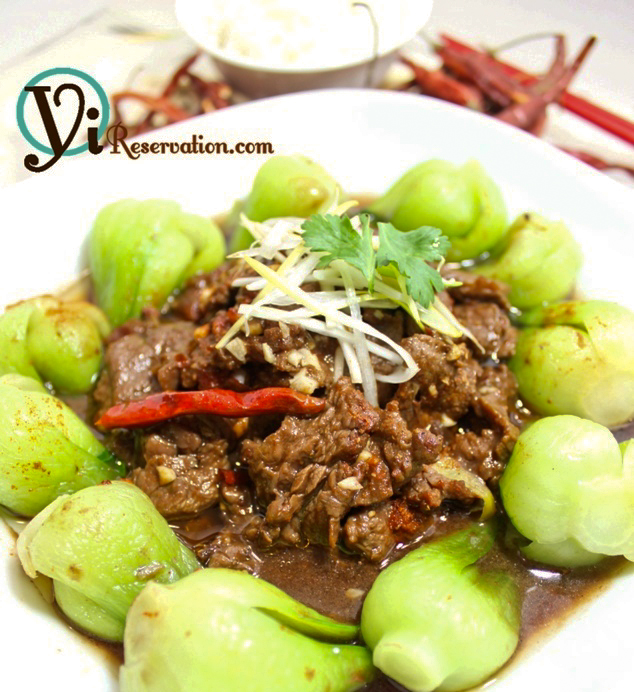 The weather is getting colder here in New York City and the latest round of snow storm has trapped many people home in this depressing weather. My way to keep me warm and cheer up in this kind of cold winter season is to cook some of my favorite Sichuan (Szechuan) cuisines.  One classic Sichuan dish I especially like to cook around this time is Braised Beef in Sichuan Chili Sauce, a perfect dish to spice up (literally) your dinner and even relieve your recent sinus congestion.
Having been to almost a dozen of Sichuan restaurants around tri-state area, braised beef in chili sauce was one of the must-order dishes and the dish that I often used to measure the quality of a restaurant. However the version served in restaurant is often a little too salty for me that is why now I only cook this classic dish at home so I can adjust the taste to my own liking.
Just to give you a sense of what this dish is all about, you will be sweating away on this tongue-numbing fiery beef dish that features layers of braised tender juicy beef in a chili sauce with Sichuan spicy condiments dancing around every piece of beef. Love it or hate it, the ferocity Sichuan peppercorn is in full force in this dish.  In addition, you'll also be using the oil splashing technique (Step 5 – 6) that's unique to a lot of Sichuan cuisines. Before the dish is ready to serve, you just need to sizzle the condiments/ingredients on top of the beef to unlock the fresh flavor. The end result – a sizzling hot fiery beef dish in a complex Sichuan spicy sauce.
Be flexible with the amount of dried chili you want to use. For me, 1 – 2 table spoons of chili powder make it perfect. How much of chili can you handle?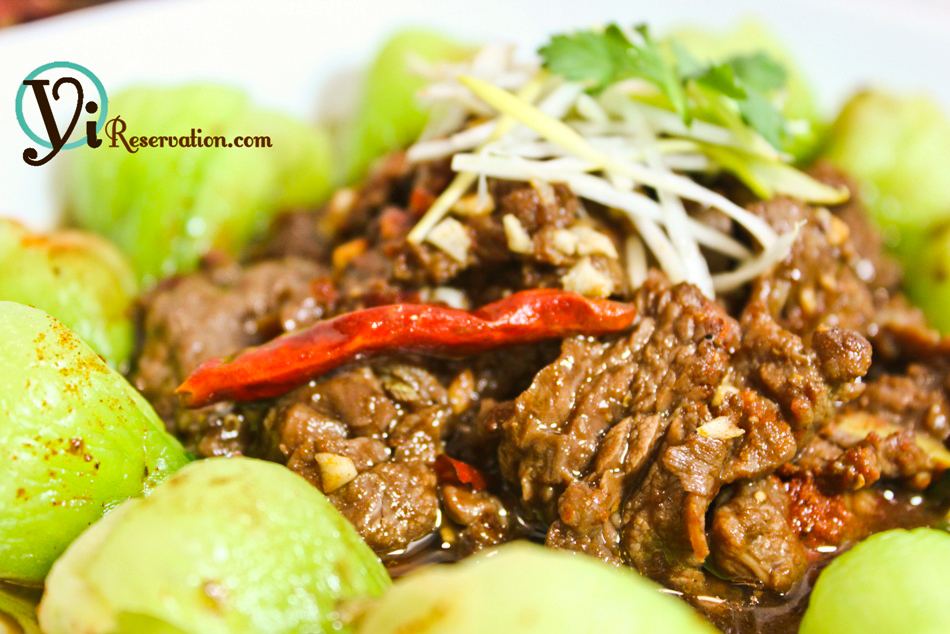 [stextbox id="info" bgcolor="9fdfd9″]Ingredients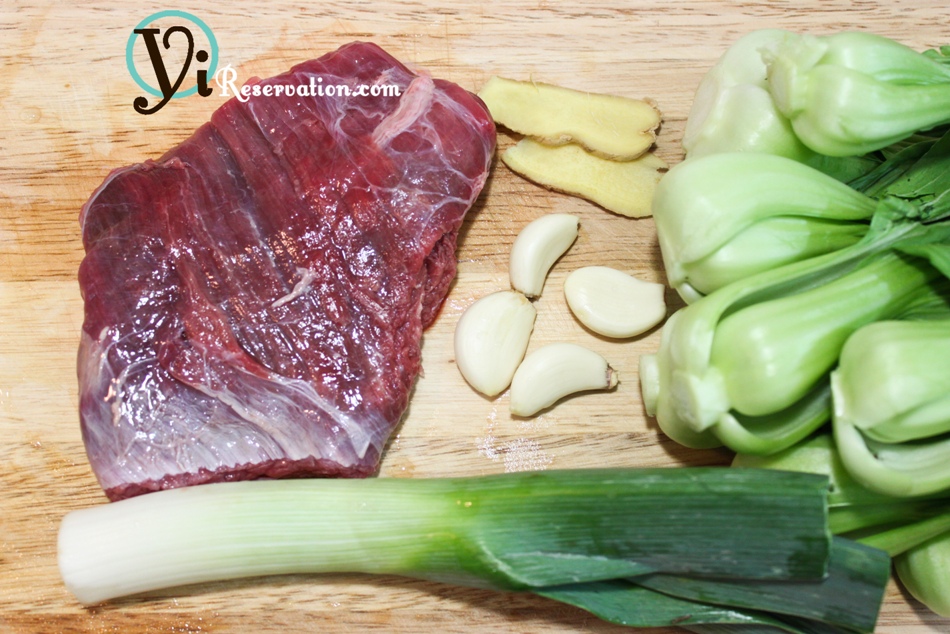 10oz Lean beef meat, sliced
6oz Baby Bok Choy(or other leafy vegetables)
½ stalk Leeks, cut into 2 inch long
Meat Marinade
1tsp soy sauce, 1 tsp cooking wine, 2 tsp corn starch, ½ egg white, 1 tsp water
Condiments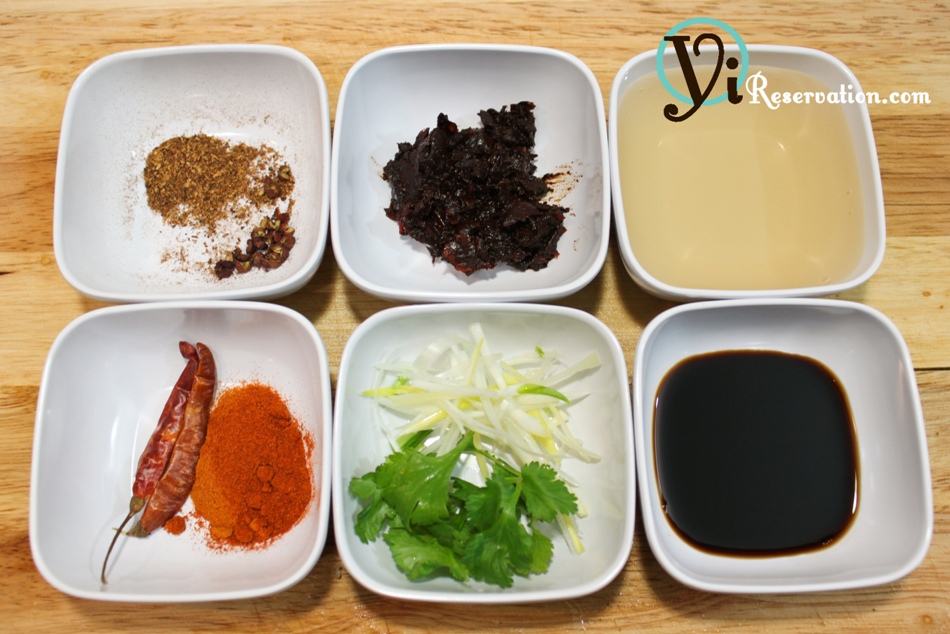 2 tsp Sichuan chili bean paste
2 tbsp soy sauce
1 tbsp Cooking wine
2 tbsp Minced garlic, divided to 2 parts
2 slice Ginger
2 Dried chili + 1 tbsp dried chili powder
½ tsp Sichuan peppercorn + 1tsp Sichuan peppercorn powder
1 tsp Sugar
1 tsp corn starch dissolved in water
1 cup water or beef stock
Chopped scallion and cilantro for garnish[/stextbox]
[stextbox id="custom"]Step-by-Step
1. Sliced and marinade the beef using marinade condiments. Set it aside for at least ½ hour. This can be done a day earlier and refrigerated.
2. To make the braising sauce, fry the chili bean paste, chili, Sichuan peppercorn, ginger, and one part of garlic in 1 tbsp of oil until the fragrant is released. About 2 minutes. Add cooking wine, then water, soy sauce, sugar. Cook in low heat for 10 minutes.
3. While waiting on the sauce, Blanche the bok choy for 2 minutes in boiling water until  cooked. Drain the bok choy and place in a serving bowl.
[nggallery id=45]
4. Braise the beef in the sauce on medium heat. When almost done, thicken the sauce with corn starch if needed. Add the leeks and cook it briefly for 1 minute. Turn off the heat right away when the beef is cooked to keep the beef tender. About 3 minutes.
5. Place the beef and sauce on top of the bok choy. Sprinkle the second part of minced garlic, chili powder, and peppercorn powder on top of the beef.
6*. In a sauce pan, heat up 3 tbsp of oil until smoky hot. Slowly, one spoon at a time, splash the oil on top of the beef and condiments and let it sizzle. Try to splash the oil on the whole surface of the dish. Garnish with scallion and cilantro.
[nggallery id=46]
*Tips
Make sure to be cautious and try to stay away from children when performing the oil splash. It can cause serious burn damage.
[/stextbox]
Serve it while sizzling and don't forget to cook some rice to go with this dish.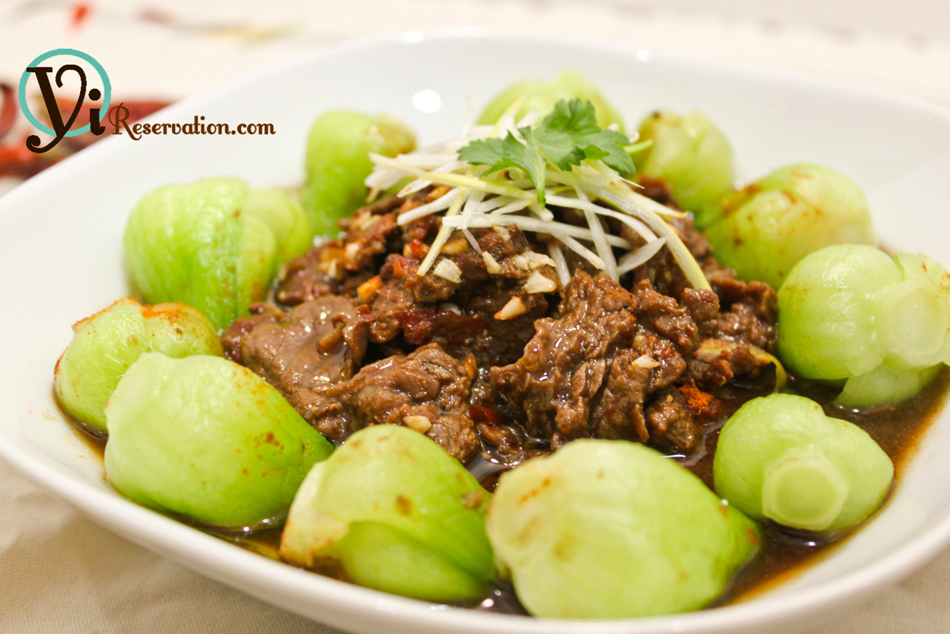 Warning
: Use of undefined constant rand - assumed 'rand' (this will throw an Error in a future version of PHP) in
/home/yirese5/public_html/wp-content/themes/yireservation/single.php
on line
72
Warning
: Parameter 2 to wp_hide_post_Public::query_posts_join() expected to be a reference, value given in
/home/yirese5/public_html/wp-includes/class-wp-hook.php
on line
287