Cantonese Style Braised Beef Stew 炆牛腩
Warning
: Parameter 2 to wp_hide_post_Public::query_posts_join() expected to be a reference, value given in
/home/yirese5/public_html/wp-includes/class-wp-hook.php
on line
287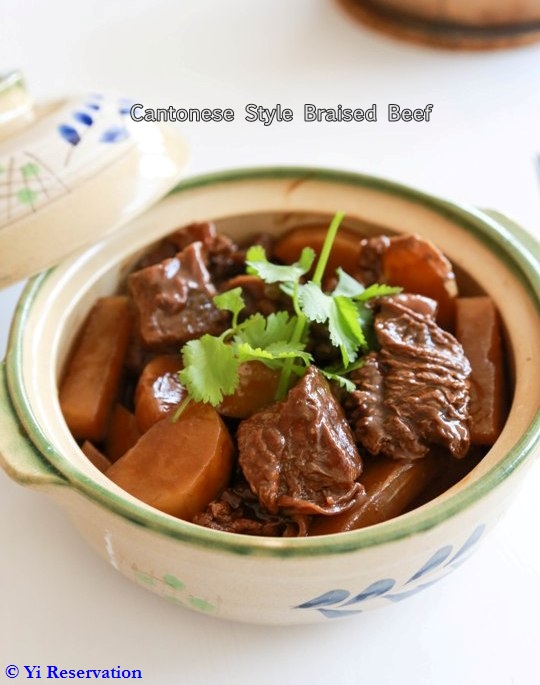 It's been a long and really cold in New York City this year and to cope the cold weather I have been visiting some of my favorite dishes such as the chicken meatball soup, and a host of my favorite stew dishes.
While many readers consider the Sichuan Spicy beef stew recipe one of best recipes I have shared to date, I have to say that this Cantonese version beef stew dish that I am sharing today posts as a strong contender to that top spot.
And if you ever get to cook both of them, I'd like to hear which one you like better.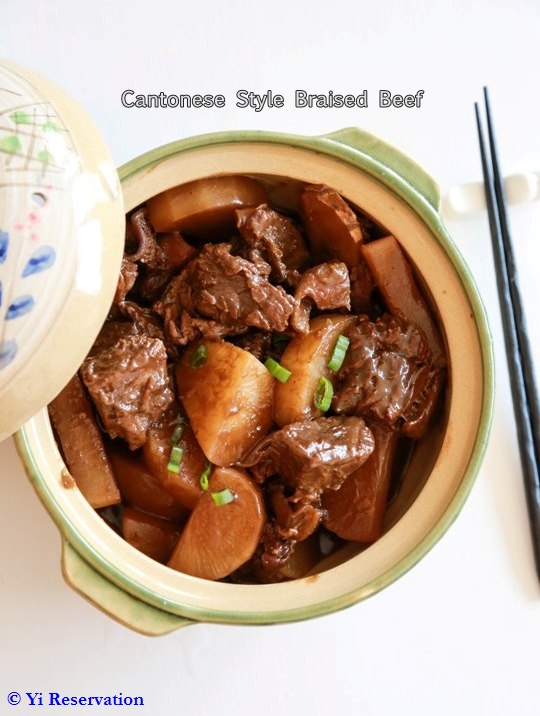 Compared to Sichuan style beef stew, the Cantonese style braised beef is non-spicy, sweet, with unique deep flavors developed from the use of star anise, dried orange peels, Chu Hou / Chee Hou sauce (more about this below).
This classic Cantonese braised beef stew is served from almost all traditional restaurants around the world. It's served with rice or as a noodle soup topping.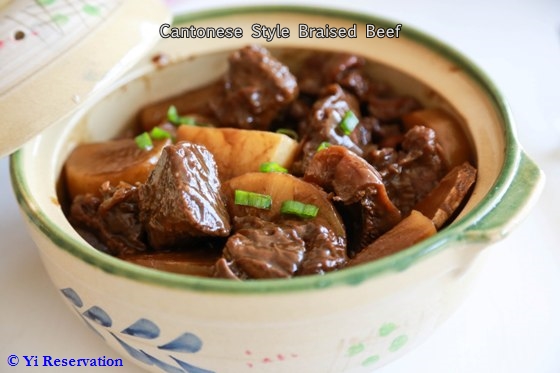 Speaking of tradition, the Lunar Chinese New Year is just around the corner. While there is still some confusion whether the New Year should be called the Year of Sheep, or Goat, or Ram on Feb 19th, it matters very little to the billions of people who are going to celebrate this most important traditional Chinese festivals.
If you plan to cook and need cooking ideas for the New Year celebration, feel free to check out my free cookbook where I share 14 of my personal favorite Chinese New Year dishes.
If you are already an email subscriber to my blog and miss the download link, look for an ebook download link under my email signature.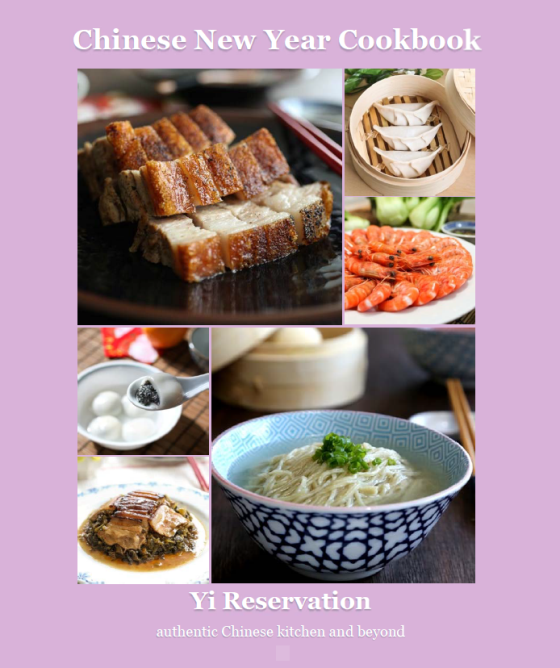 Getting back to today's recipe. One of the key condiments for this dish is Chu Hou / Chee Hou sauce 柱侯酱, a soybean based sauce commonly use in Cantonese cooking.
It tastes and looks somewhat like hoisin sauce but more garlicky. It comes in glass jars under different brands and it can be found in most local Chinese supermarkets. If you can't get a hold of it, you can substitute with hoisin sauce with additional garlic.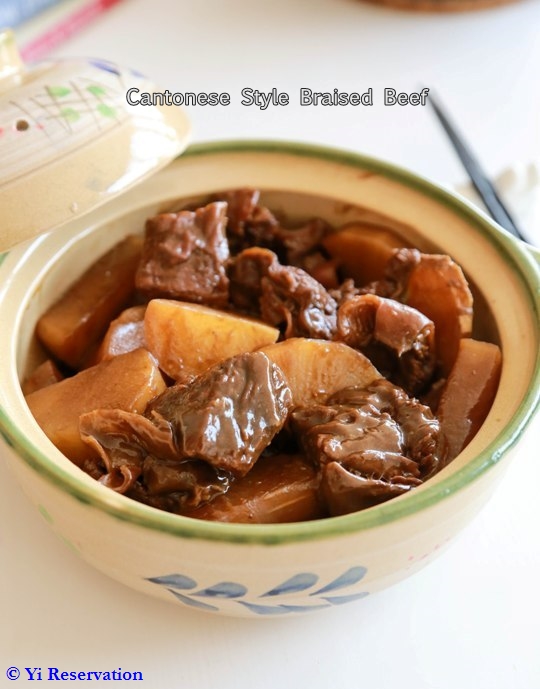 Traditionally, this dish calls for beef brisket which is relatively tough cut really flavorful when prepared properly. If you have access to Chinese grocery store, look for the brisket with a layer of membrane (sinew) attached to the meat.
The membrane is a little tougher then the meat but adds even more flavor to the dish.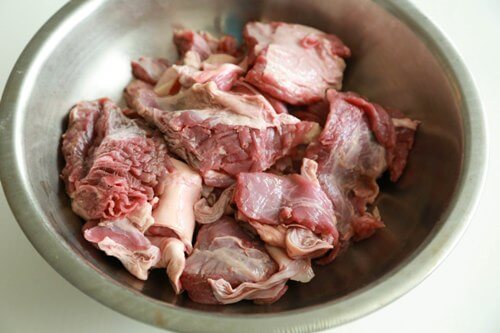 The best way to serve this mouth-watering dish is to serve it in a clay pot with rice on the side.
Another popular way to serve it is to add the stew to noodle soup similar to the spicy beef noodle soup I shared sometime ago.
If you figure out a better/creative way of serving the dish, do share it in the comment area.
Happy the Year of Sheep/Goat/Ram everyone!!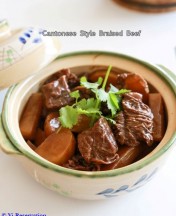 Cantonese Style Braised Beef Stew 炆牛腩
Yield: 4 servings
Prep Time: 15
Cook Time: 150
Total Time: 165
Make this mouth-watering Cantonese Style Braised Beef Stew following this step-by-step recipe at yireservation.com.
Ingredients:
2lb beef brisket, cut into 1"x2" pieces
1lb daikon radish (optional)
3 clove garlic, sliced
3 slice ginger, 1 inch long each
1.5tbsp chu hou sauce
1tbsp oyster sauce
1tbsp hoisin sauce
1tbsp rock sugar
2tbsp cooking wine
1tbsp soy sauce to taste
1/2tbsp dark soy sauce
Salt to taste
Scallion and cilantro for garnish
Spices
2 star anise
1 dried orange peel, broken into pieces
1 bay leaf
Directions:
Blanch beef brisket in a large pot of boiling water. About 8 minutes. Take the beef out and rinse under cold water. Drain the excess water and set aside
Heat up 1 tbsp of cooking oil in a wok or Dutch oven. Cook sliced garlic and ginger on low heat until aromatic. About 30 seconds
Add chu hou sauce, rock sugar, oyster sauce, hoisin sauce and stir fry on low heat for 1 minute
Put in the blanched beef, star anise, orange peel, and bay leaf, cooking wine
Cook under medium heat until the beef is slightly brown. About 3 minutes
Add 2 cups of water and bring to boil. Turn the heat to low and simmer with lid on for 2 – 2.5 hours until tender. Turn the beef with a spatula every now and then. Add soy sauce and salt to taste
(Optional) Add daikon radish cubes and mix with the beef. Bring the stew to boil and simmer with lip on until the radish is soft. About 30 minutes. Sprinkle some scallions and cilantro and serve with white rice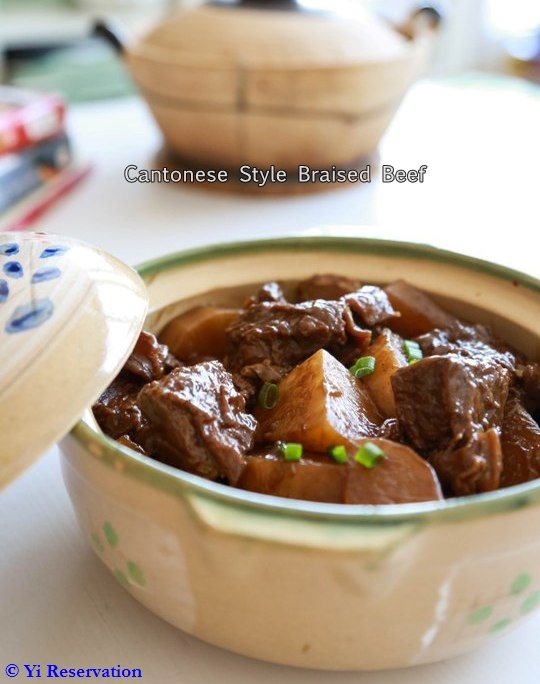 Warning
: Use of undefined constant rand - assumed 'rand' (this will throw an Error in a future version of PHP) in
/home/yirese5/public_html/wp-content/themes/yireservation/single.php
on line
72
Warning
: Parameter 2 to wp_hide_post_Public::query_posts_join() expected to be a reference, value given in
/home/yirese5/public_html/wp-includes/class-wp-hook.php
on line
287