Pig Stomach with White Peppers Soup 胡椒豬肚湯
Warning
: Parameter 2 to wp_hide_post_Public::query_posts_join() expected to be a reference, value given in
/home/yirese5/public_html/wp-includes/class-wp-hook.php
on line
287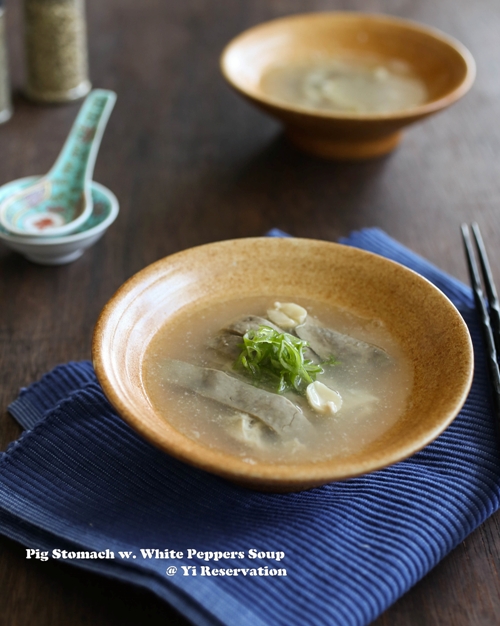 I just found out I ended 2012 with a delicious seaweed soup recipe so I thought it'd be nice if I share a traditional, delicious, and heart-warming soup to finish the year of 2013. Oh yeah, I forgot to mention that this soup might also make a good candidate for the Bizarre Foods show!
There is a reason that Bizarre Foods' Andrew Zimmern chose to film the show in Beijing and Hong Kong. Because there is plenty of "bizarre dishes" in China. What sounds more horrifying is that most of the bizarre food is generally considered normal food by the locals!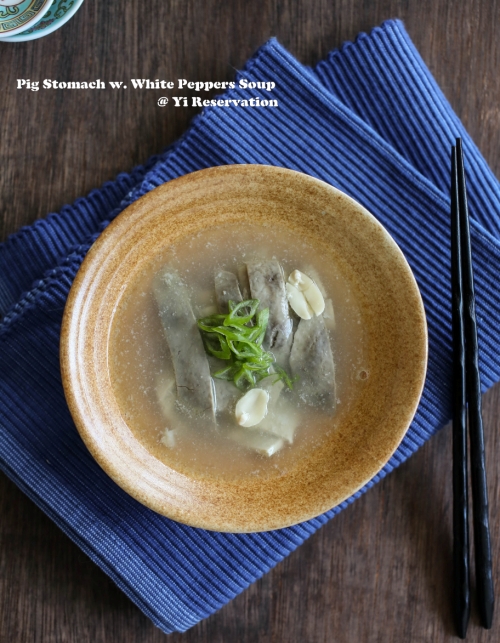 Case in point, in the States, pig stomach (aka pig maw) can be hardly associate to food. And considering it a delicacy might even sound outright offensive and disgusting! Yet, six thousands some miles away in China, pig stomach is happily enjoyed by many locals for its taste and medical effect.
In all fairness, The Chinese are not the only people appreciating pig stomach. The Germans and the Irish have their own celebrated dishes. Additionally, contrary to some beliefs, pig stomach is nothing like other more "flavored" organs such as liver and intestines. The stomach is a muscular ball-shaped organ with rather mild flavor (if prepared correctly).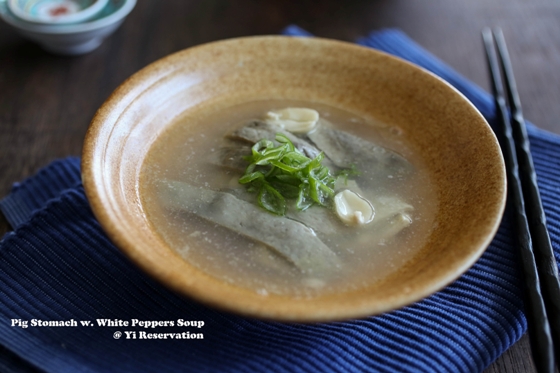 In this traditional Cantonese Pig Stomach with White Peppers Soup, a hefty amount of roasted whole white peppers are used to create this classic peppery and savory soup! White pepper is consider to have warming effect in Chines medicine so this soup is really good for the cold weather and the stomach.
Before we proceed, I just would like to Thank You for being such awesome readers this year. This site would not exist without your visits and support!
I know that New Year's Day is going to be the last celebration in a while for a lot of us but in my calendar, the best and biggest holiday is yet to come. That's right, I am referring to the Chinese New Year which will be Jan 31st 2014 this year. Be prepared for a month long of real Chinese food including possibly a few more "bizarre dishes"!
Happy (non-Chinese) New Year!
If you are still reading at this point, here is the recipe:
Step by Step Illustration
Some recipes call for chicken bones or pork bones but I like to keep the soup on the lighter side so I normally skip the bones. I also use peanuts to give the soup a little nutty flavor.
Similar to the Ribs and Chines Yam soup and Pork Bone Radish soup,  Cantonese soup I shared before, traditional Cantonese soup is best slow cooked for a long time. So feel free to cook this soup in a slow cooker if you have one!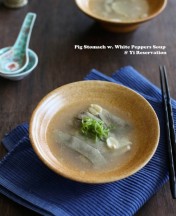 Pig Stomach with White Peppers Soup 胡椒豬肚湯
Yield: 4-6 servings
Prep Time: 15
Cook Time: 180
Total Time: 195
Make this traditional Cantonese Pig Stomach with White Peppers Soup following this step-by-step recipe at www.yireservation.com.
Ingredients:
1 pig stomach, about 1.5 lb
½cup roasted whole white pepper
1cup skinless peanuts
2large slices of ginger
Salt to taste
Chopped scallions for garnishing
For cleaning Pig Stomach
3tbsp salt
½cup cooking wine
½cup flour
Directions:
It's important to clean the pig stomach well before you use it. Combine the pig stomach with all cleaning ingredients in a large bowl. Rub the stomach from inside out until most of the gooey stuff comes off. Pull any extra fat you see. Rinse well in cold water. Repeat if necessary
Blanch the pig stomach in boiling water for about 2 minutes or until the stomach hardens and shrinks in size
Stuff the roasted white pepper inside of the pig stomach through the small opening
Soak the peanuts and rinse in cold water a few times
In a stock pot, combine 4 litters or 4.25 quarts of water, the pepper stuffed pig stomach, ginger, and peanut. Bring the soup to boil. Remove any floating impurities you see
Reduce the heat and let the soup simmer with a lid on for at least 2 hours. You can cook this soup for up to 4 hours as long as the pig stomach holds the shape. This soup can also be cooked in a slow cooker. Once done, the soup should look slightly milky. Flavor the soup with salt
Remove the pig stomach and cook it down. Remove the white peppers inside and slice into ½ wide stripes. Serve the sliced stomach with the hot soup and garnish with chopped scallions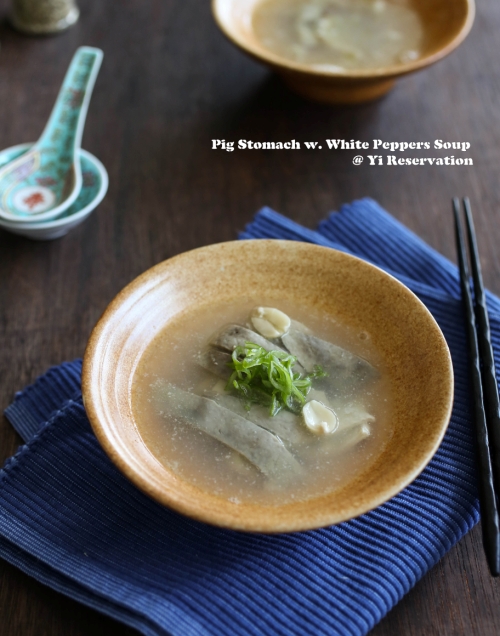 Warning
: Use of undefined constant rand - assumed 'rand' (this will throw an Error in a future version of PHP) in
/home/yirese5/public_html/wp-content/themes/yireservation/single.php
on line
72
Warning
: Parameter 2 to wp_hide_post_Public::query_posts_join() expected to be a reference, value given in
/home/yirese5/public_html/wp-includes/class-wp-hook.php
on line
287