Overcome The Fear – Home Style Tofu (家常豆腐)
Warning
: Parameter 2 to wp_hide_post_Public::query_posts_join() expected to be a reference, value given in
/home/yirese5/public_html/wp-includes/class-wp-hook.php
on line
287
Over the years I have been getting all kinds of different reactions and expressions when the word "tofu" is ever mentioned. Sometimes I'd hear positive remarks such as "healthy vegetarian", "superfood", and etc. More often I would get comments like "disgusting", "bland", and "mushy". Yet the best one I've seen so far is to describe it as "firm but squishy little blocks of an edible substance that changes depending on how you eat it. Eeeww…".
With the ongoing confusion and misunderstanding about tofu, a mission to demystify tofu, to help some of the readers overcome the fear of tofu, and to hopefully convenience some of you to like tofu. I am taking this opportunity to introduce tofu with some facts, images, and of course a delicious recipe as well.
First of all I would like to clear up the below misconceptions I normally get when talking about tofu:
1. Soy can cause breast cancer, so will tofu.
The studies have shown that some compounds in soy products contain hormones that can potentially cause breast cancer but nothing so far has shown a direct link to soy consumption to such disease. Eating tofu moderately will not increase your risk!
2. Tofu is bland and tasteless!
Technically tofu, since it's made of soy milk, does have the taste of soy bean. However it is so subtle that it is almost negligible in certain types of tofu. The taste intensifies as the firmness increases. More about firmness below.
3. Tofu just tastes bad, period!
Might it be food preference or personal experience, a lot of factors can attribute to your like or dislike towards tofu. Hopefully by the end of this article you'll be able to look at it differently.
So What Is Tofu?
In plain English, tofu is the product of curding soy milk and subsequently removing all the liquid. The process is similar to how cheese is made (think this way to remove some of your doubtsJ). Tofu is thought of Chinese origin although it's also massively popular throughout other Eastern Asian countries.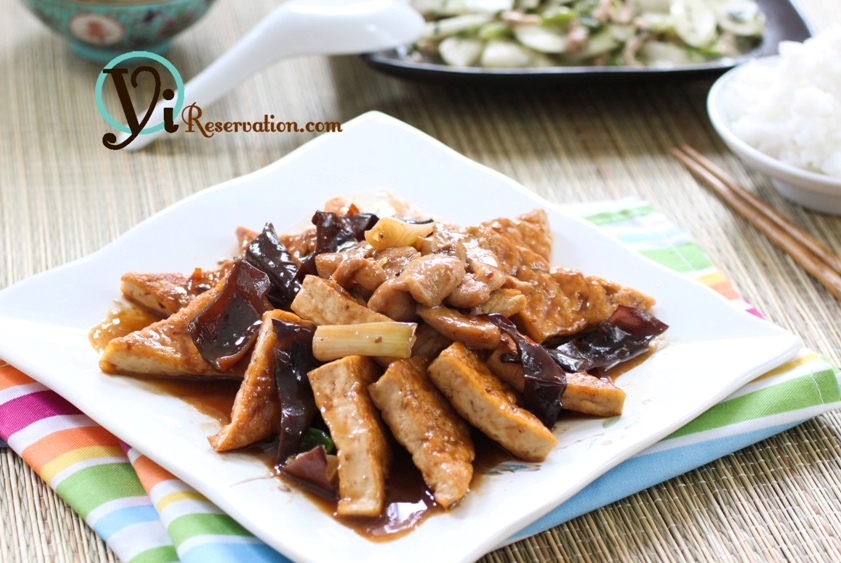 It became well known in Western countries in the last 15 years or so and it's often thought as healthy alternatives to other sources of protein. Ironically, in ancient China, tofu was often seen as cheap alternatives to meat. In order to make tofu as tasty, chefs over generations have mastered their tofu cooking skills and created wide range of creative dishes. That's why if you ask me if I am eating tofu to lose weight, I'd think you are crazy.
Tofu comes with different varieties and textures. In general, there are four types of fresh tofu ranged in increasing order of firmness: soft or silken tofu, medium firm tofu, firm tofu, and dried tofu. Each type of tofu is designed for different dishes and cooking techniques. In addition, there are other soy products such as tofu skin, fried tofu, frozen tofu, fermented tofu…
Home style Tofu is a widely known classic tofu dish. The exact origin of this recipe is unknown but I consider it Sichuan cuisine as this is how folks in my hometown cook. The tofu is pan fried to create a meat like texture. With mushrooms in Sichuan chili bean paste, this tofu dish is not just homey but also very tasty. If you don't have the wood ear mushroom, feel free to replace with shiitake mushroom or bamboo shoots.
To demonstrate that anyone can cook tofu, I did not use the highest grade tofu I could get. I also managed to drop the tofu pack while I was unloading the grocery but the tofu dish came out just as delicious and beautiful as it usually does.
Try this at home and tell me if you are still afraid of tofu. Or please share your tofu stories!
[stextbox id="info" bgcolor="B2FAEE"]
Home Style Tofu – Ingredients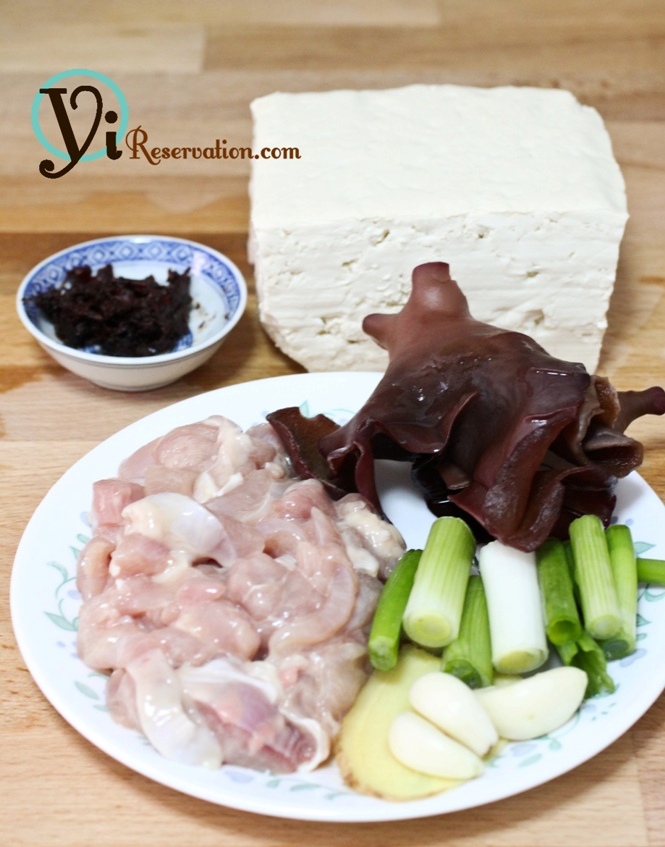 1 pack Tofu, preferably firm
4 oz Chicken, sliced
1 piece Wood ear mushroom, re-hydrated and sliced
1 tbsp Spicy bean paste
2 tbsp Soy sauce
1 tsp Cooking wine
1 tsp Sugar
½ tsp White pepper powder
2 clove Garlic, sliced
1 slice Ginger, shredded
2 sprig Scallion, cut to 2 inch segments
3 tbsp water
Corn starch
Salt
[/stextbox]
[stextbox id="custom"]
Home Style Tofu – Step By Step
1. In boiling water, add 1 tbsp of salt and blanch the tofu for 3 minutes. Drain the tofu and cut into ½ inch thick triangles. The blanching part is optional and it is to reduce the natural soy bean taste.
2. Pan fry the tofu in a well oiled non-stick pan or skillet until both sides are golden. About 4 minutes per side over medium heat. Shake your pan often to prevent tofu from sticking.
3. In a clean pan, add 1 tbsp of oil, garlic, ginger, scallion (white parts), and chili bean paste. Stir-fry in medium heat until you can smell the aroma. About 2 minutes.
[nggallery id=72]
4. Stir in the sliced chicken. Cook for about 2 minutes or when it turns white. Add soy sauce, cooking wine, sugar, white pepper powder, and water.
5. Combine the tofu and wood ear mushroom. Mix well with the sauce. Use corn starch to thicken the sauce if necessary. Add salt to taste (if necessary). Mix in the green parts of scallion at the end.[nggallery id=73][/stextbox]
Serve this tasty tofu dish at your next party and your guests won't even know it is tofu.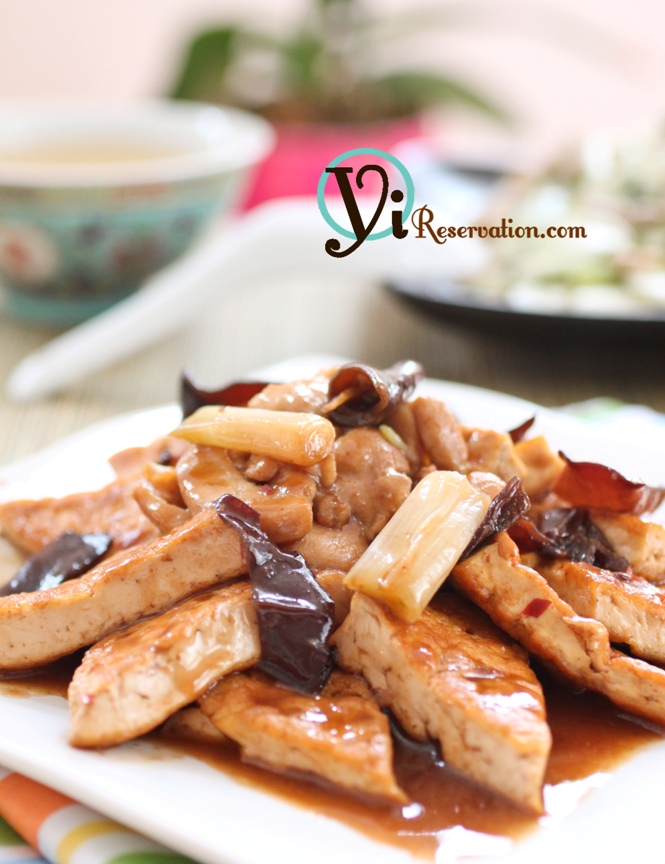 Warning
: Use of undefined constant rand - assumed 'rand' (this will throw an Error in a future version of PHP) in
/home/yirese5/public_html/wp-content/themes/yireservation/single.php
on line
72
Warning
: Parameter 2 to wp_hide_post_Public::query_posts_join() expected to be a reference, value given in
/home/yirese5/public_html/wp-includes/class-wp-hook.php
on line
287